Multi-Day Tour | Independent, Locally Hosted, Private
Essential Silk Road
(19 days)
Exeter International
Tashkent, Uzbekistan To Bishkek, Kyrgyzstan
Valid for Departures Now Through: 31 Dec 2018
Itinerary
DAY
LOCATION(S)
HOTEL
MEALS
DESCRIPTION
Day 1

Tashkent, Uzbekistan


Hyatt Regency Tashkent

None

Welcome reception on arrival at Tashkent airport. Meet and transfer to hotel. Overnight at hotel.

Day 2

Tashkent, Uzbekistan


Hyatt Regency Tashkent
Breakfast

Full day city tour of Tashkent. Visit Old city: Barak Khan Madrasah, Tillya Sheikh mosque, Chorsu bazaar, Kukeldash madrasah, Friendship square, Abul Kasim madrasah, Applied Arts Museum, Navoi theatre square, Amir Temur Square and walk through Sailgoh street. Overnight at Hotel.

Day 3

Tashkent, Uzbekistan
Khiva, Uzbekistan


Asia
Breakfast

Today you will fly to Urgench. Excursion the historical town of Khiva. Visit Madrasah Allakuli Khan, Madrasah Muhammad Amin Khan, Kunya Ark, Kelte Minar, Pakhlavan Mahmud Mausoleum, Islam Khoja Minaret and Madrasah, Madrasah Muhammad Rahimkhan, Juma Masjid, Tash Hovli Palace. Return to Urgench for overnight.

Day 4

Khiva, Uzbekistan


Asia
Breakfast

Today visit Ayazkala and Toprakkala ruins. Topraq Qala and other sites of ancient Khorezm State settlements, now located on the territory of Karakalpakstan. This 2000 years old ruined city fortress, 350 by 500 meters and framed by the brooding Sultan Vais Mountain, is the dramatic and best explored in the region. About 2500-3000 years old settlements flourished during I Century BC - III Century AD under Kushan patronage. The later collapse of Kushan and White Hephtalite rule left the region open to devastating Turkic raids which destroyed irrigation canals and lead to the depopulation of the town in the sixth century. Return to Urgench (70 km) for overnight at hotel.

Day 5

Khiva, Uzbekistan
Bukhara, Uzbekistan


Minor Hotel
Breakfast

Drive to Bukhara along the Kizilkum desert. Photo stop at Amudaryo river bank. On arrival transfer to hotel for overnight.

Day 6

Bukhara, Uzbekistan


Minor Hotel
Breakfast

Full day city tour of Bukhara. Visit Ark fortress, Bolo Hauz Mosque, Ismail Samani mausoleum, Chashmai Ayub, Poi Kalyan complex with Kalyan mosque and Miri Arab madrassah, Ulugbeg and Abdulazizkhan madrasahs, Trade Domes, ancient Silk Market, Magokki Attori mosque and Labi Hauz complex. Overnight at hotel.

Day 7

Bukhara, Uzbekistan


Minor Hotel
Breakfast

Continue city tour of Bukhara. Visit Chor Minor mosque, national Uzbek bakery "Tandir", where tourists can see the baking process of Uzbek bread. Also visit Sitorai Mokhi Khosa, the summer residence of the last Emir of Bukhara, Chor Bakr and Naqshbandi complex. Overnight at hotel.

Day 8

Bukhara, Uzbekistan
Samarkand, Uzbekistan


Grand Samarkand Superior
Breakfast

Today drive to Samarkand via Shakhrisabz. In Shakhrisabz visit Aksarai Palace, Dorus Saodat and Dorut Tilovat complexes, including Kuk Gumbaz mosque, Gumbazi Sayidon, Mausoleum of Djekhangir and Hazrati Imom Mosque. After sightseeing drive to Samarkand and transfer to hotel for overnight.

Day 9

Samarkand, Uzbekistan


Grand Samarkand Superior
Breakfast

City tour of Samarkand. Visit Gur Emir Mausoleum, Reghistan Square, Bibi Khanym mosque, bazaar, Ulugbek Observatory, Afrosiab Museum, Shakhi Zinda necropolis. Overnight at Hotel.

Day 10

Samarkand, Uzbekistan


Grand Samarkand Superior
Breakfast

Continue city tour of Samarkand. Visit Imam Al Buhariy complex, History Museum, Nodir Devonbegi Madrasah, Hazrati Hizr mosque, Hodja Doniyor mausoleum. Overnight at hotel.

Day 11

Samarkand, Uzbekistan
Tashkent, Uzbekistan


Hyatt Regency Tashkent
Breakfast

Morning drive to Tashkent. Afternoon city tour of Tashkent. Visit Metro, Earthquake Monument, Shahidlar Hotirasi Park. Overnight at Hotel.

Day 12

Tashkent, Uzbekistan
Almaty, Kazakhstan


Ritz Carlton Almaty
Breakfast

This morning is at your leisure. This afternoon meet your driver for your transfer to the airport for your flight to Almaty. Upon arrival meet your transfer to the hotel.

Day 13

Almaty, Kazakhstan


Ritz Carlton Almaty
Breakfast

After breakfast drive to Tamgaly. 170 km North-West of Almaty Tamgaly is a unique cultural monument representing several historical periods. The petrogliphs of different ages were discovered in 1957. The most ancient are believed to be from the bronze age containing erotic scenes, ritual and hunt dances, wild animals such as boar, oxen, mountain sheep, deer, horses, wolves, snow leopards and foxes, scattered in an area of about 10 km. Then drive to Issyk vinery.

Day 14

Almaty, Kazakhstan


Ritz Carlton Almaty
Breakfast

Visit Panfilov park, Zenkov Cathedral. Museum of Instruments, Central State Museum. Panfilov Park was founded in the mid-60s in the area around the Voznesenski (Zenkov) Cathedral. Like the Cathedral, Museum of Kazakh National Musical Instruments is entirely made of wood. The Museum was founded in 1980. In its collection is about 60 different types and varieties of Kazakh folk musical instruments. Visit Medeo and Kok-Tube (cable way, one level). Medeo has one of the world's largest speed skating rink at 170 m above sea level.

Day 15

Almaty, Kazakhstan
Karakol, Kyrgyzstan


Hotel Asia
Breakfast

After breakfast drive to Karakol via Kegen pass.

Day 16

Karakol, Kyrgyzstan


Local Resort
Breakfast

Morning tour of Karakol. Visit Orthodox Church, Dungan Mosque, Museum of Przhevalsk. PM. Drive to Grigorievskoe gorge. After excursion drive to resort for overnight.

Day 17

Kul , Kyrgyzstan


Local Resort
Breakfast

Morning visit to Ethnographical Museum and Cholpon-Ata petrogliphs. Afternoon boat cruise (1 hour). Overnight at Resort.

Day 18

Bishkek, Kyrgyzstan


Hyatt Regency
Breakfast

After breakfast drive to Bishkek. En route visit Burana Tower. Burana was the site of Balasagun. It was founded in the middle of the 10 century on the site of an old settlement. The minaret (Burana from Turkish "munara"-minaret), one of the oldest of its kind in Central Asia, was built in 11 century and was originally 45 m tall, Balasagun was the birthplace (in about 1015) of the poet Jusup Balasagun, and was later, with Kashgar, on eof the capitals of the eastern Khanate when the Karakhanid state split (the western capital was Samarkand). Visit Ala-Too Square, Panfilov park, Historical Museum.

Day 19

Bishkek, Kyrgyzstan


Hyatt Regency
Breakfast

Morning excursion to Ala-Archa Nature park. The Kyrgyz National Nature park Ala-Archa is situated 52 km away from Bishkek in the Kyrgyz Ala-Too mountain range at the height from 1600 m to 4860 m (Korona Peak), the total area of the Park is 19,5 thousand sq. km. The park abounds in wildlife, including eagles, ibex, Marco-Polo sheep, wolf, bear, lynx, boar and the rarely seen, often talked of - snow leopard. This afternoon, transfer to airport for departure flight
Tour Features
Experience(s)
Culture, History & Arts
Sightseeing
Wildlife & Nature
Description
An 18 night exploration Uzbekistan, Kyrgyzstan and Kazakhstan.
This is a sample itinerary and may be customized accordingly.
About Us
For 25 years, Exeter International has established itself as the leading deluxe specialist operator to Central and Eastern Europe, Russia & Central Asia. We use our intimate regional knowledge and expertise to create unique, often limited access travel experiences. Our multi-national, multi-lingual specialists craft authentic insider experiences, created with imagination. When you book with Exeter International you can expect the top guides in each city pre-reserved weeks in advance, matched to your preferences. Our specialists have also been recognized by the Conde Nast and Travel & Leisure top agent list since their inception.
Insider Tip
Contact your Virtuoso Advisor for more information.
Terms & Conditions
Visas & Passports –
Russia requires visas of United States citizens and Exeter International will arrange for the invitation required for a visa upon
booking. Each traveler will be responsible for one passport photo, a completed visa form, one photo copy of the information pages of his/her passport, the invitation, and the visa processing fee. If the traveler would like, Exeter International will obtain all visas at additional cost. Each traveler is responsible for his/her own passport, which must be valid for six (6) months after the completion of the participant's tour. Exeter International is not responsible for the refusal of a visa to any traveler by any consulate. In the event of visa refusal, any and all expenses/cancellation fees shall be borne by the traveler.
Payment Policies - Deposit Requirements
Small Group Tours - Deposits ($500) per person, for group tours are accepted on a first-come, first-serve basis and are non-refundable and nontransferable. We will hold your reservation for one week after you book your tour without a deposit. Some special programs (cruises and trains) may have different deposit policies.
Independent Programs -
A 10% or $250 per person (whichever is greater) non-refundable deposit is required to confirm an independent travel program. No Services are confirmed prior to deposit being received.
Payment Policies – Final Payment
Final payment is due 60 days prior to the commencement of travel. If final payment is not received 60 days prior to departure, your reservation will automatically be canceled. Some special programs (cruises and trains) may have different final payment policies.
Prices and Services – All taxes are included in program prices.
Payments –
Payments must be made in Tampa, FL to Exeter International at least eight weeks prior to departure and are accepted by check, cash or credit card. We accept Visa, MasterCard, American Express, and Discover Card for credit card payment. Please note that payment for any services a traveler wishes to add once travel commences must be made in United States Dollars to the Exeter International local representative. We cannot accept personal checks or travelers checks overseas.
Hotels –
The tour cost assumes double occupancy in all hotels. Single supplements will be calculated based on exact dates of travel. We reserve the right to substitute hotels of equal or superior quality.
Transfers & Vehicles –
Exeter International will supply its travelers with personal transportation to and from all train stations, airports and ports, as described in the tour description. Baggage assistance is included for one piece of luggage per person, but tour participants should be prepared to handle their own bags at certain times during the tour. Please read carefully the Exeter International Travel Tips publication. We cannot guarantee air-conditioned vehicles in some cities. Touring and transfers will be by regular 4 passenger cars unless you have specifically ordered a
luxury car for your tour.
Scheduling –
Please note that due to circumstances beyond the control of Exeter International, the tour may not be deliverable exactly as described (i.e. theater scheduling, hotel occupancy, etc.), BUT Exeter International will substitute scheduled or advertised events, hotels, and restaurants with alternatives of equal or greater value and quality. All hotels, restaurant and airline space is subject to their management's approval. Exeter International will make every effort to guarantee this package as is, but conditions will sometimes mandate minor changes to the program. Reservations are nontransferable.
Expedited Services
Expedited Bookings –
All bookings confirmed less than six weeks before departure will require expedited procedures. The cost for expedited
bookings is $250 per booking.
Expedited Documents –
If final travel documents are required more than four (4) weeks in advance of the departure date, a $50 expedited documents fee applies to the booking. If overnight delivery of documents is required at any time, a fee of $35 will be applied to the booking.
Itinerary Changes –
Once a group or individual travel itinerary has been confirmed, an amendment fee of $100 per revision will be charged. The traveler will also be responsible for any additional expenses that may be incurred due to a voluntary itinerary change.
Cancellation Policies –
Up to 8 weeks prior to departure: Deposit is nonrefundable 8 weeks to 14 days prior to departure: 50% cancellation fee 13 days or less prior to departure: 100% cancellation fee Reservations made at Russian and non-Western hotels are nonrefundable within 30 days of departure. Travelers are liable for airline and hotel cancellation fees as stated in their agreements. For all cruise and train bookings, please refer to the cancellation policies outlined in the specific Terms & Conditions for that program. All cancellations must be received in writing. If Exeter International must cancel your trip, you will be fully refunded.
Guaranteed Departures and Small Groups -
All Exeter International tours are guaranteed departures unless specifically noted with a minimum group size in the tour description. In small groups (less than 8 guests), the guides will act as the tour mangers in each of the cities. For all groups larger than 8 guests a tour manger will meet the group upon arrival in the first city of the tour and travel with this group throughout the duration of the tour. Certain events and meals may be changed slightly for small groups, as described in the brochure.
No Smoking –
For the enjoyment of all passengers, smoking is not allowed on Exeter International buses and cars or while the group is together on tour or at meals.
Insurance –
Exeter International highly recommends that you purchase travel insurance for your trip. This may be purchased directly through Exeter International or through your travel agent.
What is included –
Your tour includes everything that is specifically stated in the tour description. Breakfast (usually buffet) is usually provided daily; lunch and dinner will be provided only as stated in the tour description. Meals always include tea and coffee. Alcoholic beverages and mineral water are not included in meals, unless specifically noted. Visa fees are not included in tour prices.
Exeter International's Responsibility –
Exeter International reserves the right, but is not obligated, to not accept or retain as a tour passenger any member whose
condition or physical needs or conduct impede the operation of the tour or affect the rights, welfare, or enjoyment of the tour's other participants. A refund of the unused portion of the tours is the limit of Exeter International's liability if such a person is asked to leave the tour.
Exeter International acts only on behalf of hotels, restaurants, train lines, boat lines, its owners, operators or contractors (all herein called contractors) providing services in connection with Exeter International's tours. In the absence of negligence on Exeter International's part, Exeter International is not responsible for personal injury or property damage or loss arising out of the act or negligence of any direct air carrier, hotel or other person rendering any of the services or accommodations offered herein. The traveler agrees to the foregoing, and also agrees that Exeter International will not be or become liable or responsible for any loss, default, or injury of any person, company, or other legal entity engaged to supply the same. Exeter International accepts no responsibility for losses or expenses due to delays or changes in air or other services, sickness, weather, strikes, hotel overbooking, social and labor unrest, terrorist activities, war, quarantine, or any other causes, actions or omissions, or conditions over which it has no control.
Additional Terms – Venue for all claims or disputes shall be exclusively in Hillsborough County, Florida, whose Courts, using Florida Law, shall have exclusive jurisdiction. Damage claims against Exeter International shall be limited to the value of the particular item in dispute and not for any incidental, consequential, or special damages. Exeter International assumes responsibility for representations it makes, but not for those made by others and including, but not limited to, any employee of Exeter International or independent travel agent. Payment for reservations on any Exeter International tour shall constitute consent to all the provisions in the General Information and Conditions published herein and is binding on all tour and travel participants.
All tour prices include the cost of planning and operations and are based on the tariffs, fuel costs and exchange rates in effect November 1, 2009 and are subject to change without notice at any time prior to payment in full of tour services.
Exeter International, Inc. is a Florida corporation, licensed, registered and bonded in the State of Florida for the sale of travel products and services.
The trademarks VIRTUOSO, the Globe Swirl Logo and SPECIALISTS IN THE ART OF TRAVEL are registered trademarks of Virtuoso, Ltd. Virtuoso, Ltd. has a U.S. copyright registration for the Globe Swirl Logo, ©2000. All rights reserved. Virtuoso CST#2069091-50. California CST# 2069091; TA# 808 - Registered Iowa Travel Agency; Washington UBI # 601 554 183. Registration as a seller of travel does not constitute approval by the State of California.
Reviews and Recommendations for Exeter International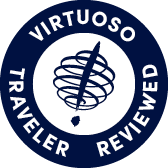 Virtuoso Verified Traveler
All reviews are from confirmed guests sharing exclusive insights
Sort reviews by