Multi-Day Tour | Escorted, Group, Independent
World Sufi Festival
(15 days)
Peirce & Leslie Travel Pvt Limited - India
Mumbai, India To Delhi, India
Valid for Departures: 18 Feb 2019 - 04 Mar 2019
Itinerary
DAY
LOCATION(S)
HOTEL
MEALS
DESCRIPTION
Day 1


18 Feb 2019

Mumbai, India


None

None

Arrive in Mumbai. You will be met by our representative who will escort you to your hotel.

Day 2


19 Feb 2019

Mumbai (ex Bombay), India


None

None

Take in the sights and sounds of Mumbai today as you visit the city's historical monuments, starting with Fort Mumbai, the historic downtown area that derives its name from earlier colonial fortifications. The tour will concentrate on the Kala Ghoda area. Apart from its cluster of Victorian Gothic architecture, the area houses an old Sephardic synagogue, The Prince of Wales Museum and a number of cafes, restaurants, fine shops and boutiques. You will stop at the extraordinary Victoria Terminus. From here you will drive to Churchgate Station where you get the opportunity to see the famed 'dabbawallas' or 'lunch box carriers' in action.

After lunch, you will be taken on a special tour that is designed to show you the world of Dharavi – the industry, the people and their way of life. The rest of the day will be at leisure.

Day 3


20 Feb 2019

Mumbai, India
Jodhpur, India
Jaisalmer, India


None

None

This morning you will transfer to the domestic airport for your flight to Jodhpur. After lunch you will drive to Jaisalmer. The evening is at leisure.

Day 4


21 Feb 2019

Jaisalmer, India


None

None

You will begin your day with a visit to Jaisalmer Fort, which is the one of the most magnificent in Rajasthan. After visiting the Fort, you will take a walk through the Old City, which lies outside the walls of the fort. Your final stop will be at Gadi Sagar Lake. In the evening you will take a Camel safari in the sand dunes, followed by a sundowner.

Day 5


22 Feb 2019

Jaisalmer, India
Jodhpur, India


None

None

After a relaxing morning you drive back to Jodhpur city, arriving by late afternoon. Your stay in Jodhpur coincides with The World Sufi Spirit Festival (22 – 23 Feb 2019) which is celebrated in the month of February every year. This Festival welcomes the most beautiful of sacred traditions from the Orient, the East and Africa, while showing off the wealth of Rajasthan's traditional heritage, a heritage at the crossroads of Indian, Afghan, Moghul, Arab and Persian civilizations, between Hinduism and Sufi Islam. Sufism is a classic blend of spiritual heritage with the beauty of sacred music and dance.

Your tickets will have been bought in advance and this evening you will attend the Festival and enjoy great music and good food at the stunning Mehrangarh Fort which will be lit up especially for this Festival.

Day 6


23 Feb 2019

Jodhpur, India


None

None

Visit the monolithic Mehrangarh Fort this morning. Walking down from the fort, you will stop at Jaswant Thada, the graceful marble cenotaph of Maharaja Jaswant Singh II (1873-95) and other Maharajas of Jodhpur who died after him. Next, you will go on a specially designed Blue City Walk, including a Tuk-Tuk ride. The walk will take you through the bustling bazaars of the old walled city. You will also visit the Kishanji temple dedicated to Lord Krishna, which is famous for its garland makers and sweet shops.

This evening you have the option of attending the Sufi Festival again or just relaxing in your hotel.

Day 7


24 Feb 2019

Jodhpur, India
Narlai, India


None

None

Drive to the lovely village of Narlai this morning. You will arrive in Narlai during the afternoon hours and check-in to your hotel. At sunset, you will be served "tea" by the lake, where migratory birds can be sighted, and soak in the peace and quiet atmosphere amidst scenic surroundings.

Day 8


25 Feb 2019

Narlai, India
Udaipur, India


None

None

Today's drive takes you to Udaipur. On the way, you will stop at the white marble temples at Ranakpur. The evening is at leisure.

Day 9


26 Feb 2019

Udaipur, India


None

None

Experience the chromatic history of Udaipur by visiting the City Palace in the morning. You will take a walk through the Crystal Gallery, which has a rather eclectic collection of Crystal Objet d'art and furniture including a complete bedroom set, discovered recently in a storeroom in the Palace! Next, you will visit Bagore Ki Haveli, a splendid Museum exhibiting Udaipur's traditional arts and crafts, costumes, musical instruments and marble work.

In the afternoon you will take a walk in the old city with your guide. You will stop at a small temple in the old city where you will see the very rare and ephemeral art form, which involves drawing with colored powder on water. In the evening, you will take an evening cruise on the beautiful waters of Lake Pichola.

Day 10


27 Feb 2019

Udaipur, India
Jaipur, India


None

None

A countryside drive after breakfast will take you to Jaipur. The rest of the day is at leisure for you to unwind after your long drive.

Day 11


28 Feb 2019

Jaipur, India


None

None

Begin your exploration of the Pink City by visiting the ornate City Palace. You will also take a private tour of the residential areas of the Palace not open to the general public. From the City Palace you will enter the extraordinary Jantar Mantar. Your next stop will be the iconic Hawa Mahal, with its ornate pink façade. This will be followed by a visit to Albert Hall museum. You will end the morning tour with a specially designed walk through the bazaars of the Old City.

Day 12


01 Mar 2019

Jaipur, India


None

None

Escape the hustle and bustle of the city, as you take a two-hour hike in the surrounding Aravalli hills this morning. You will visit the Meena tribal settlements, a ruined fort, and hidden shrines and will interact with the local people. After breakfast, you will visit Amber Fort. In the evening, you will drive to a private farm. Here you will meet your transport for the next thirty minutes or so – Elephants!

Day 13


02 Mar 2019

Jaipur, India
Agra, India


None

None

You will depart for Agra today by road and will stop at Fatehpur Sikri (a UNESCO World Heritage site). In the evening, you will visit The Taj Mahal (a UNESCO World Heritage Site).

Day 14


03 Mar 2019

Agra, India
Delhi, India


None

None

You will have the option of visiting the Taj Mahal at sunrise. After breakfast, you proceed to one of the greatest monuments of the city, the Agra Fort. Next, you will visit Itmad-ud-Daulah (Baby Taj) the third great monument of Agra. In the afternoon you drive to Delhi.

Day 15


04 Mar 2019

Delhi, India
Onward Destination, India


None

None

Explore Old Delhi this morning as we will take you on an inner city walk. From here you will visit the Jama Masjid, believed to be the largest mosque in India and Shah Jahan's last architectural venture. After lunch you will visit one of the architectural triumphs of the Mughal Empire – Humayun's Tomb. You will return to your hotel driving past Rajpath. Among the buildings you drive past are the Secretariat buildings, Parliament House, Presidential Palace (Rashtrapati Bhawan), and India Gate. Return to your hotel to pack and for a quick wash & change before you check-out and transfer to the international airport for your onward flight.
Tour Features
Experience(s)
Culture, History & Arts
Family Vacations
Sightseeing
Description
Terms and Conditions: The World Sufi Festival is held in February every year. This tour is applicable for travel from 18th February- 4th March, 2019 and you will be at Jodhpur on 22nd and 23rd February, 2019 to witness the World Sufi Festival.
About Us
Virtuoso and your Travel Advisor curate the best travel experiences from around the world. We choose exclusive experiences just for you.
Insider Tip
Contact your Virtuoso Travel Advisor for insider knowledge to help enhance your experience.
Terms & Conditions
DEPOSITS: Reservations will be confirmed against a deposit of USD $1000 per person for FIT bookings and 15% of the tour cost for Group bookings.
FINAL PAYMENT: Full payment must be received by Peirce and Leslie at least 45 days prior to arrival for FIT clients and 60 days prior to arrival for Groups.
Note: To guarantee any/all bookings during Pushkar and Christmas & New Year the hotels require a 100% non-refundable deposit 90 days prior to the arrival for FIT clients and Groups.
PAYMENT BY CREDIT CARD: The client's credit card will be charged in the local currency and will be exchanged by the client's bank at the exchange rate applicable on the day the bank processes the charge. For this reason, there may be a variation in the U.S. price quoted and the actual rate processed on the client's credit card.
CANCELLATION POLICY: After confirmation, USD $500 per person will be non-refundable for FIT's and 10% of the initial deposit for Group bookings. The balance amount will be used to block domestic air tickets (to lock in the best available fares) and put down deposits on other land arrangements, as vendors send invoices to block services.
Should it become necessary to cancel your itinerary at any time after it has been confirmed, the following cancellation fees will be levied:
FIT TRAVEL (01 - 05 persons)
45 to 30 days prior to arrival - USD $1000 per person + cancellation charges levied by suppliers
Between 30 and 15 days of arrival - 50% of tour cost + cancellation charges levied by suppliers
Less than 15 days - No Refund
GROUP SIZE OF SIX AND MORE
60 to 45 days prior to arrival - 30% of total tour cost + cancellation charges levied by suppliers
Between 45 to 30 days of Arrival - 50% of total tour cost + cancellation charges levied by suppliers
Less than 30 days - No Refund
Note: Hotels have individual cancellation charges which will be mentioned as a separate cancellation policy when the status is sent.
AIR FARE: Internal air tickets issued have a $45 per coupon cancellation fee.
TRAIN FARES: Cancellation charges levied by the railways plus a service charge of $20 per ticket.
INSURANCE AND VISAS: Baggage, personal effects, trip cancellation, health and accident insurance, and visas/special permits are the responsibility of the passenger.
PRICE: All prices quoted are subject to change if the date of travel is changed. A final tour price is given at the time of confirmation of the booking with your travel agent. Individual and itemized contract rates are not disclosed.
NOT INCLUDED: Not included in the price quoted are airport departure taxes, customs and immigration fees, excess baggage at airport, expenses of a personal nature such as laundry, telephone calls, room service, wine, liquor and meals unless otherwise specified.
The trademarks VIRTUOSO, the Globe Swirl Logo and SPECIALISTS IN THE ART OF TRAVEL are registered trademarks of Virtuoso, Ltd. Virtuoso, Ltd. has a U.S. copyright registration for the Globe Swirl Logo, ©2000. All rights reserved. Virtuoso CST#2069091-50. California CST# 2069091; TA# 808 - Registered Iowa Travel Agency; Washington UBI # 601 554 183. Registration as a seller of travel does not constitute approval by the State of California.
Promotions
Valid for Travel 18 Feb 2019 - 24 Feb 2019
Total 1 Results
Reviews and Recommendations for Peirce & Leslie Travel Pvt Limited - India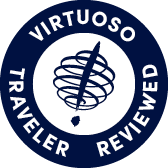 Virtuoso Verified Traveler
All reviews are from confirmed guests sharing exclusive insights
Sort reviews by
Recommended
Definitely the best
By: Dee Dee
Reviewed on: 14 Jan 2014
Our requests were submitted to P&L. They made our trip to India one of the most perfect we have ever taken. Agents of P&L were checking on us every step of the way. Two deserve special recognition: Hemesh Chaturvedi, our guide, and Ramrakesh Yadav, our driver. Hemesh had the magic touch of making everything possible and even flew with us. If you have ever experienced the chaos that is driving in India, you will appreciate the fact that Ram always made us feel safe.
Recommended
White glove service!
By: Vicki
Reviewed on: 12 Jan 2015
Our recent trip to India was flawless thanks to the wonderful people at Pierce and Leslie! Every local contact person bent over backward to make sure we were taken care of to our satisfaction. Each local guide was lovely, interesting,and knowledgeable in addition to speaking excellent English! Our main driver, Anil, was a marvel. Traffic in Delhi, Agra and Jaipur is insane, but Anil was an expert driver who got us where we wanted to go and made us feel safe at all times. The Pierce and Leslie team is simply the best!
Recommended
India
By: donnaatmore@gmail.com
Reviewed on: 08 Oct 2017
Jai was an amazing tour guide and took the time to ensure we saw everything we wanted to and was always careful and thorough in explaining everything we needed to know