Day Tour
Private Transfer From Cruise Pier To Area Hotel
(1 Hour)
ShoreTrips
Los Angeles, CA United States
Valid for Travel Now Through: 22 Feb 2019
Private Transfer From Cruise Pier To Area Hotel
(1 Hours )
Los Angeles, CA United States
Tour Features
Experience(s)
Experiences have not been selected at this time
Meals
None
Recommended Ages
None
Activity Level
The activity level is not available.
Description
Meeting instructions: Specific pick up or taxi instructions will appear on your voucher after you purchase your trip.
About Us
ShoreTrips provides shore excursions, day activities and city sightseeing tours in more than 500 locations around the world. We're the experts – having researched every location thoroughly...choosing the best sites to visit and the best things to do. We interview the guides and providers...and only when they meet our strict criteria do we offer their services to you.
Insider Tip
Our dolphin swim excursions sell out fast! Smart shoppers buy them months in advance.
Terms & Conditions
Please view our Terms of Service by clicking here.
Cancellation Policy:
You may cancel your ShoreTrips booking and receive a full refund up to 11 days before the actual date of your ShoreTrip (15 days for Europe, South America, Australia, New Zealand and Asia ShoreTrips). At 10 days (14 days for Europe, South America, Australia, New Zealand and Asia ShoreTrips) outbound, all trips become non-refundable. Some trips have a special cancellation policy and this information will always be noted on the trip. Additionally, group bookings may be non-refundable if the trip price is based on a specific number of participants.
The trademarks VIRTUOSO, the Globe Swirl Logo and SPECIALISTS IN THE ART OF TRAVEL are registered trademarks of Virtuoso, Ltd. Virtuoso, Ltd. has a U.S. copyright registration for the Globe Swirl Logo, ©2000. All rights reserved. Virtuoso CST#2069091-50. California CST# 2069091; TA# 808 - Registered Iowa Travel Agency; Washington UBI # 601 554 183. Registration as a seller of travel does not constitute approval by the State of California.
Reviews and Recommendations for ShoreTrips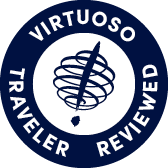 Virtuoso Verified Traveler
All reviews are from confirmed guests sharing exclusive insights
Sort reviews by
Company Contacts
Phone
Primary
+1 414 964-2100
Fax
414-964-2101
Toll Free
888-355-0220
Websites & Social Media
Primary
Business
Facebook
Pinterest
Twitter
Addresses
Primary
1930 E North Ave
Fl 2
Milwaukee, Wisconsin 53202-1126
United States
Primary Contacts
Social Media
US & Canada
Accounting