Multi-Day Tour | Escorted, Group, Private
The Best of Gujarat and Rajasthan
(16 days)
Peirce & Leslie Travel Pvt Limited - India
Mumbai, India To Jodhpur, India
Valid for Departures: 01 Oct 2018 - 31 Mar 2019
The Best of Gujarat and Rajasthan
(16 days)
Itinerary
DAY
LOCATION(S)
HOTEL
MEALS
DESCRIPTION
Day 1

Mumbai, India


None

None

Arrive in Mumbai. You will be met by our representative who will escort you to your hotel.

Day 2

Mumbai, India


None

Breakfast

Take in the sights and sounds of the bustling city today as you begin your day tour by visiting the highlights of Mumbai. Our guide will escort you on a half-day tour around the city. Take in the sights and sounds of the city as you visit Crawford Market- a wholesale fruit, vegetable and spice market, Prince of Wales Museum now called the Chhatrapati Shivaji Maharaj Vastu Sangrahalaya which was built in the early 20th century in order to honor and commemorate the visit of King George V to India, Dhobi Ghat or "washer folks' place" which is the world's largest outdoor laundry and here Mumbai's traditional washer folk -- or dhobis -- provides a wonderful service, collecting dirty laundry, washing it, and returning it neatly pressed, all for a very small fee. Later in the evening you will be joined by one of Mumbai's leading food critics and together you will explore the city's famous and unpretentious street food. On your tour, you will explore a Khau Gully (Mumbai has several), Irani Café, Girgaon Chowpaty, Kulfi Center and if time permits, we will take you to Babulnath Dosa Point.

Day 3

Mumbai, India
Rajkot, India
Gondal, India


None

Breakfast

A morning flight today takes you to Rajkot. On arrival, you will be met by our chauffeur who will drive you to Gondal (1 hour excluding stops). Later in the evening visit Navlakha Palace, known for its exquisite jharokhas or stone carvings. The museum in the palace has an excellent collection of silver caskets, textiles, wardrobes, library, and the weighing scale on which Bhagwatsinh ji was measured against gold on his golden jubilee, trophies won by the Gondal Princes at motor sports events and a horse Carriage Gallery.

Day 4

Gondal, India
Junagadh, India


None

None

Take an excursion to Junagadh (1.5 hours without stops) this morning to visit the Maqbara (mausoleum) of Nawab Mahabat Khan. The other important sights in Junagadh are Uparkor Fort, the majestic Jama Masjid inside the fort, Buddhist caves known for their monastic quarters carved out of rock and Adi Ki Vav, a stepwell named after two slave girls who used to fetch water from it. On your way back to Gondal visit Jetpur, one of the largest centres for screen-printing, block printing and yarn dyeing workshops in the country.

Day 5

Gondal, India
Bhavnagar, India


None

Breakfast

After a scrumptious breakfast, you will drive to Bhavnagar (3.5 hours excluding stops). Later in the afternoon, visit Takhtehwar Temple, dedicated to Lord Shiva and Barton Library, one of the oldest libraries in Gujarat.

Day 6

Bhavnagar, India
Palitana, India


None

Breakfast, Lunch

Take an excursion to Palitana (1 hour excluding stops) early this morning to visit Shatrunjaya, one of the most sacred places of Jainism. Later, if time permits you will visit the Vijay Vilas Palace for a sumptuous home cooked meal hosted by its current owners.

Day 7

Bhavnagar, India
Dasada, India


None

Breakfast, Dinner

This morning after breakfast, you will drive to Dasada (4 hours excluding stops). In the afternoon drive to Little Rann of Kutch. The drive through the vast Rann offers many visual delights like the Wild Ass, Blue Bull, Chinkara, jungle and desert cats and a large variety of birds like cranes, flamingoes & the Houbara Bustard. Also, witness the process of salt making in the Rann. In the evening, enjoy a special cultural performance by local artists followed by dinner.

Day 8

Dasada, India
Patan, India
Modhera, India
Ahmedabad, India


None

Breakfast

After breakfast, you will drive to Ahmedabad (2.5 hours excluding stops), stopping on the way to visit Patan and Modhera. The most significant monument in Patan is a stepwell, Rani-ki-Vav (a UNESCO World Heritage Site). You will also visit the weavers of Patola Silk Sarees, Jain Temples at Derasar, one of the largest of more than 100 Jain temples in Patan and Kapur Mahetano Pado, the stone temple with a wooden interior. From here, you will proceed to Modhera to visit the Modhera Sun Temple, a beautiful temple built by King Bhimdev I which bears slight resemblance to the better known Sun Temple at Orissa.

Day 9

Ahmedabad, India


None

None

Visit the important sights of Ahmedabad today beginning with a heritage walk through the Old City. The tour starts at the vibrantly coloured Swaminarayan Temple at 7:30 am and ends at Jama Masjid at 10:30 am. The walk takes you through Rani Rupmati Masjid, known for its impressive domes, carved galleries and tall minarets, Sidi Saiyed Masjid renowned for its Indo-Islamic architecture, and the marbled Hathee Singh Temple. Later in the afternoon visit the Shreyas Folk Musuem which displays the traditional folk arts of Gujarat and Adalaj Stepwell, the intricately carved five storeys deep octagonal well.

Day 10

Udaipur, India


None

Breakfast

After an early breakfast, you will drive to Udaipur (4.5 hours excluding stops) often called the Venice of the East for its beautiful lake side setting Evening is at leisure.

Day 11

Udaipur, India


None

Breakfast

In the morning after breakfast, you will begin your sightseeing at the City Palace. Home of the Maharanas of Udaipur, this sprawling palace was built over three centuries. Later you will walk through the Crystal Gallery which has a rather eclectic collection of Crystal Object d'art and furniture. The tour will end at Jagdish Temple, a 17th century temple that enshrines a black stone image of Lord Vishnu. Early evening you will take the sunset cruise on Lake Pichola.

Day 12

Udaipur, India
Chanoud, India


None

None

This morning's drive takes you to Chanoud (3.5 hours excluding stops), a heritage village. Later in the afternoon, explore the breathtaking landscape of large rock outcroppings and dunes shouldering the Aravalli hills.

Day 13

Chanoud, India


None

None

You may begin your day by watching the sunrise on the banks of the tranquil Chanoud Lake. Alternatively, you can drive around Chanoud and soak in the sights and sounds of the village and its people. You will absorb the everyday nuances of village life- from the market, to the fields, to the rabaris or shepherds.

Day 14

Chanoud, India
Jodhpur, India


None

Breakfast

Drive to Jodhpur (2 hours excluding stops) today after a hearty breakfast. Later in the afternoon, visit Mandore, the old city and Jaswant Thada, the graceful marble cenotaph of Maharaja Jaswant Singh II (1873-95) and other Maharajas of Jodhpur who died after him.

Day 15

Jodhpur, India


None

None

Today you will be taken on a jeep safari to explore the countryside around Jodhpur. You will visit the dwellings of people from different communities, interact with them, understand their lives, and sample rural cuisine and other aspects of their day. You will also witness varied species of birds and animals like the black buck in their natural habitat.

Day 16

Jodhpur, India
Delhi, India
Onward Destination, India


None

Breakfast

After breakfast, you will drive to Jodhpur Airport to board your flight to Delhi. On arrival, you will be met and escorted to your hotel, where room(s) will be reserved for 'wash-and-change'. In the evening, you will be escorted to the airport to board your international flight to your Onward Destination.
Tour Features
Experience(s)
Culture, History & Arts
Family Vacations
Sightseeing
Wildlife & Nature
Description
Discover the best of Gujarat and Rajasthan with a specially crafted tour by us.
About Us
Virtuoso and your Travel Advisor curate the best travel experiences from around the world. We choose exclusive experiences just for you.
Insider Tip
Contact your Virtuoso Travel Advisor for insider knowledge to help enhance your experience.
Terms & Conditions
DEPOSITS: Reservations will be confirmed against a deposit of USD $1000 per person for FIT bookings and 15% of the tour cost for Group bookings.
FINAL PAYMENT: Full payment must be received by Peirce and Leslie at least 45 days prior to arrival for FIT clients and 60 days prior to arrival for Groups.
Note: To guarantee any/all bookings during Pushkar and Christmas & New Year the hotels require a 100% non-refundable deposit 90 days prior to the arrival for FIT clients and Groups.
PAYMENT BY CREDIT CARD: The client's credit card will be charged in the local currency and will be exchanged by the client's bank at the exchange rate applicable on the day the bank processes the charge. For this reason, there may be a variation in the U.S. price quoted and the actual rate processed on the client's credit card.
CANCELLATION POLICY: After confirmation, USD $500 per person will be non-refundable for FIT's and 10% of the initial deposit for Group bookings. The balance amount will be used to block domestic air tickets (to lock in the best available fares) and put down deposits on other land arrangements, as vendors send invoices to block services.
Should it become necessary to cancel your itinerary at any time after it has been confirmed, the following cancellation fees will be levied:
FIT TRAVEL (01 - 05 persons)
45 to 30 days prior to arrival - USD $1000 per person + cancellation charges levied by suppliers
Between 30 and 15 days of arrival - 50% of tour cost + cancellation charges levied by suppliers
Less than 15 days - No Refund
GROUP SIZE OF SIX AND MORE
60 to 45 days prior to arrival - 30% of total tour cost + cancellation charges levied by suppliers
Between 45 to 30 days of Arrival - 50% of total tour cost + cancellation charges levied by suppliers
Less than 30 days - No Refund
Note: Hotels have individual cancellation charges which will be mentioned as a separate cancellation policy when the status is sent.
AIR FARE: Internal air tickets issued have a $45 per coupon cancellation fee.
TRAIN FARES: Cancellation charges levied by the railways plus a service charge of $20 per ticket.
INSURANCE AND VISAS: Baggage, personal effects, trip cancellation, health and accident insurance, and visas/special permits are the responsibility of the passenger.
PRICE: All prices quoted are subject to change if the date of travel is changed. A final tour price is given at the time of confirmation of the booking with your travel agent. Individual and itemized contract rates are not disclosed.
NOT INCLUDED: Not included in the price quoted are airport departure taxes, customs and immigration fees, excess baggage at airport, expenses of a personal nature such as laundry, telephone calls, room service, wine, liquor and meals unless otherwise specified.
The trademarks VIRTUOSO, the Globe Swirl Logo and SPECIALISTS IN THE ART OF TRAVEL are registered trademarks of Virtuoso, Ltd. Virtuoso, Ltd. has a U.S. copyright registration for the Globe Swirl Logo, ©2000. All rights reserved. Virtuoso CST#2069091-50. California CST# 2069091; TA# 808 - Registered Iowa Travel Agency; Washington UBI # 601 554 183. Registration as a seller of travel does not constitute approval by the State of California.
Reviews and Recommendations for Peirce & Leslie Travel Pvt Limited - India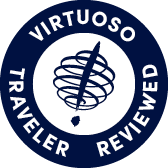 Virtuoso Verified Traveler
All reviews are from confirmed guests sharing exclusive insights
Sort reviews by
Recommended
Definitely the best
By: Dee Dee
Reviewed on: 14 Jan 2014
Our requests were submitted to P&L. They made our trip to India one of the most perfect we have ever taken. Agents of P&L were checking on us every step of the way. Two deserve special recognition: Hemesh Chaturvedi, our guide, and Ramrakesh Yadav, our driver. Hemesh had the magic touch of making everything possible and even flew with us. If you have ever experienced the chaos that is driving in India, you will appreciate the fact that Ram always made us feel safe.
Recommended
White glove service!
By: Vicki
Reviewed on: 12 Jan 2015
Our recent trip to India was flawless thanks to the wonderful people at Pierce and Leslie! Every local contact person bent over backward to make sure we were taken care of to our satisfaction. Each local guide was lovely, interesting,and knowledgeable in addition to speaking excellent English! Our main driver, Anil, was a marvel. Traffic in Delhi, Agra and Jaipur is insane, but Anil was an expert driver who got us where we wanted to go and made us feel safe at all times. The Pierce and Leslie team is simply the best!
Recommended
India
By: donnaatmore@gmail.com
Reviewed on: 08 Oct 2017
Jai was an amazing tour guide and took the time to ensure we saw everything we wanted to and was always careful and thorough in explaining everything we needed to know