Multi-Day Tour | Escorted
La Serenissima - Chairman's Collection
(22 days)
Luxury Gold
Milan , Italy To Venice , Italy
Dates:
La Serenissima - Chairman's Collection
(22 days)
Itinerary
DAY
LOCATION(S)
HOTEL
MEALS
DESCRIPTION
Day 1

Milan , Italy


None

None

YOUR JOURNEY BEGINS

Board your overnight flight to Europe

Day 2

Milan , Italy

Rosa Grand Milano (or similar), Milan

None

WELCOME TO MILAN

On arrival at Milan Malpensa Airport, you are met and transferred to your centrally-located hotel. Enjoy the rest of the day at your leisure.

Day 3

Milan , Italy

Rosa Grand Milano (or similar), Milan.
Breakfast

RELAXED START - HIGHLIGHTS OF MILAN

Milan, known for its high-end fashion and artistic landmarks, provides the perfect starting point for your Italian adventure. Join your Local Expert for a walking tour of the city's many highlights. Admire the grand Gothic Duomo in the urban heart and then come face-to-face with Leonardo da Vinci's magnificent fresco, 'The Last Supper,' at the Santa Maria delle Grazie convent.

Day 4

Venice , Italy

Uniworld's River Countess
Breakfast, Lunch, Dinner

VERONA, THE CITY OF ROMEO AND JULIET, AND ON TO VENICE

En route to Venice, stop in Verona, home to Shakespeare's star-crossed lovers, Romeo and Juliet. Continue to the revered Serego Alighieri estate, which belongs to descendants of Dante Alighieri, one of Italy's most famous poets, for an exclusive wine tasting and multi-course lunch. On arrival in Venice, step aboard Uniworld's River Countess where you'll begin your exploration of the Queen of the Adriatic.

Day 5

Venice , Italy

Uniworld's River Countess
Breakfast, Lunch, Dinner

VENICE

With your Local Expert, wind through Venice's labyrinthine back lanes, as you appreciate the city's residential heart and legendary locations, including the Doge's Palace and the Rialto Bridge. Cap the day with an after-hours VIP lighting ceremony, hosted inside St. Mark's Basilica when available. In the evening prepare for the dazzling Captain's Welcome Reception and Gala Dinner.

Day 6

Chioggia, Italy

Uniworld's River Countess
Breakfast, Lunch, Dinner

CHIOGGIA

Admire the magnificent views of The Floating City's greatest sights, as your ship sets sail for Chioggia. Explore the delights of this picturesque fishing village. Choose between wandering the canals on a discovery tour with your Local Expert or take an invigorating guided bicycle tour along the beaches of Chioggia.

Day 7

Polesella, Italy

Uniworld's River Countess
Breakfast, Lunch, Dinner

POLESELLA: BOLOGNA OR FERRARA

Art lovers will delight in a half-day visit to Ferrara. This UNESCO World Heritage Site is a beautifully preserved Renaissance treasure, an ancient center for the arts that once rivaled Medici Florence. Its long history of art was founded on the sponsorship of the noble Renaissance family of d'Este.

Day 8

Chioggia, Italy

Uniworld's River Countess
Breakfast, Lunch, Dinner

TAGLIO DI PO AND CHIOGGIA

There's no better place to indulge in Italy's famed frutti di mare than Chioggia, a colorful fishing village on the Venice Lagoon. Stroll through the town's bustling fish market alongside your Local Expert and appreciate the enterprising atmosphere. Should weather permit, hop aboard a small boat to go mussel harvesting with local fishermen out in the lagoon.

Day 9

Venice , Italy

Uniworld's River Countess
Breakfast, Dinner

VENICE ISLANDS: TORCELLO, BURANO AND MAZZORBO

Enjoy a full day on the The Magical Islands of Venice, showcasing Burano, Mazzorbo and Torcello. Wonder at Burano's colourful homes and visit a lace-making atelier, then be treated to a very special wine tasting in Mazzorbo. Visit Torcello, home to Byzantine mosaics depicting the Last Judgment in the seventh-century Cathedral of Santa Maria Dell'Assunta.

Day 10

Venice , Italy

Uniworld's River Countess
Breakfast, Lunch, Dinner

THEATRICAL VENICE

Get a feel for daily life in Venice with a guided stroll through the bustling Rialto Market, or tour the renowned Accademia Gallery with a local art historian. Celebrate your last evening onboard at the Captain's Farewell Reception and Gala Dinner.

Day 11

Rome , Italy

Bernini Bristol, Rome
Breakfast, Dinner

TO ROME BY RAIL

Transfer to the station to board your high-speed train to Rome. Enjoy the ever-changing scenery and business class comfort as you head South across the back-bone of Italy. On arrival, you are met and transferred to your hotel. At 18:00, meet your Travelling Concierge for a short stroll to the Trevi Fountain, enjoying the romance of the Eternal City as night falls, before an evening of culinary delights and wine.

Day 12

Rome , Italy

Bernini Bristol, Rome
Breakfast, Dinner

ROME AND THE VATICAN IN VIP STYLE

Our fast-tracked entry into the Vatican Museums is the best way to enjoy the timeless Papal art collection. In the ultimate VIP experience, enter Michelangelo's Sistine Chapel for a private tour with a Local Expert before it opens to the public. Continue into St. Peter's Basilica, before seeing the Roman Forum and visiting the grand Colosseum. Enjoy time at leisure in the afternoon, perhaps relishing an espresso at a piazza cafe or walking along the romantic Tiber River. In the evening meet Debora, your local VizEat host, for a home-cooked Italian meal served at her wonderful city-centre home.

Day 13

Capri, Italy

Capri Palace Hotel & Spa, Isle of Capri
Breakfast

Journey to the ill-fated town of Pompeii, frozen in time since A.D. 79 when it was violently engulfed by an eruption of Vesuvius. Join your Local Expert to learn about the lifestyles of the people who once lived here and explore the remnants of ancient shops, baths and patrician villas. Journey on to the Bay of Naples where you'll board your hydrofoil bound for the sun-drenched Isle of Capri. On arrival, enjoy an escorted ride in an open-top taxi to your exclusive hotel. Settle in and appreciate the splendors of Capri at your leisure, long after the day-trippers have returned to the mainland.

Day 14

Capri, Italy

Capri Palace Hotel & Spa, Isle of Capri
Breakfast, Lunch

RELAXED START - EXPLORE THE ISLE OF DREAMS

Embark on a dazzling cruise to see the white grotto and spectacular cliffs of the island, before arriving in Capri town to cool off with a refreshing lemon granita. Walk with your Local Expert to the gardens of Caesar Augustus to view the legendary Faraglioni Rocks, jutting out of the water. Prepare for a highlight lunch at Ristorante L'Olivo, the only eatery on the island boasting two Michelin stars. Savour Chef Andrea Migliaccio's culinary masterpieces of traditional dishes inspired by modern interpretations, as you drink wine from carefully-crafted handmade glassware. Enjoy the rest of the day at leisure, perhaps treating yourself to a pampering massage at your hotel's day spa?

Day 15

Perugia, Italy

Brufani, Perugia
Breakfast

LUSH UMBRIA AND ON TO ASSISI AND PERUGIA

Return to the mainland and travel north along the Highway of the Sun to the winding, cobbled streets of Assisi for a guided visit to the imposing Basilica of St. Francis with your Local Expert. Continue on to the Umbrian capital of Perugia. Ascend from the lower town, through the maze of medieval streets, to your five-star deluxe hotel. In the afternoon, meet your Local Expert for a walk along Perugia's Corso Vannucci to the main square where you'll see the Great Fountain, Collegio del Cambio and the splendid Prior's Palace. Spend the evening at your leisure; perhaps soaking up the vibrancy of this historic university town from a local cafe?

Day 16

Tuscany , Italy

Villa Le Maschere, Barberino Di Mugello, Tuscany
Breakfast, Lunch

RELAXED START - SAN GIMIGNANO AND TUSCANY

Discover the preserved heritage of textile loom-weaving at the Laboratorio Giuditta Brozzetti, a weaver's workshop situated inside a 13th century Franciscan church. Meet Marta, the workshop director and recipient of a TreadRight Foundation grant, and learn how this medieval craft has been kept alive over the generations. Continue your journey north through glorious Tuscan landscapes to hilltop San Gimignano and stroll through its serpentine alleyways to taste the award-winning gelato of Sergio Dondoli. Travel to the Chianti region to meet your Local Expert for a guided tour through the former house and Mediterranean gardens of the Italian Renaissance diplomat and writer, Nicolo Machiavelli. You're invited to join a special opening of his private office where he famously wrote 'The Prince' and then to enjoy an exclusive wine tasting in his original cellar. Taste a variety of wines from his cellar including a rare Super Tuscan, one of the world's most renowned wines. Conclude your visit with a light lunch of Farm-to-Table Tuscan snacks.

Chairman's Collection

You are invited to an exclusive lunch and wine tasting with Count Francesco Mazzei at his centuries-old Tuscan estate.

Day 17

Tuscany , Italy

Villa Le Maschere, Barberino Di Mugello, Tuscany
Breakfast, Dinner

RENAISSANCE FLORENCE

For a relatively small city, Florence boasts an abundance of art and architectural masterpieces, chic boutiques and fabulous restaurants. Join an art historian for an insider's guide to cultural Florence. Admire Michelangelo's original statue of David in the Accademia Museum, before strolling to the cathedral, the baptistery with its Gates of Paradise and the open-air gallery in Piazza della Signoria. Enjoy Florence in the afternoon at your own pace or return to your renaissance hotel for a relaxing afternoon spent in its tranquil Tuscan gardens. In the evening, gather for a delicious dinner with wine, served at a local restaurant in delightful Barberino Di Mugello

Day 18

Tuscany, Italy

Villa Le Maschere, Barberino Di Mugello, Tuscany
Breakfast, Lunch, Dinner

RELAXED START - TUSCAN COOKING CLASS AND PISA

Join a professional chef and uncover the secrets of Tuscan cooking during an authentic culinary masterclass. Complete your cooking experience by savouring the fruits of your labour with a lovely lunch. In the afternoon, travel to Pisa and with your Local Expert view the splendid Duomo, baptistery and, of course, the famous gravity-defying Leaning Tower of Pisa!

Day 19

Rapallo, Italy

Grand Hotel Bristol Resort & Spa, Rapallo
Breakfast, Dinner

EXPLORING THE CINQUE TERRE AND THE ITALIAN RIVIERA

Journey northwest towards the Cinque Terre, a UNESCO World Heritage Site. Join your Local Expert in the picturesque fishing village of Manarola, then cruise along the rugged coast to explore Monterosso's medieval quarter and popular sandy beach. Enjoy lunch at leisure, then journey by train to the resort of Rapallo. Your prestigious hotel offers striking vistas of the Portofino promontory.

Day 20

Venice , Italy

Bauer Palazzo, Venice
Breakfast

THEATRICAL VENICE AND THE DOGE'S PALACE

Cross the fertile Po Valley to Verona, home of Shakespeare's star-crossed lovers. Stroll past the well-preserved Roman Arena and through a maze of elegant squares to stand beneath the balcony said to have belonged to the Capulet family. Continue on to your five-star luxury hotel in Venice. In the evening, you are invited to an after-hours private visit of the magnificent Doge's Palace. As all crowds disappear, discover the history, art and culture of the Venetian Republic with your Local Expert.

Day 21

Venice , Italy

Bauer Palazzo, Venice
Breakfast, Dinner

RELAXED START - VENICE AND THE MAGIC OF LA SERENISSIMA

Discover the majestic wonders of Venice on a guided walk with your Local Expert. Admire St. Mark's Basilica and see the Bridge of Sighs, witness the age-old skill of glassblowing at an arts centre and finally take your seat in a traditional gondola for a serenade through the romantic canals. In the afternoon, cruise to the idyllic fisherman's island of Burano and arrive just in time for a spectacular Celebration Dinner. Raise a glass of local Italian wine, as you toast to new friendships and memories.

Day 22

Venice , Italy


None

Breakfast

ARRIVEDERCI VENICE

After breakfast, bid farewell to your travel companions and transfer by private boat to Venice Marco Polo Airport for your onward journey.
Tour Features
Experience(s)
Experiences have not been selected at this time
Description
This magnificent itinerary is a showcase of Italy's grand past, romantic cities and exquisite natural wonders. Discover the gems of Venice and Northern Italy on your all-inclusive, luxury river cruise, before continuing in elegance by rail and road across the Italian peninsula. Personalize your trip with a selection of included experiences. Whether you prefer to admire the art scene in Ferrara, or try your hand at making pasta in Bologna, this journey brings la dolce vita to life for the ultimate Italian vacation.
Stanley Tollman - Chairman's Collection
Join Count Francesco Mazzei at his Tuscan estate.
About Us
We invite you to embark on a travel experience unlike any other. Join us as we explore exotic lands and distinctive destinations, in exquisite style and comfort. At Luxury Gold, it's our pleasure to make your next journey extraordinary. Allow us to share our unparalleled wealth of expertise and insights, accumulated over nearly 100 years as leaders in luxury travel. We put our heart and soul into everything we do, taking care of every detail to ensure your Luxury Gold journey is perfectly planned, personalized, and truly unforgettable.
Insider Tip
Contact your Virtuoso Travel Advisor for insider knowledge to help enhance your experience.
Terms & Conditions
Click here to view our Booking Conditions.
The trademarks VIRTUOSO, the Globe Swirl Logo and SPECIALISTS IN THE ART OF TRAVEL are registered trademarks of Virtuoso, Ltd. Virtuoso, Ltd. has a U.S. copyright registration for the Globe Swirl Logo, ©2000. All rights reserved. Virtuoso CST#2069091-50. California CST# 2069091; TA# 808 - Registered Iowa Travel Agency; Washington UBI # 601 554 183. Registration as a seller of travel does not constitute approval by the State of California.
Reviews and Recommendations for Luxury Gold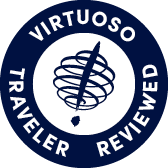 Virtuoso Verified Traveler
All reviews are from confirmed guests sharing exclusive insights
Sort reviews by