Multi-Day Tour | Escorted
French Impression - Chairman's Collection
(17 days)
Luxury Gold
Paris, France To Monaco, France
Dates:
French Impression - Chairman's Collection
(17 days)
Day 14
Monte Carlo, France
Day 15
Monte Carlo, France
Day 16
Monte Carlo, France
Itinerary
DAY
LOCATION(S)
HOTEL
MEALS
DESCRIPTION
Day 1

Paris, France


None

None

YOUR JOURNEY BEGINS

Board your overnight flight to Europe

Day 2

Paris, France

Uniworld's S.S. Joie de Vivre
Breakfast

WELCOME TO PARIS

On arrival at Paris Charles de Gaulle Airport, you will be met and transferred to your luxurious Uniworld ship. Settle into your sumptuous cabin and acquaint yourself with your home for the next few days.

Day 3

Versailles, France

Uniworld's S.S. Joie de Vivre
Breakfast, Lunch, Dinner

LA ROCHE-GUYON, VERNON AND MONET'S GIVERNY

Today is a celebration of Northern France's natural beauty, with an excursion to a splendid chateau and gardens situated in an equally grand setting, plus a chance to immerse yourself in the very landscapes that inspired Impressionist master, Claude Monet. Visit and appreciate the grandeur of the hilltop Chateau La Roche-Guyon, surrounded by beautiful gardens and offering sweeping views over the Seine. This is where Medieval knights kept watch for marauding Vikings, where kings Francis I and Henry II once gathered and where enlightenment thinkers exchanged ideas. Later, you can visit the home and gardens of Impressionist master Claude Monet. When Monet bought the property, most of it was an orchard; he transformed it over the years into the enchanting visions immortalized in his paintings, essentially creating each work of art twice: once as a living garden and again as a painting. Your other choice is to explore the beautiful French countryside on a guided bike ride from Vernon to Giverny. You'll ride along an easy course for about three miles to the village where the artist lived for decades. See the church and cemetery where Monet is buried and the Hotel Baudy, where his painter friends often stayed, and arrive at the artist's home and garden for a tour. In the evening, meet your fellow passengers and enjoy a special Captain's Welcome Dinner.

Day 4

Mantes, France

Uniworld's S.S. Joie de Vivre
Breakfast, Lunch, Dinner

MEDIEVAL ROUEN

Once home to Richard the Lionheart, Joan of Arc, Gustave Flaubert and Claude Monet, Normandy's medieval capital with its amazingly intact historic quarter allows you to walk in the footsteps of greatness. A treasure-trove for the culturally curious, Rouen is where you'll see the cathedral, painted by Monet 30 times, and the place where Joan of Arc was martyred. Despite being turned into a battlefield numerous times over the centuries, Rouen has managed to preserve much of its historic core. Join your Local Expert for a gourmet walking discovery tour, starting at the 800-year-old cathedral and leading into the Old Town. The cobblestone alleyways are lined with tall half-timbered houses, often with shops on the first floor and apartments above. Step into a couple of these shops and patisseries for tastes of regional specialties like delicious cider and the chocolate confection unique to Rouen known as the 'Tears of Joan of Arc.' Continue towards the Old Market Square where you'll see a bronze cross marking the most famous death in the city, the place where the English burned Joan of Arc at the stake.

Day 5

Caudebec, France

Uniworld's S.S. Joie de Vivre
Breakfast, Lunch, Dinner

CAUDEBEC-EN-CAUX: HONFLEUR OR ÉTRETAT

Caudebec, a lovely village on a serene loop of the Seine, is your base today for one of two very different excursions. Your first option is to be driven through the beautiful Calvados countryside to seaside Honfleur for a delightful discovery walking tour with your Local Expert. Begin at the former smugglers' harbor of Vieux Bassin, which looks much as it did a century ago, then continue down tiny lanes, where houses stand shoulder-to-shoulder in a jumble of historic styles. You'll also see St. Catherine's Church, built in the 15th century by shipwrights who gave it an oak ceiling that looks like the hull of a boat. Alternatively, head to the cliffs of Étretat for a round of golf on one of France's top courses. This exclusive golfing excursion takes place on a dramatic links course set atop Normandy's Alabaster Coast. After a morning of golfing, enjoy lunch in charming Étretat and explore the seaside village that so many artists, including Monet, rendered in paint, or return to the ship for lunch and a leisurely afternoon onboard.

Day 6

Mont Saint-Michel, Lower Normandy Region, France

Uniworld's S.S. Joie de Vivre
Breakfast, Dinner

ROUEN: NORMANDY BEACHES

The Normandy coast will forever be associated with the Allies' 1944 D-Day invasion, a day that comes vividly to life on an optional excursion to the landing beaches. Take your pick of beaches to visit. The tour of Utah and Omaha beaches and Sainte-Mère-Église encompasses the major areas of the American assault with each location showcasing actual equipment used for the invasion including tanks, landing craft, bombers and gliders. Another option is Juno Beach, where a six-mile stretch of beach was assigned to the 3rd Canadian Infantry Division under the command of Major-General Rodney Keller. Walk along the shoreline, where so many died, and visit Juno Beach Center, dedicated to the Canadian war effort. One million Canadians served during WWII, and 14,000 participated in the Juno Beach landing. Perhaps you'd like to travel further into the past with an up-close look at the 1000-year-old Bayeux Tapestry, depicting the Norman Conquest. Join your Local Expert for a visit to Bayeux, the first French town to be liberated in 1944, and witness the remarkable Bayeux Tapestry, listed on UNESCO's Memory of the World Register. After embarking on your chosen excursion, meet your fellow travellers at the American cemetery, where almost 10,000 US soldiers are buried, most of whom lost their lives during the D-Day invasion. Pay your respects with a wreath-laying ceremony at the Normandy American cemetery.

Day 7

Mantes, France

Uniworld's S.S. Joie de Vivre
Breakfast, Lunch, Dinner

RELAXED START - MANTES-LA-JOLIE: VERSAILLES

Discover how French rulers lived their daily lives over the centuries by stepping into the private rooms of either the lavish Palace of Versailles or Château de Malmaison, home to Napoleon Bonaparte's Empress Josephine. Your first option, the Palace of Versailles, was the official residence of the country's kings and queens from 1682 until the revolution, and though the monarchy possessed other palaces, Versailles stood alone in magnificence. Tour the royal apartments, which still look much as they did when Louis XVI and Marie Antoinette fled in 1789. Climb the great staircase and enter the jaw-dropping Hall of Mirrors, where the absolute ruler of France held court for the ambassadors of Siam, Persia and the Ottoman Empire, along with all the great seigneurs of France. Your second option is Château de Malmaison, a testament of Napoleon's devotion to Josephine. Join your Local Expert, as you explore the jewel-box palace, which was redesigned under Josephine's direction in the 1790s with every facet intended to reflect both the 'Little Corporal's' glory and Josephine's own exquisite Directoire tastes. Though the palace fell on hard times in the 19th century, it has been beautifully restored.

Day 8

Paris, France

Uniworld's S.S. Joie de Vivre
Breakfast, Lunch, Dinner

RELAXED START - INTRODUCTION TO PARIS

Whether you're a first-time visitor to the City of Light or you've visited many times before, there's something for everyone today in Paris. See the city's most prized attractions on an orientation guided by a Local Expert. Enjoy a drive from the Arc de Triomphe down the Champs Élysées to the Place de la Concorde. Pass the magnificent Opéra Garnier, the Place Vendôme which is home to designer salons, the legendary Louvre and the Sorbonne University, and the Panthéon. Stretch your legs at the Luxembourg Gardens, then take in the École Militaire before arriving at the manicured grounds of the Champs de Mars, the perfect vantage point from which to see Paris's most iconic structure, the Eiffel Tower. Your second option is to take the Métro to the Île de la Cité with your Local Guide to the great cathedral of Notre Dame. An expert in history and architecture will walk you through the cathedral and share insider knowledge. Next, cross the Archbishop's Bridge to the Left Bank and the Latin Quarter. Wander through the narrow streets where for centuries artists, writers, philosophers and the Sorbonne's students have lived and worked, argued politics, painted, sipped absinthe and lived the bohemian lifestyle for which the district is famous. Your final option is a guided bicycle ride along the Seine River. Join your guide and pedal along the Left Bank, past the Esplanade des Invalides where Napoleon's tomb is one of the monuments here and along the Quay d'Orsay to the Champs de Mars, one of Paris's largest green spaces, offering one of the best views of the Eiffel Tower in the city.

Day 9

Paris, France

Renaissance Paris Republique Hotel
Breakfast

GLORIOUS PARIS

Disembark your ship and transfer to your five-star hotel, situated in the heart of Paris. Enjoy the most quintessential of French experiences: a small-group gourmet foodie walk through the streets Paris. Join your Local Expert and food connoisseur and visit a variety of boutique shops, including patisseries, boulangeries, chocolatiers, baguette cafes and tiny cheese shops. Discover why Paris is so famous for its cuisine and meet passionate foodies along the way. In the afternoon, join your Travelling Concierge for a visit to the iconic Eiffel Tower. As a guest of Luxury Gold, enjoy special VIP entry, allowing you to skip the line. From the 115-metre-high second story, marvel at vistas of Paris in all its glory. The rest of the day is at your leisure. Your Travelling Concierge is on hand to assist you with booking tickets to museums and recommending the best local activities. Perhaps you'd like tickets arranged to see the Mona Lisa at the Louvre Museum?

Day 10

Paris, France

Renaissance Paris Republique Hotel
Breakfast, Dinner

RELAXED START - VIP VISIT TO CHÂTEAU DE VAUX-LE-VICOMTE

Step into the 17th century during an exclusive VIP visit to the largest privately-owned chateau in France, Vaux-Le-Vicomte, with its magnificent formal gardens. Designed in 1653 by the King's Principle Architect, Louis Le Vau, the chateau is the embodiment of revolutionary design and set the tone for the classical baroque era of French architecture. The estate's gardens are equally impressive, comprising of 40 hectares of treasures, including decorated fountains, patterned flower beds and timeless statues. You're invited to join the estate's lead gardener for a guided walk through the gardens. Alternatively, learn about the subtleties of high society during a dining etiquette class hosted by a professional butler. Return to Paris to enjoy a privately-hosted dinner at a local Parisian's home and savour home-cooked French fare at its best. Your VizEat host will give you a real flavour of what local life is really like.

CHAIRMAN'S COLLECTION

Join Count Remy de Scitivaux for a dazzling dinner at Le Procope, the oldest Parisian restaurant in continuous operation.

Day 11

Arles, France

Hotel Jules César, Arles
Breakfast, Dinner

RELAXED START - THE HEART OF PROVENCE - AVIGNON AND ARLES

Travel in first-class aboard the TGV train to Avignon, once the centre of Catholicism. On arrival, join your Travelling Concierge for an orientation of the city, seeing its medieval fortified walls and immense Gothic Papal Palace. Enjoy lunch at your leisure in one of the city's lovely restaurants, before journeying on to the medieval village of Châteauneuf-du-Pape, a renowned winegrowing region and the former summer residence of the Avignon popes. Take in 360-degree views of the Rhône Valley and enjoy a wine tasting at a renowned winery. Hosted by the estate's vintner, sample a selection of delicious blends and learn why some of the world's best-loved wines come from this region. Travel on to Pont du Gard, one of the world's best-preserved ancient Roman aqueducts and a UNESCO World Heritage Site, and finish the day in Arles. Gather this evening for dinner served in the hotel's Lou Marqués gourmet restaurant for a feast of seasonal dishes and fine wines.

Day 12

Arles, France

Hotel Jules César, Arles
Breakfast

RELAXED START - VAN GOGH'S ARLES

Join your Local expert and follow in the footsteps of Vincent Van Gogh on a guided walk through Arles. Inspired by the wild beauty and sunbaked houses of Provence, Van Gogh painted over 200 masterpieces in and around the town. Stroll along the Rhône River, which cuts through the city, and visit the famous Arles Amphitheatre, dating back to A.D. 90. During Roman occupation, this prominent structure drew crowds of up to 20 000 spectators who came to revel in the excitement of chariot races and bloody battles. Today the amphitheatre hosts plays, concerts and bullfights. Enjoy the rest of the day at leisure, perhaps admiring Van Gogh's artworks at the Vincent Van Gogh Foundation or visiting one of the city's famed food markets if available. So captivating is the beauty of this historic city that you'll feel as if you're walking through a Van Gogh painting. Dine this evening at one of many lovely restaurants and perhaps seal the evening with a wander along the river. Your Travelling Concierge is there to assist you with restaurant reservations.

Day 13

Arles, France

Hotel Jules César, Arles
Breakfast, Lunch

RELAXED START - OLIVE OIL TASTING IN PROVENCE AND MICHELIN-STAR LUNCH

Set atop a rocky outcrop in the Alpilles Mountains and crowed with a ruined castle, Les-Baux-de-Provence has a reputation as one of the most picturesque villages in France. Start the day with an exploration of the village's winding streets and take in panoramic views, before continuing to Maison de Bournissac, a small family-owned olive mill situated on the plains below. Meet the owner, see the fruit and mechanized press, and learn about the production process, a fine tradition passed down through the generations. Gather in the shade of a nearby fig tree for a sample of the award-winning olive oil. Then onto the beautiful old Mas, a traditional farmhouse of Provence, and prepare yourself for a spectacular feast at a Michelin-star restaurant. Enjoy the finest flavours of Provence, as each Michelin-star restaurant around the world is meticulously selected based on outstanding food quality. There is time in the afternoon to shop or explore in Saint-Rémy-de-Provence, the wonderful old home-town of Nostradamus, before returning to Arles to spend the evening at your leisure.

Day 14

Monte Carlo, France

Fairmont Monte Carlo
Breakfast

PROVENCAL HIGHLIGHTS AND ON TO MONACO

Journey to Aix-en-Provence, known as 'the most beautiful town in France after Paris', and see the elegant mansions and bustling cafes of the Cours Mirabeau. Then continue to the hilltop village of St-Paul-de-Vence, where contemporary painters celebrate art as a living tradition. Walk through its winding streets and marvel at elegant fountains, vine-covered stone walls, and views of mountains and sea. Today's travels end in the Principality of Monaco, ruled by the Grimaldi family since the 13th century and famous for being the seaside playground of the rich and famous. Settle into your centrally-located hotel and enjoy dinner at your leisure.

Day 15

Monte Carlo, France

Fairmont Monte Carlo
Breakfast

RELAXED START - THE GLITZ AND GLAMOUR OF MONACO

Join your Travelling Concierge for sightseeing of glamourous Monaco. See the Grand Prix circuit - famous for hosting the annual Formula One Monaco Grand Prix - explore the old town and admire the Royal Palace where the Grimaldi family lives. Wander along the yacht-filled harbour and visit the cathedral, which houses the tombs of the late Prince Rainier and Princess Grace. Spend the rest of the day at your leisure, exploring this fashionable resort town or perhaps venturing further afield to seaside Nice.

Day 16

Monte Carlo, France

Fairmont Monte Carlo
Breakfast, Dinner

RELAXED START - CORNICHE ROADS AND VILLA EPHRUSSI DE ROTHSCHILD

Embark on a dazzling drive along the Corniche Roads of the Riviera and take in breathtaking views along Europe's most beautiful coast. Climb to the uppermost 'Grand Corniche', clinging to rocks between sea and sky, and built by Napoleon alongside one of the old Roman Roads. Stop en route to appreciate sweeping panoramas of the sparkling Mediterranean and lavish villas. Join a Local Expert for a visit to the luxurious Villa Ephrussi de Rothschild, one of the finest listed buildings on the French Riviera. The Baroness Ephrussi de Rothschild collected art works from all over the world, transforming the Villa at Saint-Jean-Cap-Ferrat into an art lover's paradise. Explore its nine wonderful gardens, complete with musical fountains, and enjoy stunning views over the Riviera. In the evening, raise a glass to new adventures and friendships at your Celebration Dinner with champagne, hosted at a local restaurant.

Day 17

Monaco, France


None

Breakfast

FAREWELL MONACO

After breakfast, bid farewell to your travel companions and enjoy a private transfer to Nice airport for your onward journey.
Tour Features
Experience(s)
Experiences have not been selected at this time
Description
Uncover the glamour and rich heritage of France, as you step aboard the timeless S.S. Joie de Vivre for a voyage into the past. Experience the world that inspired Monet's masterpieces and see the D-Day beaches of Normandy. Journey on land from iconic Paris to the heart of romantic Provence and on to the dazzling French Riviera. Along the way, you'll travel in VIP comfort, stay in luxurious hotels and be introduced to passionate foodies and historians. Taste local specialities on a gourmet culinary walk in Paris, follow in the footsteps of Van Gogh in Arles and visit the timeless chateau of Vaux-Le-Vicomte and Villa Rothschild.
STANLEY TOLLMAN - CHAIRMAN'S COLLECTION
Join Count Remy de Scitivaux for a dazzling dinner at Le Procope.
About Us
We invite you to embark on a travel experience unlike any other. Join us as we explore exotic lands and distinctive destinations, in exquisite style and comfort. At Luxury Gold, it's our pleasure to make your next journey extraordinary. Allow us to share our unparalleled wealth of expertise and insights, accumulated over nearly 100 years as leaders in luxury travel. We put our heart and soul into everything we do, taking care of every detail to ensure your Luxury Gold journey is perfectly planned, personalized, and truly unforgettable.
Insider Tip
Contact your Virtuoso Travel Advisor for insider knowledge to help enhance your experience.
Terms & Conditions
Click here to view our Booking Conditions.
The trademarks VIRTUOSO, the Globe Swirl Logo and SPECIALISTS IN THE ART OF TRAVEL are registered trademarks of Virtuoso, Ltd. Virtuoso, Ltd. has a U.S. copyright registration for the Globe Swirl Logo, ©2000. All rights reserved. Virtuoso CST#2069091-50. California CST# 2069091; TA# 808 - Registered Iowa Travel Agency; Washington UBI # 601 554 183. Registration as a seller of travel does not constitute approval by the State of California.
Reviews and Recommendations for Luxury Gold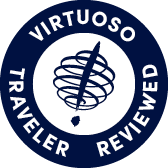 Virtuoso Verified Traveler
All reviews are from confirmed guests sharing exclusive insights
Sort reviews by