Multi-Day Tour | Escorted
French Vogue - Chairman's Collection
(11 days)
Luxury Gold
Paris, France To Monaco, France
Dates:
French Vogue - Chairman's Collection
(11 days)
Itinerary
DAY
LOCATION(S)
HOTEL
MEALS
DESCRIPTION
Day 1

Paris, France


None

None

YOUR JOURNEY BEGINS

Board your overnight flight to Europe

Day 2

Paris, France

Renaissance Paris Republique Hotel.
Dinner

WELCOME TO PARIS

On arrival at Charles de Gaulle Airport, you will be met and transferred to your five-star hotel in the heart of Paris

Day 3

Paris, France

Renaissance Paris Republique Hotel
Breakfast

RELAXED START - GOURMET FOODIE WALK AND THE EIFFEL TOWER

Enjoy a relaxed start to the day, before embarking on the most quintessential of French experiences: a small-group gourmet foodie walk through the streets of Paris. Join your Local Expert and food connoisseur and visit a variety of boutique shops, including pâtisseries, boulangeries, chocolatiers, baguette cafes and tiny cheese shops. Discover why Paris is so famous for its cuisine and meet passionate foodies along the way. In the afternoon, join your Travelling Concierge for a visit to the iconic Eiffel Tower. As a guest of Luxury Gold, enjoy special VIP entry, allowing you to skip the line. From the 115-metre-high second story, marvel at vistas of Paris in all its glory. The rest of the day is at your leisure. Your Travelling Concierge is on hand to assist you with booking tickets to museums and recommending the best local activities. Perhaps you'd like tickets arranged to see the Mona Lisa at the Louvre Museum?

Day 4

Arles, France

Renaissance Paris Republique Hotel
Breakfast, Dinner

RELAXED START - VIP VISIT TO CHÂTEAU DE VAUX-LE-VICOMTE

Step into the 17th century during an exclusive VIP visit to the largest privately-owned chateau in France, Vaux-Le-Vicomte, with its magnificent formal gardens. Designed in 1653 by the King's Principle Architect, Louis Le Vau, the chateau is the embodiment of revolutionary design and set the tone for the classical baroque era of French architecture. The estate's gardens are equally impressive, comprising of 40 hectares of treasures, including decorated fountains, patterned flower beds and timeless statues. You're invited to join the estate's lead gardener for a guided walk through the gardens. Alternatively, learn about the subtleties of high society during a dining etiquette class hosted by a professional butler. Return to Paris to enjoy a privately-hosted dinner at a local Parisian's home and savour home-cooked French fare at its best. Your VizEat host will give you a real flavour of what local life is really like.

Chairman's Collection

Join Count Remy de Scitivaux for a dazzling dinner at Le Procope, the oldest Parisian restaurant in continuous operation.

Day 5

Arles, France

Hotel Jules César, Arles
Breakfast, Dinner

THE HEART OF PROVENCE - AVIGNON AND ARLES

Travel in first-class aboard the TGV train to Avignon, once the centre of Catholicism. On arrival, join your Travelling Concierge for an orientation of the city, seeing its medieval fortified walls and immense Gothic Papal Palace. Enjoy lunch at your leisure in one of the city's lovely restaurants, before journeying on to the medieval village of Châteauneuf-du-Pape, a renowned winegrowing region and the former summer residence of the Avignon popes. Take in 360-degree views of the Rhône Valley and enjoy a wine tasting at a renowned winery. Hosted by the estate's vintner, sample a selection of delicious blends and learn why some of the world's best-loved wines come from this region. Travel on to Pont du Gard, one of the world's best-preserved ancient Roman aqueducts and a UNESCO World Heritage Site, and finish the day in Arles. Gather this evening for dinner served in the hotel's Lou Marqués gourmet restaurant for a feast of seasonal dishes and fine wines.

Day 6

Arles, France

Hotel Jules César, Arles
Breakfast

RELAXED START - VAN GOGH'S ARLES

Join your Local expert and follow in the footsteps of Vincent Van Gogh on a guided walk through Arles. Inspired by the wild beauty and sunbaked houses of Provence, Van Gogh painted over 200 masterpieces in and around the town. Stroll along the Rhône River, which cuts through the city, and visit the famous Arles Amphitheatre, dating back to A.D. 90. During Roman occupation, this prominent structure drew crowds of up to 20 000 spectators who came to revel in the excitement of chariot races and bloody battles. Today the amphitheatre hosts plays, concerts and bullfights. Enjoy the rest of the day at leisure, perhaps admiring Van Gogh's artworks at the Vincent Van Gogh Foundation or visiting one of the city's famed food markets if available. So captivating is the beauty of this historic city that you'll feel as if you're walking through a Van Gogh painting. Dine this evening at one of many lovely restaurants and perhaps seal the evening with a wander along the river. Your Travelling Concierge is there to assist you with restaurant reservations.

Day 7

Monaco, France

Hotel Jules César, Arles
Breakfast, Lunch

RELAXED START - OLIVE OIL TASTING IN PROVENCE AND MICHELIN-STAR LUNCH

Set atop a rocky outcrop in the Alpilles Mountains and crowed with a ruined castle, Les-Baux-de-Provence has a reputation as one of the most picturesque villages in France. Start the day with an exploration of the village's winding streets and take in panoramic views, before continuing to Maison de Bournissac, a small family-owned olive mill situated on the plains below. Meet the owner, see the fruit and mechanized press, and learn about the production process, a fine tradition passed down through the generations. Gather in the shade of a nearby fig tree for a sample of the award-winning olive oil. Then onto the beautiful old Mas, a traditional farmhouse of Provence, and prepare yourself for a spectacular feast at a Michelin-star restaurant. Enjoy the finest flavours of Provence, as each Michelin-star restaurant around the world is meticulously selected based on outstanding food quality. There is time in the afternoon to shop or explore in Saint-Rémy-de-Provence, the wonderful old home-town of Nostradamus, before returning to Arles to spend the evening at your leisure.

Day 8

Monaco, France

Fairmont Monte Carlo
Breakfast

PROVENCAL HIGHLIGHTS AND ON TO MONACO

Journey to Aix-en-Provence, known as 'the most beautiful town in France after Paris', and see the elegant mansions and bustling cafes of the Cours Mirabeau. Then continue to the hilltop village of St-Paul-de-Vence, where contemporary painters celebrate art as a living tradition. Walk through its winding streets and marvel at elegant fountains, vine-covered stone walls, and views of mountains and sea. Today's travels end in the Principality of Monaco, ruled by the Grimaldi family since the 13th century and famous for being the seaside playground of the rich and famous. Settle into your centrally-located hotel and enjoy dinner at your leisure.

Day 9

Monaco, France

Fairmont Monte Carlo
Breakfast

RELAXED START - THE GLITZ AND GLAMOUR OF MONACO

Join your Travelling Concierge for sightseeing of glamourous Monaco. See the Grand Prix circuit - famous for hosting the annual Formula One Monaco Grand Prix - explore the old town and admire the Royal Palace where the Grimaldi family lives. Wander along the yacht-filled harbour and visit the cathedral, which houses the tombs of the late Prince Rainier and Princess Grace. Spend the rest of the day at your leisure, exploring this fashionable resort town or perhaps venturing further afield to seaside Nice.

Day 10

Monaco, France

Fairmont Monte Carlo
Breakfast, Dinner

RELAXED START - CORNICHE ROADS AND VILLA EPHRUSSI DE ROTHSCHILD

Embark on a dazzling drive along the Corniche Roads of the Riviera and take in breathtaking views along Europe's most beautiful coast. Climb to the uppermost 'Grand Corniche', clinging to rocks between sea and sky, and built by Napoleon alongside one of the old Roman Roads. Stop en route to appreciate sweeping panoramas of the sparkling Mediterranean and lavish villas. Join a Local Expert for a visit to the luxurious Villa Ephrussi de Rothschild, one of the finest listed buildings on the French Riviera. The Baroness Ephrussi de Rothschild collected art works from all over the world, transforming the Villa at Saint-Jean-Cap-Ferrat into an art lover's paradise. Explore its nine wonderful gardens, complete with musical fountains, and enjoy stunning views over the Riviera. In the evening, raise a glass to new adventures and friendships at your Celebration Dinner with champagne, hosted at a local restaurant.

Day 11

Monaco, France


None

Breakfast

FAREWELL MONACO

After breakfast, bid farewell to your travel companions and enjoy a private transfer to Nice airport for your onward journey.
Tour Features
Experience(s)
Experiences have not been selected at this time
Description
Uncover the glamour and rich heritage of France, as you journey from iconic Paris to the heart of romantic Provence and on to the dazzling French Riviera. Along the way, you'll travel in VIP comfort, stay in luxurious hotels and be introduced to passionate foodies and historians. Taste local specialties on a gourmet culinary walk in Paris, follow in the footsteps of Van Gogh in Arles and visit the timeless chateau of Vaux-Le-Vicomte and Villa Rothschild.
STANLEY TOLLMAN - CHAIRMAN'S COLLECTION
Join Count Remy de Scitivaux for a dazzling dinner at Le Procope, the oldest arisian restaurant in continuous operation.
About Us
We invite you to embark on a travel experience unlike any other. Join us as we explore exotic lands and distinctive destinations, in exquisite style and comfort. At Luxury Gold, it's our pleasure to make your next journey extraordinary. Allow us to share our unparalleled wealth of expertise and insights, accumulated over nearly 100 years as leaders in luxury travel. We put our heart and soul into everything we do, taking care of every detail to ensure your Luxury Gold journey is perfectly planned, personalized, and truly unforgettable.
Insider Tip
Contact your Virtuoso Travel Advisor for insider knowledge to help enhance your experience.
Terms & Conditions
Click here to view our Booking Conditions.
The trademarks VIRTUOSO, the Globe Swirl Logo and SPECIALISTS IN THE ART OF TRAVEL are registered trademarks of Virtuoso, Ltd. Virtuoso, Ltd. has a U.S. copyright registration for the Globe Swirl Logo, ©2000. All rights reserved. Virtuoso CST#2069091-50. California CST# 2069091; TA# 808 - Registered Iowa Travel Agency; Washington UBI # 601 554 183. Registration as a seller of travel does not constitute approval by the State of California.
Reviews and Recommendations for Luxury Gold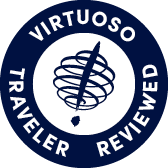 Virtuoso Verified Traveler
All reviews are from confirmed guests sharing exclusive insights
Sort reviews by