Multi-Day Tour | Escorted, Group
VIETNAM, CAMBODIA & LAOS BIKE TOUR [BICI]
(9 days)
Backroads
Luang Prabang, Laos To Ho Chi Minh City, Vietnam
Valid for Departures Now Through: 30 Apr 2020
VIETNAM, CAMBODIA & LAOS BIKE TOUR [BICI]
(9 days)
Itinerary
| DAY | LOCATION(S) | HOTEL | MEALS | DESCRIPTION |
| --- | --- | --- | --- | --- |
| Day 1 | Luang Prabang, Laos | Belmond La Residence Phou Vao | Lunch, Dinner, Snack | Behold the charms of Luang Prabang, ancient capital of the historic Kingdom of Laos and now a World Heritage site |
| Day 2 | Luang Prabang, Laos | Belmond La Residence Phou Vao | Breakfast, Lunch, Dinner, Snack | Ride to quiet neighboring villages | Give alms as monks walk through the streets in morning procession |
| Day 3 | Siem Reap, Cambodia | Raffles Grand Hotel D'Angkor | Breakfast, Lunch, Dinner, Snack | Fly to Cambodia, then discover Angkor as you pedal among iconic stone monuments, learning about the Khmer civilizations | Receive a water blessing from a monk |
| Day 4 | Siem Reap, Cambodia | Raffles Grand Hotel D'Angkor | Breakfast, Lunch, Dinner, Snack | Visit a market and an artisan's workshop | Greet the sunrise over Angkor Wat | Explore the Roluos Group, temples dating back to the 9th century and hailed as Angkor's oldest | A local family invites us into their home for lunch |
| Day 5 | Phnom Penh, Cambodia | Raffles Hotel Le Royal | Breakfast, Lunch, Dinner, Snack | Travel by air from Siem Reap to Phnom Penh | Experience French colonial architecture, lively cafés and colorful markets |
| Day 6 | Phnom Penh, Cambodia | Heritage Line Ship | Breakfast, Lunch, Dinner, Snack | Board our luxury river ship to start our Mekong River cruise | Float across the Cambodian border into vibrant Vietnam |
| Day 7 | Sa Déc, Vietnam | Heritage Line Ship | Breakfast, Lunch, Dinner, Snack | Cruise and cycle narrow waterways to an ecological reserve | Admire fine handicrafts in silk- and rattan-making workshops | Enjoy the views as you cruise along the Mekong | On foot, witness the buzz of activity on the busy docks of Sa Dec |
| Day 8 | Cai Be, Vietnam | Heritage Line Ship | Breakfast, Lunch, Dinner, Snack | Savor a final ride along the Mekong as it widens into a vast delta, arriving by bike and boat at Cai Be, known for its floating market |
| Day 9 | Ho Chi Minh City, Vietnam | None | Breakfast | Journey to Ho Chi Minh City |
Tour Features
Experience(s)
Experiences have not been selected at this time
Description
Bike through a place of intriguing contrasts: exotic silks and down-to-earth rice farmers. Raw jungles and floating markets. Bustling cities and ancient temples. You might see a monk texting on a smartphone one moment and a family of six on a moped the next. Let the river be your guide to this mysterious part of Southeast Asia
About Us
Backroads offers deluxe biking, walking & hiking, multi-adventure and family vacations around the globe PLUS active river & ocean cruising, culinary tours, and snow adventures. All Backroads trips are fully escorted by 3 - 4 trip leaders and 2 support vans while guests travel at their own pace, enjoying exhilarating activities, cultural encounters, scenery, camaraderie and fun.
Insider Tip
At any pace, in any style, traveling with Backroads is not just about the bike or the boots. It's a rich experience as we peel back the layers that make each destination unique.
Terms & Conditions
Backroads Terms & Conditions - click here to view.
The trademarks VIRTUOSO, the Globe Swirl Logo and SPECIALISTS IN THE ART OF TRAVEL are registered trademarks of Virtuoso, Ltd. Virtuoso, Ltd. has a U.S. copyright registration for the Globe Swirl Logo, ©2000. All rights reserved. Virtuoso CST#2069091-50. California CST# 2069091; TA# 808 - Registered Iowa Travel Agency; Washington UBI # 601 554 183. Registration as a seller of travel does not constitute approval by the State of California.
Reviews and Recommendations for Backroads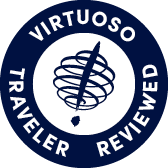 Virtuoso Verified Traveler
All reviews are from confirmed guests sharing exclusive insights
Sort reviews by