Multi-Day Tour | Escorted, Group, Private
Art & Handicraft Treasures of Myanmar
(11 days)
Trails of Indochina - Myanmar
Yangon, Myanmar To Yangon, Myanmar
Valid for Departures Now Through: 20 Aug 2018
Art & Handicraft Treasures of Myanmar
(11 days)
Itinerary
DAY
LOCATION(S)
HOTEL
MEALS
DESCRIPTION
Day 1

Yangon, Myanmar


None

None

Welcome to Myanmar

You will arrive in Myanmar and settle into hotel.

Day 2

Yangon, Myanmar


None

None

Yangon | Introduction to Myanmar's Handicrafts

Your introduction to Myanmar's handicrafts begins in Yangon with an overview by an expert from the Myanmar Art & Craft Association. He will offer insight into 'Pan Sel Myo', the ten traditional crafts of Myanmar including blacksmith, stone carving, painting and bronze casting, most of which you will encounter during your trip.

Day 3

Yangon, Myanmar


None

None

Yangon | Art Gallery Tour with Artist Khin Maung Zaw

As an international hub of contemporary art, Yangon is home to many established and up and coming artists. Meet artist Khin Maung Zaw, one of Myanmar's most recognized watercolour artist specialising in Buddhist monastic life and architecture. Get to know Khin Maung Zaw as he shares his personal journey as an aspiring artist while accompanying you on an insider tour of several key contemporary galleries in Yangon. Conclude the gallery tour at the Strand Hotel visiting the renowned River Gallery followed by a gourmet lunch at this historic hotel.

Day 4

Mandalay, Myanmar


None

None

Mandalay | Backstage Mandalay

Considered to be the arts and crafts centre of the country, Mandalay has successfully maintained the legacy of its traditional arts since its glory days as the royal capital. Meet the founder behind Arts Mandalay, a non-profit foundation focused on preserving traditional classic dance, arts and theatre, and learn about their passionate efforts in not only carrying on the tradition but also providing a future for young Burmese. Join a class at the Inwa Art School and Mintha Theatre and admire the young talented performers recreate a traditional Burmese dance repertoire.

Day 5

Amarapura, Myanmar


None

None

Amarapura | Gold Leaf Making & The Art of Marionette

A former royal capital from the 18th century, Amarapura today is best known for the U-Bein Bridge, the longest teakwood bridge in the world, and as the centre of gold leaf making cottage industries. The golden Buddha statues that you see throughout the country are in fact covered by layers upon layers of the gold leaf foil. Visit a family-run gold leaf making workshop to observe the pounding of 24k pure gold and gain a better appreciation of the intensive labor that goes into producing thousands of thin sheets of gold foil. Purchase a packet of gold leaf as souvenir or to make an offering to the Buddha on your next temple visit.

Mandalay is also home to the original marionette puppetry. Visit a performance theatre where a marionette master will provide the background history before a hands-on puppet making workshop. After creating your own puppet, the marionette master will teach you the tricks in maneuvering the delicate puppet with the strings.

Day 6

Inle Lake, Myanmar


None

None

Inle Lake | Lotus Silk Weaving

Inle Lake, located in the Shan State, is the second largest freshwater lake in the country. The lake is a vital resource for the surrounding local villages, not only for fishery and the floating vegetable gardens, but also for its fertile ground for lotus stems. Unique to Inle Lake is lotus silk weaving, which involves the process of spinning the lotus stem fibres into silk threads. Visit a family dedicated to producing high quality lotus silk and learn the entire process, from extracting the lotus stem fibres to weaving the lotus silk into a scarf. After this experience, you will understand why it takes about 4,000 lotus stems to produce a small neck scarf.

Day 7

Pindaya Caves, Pindaya, Myanmar


None

None

Pindaya | Shan Paper Parasol

Located 68km from Taunggyi, Pindaya attracts visitors for its limestone caves and handmade paper parasols. Visit a family-run workshop and learn the paper making process from stripping the mulberry bark to drying the pulp before it becomes paper. Choose your preferred paper design and color, and be guided by a craftsman to create your own parasol. Take the parasol back as a souvenir or use it as sun protection for the rest of your trip!

Day 8

Bagan, Myanmar


None

None

Bagan | Hands-on Laquerware Workshop

Formerly known as Pagan, this ancient town was the capital of several ancient Burmese kingdoms. A deeply spiritual place, the plains of Bagan are home to more than two thousand temples that date as far back as the 11th century. It is believed that the exquisite Burmese lacquer originated in Bagan, with the oldest lacquerware discovered in the 13th century Mingalazedi pagoda.

Spend a half day in one of Bagan's prestigious lacquerware workshop where a master artisan will provide insight into the history and methodology of this intricate art. Observe each step of the painstaking lacquermaking process from bamboo weaving; from giving shape to the object to the fine etch drawing on the finished lacquer. Though you are not expected to create a piece of lacquer from scratch, you are invited to add the final touches to your selected lacquer piece to take home as souvenir!

Day 9

Bagan, Myanmar


None

None

Bagan | Art of Religion

Art is an integral part of religion in Myanmar. Much of the extraordinary art, from paintings to sculptures, can be found at many of the religious monuments throughout the country. In fact, the teachings of Theravada Buddhism were spread through the art medium from mural paintings inside temples to sculptures of Buddha. An expert on Bagan's history and religion will join you on a guided visit to several key temples and pagodas, offering insight to the meaning and symbolism of the architecture and art.

Day 10

Yangon, Myanmar


None

None

Yangon | Antique Shopping with Dr Kaung Htet

The British occupied Burma for more than a century and nowhere is this more evident than in Yangon, once known as Rangoon, the former capital city under British rule. Exquisite heritage buildings and wide boulevards define the city's intriguing past. Less evident is the display of British colonial furniture and collectibles, which require insider knowledge to discover. A locally-based antique collector will join you on a treasure hunt in the city, guiding you to shops and homes of private antique collectors to discover the hidden gems from yesteryear.

Day 11

Yangon, Myanmar


None

None

Departure

Transfer to the airport for onward flight.
Tour Features
Experience(s)
Culture, History & Arts
Family Vacations
Sightseeing
Description
Discover Myanmar's age old handicraft traditions visiting the key performing arts and handicrafts centres in Mandalay and Bagan while being introduced to contemporary art scene in Yangon by a local artist.
About Us
Let Trails of Indochina unveil the hidden secrets of Myanmar to your clients. Each year, more and more of this magical country opens up to visitors, and Trails of Indochina boasts the region's best-established infrastructure to reveal yet undiscovered gems. The company's local, knowledgeable team prides itself in creating totally customized itineraries to introduce travelers to Myanmar's golden pagodas, lush vegetation, remote hill tribes and gentle, inspiring people. Headquartered in Yangon with offices in Bagan, Heho and Mandalay, Trails of Indochina can deliver unique and intergrating experiences.
Insider Tip
Southern Myanmar is home to the Mergui Archipelago, a chain of over 800 pristine islands. Private sailing expeditions visit unspoiled beaches and remote islands for an off-the-beaten-path experience.
Terms & Conditions
Payment:
- 20% of the total tour cost to be deposited upon commitment of the tour. The deposit is non-refundable.
- 80% of the total tour cost to be paid 45 days prior to arrival date.
Note: If booked less than 45 days from arrival, full payment is required immediately.
Cancellation: Any cancellations should be made in writing.
- 22 days or more prior to arrival date: deposit only
- 21 - 15 days prior to arrival date: 50% of the total tour cost
- 14 - 8 days prior to arrival date: 75% of the total tour cost
- 7 days or less prior to arrival date: 100% of the total tour cost
The trademarks VIRTUOSO, the Globe Swirl Logo and SPECIALISTS IN THE ART OF TRAVEL are registered trademarks of Virtuoso, Ltd. Virtuoso, Ltd. has a U.S. copyright registration for the Globe Swirl Logo, ©2000. All rights reserved. Virtuoso CST#2069091-50. California CST# 2069091; TA# 808 - Registered Iowa Travel Agency; Washington UBI # 601 554 183. Registration as a seller of travel does not constitute approval by the State of California.
Reviews and Recommendations for Trails of Indochina - Myanmar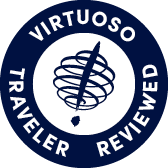 Virtuoso Verified Traveler
All reviews are from confirmed guests sharing exclusive insights
Sort reviews by