Multi-Day Tour | Escorted, Group, Private
Classic Java and Bali
(9 days)
Trails of Indochina - Vietnam
Jakarta, Indonesia To Seminyak, Indonesia
Valid for Departures Now Through: 20 Aug 2018
Itinerary
DAY
LOCATION(S)
HOTEL
MEALS
DESCRIPTION
Day 1

Jakarta, Indonesia


None

None

Arrive in Jakarta

Welcome to Jakarta! Today you will arrive and settle into hotel.

Day 2

Jakarta, Indonesia


None

None

Jakarta

Located on the north coast on the western part of the island of Java, Jakarta is a huge, sprawling metropolitan city with a population of more than 10 million people. Jakarta finds itself with juxtaposed luxurious houses next to roadside shacks, and state-of-the art cars fighting for space with dilapidated buses.

Visit the old town of Jakarta hitting the city's highlights. Visit the National Museum, holds collections, focusing on Indonesian culture and history with inscriptions, keris (traditional Javanese dagger), traditional boats, fabrics, musical instruments, jewellery and other ancient artefacts. At Fatahillah, a 1.8 acre central square, take time to explore the side streets leading away from the square to spot crumbling colonial relics. Other highlights from your exploration of Jakarta include stops at Museum Wayang, exhibiting 16th century puppets, and Sunda Kelapa, the city's historic port, before enjoying a traditional Indonesia dinner. Lunch is also included.

Day 3

Yogyakarta, Indonesia


None

None

Travel from Jakarta to Yogyakarta

Prambanan Temple, built in the 10th century, this Indonesia's largest temple compound dedicated to Shiva. Rising above the centre of the last of these concentric squares are three temples decorated with reliefs illustrating the epic of the Ramayana, dedicated to the three great Hindu divinities (Shiva, Vishnu and Brahma) and three temples dedicated to the animals who serve them. Spend time exploring the temples many spires before a local-style dinner and dance show.

Day 4

Yogyakarta, Indonesia


None

None

Borobudur and Yogyakarta City

Sultan's Keraton Palace, effectively a walled city, is an unique compound is home to around 25,000 people. Market, shops, batik and silver cottage industries, schools and mosques, employ 1,000 local residents, providing useful trade and employment. Built between 1755 and 1756 it is one of the finest examples of Javanese palace architecture, providing a series of luxurious halls and spacious courtyards and pavilions. Next, walk to Taman Sari Royal where was bathing and resting place of the Sultan.

A traditional lunch is enjoyed before visiting Borobudur, the largest Buddhist temple in the world. Built in three tiers with a pyramidal base with five concentric square terraces, Borobudur from above mimics a mandala. The total surface area is 2,500 m2 that includes 72 openwork stupas, each containing a statue of the Buddha. Surrounded by volcanoes in the background, Borobudur is a fantastical highlight.

Day 5

Ubud, Indonesia


None

None

Yogyakarta to Ubud, Bali

Travel to Bali from Yogyakarta. Bali has been the favorite destination for locals and international tourists for many decades. Full of magnificent beaches, breathtaking sceneries, marvelous trinkets and interesting culture, Bali is ideal for people wanting to escape from daily activities,

Visit Puri Saren Agung, located in the heart of Ubud and built in 1917, the Ubud Royal Family still lives here. Wander around most of the outer compound and explore the traditional building. Walk to the nearby Pasar Ubud, a colourful market selling handicrafts and textiles coming from the neighbourhood villages before enjoying the rest of the day at leisure.

Day 6

Ubud, Indonesia


None

None

Ubud Spiritual Journey

Today is totally about a journey awakening your spirituality. Morning yoga in an open pavilion starts your day before a local Indonesian lunch. In Dalem Pingit, visit a small temple by the river where you will have blessing and purification ceremony conducted by local Hindu Priest. The small waterfall near the temple is believed to cure various diseases. The guardian of the temple will accompany you to present the offering at the main temple. Meet with a Balinese shaman, where he or she will do palm reading and open your spiritual chakra, an energy point along the central meridian of the body.

Day 7

Seminyak, Indonesia


None

None

Ubud to Seminyak

Today is free at leisure until check out your hotel and drive to the southern part of Bali for a visit a Royal Family temple known as Taman Ayun located in Mengwi. The temple was built in 1634, by a king of Mengwi dynasty. An impressive complex stand on a small island surrounded by a handmade lake. Continue to Alas Kedaton, a megalithic sacred temple in a forest inhabited by thousands of monkeys and hundreds of big bats. Next, to Bali's most photographed temple, Tanah Lot. Perched on a little rocky islet that is inaccessible during high tides. Entered Tugu hotel on the sea side, with a wide collection of priceless antiques and rare artifacts. Walk along the beautiful surrounding and feels the magical atmosphere of Tugu hotel, while enjoy your cocktail and canapes with the magnificent sunset.

Day 8

Seminyak, Indonesia


None

None

Seminyak

Today is free at leisure to discover Bali in your own or enjoy the resort facilities.

Day 9

Seminyak, Indonesia


None

None

Departure

Transfer from Seminyak to the airport for your departure flight.
Tour Features
Experience(s)
Culture, History & Arts
Sightseeing
Walking & Biking
Wildlife & Nature
Description
Immerse yourself in the spiritual journey to Indonesia. Explore the highlights of Jakarta and visit the sacred temples in Yogyakarta, Ubud and Seminyak. Be amazed at the unique structures and breathtaking scenery surround these religious monuments.
About Us
Trails of Indochina had its humble beginnings in 1999 as a boutique inbound tour operator. Headquartered in Ho Chi Minh City (Saigon), and now with more than 250 employees throughout the region, Trails of Indochina has grown to be a full-service Destination Management Company and tour operation across Indochina. At Trails of Indochina, our personal relationships can make anything possible. We invite you to experience our part of the world where you will uncover the hidden gems and see a different perspectives of Southeast Asia.
Insider Tip
Vietnam is a top destination for foodies with its cuisine differing greatly from north to south. We suggest a combination offood experiences including food tours, cooking classes and craft beer tours.
Terms & Conditions
Introduction
Our commitment is the delivery of bespoke, safe and first class services and customer experiences through a network of locally owned and operated offices within Southeast Asia. With a focus on experience, guest safety, quality control and service delivery, you can rely on Trails of Indochina's reliable standards across all the countries in which we operate. Each itinerary is individually booked and confirmed by our team of resident experts ensuring travel is ordered according to your proposals. Each request is dutifully responded to within 24 hours unless negotiations and special requests are required on your behalf; our team will ultimately inform and follow up.
Pricing & Services
Trails of Indochina offer confidential rates based on market research, competition analysis, strategic negotiation and in-depth information for each specific season in each destination. These rates are offered under the condition that they cannot be displayed in any way to third parties. Rates are quoted in USD currency only. All quoted rates, unless otherwise specified, are net and non-commissionable.
Many hotels include compulsory special gala dinners on Christmas Day, New Year's Eve and sometimes on national and/or other festive occasions in each country. This is a compulsory charge, and will be communicated and invoiced by Trails of Indochina where applicable.
Taxes
Unless otherwise specified, all quoted rates are inclusive of applicable taxes (including service charges, Value Added Taxes and/or locally charged taxes). Domestic tourism taxes and/or airport taxes may be applicable and are not included. These need to be paid directly to the relevant authority, by the traveler.
In the event of government imposed tax changes, Trails of Indochina reserves the right to alter the rates accordingly. Trails of Indochina will work to avoid this from occurring however reserves the right to collect any differentials from the clients individually, which may arise.
Payment
20% of the total tour cost to be deposited upon commitment of the tour, this deposit is non-refundable. The remaining 80% of the total tour cost to be paid 45 days prior to arrival date. If booked less than 45 days from arrival, full payment is required immediately.
Where deposits and advance payments are required from contractors/third parties, these will also be invoiced to the client for payment (in addition to the 20% deposit). This will be required for Trails of Indochina to secure services contractors/third parties. Pre-payment procedures during high/peak seasons may also vary, depending on the accommodation policy to guarantee the booking. Trails of Indochina will inform you accordingly about this for each individual case.
Payment Methods
Trails of Indochina Accounting team will provide the bank details for wire transfers. Any bank charges levies by the sending bank relating to transfers to Trails of Indochina must be paid by the Client / Agent.
Kindly make sure you include the invoice number or contact our Accounting Department for an invoice number so that your payment can be identified. Please also check with the bank who issued your credit card to ensure that no other bank fee is applied. Check payments must be written exactly to the order of Trails of Indochina Limited (full name please).
Cancellations & Refunds
Any cancellations should be made in writing to Trails of Indochina. Cancellations beyond your control subject to Force Majeure can be covered under travel insurance. We recommend you buy Travel insurance before you complete payment of your travel and review its relevant product disclosure statement. Cancellation fees of loss of deposit will be applied if a confirmed booking is cancelled 22 days or more prior to arrival date
• For bookings that are cancelled by the passenger or agent 21 - 15 days prior to arrival date, loss of 50% of the total tour cost will be applied.
• For bookings that are cancelled by the passenger or agent 14 - 8 days prior to arrival date, loss of 75% of the total tour cost will be applied.
• Trails of Indochina reserves the right to claim 100% of the total tour cost should the cancellation happen within 7 days before departure.
Depending on airlines, hotels, cruises and third party cancellation policies, the above conditions may be modified on application. Trails of Indochina will aim to negotiate with suppliers to waive or minimize these charges to you at best.
Passport
For all travel from and to the countries in which Trails of Indochina operates, a valid passport is required at all times. Conditions for specific validity of passports and regulations for other valid travel documentation can be obtained from each respective embassy and/or consulate in the client's native country. For most countries, passports need to be valid for at least six months from the date of entry at a border post/airport/seaport.
Visa
In addition to passport requirements, visas for certain countries are required. These can either be obtained in the country of residence prior to departure or on arrival at immigration or a visa processing desk. Full details about the specific visa conditions and requirements to obtain visas for each specific country can be obtained from your consultant or from your embassy and/or consulate e in the client's native country.
Travel Insurance
We strongly recommend that you obtain a comprehensive travel insurance policy before and during your travel. Neither Trails of Indochina nor its agents/suppliers or business partners shall/and can be held responsible for any loss, or damaged or stolen personal belongings.
Health & Safety
Trails of Indochina values health and safety as its top priority in the selection of product and provision of services. All clients are encouraged by our guides to follow the safety regulations for any service provided We check hotels, restaurants and other suppliers to ensure they meet our health and safety standards before recommending them to any of our clients.
Accommodation
There are limited hotels/resorts, with standard triple rooms in their inventory. These are commonly double/twin rooms with an extra (rollaway) bed, limiting space within the room. Please inform all concerned accordingly to correctly manage expectations. Extra bed rates / triple sharing room rates are available in the confidential tariff.
Single room supplements are indicated in the confidential tariff. It is common that the provided rooms are twin/double rooms for single use only.
Preferences such as smoking/non-smoking, interconnecting rooms, king-size beds, and location of the room cannot be guaranteed or confirmed in advance and are subject to hotel policy and availability at time of check-in.
Tours
Trails of Indochina will arrange sightseeing excursions and transportation as contracted in a professional manner. English, Spanish or other language speaking guides are provided to escort clients on all tour programs as per the proposed itinerary. Tours include entrance fees, meals (where mentioned) excluding any drinks, and other expenses, specifically mentioned in the tour program inclusions. All services provided by Trails of Indochina, its employees or agents are of the highest possible standard.. All tour guides are licensed and will be responsible for demonstrating any safety equipment and highlighting any safety risk before commencing any activities on tour.
Transfers
Unless otherwise stated, Trails of Indochina will provide for each destination according to the rates provided in our tariff. Transfer service includes the meet and greet of travelers with a name sign and transportation according to the booked itinerary.
Transportation
Where possible, Trails of Indochina uses coaches and cars, contracted on a long-term basis. Transportation (road or water transport) is operated by fully-licensed drivers / operators, in accordance with local safety standards. Vehicles are maintained in accordance with manufacturers' specifications, kept clean and in good working order, registered and insured adequately. Water transport will be of a similar quality and lifejackets will be provided for all clients.
Trails of Indochina aims to keep clients aware that standards of transportation in each destination are different, yet we are committed to the best available means of transportation in that specific area of operation.
Complaints & Customer Service
A dedicated customer Care team is assigned to handle any customer service issues whilst on the ground. Trails of Indochina consider complaints as valuable feedback to improve service delivery levels. We request that service delivery failures or customer concerns, be reported during the guest's stay to one of our representatives. It is the aim of the company to solve any irregularity immediately.
Force Majeure
During the term of this agreement, neither party shall be in default of its obligations to the extent that its performance is delayed or prevented by causes beyond its reasonable control, including but not limited to, acts of God, natural disasters, bankruptcy of a vendor, strikes and other labor disturbances, acts of war, or civil disturbances, or other equivalent or comparable events.
Insurance
Our insurance policy is a group accident insurance policy for travel related companies offering comprehensive Public Liability Insurance to a maximum level of US$5,000,000 coverage per incident. The policy details are available upon request.
Indemnity
The client agrees to indemnify and to save Trails of Indochina from harm and against all damage or injury (including death) to property or person(s) resulting from intentional or negligent acts or omissions from their respective officers, employees, agents, contractors or subcontractors in connection with the performance of this agreement.
Liability
Trails of Indochina acts as an intermediary between all airlines, hotels, local tourist offices and other service providers. Therefore Trails of Indochina reserves the right to modify tours and itineraries with or without notice. Trails of Indochina tours are organized in conjunction with the respective airline(s) scheduled flights, therefore, itineraries and timetables are provisional and subject to change without notice. Acknowledgement and confirmation of the above-mentioned conditions is active, once clients participate in one of the provided services via Trails of Indochina.
The trademarks VIRTUOSO, the Globe Swirl Logo and SPECIALISTS IN THE ART OF TRAVEL are registered trademarks of Virtuoso, Ltd. Virtuoso, Ltd. has a U.S. copyright registration for the Globe Swirl Logo, ©2000. All rights reserved. Virtuoso CST#2069091-50. California CST# 2069091; TA# 808 - Registered Iowa Travel Agency; Washington UBI # 601 554 183. Registration as a seller of travel does not constitute approval by the State of California.
Reviews and Recommendations for Trails of Indochina - Vietnam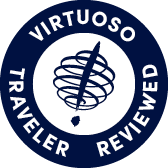 Virtuoso Verified Traveler
All reviews are from confirmed guests sharing exclusive insights
Sort reviews by