Multi-Day Tour | Group, Private
Italian Odyssey and the Dalmation Coast
(23 days)
Captain's Choice
Kotor, Montenegro To Taormina, Italy
Valid for Departures: 06 Sep 2018 - 28 Sep 2018
Itinerary
DAY
LOCATION(S)
HOTEL
MEALS
DESCRIPTION
Day 1


06 Sep 2018

Kotor, Montenegro


Queen Eleganza
Dinner

Embarking the Queen Eleganza, we celebrate

the commencement of our journey with a superb

Mediterranean dinner.

Day 2


07 Sep 2018

Kotor, Montenegro
Virpazar, Montenegro


Queen Eleganza
Breakfast, Lunch, Dinner

We leave our ship docked in Kotor and take a trip

to Rijeka Crnojevića, a town on the River Crnojević.

The confluence of the river with Lake Shkodër is

exceedingly pretty, and we stop here for photos.

A scenic boat ride along the western shore of the

lake brings us to Virpazar, where we have lunch in a

traditional Montenegrin restaurant and sample the

local wines. We return to Kotor and explore the town

on foot. This evening, choose from a handpicked list

of the city's best restaurants.

Day 3


08 Sep 2018

Dubrovnik, Croatia


Queen Eleganza
Breakfast, Lunch, Dinner

Today, we set sail for the Pearl of the Adriatic,

Dubrovnik. Old stone buildings with red tile roofs

greet us as we arrive in what used to be the hub for

Croatia's trading fleet in the 15th and 16th centuries.

We approach the city in the customary way - through

the Pile Gate, across the drawbridge and onto the

Stradun, the main street in Dubrovnik's medieval Old

Town. Within the World Heritage-listed city, marvel

at the Gothic and Romanesque architecture of the

Rector's Palace, Sponza Palace and the Dominican

and Franciscan monasteries.

Day 4


09 Sep 2018

Korcula Island, Croatia


Queen Eleganza
Breakfast, Lunch, Dinner

Our ship hugs the Dalmatian Coast, heading north

towards Korčula Island, where Marco Polo was

reportedly born. The Old Town is another charming

medieval village built of stone, where narrow streets

and public squares are lined with 15th and 16th century

palaces of merchants and nobles, including that of

former Venetian governors. This evening, choose any

of Korčula's charming restaurants for dinner. We remain

moored in the port for a night.

Day 5


10 Sep 2018

Hvar, Croatia


Queen Eleganza
Breakfast, Lunch, Dinner

The island of Hvar is one of the sunniest places

in Croatia. One of its most atmospheric too.

Thirteenth century city walls meet Gothic palaces and

a dizzying selection of restaurants and bars. Our ship

docks in Stari Grad, where a short coach ride places

us in the middle of Hvar Town. Explore the sights -

St Stephen's Cathedral, its large, adjoining square,

and the Franciscan Monastery. We also visit the

Benedictine Convent to witness a tradition unique

to the nuns who live there. For hundreds of years,

these nuns have used aloe leaves to make the most

stunning, intricate lace. The craft is so exceptional

that it is listed by UNESCO as an Intangible Cultural

Heritage of Humanity. We return to the ship for dinner,

but because we are docked overnight in Stari Grad,

you may head to shore for a moonlit stroll.

Day 6


11 Sep 2018

Split, Croatia


Queen Eleganza
Breakfast, Lunch, Dinner

Split is one of those exuberant places where history

is alive, kicking and very much part of daily life.

It was founded by the Greeks in the 3rd century BC.

Then, in AD 293, Emperor Diocletian, who was born

nearby, chose Split as the site of his retirement palace

and fortress. After the fall of Rome two hundred years

later, the palace was abandoned, but only for a while.

Residents of Split moved in, building new spaces that

incorporated the existing palace walls. The palace

makes up most of Split's Old Town - when you walk

through the narrow alleyways of town, you are literally

walking in Diocletian's hallways. Today, you will still

find numerous homes, shops and cafés there.

For dinner, choose from any of the restaurants that

line the glittering Riva Promenade.

Day 7


12 Sep 2018

Krka National Park, Croatia


Queen Eleganza
Breakfast, Lunch, Dinner

While we have been spending time on the coast,

Croatia's inland attractions are just as visually stunning.

Today, we visit Krka National Park, which encompasses

both banks of the River Krka. It is a place of spectacular

gorges, deep turquoise water and waterfalls - Roški Slap

(slap means waterfall in Croatian) tumbles 46 metres over

17 limestone steps. Once we are back on the ship, we

cruise to Šibenik, where the River Krka meets the sea.

This town, unlike Split, was founded by Croats.

We spend the early evening strolling through its streets.

Day 8


13 Sep 2018

Zadar, Croatia
Zrmanja Gorge , Croatia


Queen Eleganza
Breakfast, Lunch, Dinner

People have lived in the city of Zadar continuously since

the late Stone Age. It has been conquered, burned

or occupied by the Romans, Avars, Byzantine Empire,

Franks, Venetians, Ottoman and Austro-Hungarian

Empires. All left traces of their rule via architecture.

In contrast to the violent takeovers, the city is one

of the prettiest in Dalmatia. After docking in Zadar,

we head to Zrmanja Gorge. At the dramatic entrance to

the gorge, a motor launch takes us an hour upriver to

Obrovac for lunch, where we sample authentic Croatian

cuisine, then return to Zadar. This evening, pick from

Zadar's best restaurants for dinner.

Day 9


14 Sep 2018

Rab, Croatia


Queen Eleganza
Breakfast, Lunch, Dinner

We spend the morning walking the streets of Zadar, then

sail for Rab, a picture-perfect medieval town set on an

island with olive groves and grapevines. The Old Town

features four elegant Romanesque bell towers and stone

streets. Soak in the Mediterranean air and dine at any of

Rab's atmospheric restaurants tonight.

Day 10


15 Sep 2018

Opatija, Croatia


Queen Eleganza
Breakfast, Lunch, Dinner

This morning, our ship takes us to Opatija, once a

seaside retreat for the elite of the Austro-Hungarian

empire, who built lavish Belle Époque villas here in the

late 1890s. Spend the rest of the afternoon exploring

the town on your own, then return to the ship for a

farewell dinner. Tomorrow, we leave our ship, headed

for Italy, on the other side of the Adriatic Sea.

Day 11


16 Sep 2018

Venice, Italy


Hotel Danieli, a Luxury Collection Hotel, Venice
Breakfast, Lunch, Dinner

We disembark Princess Eleganza and drive to the city

of canals where we'll stay three nights at Hotel Danieli.

Venice never fails to charm. It is a rare destination that

manages to make decay a thing of beauty. Here palazzi,

in a resplendent mix of Gothic, Byzantine and Moorish

styles, continue looking majestic even with their ground

floors flooded.

Day 12


17 Sep 2018

Venice, Italy


Hotel Danieli, a Luxury Collection Hotel, Venice
Breakfast, Lunch, Dinner

By now we will have discovered why the iconic

Hotel Danieli was adored by the classic composers,

authors and poets, having played host to Goethe,

Wagner, Dickens and Byron. This evening, we dine in

our hotel, taking full advantage of its opulent interiors.

Day 13


18 Sep 2018

Venice, Italy


Hotel Danieli, a Luxury Collection Hotel, Venice
Breakfast, Lunch, Dinner

Today, take a guided walk that includes the city's most

delightful sights. You may also choose to explore the

city on your own. A gondola ride is a classic Venetian

experience. As is devoting a couple of leisurely hours

to St Mark's Basilica. Or visit the bustling Rialto Market,

where Venetians have bought their fresh produce for

seven centuries. At the beautifully restored Palazzo Bru

Zane this evening, we have the privilege of watching a

private piano concert.

Day 14


19 Sep 2018

Venice, Italy
Cremorna , Italy
Verona, Italy
Sirmione, Italy


Golden Eagle Danube Express
Breakfast, Lunch, Dinner

We bid the Hotel Danieli goodbye this morning.

A boat whisks us directly from the hotel to Santa Lucia

Station on the Grand Canal where we join the

Golden Eagle Danube Express train and head west

along the Po River to Cremorna. The town is often

overlooked by tourists, which is to our benefit.

Observe the true rhythms of small town northern Italy

as you walk its 13th century piazza. Cremorna was and

still is home to numerous stringed instrument makers.

Amongst them, the Stradivari family, who crafted the

world's best violins, violas and cellos. Only 650 of

these instruments survive today. Catch a rare glimpse

of one, the 1727 Stradivarius violin called Vesuvius,

here at the Stradivari Museum.

Return to the train for a true Italian lunch as we

travel to Verona. The city is known as the setting for

Shakespeare's Romeo and Juliet. See Juliet's balcony

and other major sights on a walking tour. This evening,

our private dinner is served in the stunningly beautiful

town of Sirmione overlooking Lake Garda.

Day 15


20 Sep 2018

Bologna, Italy
Rimini, Italy
San Marino, Italy


Golden Eagle Danube Express
Breakfast, Lunch, Dinner

Bologna has several nicknames. La Grassa (the fat one),

La Dotta (the educated one) and La Rossa (the red one).

La Grassa because this is where bolognese sauce was

created. La Dotta for the University of Bologna, founded

in 1088, which we visit. And La Rossa for the colour of

its red tile roofs, which we view from the top of Torre

Prendiparte, an ancient tower. Here we toast our climb

and the breathtaking sight with a glass of prosecco.

The Golden Eagle takes us to Rimini, where you may

spend your afternoon on one of these Your World

experiences.

- The town of Maranello is most famous for being

headquarters to Ferrari and its Formula One racing

team. See the factory and take a guided tour

around the test track.

- Explore the World Heritage-listed microstate of

San Marino, set high on Mount Titano. It has been

a republic since AD 301, and resisted Italian

unification in the 19th century.

We dine in San Marino tonight, where we sample their

famous Torta Tre Monti, the Cake of the Three Towers.

Day 16


21 Sep 2018

Bari, Italy


Golden Eagle Danube Express
Breakfast, Lunch, Dinner

Today, our train hugs the Adriatic coast all the way south

to Bari. You'll have a few hours to simply gaze out the

window and permanently fix the views in your memory.

Bari's old town welcomes us with narrow streets and

priceless glimpses into its residents' lives. Don't be

surprised to walk past womenfolk making orecchiette

pasta in the lanes outside their homes. We also visit

the 12th century Castello Svevo, which hosted Isabella

of Aragon during the Renaissance. As we are in the

Italian south, we stop at a local olive oil mill to taste the

unrivalled authenticity of their product. This evening, the

Golden Eagle crosses the peninsula as we dine.

Day 17


22 Sep 2018

Pompeii, Italy
Herculaneum, Italy


Golden Eagle Danube Express
Breakfast, Lunch, Dinner

In AD 79, Mount Vesuvius erupted, burying Herculaneum,

Pompeii and many of its inhabitants under tonnes of ash.

Since 1748, visitors have come to see the extraordinarily

preserved buildings and casts of the volcanic eruption's

victims. Besides visiting the major sights, we are treated

to a rare behind-the-scenes tour of ongoing conservation

work. Lunch is at the Michelin-starred President, at the

foot of Mount Vesuvius. Here, we savour wine of the

Campania region and the distinctive piennolo tomato.

It only grows in the Vesuvius region, and enjoys a

protected status not unlike certain wine grapes.

The second half of the day is spent travelling through

the scenic splendour of the Parco Nazionale del Cilento,

Vallo di Diano e Alburni. Craggy mountains and thick

green forests meet crystal clear rivers and pristine

beaches. We arrive at the 'toe' of Italy, Villa San Giovanni

and spend the night here.

Day 18


23 Sep 2018

Palermo, Italy
Corleone, Italy


Golden Eagle Danube Express
Breakfast, Lunch, Dinner

As we enjoy breakfast on board, the Golden Eagle

crosses the narrow Strait of Messina between the

Italian mainland and Sicily via a unique train ferry,

one of just a handful in the world. A short ride later,

we arrive in Palermo, a city that is over 2,700 years

old. Romanesque, Gothic and Baroque architecture

jostle for space while Arab and Norman influences are

both evident. We tour the city on foot, ending with

an aperitif and private concert at the Teatro Massimo,

built in 1897 and renowned for its perfect acoustics.

In the afternoon, explore more of the city on your own

or visit Corleone, the town infamous for producing

many Mafia bosses, including the fictional V ito

Corleone of Francis Ford Coppola's The Godfather.

Day 19


24 Sep 2018

Agrigento, Italy
Ragusa, Italy


Golden Eagle Danube Express
Breakfast, Lunch, Dinner

Agrigento is home to the largest and best-preserved

ancient Greek buildings outside of Greece. We tour the

World Heritage-listed Valle dei Templi, a breathtaking

sacred area where seven monumental Doric-style temples

were built between the 6th and 5th centuries BC.

After lunch, our train takes us to Ragusa, an old town

clinging to the hill side. Grey stone houses, Baroque

palazzi and steep old roads make us reach for our

cameras. At a nearby hotel, we watch a cooking

demonstration focussed on the area's proudly local

cuisine. This evening, aboard the Golden Eagle,

we travel on to Syracuse.

Day 20


25 Sep 2018

Caltagirone, Italy
Syracuse, Italy


Golden Eagle Danube Express
Breakfast, Lunch, Dinner

Once upon a time, Syracuse was a larger, more vibrant

town than Athens. Cicero even wrote that it was the

most beautiful city in Ancient Greece. It was occupied

for a time by the Vandals and the Ostrogoths. And in AD

535, was the first part of Italy that the Byzantine Empire

managed to wrest back from the Ostrogoths. Ancient

Syracuse was centred on the island of Ortigia, and we view

its delights from the water on a leisurely cruise.

The Golden Eagle then takes us inland to Caltagirone,

a hilltop town famed, since the 10th century, for its

majolica and terracotta wares. We also tour the 4th

century Villa Romana del Casale, which was vividly

decorated with what is now the biggest and most

interesting collection of Roman mosaics worldwide.

This evening, the creative Sicilian cuisine of Al Fogher

invites us to indulge.

Day 21


26 Sep 2018

Catania, Italy
Taormina, Italy


Hotel San Domenico Palace
Breakfast, Lunch, Dinner

The hilly landscapes of Sicily roll by as we travel to

Catania, set picturesquely and dangerously at the

foot of Mt Etna. It has been destroyed several times

by earthquakes and eruptions from the volcano.

Yet, there is much architecture of note to see. The city

is peppered with grand piazzas and ornate churches,

and you will have the chance to explore it on your own.

Later, we are scheduled for a Sicilian pastry-making

class at the Società Storica Catanese, where we learn to

make iconic local sweets like the cannoli. We then travel

on to Taormina, where we check in to the Hotel San

Domenico Palace for two nights. The building was once

a Dominican monastery, and boasts views of Mt Etna

and Taormina Bay.

Day 22


27 Sep 2018

Taormina, Italy


Hotel San Domenico Palace
Breakfast, Lunch, Dinner

Taormina sits on a hill that is the last point of a mountain

range, overlooking the Ionian Sea. It is the premier

holiday town on Sicily and has a distinctly relaxed air.

Our personal volcanologist takes us on a tour of the

Mt Etna Museum, then onto the mountain itself.

There, we discover the Sicilian palmento – a cellar,

built in black lava, meant for crushing grapes and

making wine. At our palmento, we taste a range of local

wines, then go above ground to enjoy lunch among the

vines. After lunch, we spend the afternoon relaxing with

Taormina's ancient Greek theatre as our backdrop.

In the evening, we gather at our hotel for dinner and to

toast the end of a great journey.

Day 23


28 Sep 2018

Taormina, Italy


None

Breakfast

Today marks the end of our journey, we say goodbye to new friends over breakfast.
Tour Features
Experience(s)
Cruises & Water Tours
Culture, History & Arts
Food & Wine
Sightseeing
Description
So many ancient civilizations have come, been taken
by the region's beauty, and stayed. Until another, mightier
empire arrived, that is. But while war after war was waged,
the periods of peace between gave birth to striking
architecture. Multiple cultures collided, becoming new ones.
And clearly, la dolce vita exists on both sides of the Adriatic
Sea. This languid exploration takes place on board the privately
chartered Princess Eleganza ship and Golden Eagle Danube
Express train, and is earmarked for just 36 travelers.
About Us
Captain's Choice, creators of the world's most life-enriching journeys, curated without compromise, continue to innovate and push the boundaries of luxury adventure and travel. Whether by private jet, small group hosted journeys, luxury and expedition voyages or land explorations, every decision is made with the guest's experience and ultimate enjoyment in mind.
Insider Tip
Captain's Choice is the market leader in private jet travel, offering journeys to various parts of the world aboard its customised 757 jet.
Terms & Conditions
Each of our products has a slightly different set of terms and conditions depending on numerous factors. Please download the brochure containing the journey you are enquiring about and the relevant terms and conditions can be found at the very back.
The trademarks VIRTUOSO, the Globe Swirl Logo and SPECIALISTS IN THE ART OF TRAVEL are registered trademarks of Virtuoso, Ltd. Virtuoso, Ltd. has a U.S. copyright registration for the Globe Swirl Logo, ©2000. All rights reserved. Virtuoso CST#2069091-50. California CST# 2069091; TA# 808 - Registered Iowa Travel Agency; Washington UBI # 601 554 183. Registration as a seller of travel does not constitute approval by the State of California.
Reviews and Recommendations for Captain's Choice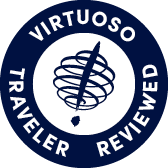 Virtuoso Verified Traveler
All reviews are from confirmed guests sharing exclusive insights
Sort reviews by