Multi-Day Tour | Independent, Private
Discover China and the Yangtze River
(13 days)
Abercrombie & Kent Hong Kong
Beijing, China To Shanghai, China
Valid for Departures Now Through: 15 May 2018
Itinerary
DAY
LOCATION(S)
HOTEL
MEALS
DESCRIPTION
Day 1

Beijing, China


Four Seasons Hotel Beijing

None

Arrive in the capital city of Beijing, China's longtime seat of power, where you are transferred to your luxurious hotel.

Day 2

Beijing, China


Four Seasons Hotel Beijing
Breakfast, Lunch, Dinner

After your welcome briefing, participate in a private tai chi lesson taught by a master instructor at the ancient Temple of Heaven, the single most beautiful example of classical Ming period architecture. After lunch, explore the imperial grandeur of the Forbidden City and take in the sweep of history at Tiananmen Square. Tonight, gather for a special welcome dinner at your hotel.

Day 3

Beijing, China


Four Seasons Hotel Beijing
Breakfast, Lunch

Travel to the well-preserved Mutianyu section of the Great Wall of China. Walk or ride a cable car to the top of the wall to take in sweeping views of the surrounding countryside. After experiencing this wonder of the world, return to Beijing. Then, Ride Like a Local on a pedicab through a hutong, a vast yet intimate neighborhood of small winding alleyways dating to China's dynastic period.

Day 4

Beijing, China
Xian, China


Shangri-La Hotel, Xian
Breakfast, Lunch, Dinner

Fly to Xian, a modern city cloaked in over 3,000 years of history. Once the most eastern stop on the Great Silk Road, Xian has become a melting pot of Middle Eastern and Asian influences. Upon arriving, enjoy lunch, and then visit the old city quarter with its teeming markets and beautiful Great Mosque, a 14th-century national heritage site. A blend of classic Chinese temple architecture and central Asian embellishments make it one of the most fascinating sites in Xian.

Day 5

Xian, China


Shangri-La Hotel, Xian
Breakfast, Lunch

Today, accompanied by an on-site archaeologist, visit the excavation site of the Terra Cotta Warriors and Horses, the life-size army created during the Qin Dynasty to protect Qin Shi Huang, China's first emperor, in his afterlife. More than 8,000 soldiers are spread throughout three dig pits, each revealing a unique face, testifying to the remarkable craftsmanship that went into making them. Then, enjoy a Chef's Table dumpling-making demonstration followed by lunch. Later, enter the Ancient Gate of Xian's impressive City Wall with the option to cycle or stroll along its ramparts.

Day 6

Chengdu, China


Shangri-La Hotel, Chengdu
Breakfast, Lunch, Dinner

Fly to Chengdu, the charming capital of Sichuan Province. After lunch, immerse yourself in local life and culture at the People's Park, where area residents play traditional Chinese instruments, practice calligraphy and engage in tai chi. Observe a traditional tea demonstration and learn about unique, centuries-old match-making techniques still in use today. Tonight, enjoy a special Sichuan hot pot dinner.

Day 7

Chongqing, China


Sanctuary 'Yangzi Explorer'
Breakfast, Lunch, Dinner

Today, visit the Chengdu Panda Breeding and Research Center. Enjoy the rare opportunity to observe these endangered creatures roaming freely in their natural habitat. Then, board a high-speed train for a ride through the Chinese countryside to Chongqing, where you embark on your luxury river cruiser, 'Yangzi Explorer,' for a three-night journey to Yichang.

After you've settled into your cabin you can join your fellow guests in the Explorer Bar. The large windows allow you to enjoy the night-time cityscape of Chongqing as we sail deeper into the Three Gorges region of the mighty Yangtze River.

Tonight, we will host an optional embarkation dinner* followed by a welcome safety briefing and talk on the 816 Underground Project, before we depart Chongqing.

Day 8

Fuling, China


Sanctuary 'Yangzi Explorer'
Breakfast, Lunch, Dinner

This morning, choose between a visit to an intriguing, secret project, hidden in the mountains of Fuling - The 816 Underground Project or the White Crane Ridge Underwater Museum and a local market tour.

The 816 Underground Project is the world's largest artificial military cave. Over 50 years ago, more than 60,000 constructers, came to Jianzishan, an uninhabited place among mountains and forest, to start work on a top-secret construction project of a monumental scale. The work continued for 17 years and was nearly completed when the government decided to suspend it, before any nuclear material could be produced. Now as the secrets of military caves are revealed, you will be able to look at the true face of 816 project hidden for 50 years.

Alternatively, you can choose to visit to the White Crane Ridge Underwater Museum and local market tour. The museum will take you some 148 feet under water to admire the river bed and the intricate ancient rock carvings left there many years ago. Learn about the Yangtze river, it's flora and fauna, while enjoying this fascinating museum. Your next stop will be the local market, where you will gain insight into the region's rich culinary culture. This is a daily market where farmers meet to buy and sell a variety of goods, ranging from fruit and vegetables to fish and meat, and of course a whole array of pickles - which Fuling is famous for.

Day 9

Badong, China


Sactuary 'Yangzi Explorer'
Breakfast, Lunch, Dinner

Today is all about the striking Three Gorges; Qutang, Wu and Xiling.

A breakfast buffet is served before guests return to Deck 6 as we pass through the Wu Gorge. Through the commentary, discover the myths and facts that make each gorge unique as we pass through them.

Experience a unique ride along the Shennong Stream on a sampan - a traditional longboat rowed by expert Tujia boatmen. As we gently float through this stunning riverine gorge flanked by verdant forest, you'll see evidence of early settlements in the form of hanging coffins stowed high within the limestone cliffs.

Before returning we will visit a traditional trackers village, where you will have a chance to get a fascinating glimpse of the traditional, rural Chinese community. You'll find mud huts as homes, basic kitchens where the meat is dried on hooks and coffins in the bedroom. And, while there are satellite dishes, villagers still pride their heritage.

This evening we have prepared a special farewell dinner, 'A Taste of China', followed by Three Gorges Project lecture and a live band performance.

Day 10

Yichang, China


Waldorf Astoria Shanghai on the Bund
Breakfast, Lunch

Disembark in Maoping and visiting the Three Gorges Project Dam Site and Exhibition Centre.

Spanning 2,335 metres in length and 181 metres in height, the dam is the largest and most expensive engineering project in the world. While the dam's 32 generators produce enough clean energy to reduce China's reliance on coal, the project has also caused much controversy. During construction, 13 cities, 140 towns, 1,352 villages, over 600 industrial factories and more than 1,200 archaeological projects have been submerged and 1.2 million people resettled.

After visiting the Project, you will be transferred to the Downtown Yichang for your onward journey.

Day 11

Shanghai, China


Waldorf Astoria Shanghai on the Bund
Breakfast

Explore dynamic Shanghai, where stunning modern skylines meet classic street markets and gardens. Contrast this experience with a visit to the charming rural village of Zhujiajiao, a traditional water village harkening back to China's imperial past. Glide along its main canal on a sampan (wooden boat). Tonight, enjoy a Scenic Sundowner at the House of Roosevelt, before attending a performance by the Shanghai Acrobatics Troupe, featuring dazzling feats of strength, balance and athleticism.

Day 12

Shanghai, China


Waldorf Astoria Shanghai on the Bund
Breakfast, Lunch, Dinner

Stroll the streets of Old Town and visit the 16th-century Yu Garden with its pavilions and streams. Walk along the Bund, Shanghai's most popular promenade. This afternoon, explore studios and galleries in the M-50 Contemporary Art District. Then, gather tonight for a festive farewell dinner.

Day 13

Shanghai, China


Waldorf Astoria Shanghai on the Bund
Breakfast

After breakfast, transfer to the airport to depart for home or begin a Hong Kong Post-Tour Extension.
Tour Features
Experience(s)
Cruises & Water Tours
Culture, History & Arts
Sightseeing
Description
Discover China's past and present - from the bustling capital, Beijing, to the myriad faces of the Terra Cotta Warriors in Xian. Visit the iconic giant panda bears and explore the storied Yangtze River on an all-balcony river cruiser.
About Us
With a team equipped with decades of on-site experience and regional on-site offices, A&K HK is fully committed to China and the whole of the Orient region.
Uniqueness of A&K HK
• Regional Headquarters in Hong Kong since 1983
• On-site offices in Hong Kong, Beijing, Shanghai, Xian, Yichang, Chongqing and Wuhan
• Good working relationship with reliable partners throughout the region
• Co-owned The Sanctuary Yangzi Explorer - 5-star passenger ship on the Yangzi River
• Condé Nast Traveler named our Gerald Hatherly (our China Specialist) in 2016, as one of the world's top travel specialists for the 14th consecutive year.
Insider Tip
Our region covers Greater China (Mainland China, Hong Kong, Macau and Taiwan), Northeast Asia (Japan and South Korea), Singapore, Malaysia.
Terms & Conditions
All cancellations must be received in writing by your A&K Tour Consultant
Unless otherwise specified in your quotation, the following cancellation terms will apply to your booking:
Cancellations received between the date of booking and 61 days prior to departure will result in the loss of the deposit.
Cancellations received 60 - 46 days prior to departure will be subject to a cancellation charge of 15% of the tour price.
Cancellations received 45 - 29 days prior to departure will be subject to a cancellation charge of 25% of the tour price.
Cancellations received 28 - 15 days prior to departure will be subject to a cancellation charge of 50% of the tour price.
Cancellations received 14 days or less prior to departure will be subject to a forfeiture of the entire tour price.
Cancellation of airline tickets will be subject to the refund policy of each individual airline and may be greater than the percentages above particularly when low cost/net based fares are used.
The purchase of special event tickets is subject to the refund policy of each individual event. Please refer to the specific event policy for details.
A&K reserve the right to charge for financial penalties, fees and losses incurred in excess of your cancellation fee as a result of cancellation.
The trademarks VIRTUOSO, the Globe Swirl Logo and SPECIALISTS IN THE ART OF TRAVEL are registered trademarks of Virtuoso, Ltd. Virtuoso, Ltd. has a U.S. copyright registration for the Globe Swirl Logo, ©2000. All rights reserved. Virtuoso CST#2069091-50. California CST# 2069091; TA# 808 - Registered Iowa Travel Agency; Washington UBI # 601 554 183. Registration as a seller of travel does not constitute approval by the State of California.
Reviews and Recommendations for Abercrombie & Kent Hong Kong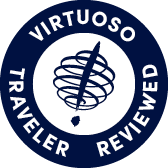 Virtuoso Verified Traveler
All reviews are from confirmed guests sharing exclusive insights
Sort reviews by