Multi-Day Tour | Independent, Private
Essence Of Tanzania (VIRT191808)
(14 days)
Trans Africa Safaris
Dar Es Salaam, Tanzania To Serengeti Migration Camp, Tanzania
Valid for Departures Now Through: 30 Sep 2018
Itinerary
| DAY | LOCATION(S) | HOTEL | MEALS | DESCRIPTION |
| --- | --- | --- | --- | --- |
| Day 1 | Dar Es Salaam, Tanzania | Hyatt Regency - The Kilimanjaro | Breakfast | On arrival in Dar es Salaam, transfer to the Hyatt Regency - The Kilimanjaro for an overnight |
| Day 2 | Zanzibar, Tanzania | Mnemba Island Lodge | Breakfast, Lunch, Dinner, Snack | Flight from Dar es Salaam to Mnemba Island Lodge for 4 nights on all inclusive basis (all meals, teas/coffees, local beverages and included lodge activities) |
| Day 3 | Zanzibar, Tanzania | Mnemba Island Lodge | Breakfast, Lunch, Dinner, Snack | Mnemba Island Lodge on all inclusive basis (all meals, teas/coffees, local beverages and included lodge activities) |
| Day 4 | Zanzibar, Tanzania | Mnemba Island Lodge | Breakfast, Lunch, Dinner, Snack | Mnemba Island Lodge on all inclusive basis (all meals, teas/coffees, local beverages and included lodge activities) |
| Day 5 | Zanzibar, Tanzania | Mnemba Island Lodge | Breakfast, Lunch, Dinner, Snack | Mnemba Island Lodge on all inclusive basis (all meals, teas/coffees, local beverages and included lodge activities) |
| Day 6 | Lake Manyara Airport, Tanzania | andBeyond Ngorongoro Crater Lodge | Breakfast, Lunch, Dinner, Snack | Transfer by light aircraft to Ngorongoro Crater Lodge for 2 nights on all inclusive basis (all meals, teas/coffees, local beverages and game activities) |
| Day 7 | Lake Manyara Airport, Tanzania | andBeyond Ngorongoro Crater Lodge | Breakfast, Lunch, Dinner, Snack | Ngorongoro Crater Lodge on all inclusive basis (all meals, teas/coffees, local beverages and game activities) |
| Day 8 | Serengeti Migration Camp, Tanzania | Singita - Singita Grumeti | Breakfast, Lunch, Dinner, Snack | Transfer by light aircraft to Singita Explore for 2 nights on all inclusive basis (all meals, teas/coffees, local beverages and game activities) |
| Day 9 | Serengeti Migration Camp, Tanzania | Singita - Singita Grumeti | Breakfast, Lunch, Dinner, Snack | Singita Explore on all inclusive basis (all meals, teas/coffees, local beverages and game activities) |
| Day 10 | Serengeti Migration Camp, Tanzania | Singita - Singita Grumeti | Breakfast, Lunch, Dinner, Snack | Transfer to Singita Faru Faru for 4 nights on all inclusive basis (all meals, teas/coffees, local beverages and game activities) |
| Day 11 | Serengeti Migration Camp, Tanzania | Singita - Singita Grumeti | Breakfast, Lunch, Dinner, Snack | Singita Faru Faru on all inclusive basis (all meals, teas/coffees, local beverages and game activities) |
| Day 12 | Serengeti Migration Camp, Tanzania | Singita - Singita Grumeti | Breakfast, Lunch, Dinner, Snack | Singita Faru Faru on all inclusive basis (all meals, teas/coffees, local beverages and game activities) |
| Day 13 | Serengeti Migration Camp, Tanzania | Singita - Singita Grumeti | Breakfast, Lunch, Dinner, Snack | Singita Faru Faru on all inclusive basis (all meals, teas/coffees, local beverages and game activities) |
| Day 14 | Serengeti Migration Camp, Tanzania | None | Breakfast | Transfer to airstrip for flight to Kilimanjaro International Airport for onward outbound connection |
Tour Features
Experience(s)
Adventure
Family Vacations
Romance & Honeymoons
Sightseeing
Wildlife & Nature
Description
This deluxe itinerary features the best beach and safari on offer in Tanzania. Included is a night on arrival in Dar es Salaam, 4 nights on a remote island near Zanzibar, 2 nights in the rim of the Ngorongoro caldera and 6 nights in the game-rich Serengeti Grumeti Reserve.
About Us
Specialists in the Art of African Travel Established in 1918, Trans Africa Safaris is one of the oldest tour companies in Africa. We are a boutique tour operator specializing in unique, well-conceived travel for discerning clients.
Insider Tip
Contact your Virtuoso Travel Advisor for insider knowledge to help enhance your experience.
Terms & Conditions
Terms & Conditions:
30% deposit of land costs is required to proceed with bookings as well as full cost of any flights that we are booking
Certain additional deposits may be required. This information will be provided on confirmation of all services
Final payment to reach us 65 days prior to travel
The trademarks VIRTUOSO, the Globe Swirl Logo and SPECIALISTS IN THE ART OF TRAVEL are registered trademarks of Virtuoso, Ltd. Virtuoso, Ltd. has a U.S. copyright registration for the Globe Swirl Logo, ©2000. All rights reserved. Virtuoso CST#2069091-50. California CST# 2069091; TA# 808 - Registered Iowa Travel Agency; Washington UBI # 601 554 183. Registration as a seller of travel does not constitute approval by the State of California.
Reviews and Recommendations for Trans Africa Safaris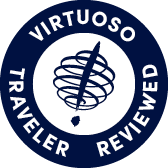 Virtuoso Verified Traveler
All reviews are from confirmed guests sharing exclusive insights
Sort reviews by
Recommended
Awesome tour guide
By: SLW
Reviewed on: 22 Jul 2016
We participated in the Winelands Tour and the Cape peninsula tour…both were perfect for our family and enjoyed tremendously by all. Andrew was so friendly and full of pertinent information about whatever activity we were doing or whatever location we were visiting. We asked him to join us for lunch on our last tour because his company was so pleasant and fun! Our flight back to the US was cancelled which created much stress for me, but one call to Trans Africa got everything handled smoothly in terms of rebooking our connecting flight and airport transportation, etc.
Recommended
expert friendly service
By: T&M
Reviewed on: 21 Nov 2016
Couldn't have asked for more,, great service! "perfect"
Recommended
Nice
By: Elle
Reviewed on: 10 Apr 2017
Very nice planning. There was a snafu with our flight discovered the day before travel, but they were able to fix it and we didn't have any problems while traveling.
Recommended
tour operator
By: Nancy
Reviewed on: 28 Jun 2017
Trans Africa Safaris did a wonderful job. I met Cheryl and spoke with Sharon. All logistics fit together seamlessly. Sharon kept in touch by phone and provided excellent guides and accommodations. This type of trip could not have been arranged by me, or I think most other travelers, on my own.
Recommended
Americans is Africa
By: Ashley
Reviewed on: 30 Jun 2017
Trans Africa was "there" tracking our trip progress from the moment we landed in Joburg. The seamless hand-off from one guide to the next made our travels so relaxing. We loved the hotels and reserves that they chose for us!
Recommended
michael's trip
By: michael
Reviewed on: 11 Oct 2017
The Thornybush safari experience could not have been better ,the Ranger allocated to us , Hennie , was particularly enthusiastic and experienced and good . he achieved marvellous results for us almost above and beyond reasonable expectations . The Joburg guide was very knowledgable and helpful .
Recommended
Great!
By: Funkidivagirl
Reviewed on: 04 Dec 2017
I found Trans Africa Safaris provided excellent tours and tour guides. Everything was first rate and top notch. They were were responsive to my many questions and when we had trouble while on tour. I would recommend them to friends and other travelers.