Multi-Day Tour | Group, Independent, Private
Love is In The Air
(13 days)
Southern World Australia
Blue Mountain, Australia To Sydney, Australia
Valid for Departures Now Through: 01 Dec 2018
Itinerary
| DAY | LOCATION(S) | HOTEL | MEALS | DESCRIPTION |
| --- | --- | --- | --- | --- |
| Day 1 | Blue Mountain, Australia | Emirates One&Only Wolgan Valley | Breakfast, Dinner | Arrive Sydney and transfer directly to Blue Mountains region (2 nights) |
| Day 2 | Blue Mountain, Australia | Emirates One&Only Wolgan Valley | Breakfast, Dinner | Blue Mountains - Free time for a massage or bush walk |
| Day 3 | Sydney, Australia | InterContinental Sydney | Breakfast, Dinner | Travel from Blue Mountains to Sydney (4 nights) |
| Day 4 | Sydney, Australia | InterContinental Sydney | Breakfast, Dinner | Sydney - Sea Sydney Cruises and afternoon at leisure |
| Day 5 | Sydney, Australia | InterContinental Sydney | Breakfast, Dinner | Sydney - Sydney Opera House tour and BridgeClimb |
| Day 6 | Sydney, Australia | InterContinental Sydney | Breakfast, Dinner | Sydney - Free day, Evening optional performance at Sydney Opera House |
| Day 7 | Hamilton Island, Australia | qualia, Great Barrier Reef | Breakfast, Dinner | Fly Sydney to Hamilton Island (5 nights). |
| Day 8 | Hamilton Island, Australia | qualia, Great Barrier Reef | Breakfast, Dinner | |
| Day 9 | Hamilton Island, Australia | qualia, Great Barrier Reef | Breakfast, Dinner | |
| Day 10 | Hamilton Island, Australia | qualia, Great Barrier Reef | Breakfast, Dinner | |
| Day 11 | Hamilton Island, Australia | qualia, Great Barrier Reef | Breakfast, Dinner | |
| Day 12 | Sydney, Australia | Park Hyatt Sydney | Breakfast, Dinner | Depart Hamilton Island for Sydney (1 night) |
| Day 13 | Sydney, Australia | None | Breakfast | |
Tour Features
Experience(s)
Experiences have not been selected at this time
Description
Slower paced with longer stays in each destination, this itinerary is for those wanting to relax and do as little or as much as they want in quiet secluded locations.
About Us
Virtuoso and your Travel Advisor curate the best travel experiences from around the world. We choose exclusive experiences just for you.
Insider Tip
Contact your Virtuoso Travel Advisor for insider knowledge to help enhance your experience.
Terms & Conditions
COSTS PROVIDED TO VIRTUOSO AGENTS: Please note the following points with regards to the attached quotation from Southern World Australia. 1. All costs are in Australian dollars (AUD$). 2. All costs are NETT and non-commissionable. You must add your own margin to any costs received from Southern World Australia. 3. All rates are inclusive of local taxes, which in Australia is a 10% Goods & Services Tax (GST). 4. All costs quoted are valid only for the proposed dates and itinerary of this quotation. If these were to change, a re-costing may be necessary. 5. All costs quoted are subject to change at any time prior to booking as a result of changes by suppliers in their operating costs or by availability of services. Southern World Australia reserves the right to amend any rates should local taxes change or special cost increases be imposed through circumstances beyond our control. Major events can impact on availability and prices. Such events can include New Years Eve, Chinese New Year and major sporting events or conventions. In these circumstances, we will advise the special rates and other special terms and conditions which will apply if known at the time of your quotation. Final itinerary pricing will be confirmed at the time of booking. Quotations do not include: - Items of a personal nature, e.g.: telephone calls, mini bar, laundry, etc - airport taxes, aviation levies, environmental/conservation fees and gratuities - inclusions other than those specified in the itinerary - international or domestic airfares - unless otherwise stated - travel insurance (cancellations, loss of deposits, delays, etc) Child rates and policies can vary widely depending on the suppliers and properties selected and can not be provided unless we have the ages of all children. Specific terms will be advised at the time of quoting and booking. DOCUMENTATION: Client documents are provided by Southern World and include a full detailed itinerary, supplier exchange vouchers and general information on the destination. These documents will be available for collection by your client at the first hotel booked through Southern World Australia. DEPOSITS: An initial deposit of AUD$500, plus any deposits required by Australian land suppliers, will be required at the time of booking. FINAL PAYMENT Final payment is required a minimum 30 days prior to the clients arriving in Australia. METHODS OF PAYMENT: 1. Payment by Credit Card - If paying by credit card, Southern World Australia DOES NOT charge credit card fees. We accept American Express, VISA and Mastercard. We will require a signed credit card authorisation form, which we supply, and this must be signed by the owner of the credit card before payment can be processed. You have two options when paying by credit card: a) Using your clients credit card – We charge the total amount advised by you to include your commission and our NETT costs in Australian dollars (AUD$). This total Australian dollars (AUD$) amount will appear on your client's credit card statement in the equivalent US dollars (USD$) amount. The day after your client departs Australia we can remit your commission, less our bank fees (approximately AUD$25.00), by telegraphic transfer. To send your commission to you we will need the applicable bank account details, preferably with a SWIFT Reference number. b) Using your company credit card - We charge the total NETT amount in Australian dollars (AUD$) to your company credit card and this will appear on your statement in the equivalent US dollar (USD$) amount. 2. Payment by Telegraphic Transfer or Bank Draft - Payments by telegraphic transfer or bank draft are to be made into the following bank account: Southern World Australia Westpac Banking Corporation Cnr George & King Streets Sydney Account # 032014-133468 Swift Ref: WPACAU2S Southern World Australia invoices in Australian dollars (AUD$). If payment is remitted in another currency other than AUD$, we reserve the right to determine the exchange rate. Any shortfall against the invoice remains the liability of the Agent and must be paid prior to the client's arrival. All bank transfer charges and bank fees are the responsibility of the Agent. FLIGHT DETAILS: It is a requirement when making any reservation with Southern World Australia that the agent provides us with a complete and detailed copy of all confirmed flights in writing at the time of booking. We accept no responsibility for failure of any service if this information has not been provided, is incomplete or incorrect. For security reasons Southern World Australia is no longer permitted to obtain any passenger details from transportation companies such as airlines, cruise or rail operators. This includes the changes to service arrival/departure times that we are not handling. CANCELLATION CHARGES: Cancellations must be advised in writing. The date of cancellation will be the first weekday date, excluding Saturday, Sunday and Public Holidays, that Southern World Australia receives the written advice. • More than 60 days prior to arrival date – 50% of deposit forfeited • Between 60 days and 31 days prior to arrival date – 100% of deposit forfeited, plus any charges passed on to us by the Australian land suppliers • Between 30 days and the arrival date – 100% deposit forfeited, plus 10% of the total tour cost, plus any charges passed on to us by the Australian land suppliers If an Australian land supplier has a cancellation policy that fall outside the above conditions, this information will be advised to the agent at the time of booking. *****TRAVEL INSURANCE***** It can not be stressed enough that we highly recommend ALL passengers are fully insured to protect themselves against the loss of travel deposits, cancellation charges (as shown above), full medical costs (including accident and sickness protection) and travel insurance including baggage and disrupted travel arrangements. Please encourage your clients to take out travel insurance when traveling to Australia. REFUNDS: Southern World Australia will make every effort to assist clients wanting to alter or cancel their confirmed arrangements once they are in Australia. We will refund all unused services in full, less an administration fee of AUD$100 plus any charges passed on to us by the Australian land supplier involved. Any refund requests will be considered on a case by case basis and must be made in writing by the agent to the attention of David Armour, Managing Director of Southern World Australia. Please note that NO refund will be processed or considered if requested more than 3 months after completion of travel. If you have any questions regarding the above information, please don't hesitate to contact David Armour, the Managing Director for Southern World Australia at: Southern World Australia Level 5, 55 York Street, Sydney NSW 2000, Australia Phone (+61 2) 8235 3600 Fax (+61 2) 8235 3610 E-mail resaust@southern-world.com

The trademarks VIRTUOSO, the Globe Swirl Logo and SPECIALISTS IN THE ART OF TRAVEL are registered trademarks of Virtuoso, Ltd. Virtuoso, Ltd. has a U.S. copyright registration for the Globe Swirl Logo, ©2000. All rights reserved. Virtuoso CST#2069091-50. California CST# 2069091; TA# 808 - Registered Iowa Travel Agency; Washington UBI # 601 554 183. Registration as a seller of travel does not constitute approval by the State of California.
Reviews and Recommendations for Southern World Australia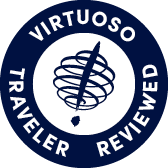 Virtuoso Verified Traveler
All reviews are from confirmed guests sharing exclusive insights
Sort reviews by