Multi-Day Tour
Vietnam Discovery: Hanoi, Halong Bay, Hue, Hoi An, Saigon, and Can Tho
(12 days)
Avanti Destinations
Arrive Hanoi To Can Tho to Ho Chi Minh City for Departure
Valid for Departures Now Through: 31 Dec 2018
Vietnam Discovery: Hanoi, Halong Bay, Hue, Hoi An, Saigon, and Can Tho
(12 days)
Day 12
Can Tho to Ho Chi Minh City for Departure
Itinerary
DAY
LOCATION(S)
HOTEL
MEALS
DESCRIPTION
Day 1

Arrive Hanoi


Centrally Located Hotel In Hanoi

None

Arrival in Hanoi.
Transfer.
Overnight in Hanoi.

Day 2

Hanoi, Vietnam


Centrally Located Hotel In Hanoi
Breakfast

Sightseeing in HanoiAlthough it is the modern-day capital of Vietnam, Hanoi still retains the mystery and charm of past centuries, with its narrow lanes and traditional shop houses. Begin with an exploration of the vast Ho Chi Minh Memorial Complex. Visit the Ho Chi Minh Mausoleum which contains the embalmed body of Ho Chi Minh (closed Mondays, Fridays and during September and October); and Ho Chi Minh's Stilt House where Ho Chi Minh lived from 1958 until his final days in 1969. Preserved in the same condition as during his life, it may be viewed through the windows.
Continue to the miniature 11th century One Pillar Pagoda which was rebuilt after being destroyed by the French in 1954, and then to the Temple of Literature with its walled courtyards and graceful gateways. Founded in 1070 and dedicated to Confucius, this was also the site of Vietnam's first university. Afterwards head to the Museum of Ethnology (closed Mondays and during Vietnam New Year). This museum showcases art, traditional clothing and reconstructions of traditional longhouses from 54 different ethnic groups.
In the afternoon, visit Hoan Kiem Lake and Ngoc Son Temple which contains an islet with the tiny Tortoise Pagoda. Along the way pass by other colonial landmarks such as the magnificent Opera House (may be seen from the outside only) and St Joseph's Cathedral.
See a Water Puppet Show, a fantastic art form originating in northern Vietnam, best seen in Hanoi.
Overnight in Hanoi.

Day 3

Hanoi, Vietnam


Centrally Located Hotel In Halong Bay
Breakfast, Lunch, Dinner

By vehicle from Hanoi to Halong Bay
Transfer to Tuan Chau Marina Port
Cruise aboard the Paradise Luxury Cruise through Halong Bay
Arrive at Tuan Chau Island. Transfer to cruise ship. Welcome Drink - cruise briefing, safety instructions, check-in cabins. Depart to Halong Bay - cruise and program commence. Serve Vietnamese lunch while cruising through Hoa Cuong Fishing Village, Ti Top area and Bai Tu Long Area. Visit Thien Canh Son Island where you can go swimming, kayaking (with supplement) or explore the mysterious dark cave. Enjoy cooking demonstration with Chef to discover the Vietnamese cuisine of traditional spring rolls. Pre dinner cocktail with complimentary nuts & canapes. Dinner is served on board.
Overnight in Cruise.

Day 4

TBD


Centrally Located Hotel In Hue
Breakfast

Cruise aboard the Paradise Luxury Cruise through Halong Bay
Tai Chi session on the Sundeck. Serve tea, coffee and pastry for light breakfast. Explore Sung Sot Cave. Back to the cruise and have breakfast buffet. Check-out of cabins and settle bills. Arrive at Tuan Chau Island.
By vehicle from Halong to Hanoi (Noi Bai Airport)
Flight from Hanoi to Hue
Arrival in Hue.
Transfer.
Overnight in Hue.

Day 5

Hue, Vietnam


Centrally Located Hotel In Hue
Breakfast

Sightseeing in HueHue served as the capital of Vietnam for more than 140 years. It houses ancient temples, imperial buildings and French-style edifices. It was established in the 17th century.
Excursion to Thien Mu Pagoda with a boat trip on the Perfume riverEmbark on a local boat and cruise down the Pefume River to the iconic Thien Mu Pagoda, an elegant seven-tiered octagonal tower which has become Hue's most widely recognizable monuments. During the early 1960s, this became a centre of anti-government protests, and the site of the famous self-immolation by the monk Thich Quang Duc.
Visit the Old Imperial CityLocated in the heart of Hue is the Imperial Citadel, a vast complex built in the early 19th century and modelled after the Forbidden City of Peking. The original walls stretched for 10 km and were surrounded by a wide moat. Today, most of the buildings have been destroyed due to bombing during the Vietnam-American War, but the monuments that remain provide a fascinating glimpse into the court life of the Nguyen Dynasty. Approach the city past the striking Flag Tower, where a giant Vietnamese flag waves proudly overhead, to the imposing Ngo Mon Gate, the main entrance to the Imperial Enclosure. Enter into an area of spacious courtyards and serene lotus ponds, and visit Dien Tho Residence (Dien Tho palace) where the Queen mother lived, visit Thai Hoa Palace, the magnificently decorated reception hall, the Halls of the Mandarins, and the original Nine Dynastic Urns, among other sites, including a visit to the Hue Royal Antiquities Museum.
Visit the Imperial Tombs of Tu Duc and Khai DinhVenture into the countryside around Hue to the Imperial Tomb of Tu Duc. Tu Duc, the longest reigning Vietnamese emperor, designed and built this elegant tomb during his lifetime, using it as a retreat for meditation, reading and theatre performances. Take some time to soak in the tranquil atmosphere, wandering among the gracefully proportioned pavilions, courtyards and lotus ponds. Afterwards visit the Imperial Tomb of Khai Dinh, dramatically located on a hillside. The last of the monumental tombs of the Nguyen dynasty, completed in 1931, this tomb incorporates distinct European elements into traditional Vietnamese architecture.
Overnight in Hue.

Day 6

Hue to Hoi An


Centrally Located Hotel In Hoi An
Breakfast

By vehicle from Hue to Hoi An with sightseeing in Danang
Drive south from Hue along scenic mountain roads with spectacular views over the coastline. Highlights along the way include the dramatic Hai Van Pass, the high dividing line between the climate zones of North and South Vietnam; Lang Co, a lovely stretch of beach curving outwards between a clear blue lagoon and the East Vietnam Sea; and the large coastal city of Danang.
After arriving in Danang, visit the Cham Museum, an elegant colonial building which houses the finest collection of Cham sculpture in the world; and pass by Non Nuoc Beach, a famous spot for American soldiers during the Vietnam-American War. Continue south to Hoi An, stopping enroute to visit the Marble Mountains, five stone hillocks, once islands, that rise sharply from the surrounding rice fields. Riddled with caves and shrines, they are said to each represent one of the five elements of the universe.
Overnight in Hoi An.

Day 7

Hoi An, Vietnam


Centrally Located Hotel In Hoi An
Breakfast

Excursion to My SonJourney to My Son, the former religious centre of the Champa Kingdom, a sophisticated civilization which held sway over the region from the 4th to the 13th centuries. Today, all that is left are five archaeological sites from different periods, in a beautifully green setting of hills and winding streams. After a brief visit to the Visitor's Centre for an overview of Cham history and culture, visit each ruin in turn, walking along forested paths.
Sightseeing in Hoi AnHoi An, a picturesque riverside town, was one of South East Asia's major international ports during the 17th, 18th and 19th centuries. This walking tour includes many of the town's highlights. Visit the Japanese Covered Bridge, constructed in 1593 by the Japanese community to link the town with the Chinese quarters across the stream. Near the bridge is Sa Huynh Museum which houses exhibitions from the earliest period of Hoi An's history. Wander into the Tran Family Chapel, a 200 year old house built for worshipping ancestors. Visit Phuoc Kien Assembly Hall, a Chinese pagoda built around 1690 and enlarged in 1900. It is typical of the Chinese clans in the Hoi An area and is dedicated to Thien Hau Thanh Mau, the Goddess of the Sea and Protector of Sailors and Fishermen. Also enter into a Lantern Making Workshop to see how the frame is made and the silk cloth put onto the lantern.
Overnight in Hoi An.

Day 8

Hoi An, Vietnam


Centrally Located Hotel In Ho Chi Minh City
Breakfast

Transfer to Danang airport
Flight Danang to Ho Chi Minh City
Arrival in Ho Chi Minh City
Transfer
Sightseeing in Ho Chi Minh CityA vibrant metropolis, Ho Chi Minh City teems with energy, activity and motion. Everywhere you look, you see the meeting of traditional and modern life. Begin with a tour of the historic centre, strolling along Dong Khoi Street, formerly known as the Rue Catinat, the main shopping thoroughfare and heart of old colonial Ho Chi Minh City. Pass by classic European-style landmarks such as the ornate City Hall (Hotel De Ville), the old Opera House (both may only be viewed from the outside), and pay a quick visit to the neo-Romanesque Notre Dame Cathedral and the Central Post Office.
Afterwards dive into modern history with a tour of the Reunification Palace. Formerly the Independence Palace of the South Vietnamese president, this 60s style was famously stormed by tanks on April 30, 1975 signifying the fall of South Vietnam. It has been preserved in its original state, and the original tanks remain on display near the entrance gates. Continue to the harrowing War Remnants Museum, which comprehensively documents the travails of the long Vietnam- American War. Inside are detailed photographic exhibitions; outside is a collection of tanks, planes and weapons. A powerful experience, this museum is guaranteed to provoke strong emotions. Finally, visit the Emperor Of Jade Pagoda, one of Ho Chi Minh City's most interesting pagodas.
Overnight in Ho Chi Minh City.

Day 9

Ho Chi Minh City, Vietnam


Centrally Located Hotel In Ho Chi Minh City
Breakfast

Excursion to Cai Be Floating Market with a boat trip to Vinh LongFrom Ho Chi Minh City, drive into the heart of the Mekong Delta to Cai Be, and embark on one of the local boats to explore Cai Be floating market, a lively market of fruit and vegetable barges with a picturesque Catholic cathedral on the riverside. Continue along smaller waterways and canals, stopping at the Mekong River Islands to visit orchards and local cottage industries. Enjoy watching how the delta residents make traditional treats such as dried longyans, rice pancakes and puffed rice candies, with the chance to sample the local delicacies. Disembark at Vinh Long and return to Ho Chi Minh City.
Overnight in Ho Chi Minh City.

Day 10

Ho Chi Minh City, Vietnam


Centrally Located Hotel In Can Tho
Breakfast

By vehicle from Ho Chi Minh City to Can Tho with sightseeing in My Tho and a boat ride to Mekong River islandsFrom Ho Chi Minh City, transfer to My Tho, a bustling town in the rich agricultural region of the Mekong Delta and visit the Vinh Trang Pagoda which exhibits a harmonious fusion of Asian and European architectural styles. Afterwards board a local boat to explore the islands of the Mekong while stopping at a fruit orchard to enjoy fruit and tea while listening to local music. The trip also includes a brief sampan ride through the tiny waterways that thread the island. From My Tho, continue by vehicle onwards to Can Tho.
Overnight in Can Tho

Day 11

Can Tho


Centrally Located Hotel In Can Tho
Breakfast

Excursion by boat to Cai Rang Floating Market with sightseeing at fruit plantationIn the early morning, set out by boat to explore Cai Rang Floating Market. This is the biggest and most bustling of the Mekong Delta markets and attracts fruit and vegetable vendors from all over the region. Buyers on smaller boats weave between the large barges selling wholesale produce. Each vendor advertises fresh samples of their wares on long poles that tower overhead above the colourful boats. Sail through the market watching people haggle and trade, and possibly sample some of the fruit yourself. Explore some of the backwaters, canals and fruit plantations before returning to the pier.
Sightseeing in Can ThoExplore the rural city of Can Tho. See the distinctive Ong temple, a bustling local market, and experience the sights and sounds of the back roads. Return on the main road with a visit to Binh Thuy Ancient House, a beautifully preserved and ornate French-style house built in 1870.
Overnight in Can Tho.

Day 12

Can Tho to Ho Chi Minh City for Departure


Centrally Located Hotel In Can Tho
Breakfast

By vehicle, transfer from Can Tho to Ho Chi Minh City and continue on to your next Avanti destination!
Tour Features
Experience(s)
Experiences have not been selected at this time
Description
Discover the breathtaking scenery and fascinating culture of Vietnam as you travel through its 3 main regions - North, Central, and South. From the mountainous North and the capital of Hanoi, to the Center and the quaint Hoi An, and the lush Mekong Delta of the South, this immersive program offers a memorable experience in this unforgettable country.
About Us
Your independent travel clients want the perfect trip--multiple destinations with special interest sightseeing and activities, accommodations with personality and style, and smooth, trouble-free connections throughout. Let Avanti make complex FIT easy for you to book, whether your clients are headed to Europe, Central and South America, or Asia. For more than 36 years, we've been selecting the best these destinations have to offer and weaving it all together with the right connections for a seamless experience that will delight your clients--and have them coming back for more. Uncommonly rewarding FIT.
Insider Tip
Contact your Virtuoso Travel Advisor for insider knowledge to help enhance your experience.
Terms & Conditions
Avanti Destinations Terms and Conditions of Sale - click here.
The trademarks VIRTUOSO, the Globe Swirl Logo and SPECIALISTS IN THE ART OF TRAVEL are registered trademarks of Virtuoso, Ltd. Virtuoso, Ltd. has a U.S. copyright registration for the Globe Swirl Logo, ©2000. All rights reserved. Virtuoso CST#2069091-50. California CST# 2069091; TA# 808 - Registered Iowa Travel Agency; Washington UBI # 601 554 183. Registration as a seller of travel does not constitute approval by the State of California.
Reviews and Recommendations for Avanti Destinations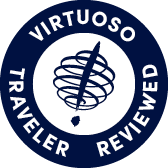 Virtuoso Verified Traveler
All reviews are from confirmed guests sharing exclusive insights
Sort reviews by