Multi-Day Tour | Escorted
Peirce & Leslie Travel Pvt Limited - India
Bagdogra, India To Glenburn, India
Valid for Departures Now Through: 30 Apr 2019
Day 5
Yuksom, India→Pelling, India
Day 7
Pelling, India→Kalimpong, India
Itinerary
DAY
LOCATION(S)
HOTEL
MEALS
DESCRIPTION
Day 1

Delhi, India
Bagdogra, India
Gangtok, India


None

Breakfast

This morning you will take a flight to Bagdogra airport and then drive five hours to Gangtok.

Day 2

Gangtok, India


None

Breakfast

Sprawling along a ridge, Gangtok, which means 'high hill' is spectacularly located with magical views of the mountains. You will visit Dro-Dril Chorten, the most important Buddhist Monastery here and the Research Institute for Tibetology that was established in 1958.

This afternoon you are free to wander on your own in the old bazaar which offers a plethora of souvenirs.

Day 3

Gangtok, India


None

Breakfast

Today you visit Rumtek monastery, the largest and the wealthiest of Sikkim's monasteries. The main attraction is a statue of Sukhamanya Buddha surrounded by 100 smaller statues representing the return of the Buddha 100 times. Rumtek is heavily guarded to avoid violence arising from the dispute around the identity of the current spiritual head.

On your way back to the hotel, you might like to stop at some of the curio shops by the wayside.

Day 4

Gangtok, India
Yuksom, India


None

Breakfast

On the way to Yuksom you will visit Tashiding, the gold-topped monastery considered to be one of the most sacred Chorten or memorial shrines. Pilgrims flock here to drink water from the sacred pot that has never run dry in 30 years.

Day 5

Yuksom, India
Pelling, India


None

Breakfast

From Yuksom you will continue to Pelling on a two hour drive stopping at Khecheopalri Lake, a sacred spot for Buddhists. This is where the first Chogyal or King of Sikkim was crowned in 1642 AD.

Day 6

Pelling, India


None

Breakfast

Today you will visit Pemayangtse, an awe inspiring monastery with an exceptional collection of Buddhist art.

Later you will visit the Rabdanste, the ruined palace of the 17th to 18th century capital of Sikkim.

Day 7

Pelling, India
Kalimpong, India


None

Breakfast

After breakfast you will depart on a four hour drive to Kalimpong.

In the afternoon you will visit the relatively new Zong Dog Palri Fo- Brang Gompa where the walls of the prayer room are richly and completely decorated with vibrant frescoes and the ceiling is embellished with large Mandalas. Of particular importance is the three dimension mandala, one of ony three in the word. You will end your tour at Dr Graham's Home. Set on 477 acres with turn of the century buildings, the school was started for the children of tea labourers. Today, it has 1,500 children from mostly economically challenged families. To avoid disruption of classes, you will only be permitted to visit the Kindergarten section.

Day 8

Kalimpong, India
Darjeeling, India


None

Breakfast

Your two hour drive today takes you to Darjeeling.

This morning you will take the famous steam 'Toy Train' to Ghoom Monastery dating back to 1875. Although, it is not one of the finer monasteries, it does have an enormous statue of the Maitreya Buddha or the Future Buddha. Later you will visit Tibetan Refugee Centre and Himalayan Mountaineering Institute and Museum.

Day 9

Darjeeling, India
Glenburn, India


None

Breakfast

Rising early you will drive an hour to Tiger Hill to watch the spectacular sunrise on Kanchenjunga and Mount Everest.

After returning to the hotel for breakfast you will drive about three hours to a working tea estate Glenburn where you will be guests of the owning family.

Day 10

Glenburn, India


None

Breakfast

In the morning you will tour the plantation and the tea factory. Later you will take a long hike through the tea estate to the banks of Rangit River which borders Sikkim.

Day 11

Glenburn, India


None

Breakfast

Today you will hike to Manjitar village and spend the day wandering around at leisure stopping at village shops – this is a wonderful insight into village life in North Eastern India.

Day 12

Glenburn, India
Bagdogra, India
Delhi, India


None

Breakfast

You will drive two hours down to Bagdogra airport to take your flight to Delhi. In Delhi you will check into your hotel for a short stay before your late night international flight.
Tour Features
Experience(s)
Experiences have not been selected at this time
Description
Pristine East
Delhi ~ Gangtok ~ Yuksom ~ Pelling ~ Kalimpong ~ Darjeeling ~ Glenburn ~ Delhi
About Us
Virtuoso and your Travel Advisor curate the best travel experiences from around the world. We choose exclusive experiences just for you.
Insider Tip
Contact your Virtuoso Travel Advisor for insider knowledge to help enhance your experience.
Terms & Conditions
DEPOSITS: Reservations will be confirmed against a deposit of USD $1000 per person for FIT bookings and 15% of the tour cost for Group bookings.
FINAL PAYMENT: Full payment must be received by Peirce and Leslie at least 45 days prior to arrival for FIT clients and 60 days prior to arrival for Groups.
Note: To guarantee any/all bookings during Pushkar and Christmas & New Year the hotels require a 100% non-refundable deposit 90 days prior to the arrival for FIT clients and Groups.
PAYMENT BY CREDIT CARD: The client's credit card will be charged in the local currency and will be exchanged by the client's bank at the exchange rate applicable on the day the bank processes the charge. For this reason, there may be a variation in the U.S. price quoted and the actual rate processed on the client's credit card.
CANCELLATION POLICY: After confirmation, USD $500 per person will be non-refundable for FIT's and 10% of the initial deposit for Group bookings. The balance amount will be used to block domestic air tickets (to lock in the best available fares) and put down deposits on other land arrangements, as vendors send invoices to block services.
Should it become necessary to cancel your itinerary at any time after it has been confirmed, the following cancellation fees will be levied:
FIT TRAVEL (01 - 05 persons)
45 to 30 days prior to arrival - USD $1000 per person + cancellation charges levied by suppliers
Between 30 and 15 days of arrival - 50% of tour cost + cancellation charges levied by suppliers
Less than 15 days - No Refund
GROUP SIZE OF SIX AND MORE
60 to 45 days prior to arrival - 30% of total tour cost + cancellation charges levied by suppliers
Between 45 to 30 days of Arrival - 50% of total tour cost + cancellation charges levied by suppliers
Less than 30 days - No Refund
Note: Hotels have individual cancellation charges which will be mentioned as a separate cancellation policy when the status is sent.
AIR FARE: Internal air tickets issued have a $45 per coupon cancellation fee.
TRAIN FARES: Cancellation charges levied by the railways plus a service charge of $20 per ticket.
INSURANCE AND VISAS: Baggage, personal effects, trip cancellation, health and accident insurance, and visas/special permits are the responsibility of the passenger.
PRICE: All prices quoted are subject to change if the date of travel is changed. A final tour price is given at the time of confirmation of the booking with your travel agent. Individual and itemized contract rates are not disclosed.
NOT INCLUDED: Not included in the price quoted are airport departure taxes, customs and immigration fees, excess baggage at airport, expenses of a personal nature such as laundry, telephone calls, room service, wine, liquor and meals unless otherwise specified.
The trademarks VIRTUOSO, the Globe Swirl Logo and SPECIALISTS IN THE ART OF TRAVEL are registered trademarks of Virtuoso, Ltd. Virtuoso, Ltd. has a U.S. copyright registration for the Globe Swirl Logo, ©2000. All rights reserved. Virtuoso CST#2069091-50. California CST# 2069091; TA# 808 - Registered Iowa Travel Agency; Washington UBI # 601 554 183. Registration as a seller of travel does not constitute approval by the State of California.
Reviews and Recommendations for Peirce & Leslie Travel Pvt Limited - India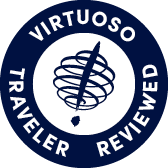 Virtuoso Verified Traveler
All reviews are from confirmed guests sharing exclusive insights
Sort reviews by
Recommended
Definitely the best
By: Dee Dee
Reviewed on: 14 Jan 2014
Our requests were submitted to P&L. They made our trip to India one of the most perfect we have ever taken. Agents of P&L were checking on us every step of the way. Two deserve special recognition: Hemesh Chaturvedi, our guide, and Ramrakesh Yadav, our driver. Hemesh had the magic touch of making everything possible and even flew with us. If you have ever experienced the chaos that is driving in India, you will appreciate the fact that Ram always made us feel safe.
Recommended
White glove service!
By: Vicki
Reviewed on: 12 Jan 2015
Our recent trip to India was flawless thanks to the wonderful people at Pierce and Leslie! Every local contact person bent over backward to make sure we were taken care of to our satisfaction. Each local guide was lovely, interesting,and knowledgeable in addition to speaking excellent English! Our main driver, Anil, was a marvel. Traffic in Delhi, Agra and Jaipur is insane, but Anil was an expert driver who got us where we wanted to go and made us feel safe at all times. The Pierce and Leslie team is simply the best!
Recommended
India
By: donnaatmore@gmail.com
Reviewed on: 08 Oct 2017
Jai was an amazing tour guide and took the time to ensure we saw everything we wanted to and was always careful and thorough in explaining everything we needed to know