Day Tour
Stonehenge Excursion
(6 Hours)
European Connection
Salisbury Plain, United Kingdom
Valid for Travel Now Through: 16 Dec 2020
Tour Features
Experience(s)
Culture, History & Arts
Family Vacations
Sightseeing
Wildlife & Nature
Meals
None
Recommended Ages
All Ages
Activity Level
Easy
Description
Visit the most famous stone structure in the world...
About Us
European Connection is the luxury travel agent's "one-call source" for all European travel needs. The company's experienced Europe specialists stand ready to assist with elegant accommodations, private chauffeur and guide services, and special experiences - all custom designed to cater to the needs of sophisticated and demanding travelers. This internationally known, award-winning company has been honored by the governments of France, Italy, Austria and Switzerland for its professional expertise, quality of service and contribution to tourism from the United States to Europe.
Insider Tip
Contact your Virtuoso Travel Advisor for insider knowledge to help enhance your experience.
Terms & Conditions
2014 EUROPEAN CONNECTION "SERVICES ONLY" TERMS & CONDITIONS
Payments
Full payment due upon confirmation if service(s) will occur 45 days or less from the day of confirmation.
For Services occurring more than 45 days from date of Confirmation:
Upon Confirmation: 35% Deposit
Final Payment: 45 days prior to departure
Forms of Payment:
Credit Cards: Master Card, Visa, and American Express
Checks: Payable to European Connection
Cancellation Policy:
For 5 or fewer services:
Outside 31 days prior to departure: 10% of costs as administration fee
30-15 days prior to departure: 25% of costs
14-7 days prior to departure: 50% of costs
7-0 days prior to departure: 100% of costs
For 6+ services:
Outside 61 days prior to departure: 10% of costs as administration fee
60-31 days prior to departure: 25% of costs
30-15 days prior to departure: 50% of costs
14-0 days prior to departure: 100% of costs
Revision/Changes
Once confirmation has been made, there will be a $50 fee per revision.
No Refunds for Unused Services
No refunds for unused services including missed transfers due to airline changes and/or missed flights. Passengers are required to notify local service provider in due time (contact information is indicated on the voucher) in the event of a last minute flight change/ delay/cancellation. Waiting time which exceeds 30 minutes from original pick up time is subject to additional charges payable locally.
Price Changes - European Connection reserves the right to amend rates due to currency fluctuation and/or increases beyond our control. Rate is subject change until final payment is received.
Late Bookings - Bookings made less than 21 days prior to departure are subject to $150 fee.
Information required by European Connection
• Correct spelling of names of all trip participants (as they appear on their passports)
• Ages of children (at time of travel)
• Airline Information must be provided no later than 45 days prior to departure
• Rail Arrangements - preferred times must be provided at least 45 days prior to departure
• Dinner Reservations - $25 per reservation transaction
• All required information, changes, cancellations and/or deletions must be received in writing
Documents
Service vouchers are sent upon full payment and confirmation.
Travel Insurance
Trip Cancellation/Interruption Insurance is strongly recommended. We will be pleased to provide a quote upon request. The cancellation penalties listed above will be strongly adhered to regardless of the reason for cancellation.
Proof of Citizenship
A valid US Passport is required for all US Citizens traveling to Europe. Passports must be valid for at least 6 months after scheduled return to the US. Non US Citizens must contact their local consulates for entry requirements.
Private Vehicle Transfers
In general, drivers possess basic, English speaking skills. Should you require a driver speaking fluent English or an additional English-speaking assistant, European Connection can arrange one at an additional cost.
Private Vehicle Touring
Unless otherwise noted, our drivers will provide basic information but should not be considered a guide. By law, only licensed guides are permitted to conduct guiding inside museums, monuments, etc. Should you require expert knowledge from a professional English speaking guide, European Connection can arrange on at an additional cost.
Liability & Responsibility
European Connection's agents and employees act only as agents for the booking agency and their passengers in regard to travel by road, air, sea or by mode of transportation or local conveyance, and assumes no liability for personal injury, property damage, loss, accident, delay or irregularity incurred by any person or tour participant arising out of the negligence of any direct or supplemental air carrier, hotel or person engaged in conveying the passenger, providing rental cars, or rendering any of the services or accommodations being offered in our packages; nor shall European Connection be responsible for any injuries, death, damages, loss or delay in any means of transportation or by reason of any event beyond the actual control of European Connection. Any such losses or expenses must be borne by the passenger as tour rates provide for arrangements only as stated in the final itinerary. The right is reserved to substitute hotels of similar category or change schedules without prior notice should circumstances require. In the event of a change in the itinerary necessitated by factors or conditions beyond the actual control of European Connection, such as strikes, political and social unrest, labor problems, climatic aberrations, or any act of God, no refund can be made nor will credit be given, provided that in the event of such change, European Connection shall provide accommodations and services of comparable quality and standards as set forth in this brochure. The right is reserved to decline, to accept or to retain any person as a member of a trip, or to cancel a trip in all or part due to circumstances beyond the control or European Connection. Prices quoted are in U.S. Dollars and are based upon current tariffs and exchange rates as indicated in the confirmation and are subject to adjustment upon prior notification in the event of changes therein. Any such changes will be passed on to the passenger in all other cases. However, once full payment has been received, quoted prices are guaranteed. Passengers electing to take advantage of equipment offered by the hotels or ships, do so at their own risk. Baggage is at owner's risk entirely. The airlines concerned, and their agents and affiliates, are not to be held responsible for any act, omission or event during the time passengers are not on board their aircraft. The passenger ticket in use by said airlines, when issued, shall constitute the sole contract between the airlines and purchaser of these tickets/and or passenger.
The trademarks VIRTUOSO, the Globe Swirl Logo and SPECIALISTS IN THE ART OF TRAVEL are registered trademarks of Virtuoso, Ltd. Virtuoso, Ltd. has a U.S. copyright registration for the Globe Swirl Logo, ©2000. All rights reserved. Virtuoso CST#2069091-50. California CST# 2069091; TA# 808 - Registered Iowa Travel Agency; Washington UBI # 601 554 183. Registration as a seller of travel does not constitute approval by the State of California.
Reviews and Recommendations for European Connection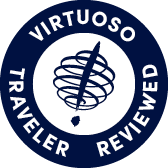 Virtuoso Verified Traveler
All reviews are from confirmed guests sharing exclusive insights
Sort reviews by