Multi-Day Tour
Malt Whisky Trail
(5 days)
Adams & Butler United Kingdom
Inverness, United Kingdom To Inverness, United Kingdom
Valid for Departures Now Through: 28 Oct 2018
Itinerary
DAY
LOCATION(S)
HOTEL
MEALS
DESCRIPTION
Day 1

Aberdeen, United Kingdom
Inverness, United Kingdom


Rocpool Reserve

None

Private transfer from the either Aberdeen or Inverness airport to the hotel near Inverness.

Day 2

Inverness/Loch Ness, United Kingdom


Rocpool Reserve
Breakfast

Meet your driver guide who will be guiding you for the rest of the trip.

Begin your tour of Speyside's famous distilleries by visiting The Glenlivet Distillery in Banffshire. Admission is free and the guided tour gives you an insight into the intriguing history of this spectacular single malt, concluding with a complementary dram of The Glenlivet 12, 18-years-old, or Nàdurra.

Drive 13 miles north to Knockandu for your next stop on the trail, Cardhu Distillery. Take one of the two tours offered to find out more about the only malt whisky distillery pioneered by a woman. Enjoy a dedicated tasting and nosing session with an expert at the end of the Glassic Tour which includes a complementary whisky glass to take home.

Continue 9 miles towards Dufftown, considered by many to be the heart of the Speyside whisky region, where you'll discover the spectacular Speyside Cooperage. At the only working cooperage in the UK you have the unique opportunity to witness the ancient art of creating whisky barrels using traditional tools and methods and you can even have a go at making your own mini-cask.

Day 3

Speyside, United Kingdom


Rocpool Reserve
Breakfast

Start your second day with a trip to the Glenfiddich Distillery in Dufftown. Built by William Grant and his family over a period of 18 months, the first drops of whisky flowed from the stills on Christmas Day, 1887. For a truly memorable experience, book a place on the half-day Pioneer's Tour where you get to bottle your Glenfiddich direct from the cask and enjoy a tasting and nosing masterclass.

A quick journey to Rothes takes you to the Glen Grant Distillery, the only Scotch whisky distillery that is named after its founding owners. Explore the distillery's beautiful Victorian Garden then take a guided tour or private tasting session to find out more about the distinctive dram.

Take a 20 minute drive to Keith and take a tour of the Strathisla Distillery, the oldest operating distillery in the Highlands which dates back to 1786. One of the distillery's fantastic tours will give you an insight into the art of blending as the distillery produces a range of Chivas Regal premium blended whiskies alongside its single malt Strathisla 12-Year-Old.

Day 4

Speyside, United Kingdom


Rocpool Reserve
Breakfast

Embark on your final day of the trail with a visit to Glen Moray Distillery in Elgin, where a warm welcome awaits you. Soak up the brilliant atmosphere in the distillery and watch the small, dedicated team craft the single malt on the Regular Tour or, for an in depth insight, take the Fifth Chapter Tour led by the Distillery Manager.

Take the 20 minute journey to Forres and the Benromach Distillery which is home to the world's first fully certified organic single malt. Uncover the secrets behind creating Benromach's beautiful malts with an Exclusive Managers Tour or enjoy the hands-on Bottle Your Own Experience tour.

After a final 10 minute drive you can complete your exploration of the Malt Whisky Trail at Dallas Dhu Historic Distillery, the idea of entrepreneur Alexander Edward. Spend time looking around the distillery, which finally closed for production in 1983, and find out more about its fascinating chequered past.

Day 5

Inverness, United Kingdom


None

Breakfast

Private transfer from the hotel to Aberdeen or Inverness Airport.
Tour Features
Experience(s)
Experiences have not been selected at this time
Description
Discover the secrets behind the art of whisky creation by visiting some of Scotland's renowned distilleries. Speyside is famous for its wonderful whisky is often called 'Malt Whisky Country' and is home to more than half of Scotland's malt whisky distilleries and the world's only Malt Whisky Trail, making it a whisky lover's paradise.
Follow the fantastic Malt Whisky Trail and see the amber nectar being made from barrel to bottle. Discover seven working distilleries, one historic distillery and the Speyside Cooperage. At the only working cooperage in the UK you can witness the ancient art of creating whisky barrels using traditional tools and methods and even have a go at making your own mini-cask. Enjoy fascinating behind-the-scenes tours of the distilleries and, as expected, each distillery offers a sample of their unique, hand-crafted malts with dedicated nosing and tasting sessions. On the trail you can visit some of the country's most unique distilleries.
About Us
We custom-design all our itineraries to suit your interests and wishes. We create trips of distinction. Recent special-interest trips include antiques, gardens, golf, gourmet, Jewish heritage, art, architecture and even ghosts! Our aim is to fulfill your dreams, to provide our clients with imaginative, fun and memorable trips and to bring quality and style to travel. At Adams & Butler, we give you the vacation you want – a unique experience, designed just for you. We conduct business in English, Spanish, Portuguese, Italian and French.
Insider Tip
Don't miss a private visit to the Scotch Whisky Society with its founder Charles MacLean, reputed to be 'the World's Leading Expert on Scotch Whisky" according to the London Times.
Terms & Conditions
DEPOSIT & FINAL PAYMENTS: Tour & customised itinerary bookings are provisional until a 30% deposit is received and confirmations issued, and until that time accommodation and services cannot be guaranteed. The balance is due 3 months prior to arrival. • Vacation home rental bookings are provisional until a 50% deposit is received and a confirmation issued. The balance is due 3 months prior to arrival. • If payment is not received as scheduled, your reservation may be automatically cancelled and deposit payment become forfeit. MEANS OF PAYMENT: Payment can be made by major credit card, cheque, or bank transfer. If you do choose to pay by bank transfer / Euro bank draft or cheque we will need a credit card number in order to confirm your booking until the transfer is received. We issue invoices in Euros for bookings in Ireland and Europe, Sterling for bookings in Scotland, England and Wales, and US Dollars for bookings in Kenya, Africa and elsewhere. Please send the remittance in the currency you are invoiced to the appropriate bank account below: (1) Euro bank transfer to Allied Irish Bank, Westmoreland St., Dublin 2 Bank Code 93-33-84 Ac Adams & Butler Ltd 03879002 Inter bank Swift Code AIBKIE2D IBAN Number IE37 AIBK-9333-8403-879-002. There is a €9 transfer charge on every payment made by bank transfer. Please add the €9 onto the total amount due. (2) Sterling bank transfer to Allied Irish Bank, 11 Old Jewry, London EC2 8DP - Inter bank Swift Code AIBKIE2D IBAN Number GB64 AIBK 2385 9009 0941 88. There is a £10 transfer charge on every payment made by bank transfer. Please add the £10 onto the total amount due. (3) Dollar bank transfer to Allied Irish Bank, Branch NSC : 930067 Account Name : Adams & Butler Ltd Account Number: 26058105 Swift Address AIBKIE2D IBAN IE01AIBK93006726058105. There is a $15 transfer charge on every payment made by bank transfer. Please add the $15 onto the total amount due. (4) Payment by MasterCard, Visa, American Express is subject to a 3% service charge per transaction (waived for Virtuoso Travel Agents) REVISION FEE Any revision made after the original booking has been processed and deposit received will incur a €50 handling fee per booking per change. TRAVEL INSURANCE Please ensure that all travellers are in possession of valid travel insurance CANCELLATIONS TOURS & ITINERARIES: (a) All cancellations must be notified in writing by email or fax to Adams & Butler (b) The following Cancellation Charges apply to all bookings - Up to 3 months prior to date of arrival – €500 administration charge 1 to 3 months prior to date of arrival – 15% plus €500 administration charge. 3 to 4 weeks prior to date of arrival - 25% plus €500 administration charge Less than 21 days prior to date of arrival - 75% plus €500 administration charge Less than 7 days prior to date of arrival - 100% In all events the client will be refunded for any accommodation or services that are re-sold. ACCOMMODATION: We reserve the right to substitute hotels for accommodations in similar categories. VISITS, ENTERTAINMENT AND OTHER FEATURES: We reserve the right to substitute visits, entertainment and other features when establishments are closed or cannot be visited for reasons beyond our control. UNUSED TOUR ARRANGEMENTS: Adams & Butler Ltd. cannot make refunds or exchanges for unused accommodations, services or features of any tour or itinerary unless agreed upon prior to departure. RESPONSIBILITY: Adams & Butler Ltd is not responsible for any personal injury, property damage or other loss a passenger incurs arising from acts or omissions by any public transport company, hotel, car rental company, subcontractor or other person or organization, whether or not such company is rendering any services supplied by Adams & Butler. All vouchers are issued and supplied subject to the foregoing and to any and all terms and conditions under which transportation and services are provided. Adams & Butler Ltd reserves the right to decline to accept or to cancel or alter any booking. We accept no responsibility for losses or expenses due to delay or changes in schedules, flight cancellations or misconnections due to mechanical problems, sickness, quarantine, weather, acts of God, strikes, government actions, war, terrorism or other circumstances beyond its control. Passengers must bear all such losses or expenses. To guard against unforeseen circumstances, we recommend you purchase travel insurance. IMPORTANT NOTICE: Any devaluation or revaluation of currencies may affect quoted prices. Tours may be subject to currency surcharges, as imposed by our suppliers. CAR RENTAL COMPANIES: Car rental companies in Ireland and Britain reserve the right to substitute cars for other models in similar category. CAR RENTAL INSURANCE: (1) Car rental insurance includes unlimited mileage, local taxes and third party insurance, which includes passenger indemnity in respect to injuries resulting from an accident involving the rental car. The driver is not covered by this insurance but can purchase Driver & Baggage Protection (DBP/PAI) and or Optional Theft Protection (TP). This can be purchased at time of rental in Ireland or Britain. (2) The hirer must leave an imprint of a major credit card with the car rental company at the start of the rental to cover any damage which may occur. (3) The policy includes Collision Damage Waiver (CDW) subject to an excess. To insure against CDW deductible amounts, the hirer may purchase a Super CDW at start of hire. AGE LIMIT: In Ireland drivers aged 23/24 years may drive groups B and E only and are subject to a young driver surcharge. In Britain and Northern Ireland persons aged 23-25 can drive groups A, B, C, D, E, F & I only and are subject to a surcharge. Maximum driving age in Ireland & Britain is 75 years. Drivers 76-79 years of age may rent but certain restrictions and surcharges apply - contact us for details. LOCATION SERVICE CHARGE: A location service charge may apply. This charge is payable locally. DRIVING LICENSE: Drivers must produce a current driving license issued in their state or country of residence without any endorsements and have a minimum driving experience of one year. EXTRA DRIVER: The supplementary charge to cover an additional driver is payable at start of hire. CLAIMS OR DISPUTES: You should inform Adams & Butler Ltd immediately of any problems and prior to the end of the tour. Passenger contract with Adams & Butler Ltd is subject exclusively to Irish Law and Jurisdiction. ADDITIONAL CONDITIONS FOR CHARTER BOATS AND CRUISER HIRE: Bookings are accepted subject to the craft being available, as there is always the possibility of a previous hirer causing accidental damage, which would hold up the craft for repair. In this event every effort will be made to supply a similar craft, if this is not possible the deposit shall be returned to them in full, but the hirer shall have no claim whatsoever against the owner. Cruising after dark is prohibited. We shall not be responsible for any delay caused by floods, repairs or damage to navigational works. All hire periods commence after 16.30 and terminate at 10.00a.m on the final day of the booking period. We will endeavour to arrange flexible arrival & departures times. The craft must be returned not later than 10a.m. in a clean condition throughout with full-fuel and water tanks on the day on which the hirer period terminates. If the hirer fails to return the craft in due time, as stated above , they shall pay the owners €800 for every day or part of a day which the craft is delayed away from base, plus any consequential damage or loss for breach of contract. No experience is necessary but we reserve the right to refuse to hand over to any hirer who in our opinion is not considered suitable to take charge. On take over, a trial run will be given to familiarize hirer with craft. After this trial run the hirer shall take full responsibility for the craft and her equipment. If any repairs or adjustments become necessary the owners must be notified immediately. Repairs cannot be carried out by any other firm without the owner's permission. We at all times try to give a specific description of craft, but we shall not be responsible for any inaccuracies that may occur. It is in your interest, as well as ours, that rubber soled shoes should be worn on board. The company will not be responsible for time loss due to breakdowns, damage or other defects and no financial adjustments can be made in these circumstances. Only crew members named on the booking form are admitted to hire our craft and the company takes no responsibility for other persons boarding our craft. A returnable deposit of €1,000 must be paid by the hirer upon arrival (depending on the class of cruiser). If no loss or damage has occurred to the cruiser, its contents, dinghy or third party, the deposit will be returned in full. All extras must be paid upon arrival to the marina. Fuel used will be paid on completion of the hire period. Bicycles are hired at clients risk and we accept no responsibility for loss or injury sustained by the hirer. Before departing the marina, make sure that your outboard motor is in good running order, as we do not facilitate a repair service for outboard motor outside the marina, and we do not offer refunds or cash adjustments for this at the end of the hire period. A separate refundable deposit of €150 is paid upon arrival for the hiring of the outboard motor. If the outboard motor is lost or stolen the hirer is responsible for the full replacement

The trademarks VIRTUOSO, the Globe Swirl Logo and SPECIALISTS IN THE ART OF TRAVEL are registered trademarks of Virtuoso, Ltd. Virtuoso, Ltd. has a U.S. copyright registration for the Globe Swirl Logo, ©2000. All rights reserved. Virtuoso CST#2069091-50. California CST# 2069091; TA# 808 - Registered Iowa Travel Agency; Washington UBI # 601 554 183. Registration as a seller of travel does not constitute approval by the State of California.
Reviews and Recommendations for Adams & Butler United Kingdom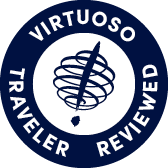 Virtuoso Verified Traveler
All reviews are from confirmed guests sharing exclusive insights
Sort reviews by
Recommended
wonderful service great team work nothing that they would not do for you
By: marge
Reviewed on: 12 Sep 2016
great tour guide Helpful and ever knowledgeable never lets a hitch bother her
Recommended
INTERESTING
By: Jose
Reviewed on: 14 Sep 2016
The tour was fun and interesting, the gide has a very good knoledge about the city and the diferet items around it.