Multi-Day Tour
Puerto Vallarta Adventure
(6 days)
Journey Mexico
Puerto Vallarta, Mexico To Puerto Vallarta, Mexico
Valid for Departures Now Through: 01 Jan 2099
Itinerary
DAY
LOCATION(S)
HOTEL
MEALS
DESCRIPTION
Day 1

Puerto Vallarta, Mexico


None

None

Arrival to Puerto Vallarta

Today you will be met at the Puerto Vallarta airport and privately transferred to you hotel.

Day 2

Puerto Vallarta, Mexico


None

None

Sierra Madre Expedition

Today's tour is the ideal way to get off the beaten path and explore the real Mexico. Never shy to celebrate the wealth of natural resources and raw, breathtaking scenery of this area – we'll escort you by Unimog into the remote, traditional villages of the Mexican Outback and uncover the ecosystem and wildlife of the mountains and jungles of the Sierra Madre. This is like your very own journey back in time, when life was less hectic and the simple events of the day had greater meaning. Escaping the suburbs of Vallarta in this specially designed Mercedes Benz unimog jeeps. You'll visit a local Mexican home, where you'll savour freshly prepared corn tortillas, beans and salsas hand-made on the spot by the resident matriarch. See how these typical Mexican families live sustainably, growing and preparing their own foods as they have for centuries. At the end of the day, a golden expanse of virgin coastline awaits you, where you'll enjoy a open bar and an 'al fresco' lunch freshly prepared by your dedicated guides.

Day 3

Puerto Vallarta, Mexico


None

None

Puerto Vallarta Free Day

Today you will spend the day at leisure. We recommend spending your day soaking in the warm sun at your luxury resort and heading downtown for dinner and taking in the local scene on the oceanfront boardwalk (Malecon).

Day 4

Puerto Vallarta, Mexico


None

None

Puerto Vallarta Art & Rythms of the Night

Today enjoy a privately guided City Tour of Puerto Vallarta, visit the different art galleries and shops located along the boardwalk and its surroundings. Wander along the picturesque colonial and whitewashed buildings, cobblestone streets that wind in and out, red Spanish tile roofs, and a brilliant profusion of flowers and jungle-like fauna differentiate Puerto Vallarta from any destination. Puerto Vallarta has more important art galleries than anywhere else in Mexico. Artists from around the world gravitate to Puerto Vallarta's beauty, which they mirror in their work – fashion, jewelry, sculpture, ceramics, painting, poetry, writing, the list is endless. And the Huichol Indians, who live deep in the mountains around Puerto Vallarta as they have for centuries, enliven the local art scene with their culturally meaningful yarn and bead art. After spending the afternoon downtown, you will be privately transferred back to your hotel to freshen up for your Rythms of the Night excursion. This adventure begins with a scenic ocean cruise across Banderas Bay to the isolated cove of Las Caletas. As the sun sinks into the Pacific Ocean you'll enjoy a privileged view of the shimmering lights scattered along the coastline. Enjoy the dinner buffet under the stars, as well as the hypnotic and exhilarating spectacle, stories of an ancient civilization are told through live music and modern dance as one of Mexico's most innovative contemporary dance troupes transport you on a magical and mystical journey through time. After the show, end a perfect evening with a nightcap and dancing beneath the stars on the short cruise back to your point of departure.

Day 5

Puerto Vallarta, Mexico


None

None

Outdoor Adventure

For all you thrill seekers, experiencing the Outdoor Adventure is an absolute must. An ecological rollercoaster ride fully loaded with excitement, challenges, and non-stop fun. This exciting eco-tour brings out the wide-eyed child in all of us. With some of Mexico's highest and longest zip-lines, at almost 1,000 ft long and 250 ft high, it's no wonder that many people have referred to the experience as one of the greatest adventures on earth.You kick off in true 007 style with an exhilarating speed boat ride whisking you to Boca de Tomatlan, a secluded beach at the edge of the jungle on the southern shores of Banderas Bay. Once on dry land, our 4×4 M ercedes Benz Unimogs will take you on an exhilarating off-road expedition 2,000 ft above sea level to our base camp deep into heart of the Sierra Madre Mountains. Accompanied by our expert guides and now fully equipped with a harness, your mule is ready to take you on a thrilling trek up the mountain, even deeper into the sub-tropical forest. Then prepare yourself for a breathtaking rush of adrenilin as you fly through a thrilling series of zip-lines, rappel down waterfalls, traverse jungle bridges and finally splash through streams and natural river pools on the specially designed Outdoor Adventure Circuit. Once back at the base camp you'll have a chance to relax and see photos of your day before returning to your hotel.

Day 6

Puerto Vallarta, Mexico


None

None

Departure from Puerto Vallarta

Depart the beautiful Pacific Coast by private transfer to the local international airport.
Tour Features
Experience(s)
Experiences have not been selected at this time
Description
The Puerto Vallarta Adventure is a great way to explore this beautiful beach destination.
vallarta-view-adventureOn the Pacific Coast in the Bay of Banderas lies the beauitful beach city of Puerto Vallarta. This adventure trip provides the opportunity to discover all that Puerto Vallarta and the area has to offer via ziplines, mule rides, 4x4s and more!
About Us
Journey Mexico specializes in crafting unique, authentic and unexpected travel experiences for the discerning and sophisticated traveler throughout the Mexican republic.Whether you would like to travel to Mexico to explore Mayan ruins, relax in a hacienda, visit islands in Baja's Sea of Cortes, search for handicrafts in markets, or adventure in the Copper Canyon, we take great pride in sharing Mexico's natural beauty & rich cultural heritage in the company of our warm and welcoming people.2016 Virtuoso Peer-to-Peer Award Winner - "Best Destination & Experiences - In-Country Partner
Insider Tip
Ask us about the new culinary experiences we're developing; from haute cuisine, to locals only street food, we've vetted them and are excited to share Mexico's cuisine with your important clients!
Terms & Conditions
Deposit, Payment, and Cancellation Policies vary by product. Please contact for details.

The trademarks VIRTUOSO, the Globe Swirl Logo and SPECIALISTS IN THE ART OF TRAVEL are registered trademarks of Virtuoso, Ltd. Virtuoso, Ltd. has a U.S. copyright registration for the Globe Swirl Logo, ©2000. All rights reserved. Virtuoso CST#2069091-50. California CST# 2069091; TA# 808 - Registered Iowa Travel Agency; Washington UBI # 601 554 183. Registration as a seller of travel does not constitute approval by the State of California.
Reviews and Recommendations for Journey Mexico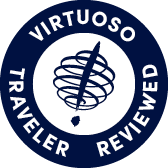 Virtuoso Verified Traveler
All reviews are from confirmed guests sharing exclusive insights
Sort reviews by
Recommended
Family Trip
By: Deni170
Reviewed on: 02 Jan 2014
Our family trip to RIU Tropical Bay in Negril, Jamaica was great. Staff was nice and food was good. 2 minor problems: tour desk asked for vouchers, so I gave them my travel sheets and the return transportation to the airport got messed up. Regardless, we enjoyed the trip.
Recommended
Highly Recommended
By: Lisa
Reviewed on: 09 Feb 2014
We went back and forth several times with Journey Mexico planning our itinerary and were very pleased with their responsiveness and obvious knowledge of the Yucatan Peninsula. They put together a wonderful tour with highly professional and knowledgeable driver/guides, and the hotel recommendations were excellent. They also followed up while we were traveling to make sure everything was satisfactory. Would definitely use them again.
Not Recommended
Journese is no bargain
By: Tom
Reviewed on: 17 Mar 2014
Booking any travel program with any company should mean care free fun with no worries with what can go wrong next with the itinerary.  We travel often but this is our first trip with Journese.  It will be our last. Journese is out of date beginning with their systems, product, and customer service reps that lack basic knowledge.
Recommended
Delightful trip
By: Ginger
Reviewed on: 17 Oct 2014
Trip was well planned and accommodation were excellent
Recommended
Great Customer Service
By: JJT
Reviewed on: 28 Oct 2014
Upon our arrival in Mexico, Journey Mexico made it an easy trip. They had one of their employees with a sign outside the airport that greeted us, grabbed our luggage, gave us a folder of info of our contacts for our trip, and took us to our private transfer (we only had to wait a few minutes for the transportation to arrive). We left the airport with Journey Mexico within 10 minutes from us walking out of the airport. We arrived to the resort 25-30 minutes later - very easy! We had a little hiccup with the resort about what package we would supposed to receive. There was a miscommunication between the resort reservations and Journey Mexico. The resort and Journey Mexico hashed it out. During that process, we were being updated from Journey Mexico and our resort. Journey Mexico even sent a bottle of champagne to our room for the confusion which was a nice touch. Their rep even take you through the entire check in process at the airport for departure. Great customer service all week!
Recommended
Yucatan Journey
By: Magritte's Hat
Reviewed on: 21 Nov 2014
When I decided I wanted to visit Mexico for the first time, I spent hours online trying to plan a trip. Luckily, I came across an article recommending using travel advisors. Because I took that advice, I now have countless bad photographs and good memories of a trip to Mexico. Stacy was able to arrange a trip for me after a couple of phone calls and a few emails that was better than anything I could have done myself. I experienced the celebration of the Day of the Dead in Merida, explored Mayan ruins (culminating with the awesome ancient city of Chichen Itza), and spent a few relaxing days on a sugar-sanded beach in Tulum. My guide was terrific and the hotels were clean and comfortable without being impersonal and generic. The whole trip was great. After over a decade of staying close to home, I think I'm going to be hitting the road more often; and I'm sure I'll be using Stacy's services again.
Recommended
Great Service
By: mh123
Reviewed on: 09 Jan 2015
Journey Mexico provided us with great guides and drivers. They were always on time and very pleasant.
Recommended
attentive
By: kerri
Reviewed on: 09 Jun 2016
they were on top of the logistic details. Very easy.
Recommended
San Miguel
By: Bob
Reviewed on: 17 Feb 2017
All was good,timely,courteous etc
Recommended
Review Journey Mexico
By: DSL
Reviewed on: 22 Oct 2017
Journey Zmexico provided us with the best experience we could have wished for in the Copper Canyon. The logistics of the trip, including timing, transportation, lodging, food and guide services was outstanding. The only low point was the dining experience at the Best Western in Creel- the hotel was fine but the dinners were not to our liking and did not match the amazing food we had at all the other hotels. The high point was our guide Gustavo who was the most well informed and superb guide! We are so fortunate to have him as our tour guide-heads it a fabulous trip- forever grateful to him!
Recommended
Puerto Aventuras
By: Rita
Reviewed on: 13 Jan 2018
Nice people. House was in good location. A few items not in good shape, but overall comfortable. Staff responded to our questions and needs.
Recommended
True Campions of their Beautiful Country
By: Partridge Travels
Reviewed on: 16 Feb 2018
This was our second trip with Journey Mexico, and we were privileged to travel with the most wonderful guides! All of our drivers and guides have been professional, accommodating, knowledgeable, protective, and extremely well educated. I have heard and read so many negative stories about travel in Mexico, so the most important message I can convey to anyone considering travel with Journey Mexico is that I have never had to overthink my personal safety, and I have never felt as though I was in a place or situation that could be dangerous. Another great bonus about travel with their guides is that they know all the great places to eat (you will not get sick) and they are true gentlemen and will help you shop. Also, your Journey Mexico concierge (who is different from your guide), is a phone call away. Our concierge called us on our second night just to check in and see if we needed anything, which we didn't because our every need was already taken care of- they are first class!
Recommended
Luxury Interior Mexico
By: Kane
Reviewed on: 23 Mar 2018
Journey Mexico made our family of 4 Spring Break Trip to Interior Mexico a breeze. The drivers were all very professional and we felt completely safe with the adventure travel operators. It was the perfect mix of adventure family fun and luxury travel.
Recommended
Perfect
By: KZB
Reviewed on: 24 Mar 2018
Our hotel was perfect and in a lovely location. Our guide Louis was well informed and friendly. Cesar our driver was prompt and showed up exactly where we needed him every time. I was very impressed with the skillful coordination of our trip.
Recommended
Journey Mexico in Mexico City
By: TECIV
Reviewed on: 01 May 2018
Journey Mexico was very easy to work with and completely enhanced our trip to Mexico City. We had the same driver for both tours who was wonderful and our guide at the pyramids, Isaias, was extremely knowledgeable and really made the experience there. I cant imagine having done the pyramids without his insight and guidance. I would highly recommend Journey Mexico to any friends and family.
Recommended
Mexico City and Oaxaca
By: Jim
Reviewed on: 20 Oct 2018
Great tour operator!. Everything worked like clock work. Everyone from airport greeters, to drivers, to guides were gracious, friendly and knowledgeable. We especially enjoyed our Oaxacan guide, Gabriel. Warm, friendly, engaging and knowledgeable, he made our two day tour of Oaxaca an extremely pleasant and rewarding experience. We have every intention of returning to Mexico City and visiting Puebla. We will definitely seek out Journey Mexico for that trip!
Recommended
Journey Mexico
By: Sarita
Reviewed on: 18 Feb 2019
I would highly recommend Journey Mexico - superior accommodations selected. Knowledgeable travel guide, Ari, who had a love for Mexico and it showed. My driver Sergio was excellent - I felt very safe with his driving. I liked that Ari and Sergio also made suggestions and were open to changes in the planned itinerary - that is the sign of a true professional.
Recommended
Cantina
By: Mexico Rocks
Reviewed on: 13 Mar 2019
Journey Mexico exceeded all of our expectations! All of our connections were prompt, destinations were amazing, arrangements were efficient. Tour guides were exceptionally knowledgeable and friendly.