Abercrombie & Kent Southern Africa Ltd.
Personalized tailor made holidays created to offer inspiring experiences and exceed expectations
Since 1982, Abercrombie & Kent South Africa has been creating inspiring experiences for discerning travellers throughout the Southern African region. We offer a uniquely regional service with our infrastructure that is well established in the region with offices and support in Johannesburg, Cape Town, Maun (Botswana), Lusaka (Zambia) and Victoria Falls (Zimbabwe). Our travel consultants are all experienced experts in their field and are multi-lingual, offering services in English, German, Spanish and French.
Insider Tip
Contact your Virtuoso Travel Advisor for insider knowledge to help enhance your experience.

Virtuoso Preferred Supplier Since 01 Feb 1999
Reviews and Recommendations for Abercrombie & Kent Southern Africa Ltd.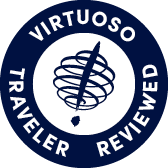 Virtuoso Verified Traveler
All reviews are from confirmed guests sharing exclusive insights
Sort reviews by
Recommended
highly recommended
By: dreamypill
Reviewed on: 13 Oct 2013
Recommended
Excellent!!!
By: Linda
Reviewed on: 20 Nov 2013
We have used A and K on 3 different occasions. They are professional, courteous and I never worry when I know they are going to guide us through an airport, transfer us to a hotel in a foreign city etc.
Recommended
Wonderful guides in South Africa
By: GigiV
Reviewed on: 01 Jul 2015
Our travel agent worked with Abercrombie & Kent for our South Africa trip and we could not be happier. Upon our arrival in Johannesburg, we were met at the jetway by an airport representative who whisked us through customs. From that point on, we were always accompanied by a superb guide, and never had to make any arrangements for ourselves. In Johannesburg, our guide Lucky gave us an excellent learning experience about apartheid, including the Apartheid Museum and walking us through Soweto, the neighborhood where he lives. We visited a school that won a CNN Heroes award, very inspiring. In Capetown, our guide Penny who was a former history teacher, gave us her informed perspective on growing up as a white woman during apartheid. She went to great lengths to show us all over the city and then we spent a day driving down to Cape Point. Visiting the penguin beach and the botanical gardens, as well as the point, were wonderful. The level of service A&K provides is unparalleled!
Recommended
Superb, friendly, knowledgeable service
By: indi429
Reviewed on: 03 Oct 2016
A&K South Africa was superb. We were greeted at the airport by Sipokazi with a warm smile, and she helped us not only to our hotel but stopped to allow us to exchange currency on the way. We even got a welcome gift which we were not expecting but absolutely loved! Our tour guide, Sam, took us on two full day tours around Cape Town. His knowledge and ability to educate us on every aspect of South African history, culture and life was remarkable. He was also very flexible and allowed us to adjust the itinerary. Both lunch restaurants were superb (and some of the best meals we had our entire trip!). We had an absolute ball and enjoyed every minute of our adventures with Sam! On the return to the airport, Sipokazi took the time to ensure we were checked in and to security before she left us. Could not have asked for better service. We were really impressed and hope to have the opportunity to use A&K South Africa again!
Recommended
Africa
By: steph and ron
Reviewed on: 09 May 2017
Our guides were very friendly, knowledgable and fun. We loved Louis in CapeTown, Andrew at the Botanical Gardens Lions Sands: Ivory...Neil, Like , Tami and Eric, and Ben...all amazing and lovely people. Royal Malawale...Ramos, Noelle, and Shelby...were great..
Recommended
seem less travel
By: chuck scholer
Reviewed on: 17 Oct 2017
AK was with us EVERY step of the trip. Great guide in South Africa total .support. Well thought out itinerary that just got better and better as the trip progressed. Absolutely Perfect.
Recommended
The best
By: PGM and JBB
Reviewed on: 20 Nov 2017
A & K never leaves a detail to chance.
Recommended
SA
By: lzimmnoel
Reviewed on: 18 Jan 2018
Great, very professional, punctual and service was excellent!
Recommended
Africa safari
By: Chad
Reviewed on: 22 Apr 2018
Outstanding! Guides, accommodations, animals were above expectations. Chiefs camp was especially nice. Next time we will leave out the times in Johannesburg and Cape Town and allow more time in the bush. Special recognition should go to our guide "Chief" in Chiefs camp. He really deserves it!
Recommended
South Africa/Botswana
By: leslielovesmuskoka
Reviewed on: 18 Jun 2018
Very professional.......very comfortable..........very accomodating
Recommended
A & K South Africa
By: Chris
Reviewed on: 30 May 2018
Very pleased with our experience with A & K - well organized, knowledgeable tour guide, and smooth transfers (hotel/airport/Franschoek). A highlight was visiting the social enterprises in Cape Town and to meet the great people who work there.
Not Recommended
Not sure about a recommendation
By: grkalman@comcast.net
Reviewed on: 06 Aug 2018
We have used A&K repeatedly over the years. I would say that where is Zambia is concerned, our itinerary could have been better planned. Just weeks before our departure, that had been planned in excess of 18 months prior, we were advised that he A&K sold their camp. This resulted in a change of venue that greatly inconvenienced us and took an entire day of travel to reach a remote area where the wildlife viewing was anemic. The food at Liawa plains was substan.We had long drives on soft sand roads. The materials we received for the camps indicated that we would see giraffe only to learn at each camp there are no giraffe in this area of Zambia. Guides and staff made up for other disappointments. While we did see animals, it took a search effort of countless hours spent in the Jeep. That is not what your materials indicate. At Shumba camp you advertise that we would see lions from our deck. We spent an entire day on the plaines hunting down the only pride that still exists there.
Recommended
Africa trip
By: Big Foot
Reviewed on: 13 Aug 2018
Most of the trip was excellent but the Shumba Camp was over rated. The accommodations were not up to par with the other camps (Sausage Tree and King Lewanika) with Sausage Tree by far the best. The camp manager at Shumba was arrogant and I'm surprised the staff tolerates him.
Recommended
Review of A&K
By: Don
Reviewed on: 31 Oct 2018
Tour reps were on time, polite and knowledgeable.
Recommended
Cape Town
By: jim waitzman
Reviewed on: 19 Jan 2019
Good guides & very speedy, smart, & on the ball
Recommended
South African Excursion.
By: Kim
Reviewed on: 10 Sep 2019
Absolutely the best! Awesome. From start to finish—we experience excellence at a level we have never encountered before. Our tour specialist, Ashran was the BEST EVER!!!! He provided such in depth detail of the history, the surroundings, the culture and beyond. A class act, consummate professional—who was so personable. It was a hallmark birthday for us—and Ashran took extra efforts to ensure we had a special time. We will never forget his kindness and graciousness and generosity. Thank you Abercrombie and Kent—our drivers who picked us up and took us to the airport were flawless in their execution, as well. We cannot imagine a trip ever again without the service of Abercrombie and Kent. You never know what you have NOT had provided—until you encounter the outstanding treatment of Abercrombie and Kent. We salute you for your stellar service and thank you for creating memories that we will cherish for the rest of our lives.
Recommended
Bucket list trip
By: David/Diane Zimmer
Reviewed on: 06 Oct 2019
A & K arranged a wonderful trip. Every time we were to meet someone, be it at an airport, at our hotel, a driver, a guide, and so on, they were there on time or early. We were escorted through the airports, customs and immigration were facilitated, drivers were prompt, luggage was picked up, guides were friendly and on time, cars were comfortable, dining establishments (recommended by A & K) were good. We had one issue with the Blue Train and reported it to our travel consultant to take it up with A & K and to my knowledge, nothing has been offered or rectified. A/C was out on our car, water pressure was poor or not at all and internet was down. Nothing that changed our minds about the trip but minor inconveniences that the Blue Train should offer to make right. I don't know how we would have made a trip like this without the involvement of A & K.
Not Recommended
Disorganized Walvis Bay, Namibia tour
By: Napa traveller
Reviewed on: 19 Feb 2020
Upon disembarking ship, had to wait 40 minutes for A &K representative pierside to figure out what was going on...had no record of my arrangements. Finally, a THIRD party vendor came over to say he thought I was his client. My name was spelled totally wrong and only by me being one of the few left, after other tours were gone, did we make the connection. Was not his fault, he turned out to be excellent guide, but was with a THIRD party that A&K farmed me out to. As a solo female traveler, not what I expected for $475, which was $220 MORE than guide normally charges. Will NOT use A&K again.