Abercrombie & Kent Russia
Abercrombie & Kent Russia are a high quality DMC offering inspirational travel experiences.
From the monuments & museums of St Petersburg to the wilderness of Siberia, Russia is a land of incredible diversity. Located in the heart of Moscow, A&K Russia delivers high-end travel services to the country's most discerning guests. Due to huge distances and language barriers, travelling in Russia still requires a lot of hand-holding, and the company's team boasts superior knowledge of the Russian infrastructure, local customs and rich culture. Guests enjoy insider access while guides are individually matched to each guest's specific needs. A&K Russia offers a host of inspired ideas to create a memorable holiday your clients will treasure.
Insider Tip
Russia in summer is a delight, but with iconic onion domes glittering with icicles, snowy troika rides, traditional Russian fur hats and warming vodka, the country is truly enchanting in winter too.

Virtuoso Preferred Supplier Since 01 Jul 2008
Reviews and Recommendations for Abercrombie & Kent Russia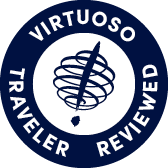 Virtuoso Verified Traveler
All reviews are from confirmed guests sharing exclusive insights
Sort reviews by
Recommended
Highly recommended
By: Janet
Reviewed on: 31 Oct 2013
Their communications and fees were very reasonable. More importantly, I can not say enough to commend the quality, depth of knowledge and experience, personality and patience of our guide in Moscow, Mila. My husband is quite knowledgeable about Russia and its history, while I had a very limited background of information. Mila's ease and depth of information kept both my husband and I entranced.
Recommended
Highly recommended
By: Carol
Reviewed on: 14 Oct 2013
I have travelled with A&K many times.they always do en excellent job, making For stress free travel. Russia was no exception. I was always met on time. The guides spoke perfect English, were very knowledgable. The only issue I had was with prepaying the gratuities. I never knew how much each person got, if I was supposed to give more, or even if they knew I had prepaid. It led to some awkward moments and I felt bad because they all did an exceptional job.
Recommended
Very knowledgeable
By: Rick
Reviewed on: 23 Oct 2013
Highly recommend car and private guide with so much to see in St Petersburg. Three full days is tiring. I recommend two and a half. Pretty expensive.
Recommended
Private Faberge Museum Tour
By: Mia123
Reviewed on: 24 Sep 2014
This tour was the highlight of our September Baltic tour on Regent. The priceless museum artifacts were stunning and our guide was exceptionally knowledgeable and patient with our questions. Our only disappointment was that we had to pay for 1/2 day for a driver and a guide, when it took less than 2 hours to complete the museum tour. We left the dock at 2:30 pm and were back in our suite by 5:30 pm. Our guide pointed our various historical sites as we drove to and from the museum, but perhaps A&K will consider adding "something" (not sure what …) to the beginning or end of the 1/2 day tour to enrich the Faberge experience. Bottom line, I'd do it again but would request a pre-tour stop for coffee or a glass of wine to set expectations.
Recommended
Kenya and Tanzania
By: Shaddix-Powell
Reviewed on: 31 Oct 2015
OMG - a trip of a LIFETIME! All of the representatives we met were friendly, helpful, and informed. All transfers and accommodations were there when they needed to be and we never were left not knowing what was going on or what to expect. The reserves were beautiful and each one was unique to the other. If I was going to give any suggestions, it would be to provide air conditioning in the vehicles when traveling from one destination to another. Not being used to the climate, we were pretty uncomfortable a lot of the time. And at Governors Camp, if they could provide a little fan to be used when needed. There too, we had times that was uncomfortable. It was a delightful trip, one that we will recommend to everyone and already have. We also have recommended your tour company over and over again. And would definitely travel with A&K to other destinations as well due to the high quality of service. WONDERFUL TRIP! Thanks again to all.
Recommended
Kirkpatrick - London Trip
By: Shelley
Reviewed on: 05 Sep 2016
Our family loved our trip to London! We were well taken care of by Peter and Vanessa. They were warm and welcoming to us in addition to being very knowledgable about everything London. Our Guardian Angel checked in on us several times and it was nice to have a contact in London in case an emergency arose. Thank you for helping to execute a wonderful, memorable trip!
Recommended
Outstanding guides
By: hyper
Reviewed on: 26 Aug 2016
Our A&K guide was fabulous. We specify A&K guides when we travel and have never been disappointed.
Recommended
A&K awesome
By: Lynne
Reviewed on: 25 May 2017
The question to me was would you recommend Abercrombie & Kent Russia. We didn't go to Russia & I thought A&K was based in England. That being said, it was all 1st class. Great hotels. Awesome guides. They worked with us through our travel agent as to what cities to visit, etc. Really enjoyed our trip.
Recommended
Athens Tour
By: Test
Reviewed on: 07 Jun 2017
Great job getting us from the airport to the hotel, the hotel was excellent, the Athens tour guide was excellent and great job getting us from the hotel to the cruise ship.
Recommended
St. Petersburg
By: Jairmar
Reviewed on: 05 Jul 2017
A & K were fabulous. we had an outstanding guide, who spoke English beautifully and was incredibly knowledgeable bout every place we visited. we enjoyed three jam packed days; by the time we toured the Hermitage Olga knew our tastes such that she tailored out three hours there consistent with my artisitic preferences. excellent driver who was always waiting for us feet from where we exited. we now enjoy fabulous memories of our wonderful visit.
Recommended
15 days in the Scottish Whiskey Trail
By: 15 Days on the Scottish Whiskey Trail
Reviewed on: 14 Jul 2018
We were met at the Glasgow airport by our angel and take him right to our personal driver. The limousine company that they use was excellent and our driver who is also our personal tour guide for most of the trip was incredibly knowledgeable and friendly and professional. He kept the then absolutely spotless every morning that he picked us up. He tailored small changes to our ternary to our needs as well. He made the trip excellent and very personal for us as well. All of the hotels that were chosen or excellent, clean, and the personnel were very professional and friendly and willing to help with any of our requests. All of the transfers and ferries and entrance fees and everything were taken care of and we had no problems whatsoever with any of these areas.
Recommended
tip to St Petersburg
By: Aras
Reviewed on: 16 Jun 2019
excellent arrangements
Recommended
A&K Russia June 2019
By: Nick Name
Reviewed on: 12 Jul 2019
Excellent in almost all regards. Certainly well planned and followed with our advisor. kim was full of good and practical ideas. Tour guides very personable, knowledeable and made us feel welcome in Russia. Our drive, esp in St Petes, were excellent, attentive and put our safety and comfort first. Our only complaint on the trip was not within her control where the room in Astoria, St Pete's was quite small and cramped compared to the Ritz carlton in Moscow. We really enjoy working with a professional like Kim who is so quick and responsive to our needs. cant say enough good about her.
Recommended
Natalia
By: Jimbo
Reviewed on: 30 Aug 2019
Natalia made our three days in St Petersburg very special. She is so very knowledgeable and also extremely pleasant. A truly great guide.
Recommended
Abercrombie & Kent
By: Peyton
Reviewed on: 13 Sep 2019
Our tour guide was very knowledgeable and well organized. We got to see everything we wanted to see.