Reviews and Recommendations for Travel2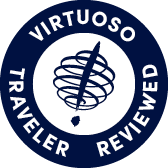 Virtuoso Verified Traveler
All reviews are from confirmed guests sharing exclusive insights
Sort reviews by
Recommended
Highly recommended
By: Honeymooners13
Reviewed on: 02 Oct 2013
Judi was a great help with our honeymoon. Maruru from French Polynesia
Recommended
Tour
By: taklaurasun
Reviewed on: 25 Oct 2015
The guides were friendly and helpful. The boats used were a little small and uncomfortable.
Recommended
Service acceptable
By: Liz
Reviewed on: 01 Mar 2016
We feel that Travel 2 should have been more forthcoming in the airline fare. For example, when we requested a change in our first outbound fare from our home, because of the short time frame from arrival to take off on the second leg of the trip, we would have been perfectly happy with an economy fare from our home area to DFW, instead of first class. I feel sure that is the reason for the $700 plus fare increase for my husband and me (each), yet no one saw fit to ask if we would like first class or economy. I realize we requested the Business Class from DFW to Sydney, but saw no reason for first class at the beginning of the trip. If this is a Qantas fare rule, then they should be advised of the short time frame on their "contract flight" to DFW.
Recommended
Great getaway
By: jlbearce
Reviewed on: 02 Oct 2016
This vacation goes down in the books as the all-time best for us. From beginning to end everything was perfect. I can't think of a thing I would change. Thank you!
Recommended
Also great job
By: Stefano
Reviewed on: 25 Jan 2017
The hotels were all very well located and perfect for our needs. Nearly all of the booked activities were also really good.
Not Recommended
Messed up
By: Travel Nut
Reviewed on: 14 Feb 2017
Travel2 Booked our airport pick up and tour in Auckland for the wrong YEAR! We waited at the airport for 2 hours using the phones of Good Samaritans to sort through the mess. They did eventually send someone to pick us up, but we missed out on our half day tour. They apologized and refunded our money, but it was not the way to begin a vacation after traveling half way around the world.
Recommended
Effective met our needs.
By: Bob
Reviewed on: 17 Feb 2017
They produced a good transportation package and wonderful accommodations at various locations our group desired to stay . To much difficulty notifying transportation assets 24 hours before pick up because we were on a cruise ship out at sea or we were in the air enroute.
Recommended
NZ
By: Dennis
Reviewed on: 22 Feb 2017
Fine to work with.
Recommended
Great trip!
By: Noname
Reviewed on: 24 Aug 2017
All documents were correct and ready to go on time.
Recommended
Trip
By: Bama1963
Reviewed on: 14 Sep 2017
Over the top customer service Excellent tour guides
Recommended
Tour Operator
By: Maureen McDermott
Reviewed on: 16 Oct 2017
Excellent, all reservations worked very well
Recommended
Australia/New Zealand
By: Warren
Reviewed on: 05 Dec 2017
Our agent did all of the interaction with Travel 2. Things were as planned. Whenever we arrived our booking was accurate. Couldn't have asked for more.
Recommended
New Zealand
By: Sheryl Mayberry
Reviewed on: 27 Dec 2017
All operators were excellent and we never had one issue in over two weeks of travel in New Zealand.
Recommended
G Adventures tour
By: Dave K
Reviewed on: 04 Jan 2018
The G Adventures tour was well suited to my personal tastes. I enjoyed the relatively small group size, the tour guides were top-notch, and the accommodations were more than comfortable.
Recommended
Australia
By: Jo
Reviewed on: 06 Jan 2018
I didn't have any direct contact with them, but everything that they lined up for us in Australia was spot-on.
Recommended
Travel2
By: Donald
Reviewed on: 24 Jan 2018
Travel2 Tour Operator did a very good job. Every item on their planned itinerary came off like clockwork. They could not have done a better job.