Trails of Indochina - Laos
Artisans of bespoke journeys to Southeast Asia & beyond
Trails of Indochina had its humble beginnings in 1999 as a boutique inbound tour operator. Headquartered in Ho Chi Minh City (Saigon), and now with more than 250 employees throughout the region, Trails of Indochina has grown to be a full-service Destination Management Company and tour operation across Indochina. At Trails of Indochina, our personal relationships can make anything possible. We invite you to experience our part of the world where you will uncover the hidden gems and see a different perspectives of Southeast Asia.
Insider Tip
Guests visiting Luang Prabang will adapt to the town's slow pace. They will admire the natural beauty of the surrounding landscape, exploring this UNESCO World Heritage site by foot or bicycle.

Virtuoso Preferred Supplier Since 02 Dec 2002
Reviews and Recommendations for Trails of Indochina - Laos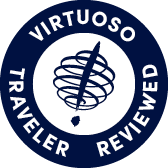 Virtuoso Verified Traveler
All reviews are from confirmed guests sharing exclusive insights
Sort reviews by
Recommended
Very highly recommended
By: Paul F
Reviewed on: 11 Feb 2014
I just wanted to share with you my feelings regarding the services provided by TOI.I was more than impressed to say the least. First of all because the guide was so knowledgeable and perfectly fluent in English (his name was Sochea) but also because he went the extra mile every time he could without asking for anything. I overheard several other guides during our visits and it's clear that what they were saying wasn't remotely as convincing and interesting as what Sochea told us. He truly should be recognized for his hard work and good mood.The driver was also very nice and kind (his name was Mony).Several persons at the hotel told me I made a stupid decision by paying 3/4 times more than what I should have for a guide compared to what the hotel could provide me with for instance but I don't regret it at all and it was worth every cent.
Recommended
Highly Recommendede
By: anderspd
Reviewed on: 26 Feb 2014
This is the best tour company I have ever used.  All of the guides that we had were outstanding.  Most everything worked like clockwork.  There were only two glitches.  When we arrived in Phnom Pehh, our guide and driver did not show up.  It turned out that our driver had been in an  accident.  The man who answered the phone did come to pick us up.  However, when the office learned about the accident, they should have sent someone to meet us.  The hotel we stayed in in Phnom Penn was not satisfactory.  It was  the Amanjaya Hotel. We were not met when we arrived was in Luang Prabang. Maybe it  was not their fault. Our plane arrived one hour early but they should have checked.  The Karavansara Retreat hotel was not acceptable. All the other hotels were outstanding. I especially want to commend Hau David, our tour guide in  Hoi An and Hue. He was the best guide we have ever had.
Recommended
Tours are guide dependent
By: R
Reviewed on: 08 Apr 2014
Any private toure depends on the guide (and driver) and cannot be a general recommendation.  Our guide, Mam, was outstanding.  She and her driver were sensitive to seniors in 99F heat and sensitive to our well being.  The tour was a highlight of our trip.
Recommended
Great Trip to VIETNAM
By: PB
Reviewed on: 23 Oct 2014
All we pay for we got, can't complaint about that, all hotels were very fine, a great trip
Recommended
Perfectly executed
By: JeanW
Reviewed on: 23 Jan 2015
Our guides from Trails of Indochina led us on a fabulous adventure through Thailand and Cambodia. From the luxury accommodations to eco-adventure activities, the trip was interesting, active and great fun. Their attention to every detail is what stood out the most. We felt very taken care of in every way. Thank you TOI.
Recommended
Adventures of Thailand and Cambodia
By: valentina
Reviewed on: 30 Apr 2015
Overall, the guides were excellent. They were very knowledgeable and insightful. They answered any questions we had. They did not rush us and allowed us to take as much time admiring and taking pictures as we wanted. The Junk Boat ride was one of my favorite part of the tour. The lunch on board was great and staff was also really good. I would do it all over again.
Recommended
Perfect!
By: Xavier
Reviewed on: 14 Aug 2015
All was perfect and very well organized. Thank you!
Recommended
Good attentive and knowledgeable guides
By: Mikeshy
Reviewed on: 20 Nov 2015
Trails of Indochina did a very good job of taking care of us in Vietnam and Cambodia. They were available to meet us upon arrival and get us settled into our hotels. They were effective in explaining our next day's itineraries and expectations. They were very knowledgeable of the area. They were considerate and flexible. They were very effective in answering all of our questions.
Recommended
Prompt and courtious guides
By: Vietnam Nov 2015
Reviewed on: 30 Nov 2015
All the guides were personable and friendly with good English abilities.
Recommended
Total Professionals
By: TravelBarb
Reviewed on: 15 Feb 2016
Three countries, three different guides and drivers, and not one that wasn't perfect. They all spoke very good English. They were able to adapt to changes in planned itinerary due to sudden physical limitation. They were courteous and thoughtful. Everyone was were they were supposed to be when they were supposed to be. What more can you ask for when you get off a plane in a strange country after flying for hours and hours, but to see a smiling face, ready to take you and your luggage to your hotel and make you feel comfortable with a cool towel and water? Sure you can go out of the airport, grab and cab and fight over the fare for less money, but is it really worth it to start your holiday like that? Trails is a truly professional organization that I would not hesitate to recommend.
Recommended
Wow! what a trip!
By: Live to travel
Reviewed on: 25 Feb 2016
We planned a 15-day trip for Vietnam and Cambodia using Trails of Indochina as the local agency. From start to finish it was a marvelous trip. Trails proved invaluable when we were delayed and missed a connection. Somehow they found us seats on overbooked flights that the local airline agent hadn't been able to find. This literally saved our trip. The itinerary in both countries was interesting, hitting all the high spots that the time allowed. The local guides spoke excellent English and were incredibly knowledgeable and hospitable. They and the drivers went out of their way to make sure that we were comfortable and well cared for. Our hotels were premium accommodations throughout: clean, comfortable, luxurious rooms; wonderful breakfasts; smiling, caring, and sweet staff. Because everything was made so easy for us and so very pleasant, I felt like I could have stayed forever and was very sorry to head for home. Thanks for a trip of a lifetime!
Recommended
Honeymoon Adventures in Thailand
By: Andrew
Reviewed on: 18 Jul 2016
We had the BEST guides in Thailand. They were helpful and professional, but not pushy or annoying. Every one of our adventures was amazing (except the trip to Koh Tao, only because it was dreadfully touristy) All in all Trails of Indochina will be my recommendation to all my other friends that are soon to be married! 10 out of 10 well done!
Recommended
China trip
By: Brad S
Reviewed on: 10 Nov 2017
Very professional company. We had a driver and guide in both Xi'an and Beijing. They were all very pleasant, knowledgeable, and easy to get along with. They understood the culture and history and was able to make it easy for us to understand and appreciate.