Greece A La Carte
"To share the Greece we love and know"
Reviews and Recommendations for Greece A La Carte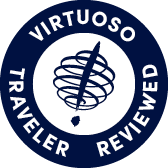 Virtuoso Verified Traveler
All reviews are from confirmed guests sharing exclusive insights
Sort reviews by
Not Recommended
Friendly Service
By: charlie1
Reviewed on: 31 Oct 2013
We felt our guide Francisco was friendly and shared facts about Santorini and enjoyed the places he took us to see. However, he ended the tour 1/2 hour early and seemed anxious to drop us off at a place to eat lunch. I am not sure if there was not much needed to have a private guide in Santorini but we felt we could have enjoyed the island on our own or certainly not with a private guide for what the cost was.
Recommended
Disappointed with first tour guide, second tour guide was excellent.
By: chris/dorothy
Reviewed on: 25 May 2014
Recommended
Wonderful
By: Vchase
Reviewed on: 03 Jun 2014
Everything about our recent trip to Greece was perfect!!!
Recommended
50countries
By: Patlee
Reviewed on: 12 Nov 2014
Our tour of the city of Athens, the Acropolis and new Acropolis Museum was outstanding. Our guide was exceptional. We voted him one of the top 3 guides ever in our experience for his professionalism, knowledge and consideration for the needs of his clients. He clearly had a passion for his subject and was able to bring history alive for our group. We had visited Athens before the new Acropolis Museum was completed and were so glad we were able to return and see this magnificent museum.
Recommended
Great service
By: Stevie&Kevin
Reviewed on: 26 Oct 2014
My husband and I got married in Greece and we're put in touch with Antonia and Kasi. Both women we're absolutely amazing and made our wedding perfect. Every detail and aspect was well though out and they both literally took care of everything so that 2 hours before the ceremony was when my fiancé and I started to get ready. These women were amazing and I owe my perfect ceremony to them!
Recommended
Friendly Service
By: Midchester
Reviewed on: 07 Jul 2015
The transfers and tour were great. We were picked up on time and they were very friendly. However, we confirmed our ride to the airport and came to find out they had the wrong date booked. Had we not confirmed we would not have had a ride that morning. We would have liked a more detailed schedule as we were told from the airport we'd go right into our tour. We packed accordingly. However, we went to the hotel first to check-in, it was unclear about when the tour actually began as it started 2 hours later than what was on our documents. The Athens tour was very informative with our private guide. We would have liked a bit more time on our own to see the sites as it was a very tiring 4 hours. Our tour guide was great though and made sure we understood all history of Athens. Overall the tour was very informative and we had friendly guides who met our needs.
Recommended
Very nice
By: Andy
Reviewed on: 28 Sep 2015
Well done. Thorough. I'd recommend to others interested in this same sort of activities and excursions.
Recommended
good hotels, good value
By: Benji
Reviewed on: 23 Apr 2017
In general, I believe the hotels were nice, clean, well situated with good service. In addition, I felt that their prices were adequate in terms of what they offered.
Recommended
Great reliable service
By: Julie
Reviewed on: 25 May 2017
Greece A La Carte was with us through our whole trip. They picked us up from the airport and brought us to our hotel. The next day we had a guided tour of Athens and the Acropolis, dropping us off at Piraeus for our cruise. One week later, we were pick up at Piraeus and given a guided tour of Corinth, then delivered to our hotel. Finally, again driven back to the airport from our hotel. The courteous drivers were always on time and drove new, clean vans or taxis. The guides were very knowledgable, especially Kriton in Athens. We learned so much from him. Also the driver that day was very kind and gave us cold water bottles ever time we got in and out of the taxi. Thanks Greece A La Carte for your wonderful service!
Recommended
Santorini
By: jlpurser
Reviewed on: 08 Jun 2017
Out experience was top of the line - Santorini is a beautiful, wonderful place to visit. Our hotel was amazing, our tour was amazing - we were very pleased - amazing memories!!!
Recommended
Acropolis tour
By: Foster
Reviewed on: 01 Jul 2017
Aristotle was our tour guide for the day as we explored The Acropolis and The Parthenon. He was extremely knowledgeable, fun, and easy to talk to. We would definitely book another tour in the future!
Recommended
Florence/Pisa
By: Jo
Reviewed on: 08 Sep 2017
Lisa our tour guide/driver was delightful. She was very knowledgeable, spoke great English, was accommodating and a joy to be around.
Recommended
Greece
By: Peg
Reviewed on: 01 Sep 2017
Great job! Fun day.
Recommended
Greece A La Carte
By: KM
Reviewed on: 13 Nov 2017
Service from them was impeccable.
Recommended
Tours led by Greece A La Carte
By: allison bertrand
Reviewed on: 06 Nov 2017
wonderful. Our guides were excellent and we enjoyed our tours.