Adams & Butler Ireland
Luxury Travel Experts in Ireland, Scotland, England, Wales & Kenya. Proudly Virtuoso Exclusive.
Adams & Butler is synonymous with exclusivity and a service bespoke to the desires of the most discerning of travelers. Our team of creative travel designers tailor-make journeys of distinction, providing an exclusive and authentic cultural experience for our guests. We custom-design all our itineraries to suit your interests and wishes and pride ourselves on providing the most personalised care and attention to detail. At Adams & Butler, we give you the vacation you want – a unique experience, designed just for you.Visit our website at www.adamsandbutler.com. We conduct business in English, Spanish, Portuguese, Italian and French.
Insider Tip
Don't miss a private visit with Lord Ross, Brother-in-law of Queen Elizabeth II, at his private residence at Birr Castle.

Virtuoso Preferred Supplier Since 15 May 2005
Reviews and Recommendations for Adams & Butler Ireland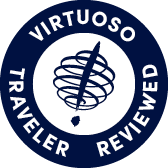 Virtuoso Verified Traveler
All reviews are from confirmed guests sharing exclusive insights
Sort reviews by
Recommended
Fabulous!
By: Mendy & Kendall
Reviewed on: 27 Sep 2016
We loved Ireland and a great part of that was how we were treated and serviced while visiting. Our hotels were wonderful, accommodations lovely and comfortable and the locations of each were ideal. By far, our driver for the week, "Paddy" was a real highlight. He was always on time and seemingly effortlessly accommodated our wishes and modifications to our itinerary, even when we know it meant much more driving for him. We met each morning early and exhausted each day with as much site-seeing as possible. Paddy offered great conversation in between venues and navigated the loads of buses so that we never wasted time in queue. We ended our week in Ireland regretting nothing but the lack of more time to spend in such a beautiful country. The People, landscape, architecture, the food and of course the drink were all delightful - it is a very special place. At the beginning of our trip Paddy was our driver and at the end we felt we had made a friend!! Thank you, K & M
Recommended
Ireland trip
By: cate
Reviewed on: 29 Aug 2017
Adams and Butler did a wonderful job for us. the driver they assigned to us Paul Hehir was great. He became part of the family by the second day with us. he went out of his way to make our trip memorable. The places we stayed were fabulous. The service and food were terrific. Everything that they recommended turned out to be memorable. we would definitely use them again in our travel planning.
Recommended
Aug 2017 Tour of Scotland
By: Carmel Traveler
Reviewed on: 31 Aug 2017
Great. There were some miscommunications but only of an aggravation nature not any big issues. Tour went smoothly. Good accommodations, great food. Checked off most of the items we wanted to do that were not specified by the Adams and Butler tour. The two tour guides hired by Adams & Butler in Edinburg were outstanding. Good experience, would recommend working with Adams and Butler to others.
Recommended
A most memorable Scotland adventure
By: Susan Roche
Reviewed on: 19 Oct 2017
We considered planning our trip to the Scottish Highlands ourselves but quickly realized what a monumental task it would be. We contacted Katie Boydston with CSB Travel and she said she had the perfect tour planners. She wasn't kidding. Adams and Butler blew it out of the park. From Edinburgh to Isle of Skye our hotels were incredible. My husband particularly loved that Queen Victoria spent a week at Inverlochy Castle - hands down our favorite place to stay. Our tour guide/driver Davey was phenomenal. Simply perfect for us. My husband and son are history buffs and he didn't disappoint. Conversation in the car was lively and at every stop he added so much more to the sights than just taking the tour. He even found us some out of the way places to have lunch that were special treats. He was always professional and just delightful to be with. At the end of the trip, we felt like we were saying goodbye to close friend. We will definitely book again with Adams & Butler.
Recommended
Top notch
By: CC
Reviewed on: 16 May 2018
Our trip to Scotland was just a dream! We were thrilled with the itinerary and all that we got to see and do. We felt it was a very good balance of relaxation and adventure. I cannot say enough wonderful things about Fiona our walking guide in Edinburgh. She was so lovely and full of interesting tidbits we would have never known about Edinburgh and Scotland without her! We only had a few minor issues which is inevitable with any major trip. We paid extra for the GPS with Europcar and once we got on the road it became apparent the GPS was not working in the rental car. We have since gotten reimbursed for that, but it was a bit of a headache while trying to navigate with just our cell phones. Additionally, we were not aware that the Castle Hotel required a sport coat for dinner. Luckily they did have a closet full of coats available for loan. Thank you so much for all your assistance with our trip!
Recommended
Scotland
By: Susan
Reviewed on: 05 Jul 2018
We would certainly recommend Adams & Butler. Our driver/guide, Paul was outstanding. He was knowledgeable, congenial and a good fit for our group. He thoughtfully broaded our understanding of this lovely country and it's people. All our arrangements went smoothly and accommodations were lovely and comfortable.
Recommended
Scotland trip
By: Anonymous
Reviewed on: 12 Jul 2018
The itinerary was very well designed. Our two tour guides were exceptional. Fiona in Edinburgh was knowledgeable and erudite. Our guide for 6 days, Ian Linn, was a gem. He was attentive, on task , personable, and knowledgeable. To learn about Scotland from a native Like Ian was a memory we will cherish. Our only. Issue was the quality of the accommodations. Our hotel in Edinburgh was a business hotel with a decent location and was fair. The Fonab castle was fine. The Strathness House in Inverness was a second rate Hampton Inn We've had better breakfasts at Hampton Inns. The room was small, had a slanted floor and was poor. We switched to a larger room the second night but It was hardly what we expected from our previous Virtuoso experiences. the Nights at the Inch hotel had a similar low quality room but the food was quite nice. Our last night st the Crossbadket Castle was exquisite. This was the quality accommodations we've had in previous Virtuoso trips
Recommended
wales
By: RBC
Reviewed on: 14 Jul 2018
Charlie (driver / guide) was excellent. Very well organized and helpful in planning each day. very accomodating. And full of knowledge
Recommended
Royal Military tattoo
By: Royal Military tattoo
Reviewed on: 14 Sep 2018
Awesome... hotel, package, tour and seats were great