andBeyond South Africa
Leaders in Luxury Experiential Travel in Africa, Asia and South America
Established in 1991, &Beyond strives to leave our world a better place through the delivery of extraordinary travel experiences and our care of the land, wildlife and people. We are bespoke tour operators for sub-Saharan Africa, Asia, South America, and Antarctica. We also own and manage 29 extraordinary lodges and camps across three continents. We positively impact 75 communities and directly conserve our footprint of 1 million acres. Our 2030 vision is to scale our impact through partnerships to support the conservation of an associated 40 million acres of key biospheres and to double our 2020 impact investment, while offering discerning travellers a rare and exclusive experience of the world as it should be.
Insider Tip
Contact your Virtuoso Travel Advisor for insider knowledge to help enhance your experience.

Virtuoso Preferred Supplier Since 15 Jun 2018
Virtuoso Benefits
Virtuoso guests receive:
A Leather Document Holder and Itinerary Summary (value $115 USD)
All benefits are subject to alteration, availability, and blackout dates; may be withdrawn or change without notice; and may not be combinable with other offers. All products may not be available in all markets.
Reviews and Recommendations for andBeyond South Africa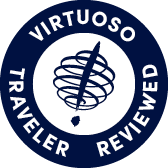 Virtuoso Verified Traveler
All reviews are from confirmed guests sharing exclusive insights
Sort reviews by
Recommended
South America
By: Stars
Reviewed on: 08 Feb 2020
It is not South Africa but South America. The guides were efficient and friendly. The connecting flight from Buenos Aires to Lima was cancelled and on the next day was delayed for 3 hours on the tarmac. This then meant that we did not get to see Lima and reached very late the following day. We had 3 hours before we had to be at the airport again to catch our flight to Cusco. The agent who came to pick us up was superb. She got us to rest for two hours and organised our breakfast to go and got our bag tags ready do we can have an extra hour to rest as we had a horrible experience travelling on Argentina Arrolineas. In times of trouble they handled very well the situation. Very happy to recommend them to others.
Recommended
And Beyond is RIGHT
By: Megbert001
Reviewed on: 08 Mar 2020
There couldn't be a better name for this company. Ever experience we had on our Kenya Safari honeymoon was above... and beyond. From our tented camp experience at Kishwa Tembo, to the service we received at the camp, to the game drives themselves... the only word i can think of is MAGICAL. Yes, being in the Masai Mara would have been great in any situation, but it wouldn't have been magical like it was with andBeyond. they knew how to create a once-in-a-lifetime experience. And to that point... we had assumed that our safari was a bucket list thing... we were wrong. We'll be doing it for the rest of our lives. And we won't be safari-ing with anyone else. Thank you andBeyond!!
Recommended
African adventure
By: Foulsh
Reviewed on: 26 Mar 2020
andBeyond were our ground operator arranged via Ariana Wong Travel. We found there organisation and personnel to be pleasant and efficient. The Co. has a large network and is the owner of various Safari Lodges. We found andBeyond to be efficient across the varied areas of its operation and the countries in which it provide services. Our trip was enjoyable and credit must also go to andBeyond. We would have no problem recommending the Co. to other travelers.
Recommended
Cape town 3 days
By: buddy
Reviewed on: 06 May 2023
Everything was great. Great guide and driver, well planned tours, everything was on time and I would highly recommend this company.
Sustainability
Our Commitment
For over 30 years, every decision that &Beyond makes, from our greater conservation model to the tiniest details of the activities that take place across our tour operations, revolves around our core ethic of Care of the Land, Wildlife and People. These values have become an intuitive part of the way that we operate and are an integral element of our guest experience. We believe in taking less and giving more, and we let this belief shape the everyday choices we make at each of our 29 lodges and 18 on-site offices.
Through these choices and with the support of our guests, we have been building a vision that allows us to run sustainable operations in natural places that need to be preserved. This vision is guided by the UN's Sustainable Development Goals and underpins our goal for 2030, which is to scale our impact by increasing our protected biospheres and wildlife eco-systems from 9M acres to 50M acres – 25M of directly controlled/managed land & 25M of managed land influenced by our impact coalitions- and by empowering and creating shared value with the surrounding communities. This will be funded by doubling our revenue and tripling our profit through the delivery of extraordinary guest experiences that go beyond the expected in Africa, Asia and South America.
Click here - 2019 Impact Review
Click here - 2020 Impact Review