EXO Travel - Japan
Japan made real
We are pioneers, explorers, storytellers, and artisans of tailor-made travel. Since 1993, EXO Travel has been crafting distinctive, authentic travel experiences that expand horizons and deliver lasting, positive impacts. Japan is one of those rare destinations, with limitless travel opportunities capable of impressing even the most experienced traveler. Harnessing our deep knowledge of Japan's rich tapestry, EXO is able to craft bespoke itineraries that shine a light on the country's remarkable culture, people, and places.
Insider Tip
Japan is incredibly popular and has many specific operational requirements. Advance booking is crucial to allow for the most flexibility in selecting the right hotels and experiences for your clients.

Virtuoso Preferred Supplier Since 15 Feb 2016
Reviews and Recommendations for EXO Travel - Japan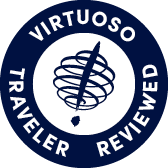 Virtuoso Verified Traveler
All reviews are from confirmed guests sharing exclusive insights
Sort reviews by
Recommended
Loved the thoughtful details
By: Anne D
Reviewed on: 08 Jul 2017
We LIVED by the adorable booklet of our itinerary - we must have pulled it out 3 times a day. Very convenient to have in a compact form. Lots of thoughtful touches - small umbrellas on arrival (it was the rainy season), confirmation from guides, graphic booklet explaining transportation system and how to read a train ticket. I would recommend their services highly.
Recommended
Fun and well-planned trip in Japan
By: Fullcode
Reviewed on: 18 Aug 2017
Fantastic service and attention to detail. All travel tickets and passes were carefully prepared and made it easy for us as first-time visitors to get around the country and visit popular as well as more off-the-beaten-path locations.
Recommended
Japan Fall 2017
By: JayCh
Reviewed on: 26 Oct 2017
EXO Travel handled all of our tours while on a 10 day Japan adventure. We had four different tour guides and they were all great. Friendly, on-time, and very knowledgable about Japan. Would use them again.
Recommended
Travel in Japan
By: Steve and Jane
Reviewed on: 08 May 2018
EXO Travel, in concert with our travel consultant, made our travel in Japan go smoothly with arranged personal tour guides, reserved seats on trains and opportunities for unique experiences like an ikebana class or a suma wrestling demonstration. The information they provided both with their Self Guide App and with the printed material they had waiting for us upon arrival at our Tokyo hotel was interesting and helpful. I became ill while in Tokyo and EXO Travel was extremely attentive and helpful in helping me get care and in helping to alter our itinerary. It was reassuring to have someone in-country to consult with during that time. We would highly recommend working with them!
Recommended
Door to door service
By: Tom Fairbanks
Reviewed on: 07 Jun 2018
EXO Travel took care of us in style. From coming out of Customs in Tokyo to entering the airport to leave Japan we experienced white glove service. Our guides were perfect for us and we had a lot of fun without even a moment of stress. We loved our trip to Japan.
Recommended
Super helpful tour!
By: Pete F
Reviewed on: 17 Sep 2018
A delightful honeymoon in Japan -- and even though it happened to coincide with a Super Typhoon, we were set up for success and given all the help/tools to have an amazing time!
Recommended
Complex trip deftly handled by Exotic
By: RK
Reviewed on: 16 Apr 2019
We wanted to get the most from our visit to Japan. EXO Travel utilized a combination of bullet trains, municipal transportation , and private cars to make our complex 10 day/5 city trip effortless (at least on our part). Their guides were the best we've ever had. Their suggestions added unique color that we would have never thought of.
Recommended
Great job in Japan!
By: Sam B.
Reviewed on: 07 May 2019
We were thrilled with our local tour operator in Japan. They were incredibly kind, diligent, and on top of the details. We had two great tour guides (one in Toyko and the other in Kyoto) and that made all the difference, as my wife and I spent ~8 hours with each of them. Both were incredibly kind and generous with their time and effort. One thing to note is that EXO also did a great job of making sure our logistics were smooth - making sure we got on the right trains, had the right tickets, and left our hotels on time. They were wonderful!
Recommended
Tour guide and itinerary
By: Coco
Reviewed on: 04 Jun 2019
On a scale of 1-10 this was a definite 12! My husband was blown away by this tour and he has been to Japan 13 times! The tour guides were amazing, knowledgeable and so very pleasant. Ms Eiko Ito was phenomenal and went above and beyond her tour guide duties.
Recommended
Wonderful Company
By: Metzmom
Reviewed on: 19 Jun 2019
Our wonderful travel agent, Kate Winslow at Pro Travel, hooked us up with EXO for our trip to Japan. They were fabulous. Easy to be fabulous when things go seamless, but the test was when my husband didn't feel great one night and we called to switch our evening food tour of Tokyo to another night. They did it with no issues and were so pleasant too. Passed with flying colors! All of our guides were great and I highly recommend EXO Travel- Japan.
Recommended
Japan: Excellent service
By: David B
Reviewed on: 29 Jun 2019
Exo Travel was fantastic! Our tour guides were delightful people that were genuinely interested in showing their country to our family. We became connected to them quickly and were sad when we had to part ways.They spoke excellent English and were enthusiastic, energetic and knowledgeable.They really made our touring experience so much more educational as were able to see twice as much and learn a great deal more due to the efficiency of them knowing where to go. We often saw in one day what would have taken us 2 or more days to do on our own.They set up amazing experiences touring various cities, obtaining tickets for us, visiting Sumo Stables, tea farms, tea ceremonies, arranging transportation, and even assisting us with validating our JR rail passes at the airport and setting up reservations on the bullet trains. They taught us a bit about getting around and the subway system. The were excellent both in the planning as well as execution of all of our activities while in Japan.
Recommended
room for improvement.
By: j
Reviewed on: 04 Jul 2019
we enjoyed our 2 tour guides immensely. but the exo travel person who met us at the airport seemed ill advised and confused with what he was handing us and trying to explain the documents to us. we also went on a food tour that was a waste of time where the guide did not seem very knowledgeable of the food, nor the culture. we asked him how he fell into this job, and he replied he had failed all of the tests for university.... it did not make us feel like he truly loved food, or really wanted that job. but exo did partially refund for that experience, and that was nice.
Recommended
Traveling in China with EXO Guides
By: Diane
Reviewed on: 21 Jul 2019
My nieces and I were fortunate to have the assistance of several EXO guides throughout our trip to China...five to be exact. No matter the form of transportation, be it long or short, we were ever so grateful to see our name on a sign, in the hands of a guide who would be taking care of us during that leg of our journey. Our 5 guides- Andrew, Shirley, Ken, Daisy, and Semon- all went the extra mile. They were all very knowledgeable and had great command of the English language. They were careful to follow the itinerary set for their city, yet willingly suggesting places to dine or shop during our free time. Our EXO guides helped us to feel secure and comfortable as we traveled throughout China.
Recommended
EXO Travel was so helpful
By: Emma
Reviewed on: 17 Jan 2020
Had a great experience with EXO travel, they recommended the most phenomenal guide, Tomoyo. Each day was another adventure and we can't wait to come back and use them on our next trip!
Sustainability
Our Commitment
Since our founding in 1993, EXO Travel has been committed to being a responsibly and sustainably operated business. As a Certified B Corp and as a part of Virtuoso's sustainability community, we strive to become an even more positive influence in our destinations, the environment and all of our stakeholders.
We balance generating a profit with minimizing its impact on the environment and positively impacting both destinations and the locals living in them. Through a number of powerful initiatives and with the guidance of the EXO Foundation, we have paved the way towards a brighter future for travel and will continue to do so for years to come. More information can be found here.
Our Credentials