Eclectic Greece by Kyvernitis Travel
Reviews and Recommendations for Eclectic Greece by Kyvernitis Travel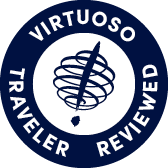 Virtuoso Verified Traveler
All reviews are from confirmed guests sharing exclusive insights
Sort reviews by
Recommended
Recommend Kyvernitis!
By: Celebrating our 25th
Reviewed on: 29 Jun 2015
Kyvernitis was our in country travel representative managed exclusively by our state side travel agent. Based on how smoothly the trip went while in Greece, I'd say this group did a great job! We never did talk to Kyvernitis directly, but the results of their work was excellent!
Recommended
Great Job.
By: jst41
Reviewed on: 27 Jul 2015
Everything went as exactly as planned. The did a terrific job.
Recommended
John was outstanding
By: Joey28031
Reviewed on: 17 Jul 2016
John offered a great tour of the area - he was flexible and informative. We enjoyed his showing us around the area and found him to be an excellent guide. A larger vehicle would have been a bit more comfortable for four passengers, but that is a small matter. The day overall was very good.
Recommended
No details left unplanning or unexecuted
By: j5harald
Reviewed on: 12 Sep 2016
This firm provided all our transfers and other little planning details for a quite complicated trip. The effort was executed flawlessly!!! Thanks guys! Given the oppporunity I would welcome working with you again!
Recommended
Perfect trip
By: HappilyMarried
Reviewed on: 06 Oct 2016
Our trip was perfect in every way. All of the transfers were perfect. Our accommodations were perfect and everyone was very nice and friendly. Highly recommend.
Recommended
Nice people, good experience
By: Benji
Reviewed on: 23 Apr 2017
Enjoyed Maria's participation-made the tour special. Mateo, was a great driver. Would recommend again.
Recommended
Greece Honeymoon May 2017
By: William Venzke
Reviewed on: 23 May 2017
Eclectic Greece was a great tour operator. From the sunset cruise and the food and wine tasting experience in Oia, to the walking tour in Athens, everything went smoothly and our tour guides were top notch. Everything they planned ran smoothly and we never had to worry about where to meet, etc. because it was all planned for us and the hotels were all looped in. This made for a wonderful and stress free honeymoon filled with great activities!
Recommended
The Cherry on TopI have been on so many tours that
By: VN
Reviewed on: 30 May 2017
The guides enthusiasm for their subject and genuine interest in creating a dialogue to light your imagination created an experience of a lifetime. It was not just the typical ad nauseum recitation of empty dates and facts but rather stories of times and peoples of historic proportions woven into a tapestry of tales that left you with an understanding of the culture. Bravo!
Recommended
Wonderful
By: Bob
Reviewed on: 12 Jun 2017
My trip to Crete was amazing! Great hotel, tours, food and wine. Santorini was breathtaking (as always) and I had a blast on the wine and sailing tours that are a must. Overall, a wonderful experience.
Recommended
Fantastic Local Guide
By: Nikki & Garland
Reviewed on: 13 Jun 2017
It was so great to have Eclectic as a local resource during our trip. Any time we had a question or needed a recommendation they were extremely quick to respond. They really care about their clients.
Recommended
no complaints great job
By: Phil
Reviewed on: 31 Jul 2017
all went well in Greece with the transfers etc ....smooth running
Recommended
Exceptional Service and Private Tour of Athens
By: maria
Reviewed on: 02 Aug 2017
Our tour for 14 people went off without any hitch including transportation and the guide. The driver was extremely kind and got us to the Parthenon where we met our guide. Our guide was extremely accommodating for our group, which was tired from travel, some very young in age, some very old in age (and mobile-challenged) and some not felling well. (It was our last day in Greece and we just arrived from a flight from Mykonos.) The tour guide was completely flexible and adapted to our group. We had an amazing private tour of the Parthenon and loved all the details the guide provided us, making it that much more special to us. She ensured that we had great photos to capture the memories and time in the gift shop. Even after the tour, when one family member forgot their phone on the shuttle bus, they went out of their way to make sure that we got the phone back. We are so grateful to Eclectic Greece by Kyvernitis Travel for their professional and exceptional service. Thank you!
Not Recommended
The pool was the best part of this resort
By: Paige
Reviewed on: 10 Aug 2017
We debated on how to review the resort because we have no idea what the other resorts on Santorini were like. Our rooms were average, very old though, and the T.V,'s had no English channels for the rare times we felt like turning them on before bed. The food was not great, the people who worked at the front desk didn't understand English well enough to help us with anything. The only part of the resort we enjoyed was the pool. There were not many children at this resort either. It was a 5 minute walk to the black sand beach and some of the restaurants there, which we did twice. Ultimately, we rented a car and ended up spending very little time at the resort.
Recommended
Greece
By: LAK1105
Reviewed on: 31 Aug 2017
Very good, we had one mishap. The car ordered to take us from the ferry to our hotel in Santorini was not there/or taken by another party. We had to secure our own car and pay them separately for a service for which we had prepaid. Everything else was Fabulous!