WildChina
Experience China Differently
WildChina caters to the curious, the world wanderers, and the wild travelers. We offer socially responsible, off-the-beaten-path adventures tailored to the desires of each client. Our award-winning teams plan each journey with the knowledge that our visitors expect the highest level of attention and care. We're here to push the boundaries of travel, creating experiences that cross the borders of geography and knowledge to inspire new stories. From learning to make cheese with a farmer in her home to sipping on Tibetan butter tea with an expert guide, WildChina creates life-changing experiences.
Insider Tip
For first-timers, cover Beijing, Xi'an and Shanghai in a week. Save five to ten days to explore the southern and western provinces and experience the true diversity of China.

Virtuoso Preferred Supplier Since 01 Aug 2012
Reviews and Recommendations for WildChina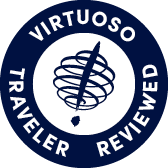 Virtuoso Verified Traveler
All reviews are from confirmed guests sharing exclusive insights
Sort reviews by
Recommended
Overall very helpful
By: Angie
Reviewed on: 03 Nov 2014
Our travel agent used the services of Wild China for our recent trip to Shanghai and Beijing. Overall the guides were good and having their services proved very helpful in a country where the language & driving were very different from our own. 2 of our 3 guides were quite insightful & accommodating and enhanced our trip in many ways. Our only complaint was that 1 of the guides in Shanghai was quick to deliver us to tourist-trap locations where she would receive a kick-back from any purchase we made. We only learned of this after we had already made a few unwise purchases and then wished maybe we had spent less time with her. My advice would be to use the help, but be forewarned & slightly wary of any guide suggested "tours" or shopping.
Recommended
Wildly Fantastic!
By: Lisa580
Reviewed on: 10 Apr 2016
WildChina provided outstanding service during our recent trip to China. Our guide, Anna, was suburb! Thank you, WildChina!
Recommended
The best guides
By: Bookstaver
Reviewed on: 17 Jul 2016
Wild China setup up the perfect itinerary for my trip to China and Tibet. A different well versed guide met me in each section of my trip and showed me the trip of a lifetime
Recommended
Fantastic trip
By: Jeff
Reviewed on: 02 Sep 2017
Very good experience. Well thought out trip and every detail was covered. Flexibility was also a key factor.
Recommended
And on my next trip to China as well.
By: Guy
Reviewed on: 04 Dec 2017
We spent two full days touring Beijing with Wild China and they really could not have been better. Couldn't ask our guide a question he couldn't answer about what were seeing (and in 9.5/10 english fluency). Always on time and always with a smile and great attitude throughout the tour. Very flexible, even on the fly! We made several requests in the car that required slight deviations from the original plan. No problem.
Recommended
WildChina Exceeds Erwin Family Expectations of China
By: Rhonda Erwin
Reviewed on: 31 Jul 2018
Rachel Dicker partnered with WildChina to plan our custom Chinese Adventure for our family of four (two boys ages 12 and 16). We experienced REAL China! We're a global family and we've never experienced the professionalism and attention-to-detail as we did from both Wild China (supervisor Kendra Tombolato) and Rachel Dicker Travel (owner Rachel Dicker). We particularly want to say that Joyce Ying (Shanghai), An Na (Beijing), Jessica Zhu (Xian), Dustin Zhang (Chengdu), James Lee (Guilin), and David Leung (Hong Kong) enhanced our trip each day with their warmth, humor, knowledge, and suggestions of off-the-beaten-path of things to see, do, buy and explore...things we would have never discovered on our own. Things we didn't necessarily plan for as well as fulfilling our requests of stuff we wanted to do. They are true GEMS in the sea of tour guides. We cannot say enough about how they made our trip and memories of China unforgettable.
Recommended
Wild China
By: The Wellford family
Reviewed on: 19 Aug 2018
So glad to have this group as a resource for airport transfers and especially in Beijing where weather became a factor and Nancy Hsu and the team were able to completely rearrange their days and schedules at the last minute in order to accommodate our requests. Couldn't have been more grateful for that and I would recommend this team to anyone with travel needs in China.
Recommended
China Yunnan 2018
By: China Yunnan 2018
Reviewed on: 06 Aug 2018
The guides were well educated, courteous, kind, thoughtful, and friendly. They were all knowledgeable about each area we visited. We could not have navigated this trip without the guides. Also, the trip was too vast and expansive to try and go it alone. Literally, we would never have gotten out of Beijing without the guide's help. Also, when the chair lift at the park stopped working, when our car over heated and when we needed a toilet, we were graciously helped! It was a trip of a lifetime and we loved every minute of the vacation. Many of the details were so well suited to our family- hiking, natural sites, luxurious lodges, delicious (and clean, safe) food and water, tea, religious monuments, and a spacious and comfortable van. We felt safe and well attended at all times.
Recommended
Guides
By: Keith
Reviewed on: 01 Nov 2018
Shirley, Joyce and David were excellent guides. All full of useful and interesting information regarding their respective cities. TingTing was knowledgeable, but was late to arrive for our morning tour and got us to the airport for departure to Shanghai rather close to departure time. The schedule was somewhat tight but was as expected. The guides were good for the most part in allowing us some flexibility. Overall, excellent tour!.
Recommended
Very Friendly
By: Familyof4
Reviewed on: 18 Apr 2019
Nice and personable guides. They were smart about the history and surroundings.
Recommended
Awesome tour guides!
By: Tanya
Reviewed on: 13 Jun 2019
Wild China was outstanding. Their guides and drivers were professional, kind, fun and personable. They were very accommodating to our needs and requests. Jerry in Beijing is probably the BEST guide we have ever had anywhere!!! We wish we could have brought him home with us. No one should tour The Great Wall or Beijing without him. He is so knowledgeable and kind. It was so great to not have to research our destination or plan any aspects of our trip. We just followed our itinerary and Wild China took care of all of the details. They were fantastic and I would highly recommend them.
Recommended
Wild China
By: Napa traveler
Reviewed on: 18 Jun 2019
Our guides in all three cities were excellent and that says allot considering we were there during the National Holiday. Despite horrible traffic and crowds, our guides did a good job. The best it could be under the circumstances.
Recommended
Great time
By: Family
Reviewed on: 31 Jul 2019
We had a wonderful time in China. The highlight was definitely the Great Wall. While all of our guides were lovely and very knowledgeable, we especially enjoyed our guide in Chengdu, Can. She was very personable, flexible and made sure the kids were engaged.
Recommended
Beijing, Xi'An, Shanghai Family Trip Xmas/NY 2019_20
By: NYC Family
Reviewed on: 11 Jan 2020
Wild China, and particularly its guides, were MATERIALLY above our expectations. From the moment we hit the ground in Beijing on December 26th, to the moment we went through the security gate in Shanghai on January 3rd, Wild China provided guides, experts, and written material that made the entire trip a seamless success that our family will remember forever. A particularly unexpected highlight of our days with Wild China guiding us, were the "experts" that accompanied us and our Wild China guide for specific experiences- examples- a walking "breakfast tour" in the Hutongs in Beijing, a fascinating architectural/history tour in Shanghai, and a tour of the French Concession in Shanghai. Finally, the three guides we had in Beijing, Xi'An and Shanghai were all extremely knowledgeable, fun, and flexible- particularly important given we were with our kids. AAA+