American Queen
American Queen Steamboat Company
The largest steamboat ever built, the grand American Queen is a gracious and elegant triumph of American ingenuity. Our iconic and opulent flagship vessel features 218 staterooms and suites with a capacity of 428 guests. She stands six decks high and is 419 feet long.
AT A GLANCE
24-hour Room Service
All-Inclusive
Broadway-style Entertainment
Butler Service
Complimentary Wi-Fi Access
Elevators
Fitness Center
Laundry/Dry Cleaning
Library
Self Service Laundromat
Showroom
Single Occupancy Cabins
Spa
Specialty Restaurants
Swimming Pool
Wheelchair Accessible Cabins
Ship Info
What's Included
Included
Pre-cruise hotel night

All meals, soda, bottled water; wine and beer with dinner;

Shore excursions in each port,

Enrichment chats
Not Included
Port charges, government taxes and fees and gratuities

Spa treatments.

Optional add-on's including: premium shore excursions, unlimited beverage package, city stay packages or additional hotel nights.
Ship Overview
Inaugural Sailing
Information was not provided
Tonnage
Information was not provided
Public Decks
Information was not provided
Passenger Capacity
Information was not provided
Crew
Information was not provided
Reviews and Recommendations for American Queen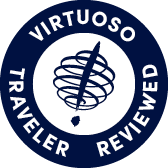 Virtuoso Verified Traveler
All reviews are from confirmed guests sharing exclusive insights
Sort reviews by
Recommended
Riding on the Mississippi
By: Lovetennis
Reviewed on: 21 May 2019
The boat was lovely; seemed like old steamboat. Staff very professional, food good; rooms nice size. Not sure why stopped at Greenville.
Recommended
Lower Mississippi
By: Verla Brown
Reviewed on: 18 May 2019
It was excellent.
Recommended
7-day (N.O.-MEM)
By: Herb
Reviewed on: 19 May 2019
excellent ship decor and stateroom; excursions met (exceeded) expectation. Staff, dining, on-board lectures, games, entertainment, etc were very good.
Recommended
American Queen
By: al
Reviewed on: 27 May 2019
Very nice trip. Good food and accommodations. Best part was after dinner entertainment1
Recommended
American Queen
By: Rcorley
Reviewed on: 19 May 2019
An over all good trip. The food was good, the personnel very friendly and interested in providing us an enjoyable cruise. The entertainment was phenomenal. The best we have ever experienced on a cruise, including Celebrity, Viking, Carnaval, Disney and Royal Caribbean. Kudos to cruise director Ryan and the entire musical staff.
Recommended
Interesting, comfortable trip
By: Jim
Reviewed on: 19 May 2019
The ship is beautiful and comfortable. The staff were excellent. They greeted us with an upgrade having determined that we'd be more comfortable in a larger room. Service was excellent. Food was varied and very good. The included excursions were a little redundant. I guess there's not much to see except museums, historic homes, plantations and museums. The "riverlorian" lectures were very interesting. Entertainment was good. Great musicians and singers. Some of the bigger shows were a bit "hokey" A highlight was a Samuel Clemons enactor.
Recommended
Mississipi
By: Spider
Reviewed on: 03 Jun 2019
All very good, eating, going to the intertainments.
Recommended
Fabulous journey!
By: Cruiser
Reviewed on: 14 Jun 2019
Had a wonderful cruise on the paddlerwheeler "Queen of the MIssissippi". Small ship cruising is the best!
Recommended
Cruising the Columbia & Snake Rivers
By: Anne P
Reviewed on: 17 Jun 2019
Our boat was Queen of the West, and older paddle wheel boat. The rooms were small, but very clean, and who spends time in their room anyway? The staff was amazing as well, very attentive to anything you need. There wasn't much to do on the boat except sleep, eat and drink, but there were included excursions at every stop. We took advantage of those and they were very well planned and timely. A few of them cost extra, and most of them were worth it. Just don't do the wine tasting, that was a bomb. The food on the ship was good, but not consistent in portion sizes, the dining staff was obviously new, young, and not to experienced. But they worked really hard and tried their best. This cruise we took on the Columbia was so worth the money you paid. It was interesting, beautiful and easy. We went through a few locks which was neat too. I would highly recommend it. It was good enough that several people we spoke to already rebooked onto another cruise for next year!
Recommended
Steaming down Big Muddy
By: DeeJee
Reviewed on: 19 Jun 2019
The Pre-cruise program and the cruise itself were both well organized. Off-ship tours were excellent, meals were varied and very interesting. The on-board entertainment was a bit spotty--the bar performers were great-- but the stage performances in the Grand Salon could have been better and more varied.
Not Recommended
American Pride
By: Diane
Reviewed on: 22 Jun 2019
Scenery on the Columbia and Snake River was spectacular. The food was excellent, as well as the service of the staff. Accommodations for the single cabin #311 was a nice surprise. The entertainment really, really needed some improvement. By 9:30 p.m. the Ship had died and gone to heaven. I was too young for this trip. If I live long enough, would re-consider in my mid 80's. The dress code in the book "Country Club Casual" needs a definition. What 80% of the people wore for dinner was more like "Country Club Sloppy" In other words, dirty tennis shoes, jeans & gray tee shirt , shorts & a top that you've worn since breakfast. You certainly don't need a coat & tie or a long dress, but IT SHOULD BE REQUIRED TO DRESS APPROPRIATELY FOR DINNER. THE ATTIRE AT DINNER WAS A DISGRACE, WHY BECAUSE YOU ARE NOT ENFORCING "COUNTRY CLUB CASUAL". Would I recommend this trip Yes and No depending on your age.
Not Recommended
ship
By: Ruf
Reviewed on: 26 Jul 2019
na - trip fell thru
Recommended
Excellent experience
By: Howard
Reviewed on: 04 Aug 2019
Excellent service, food, river and popular music, broadway performance, history, and places to visit. Probably not for young children but excellent for young adults and older.
Recommended
Upper Mississippi cruiseIt was
By: Ralph and Philomena
Reviewed on: 07 Aug 2019
It was a great vacation. We enjoyed everything about it and would consider using American Queen again.
Recommended
Quality and value for your dollar spent
By: Retired
Reviewed on: 03 Sep 2019
Great accommodation, great food, great entertainment, great staff and most of all they are organized. They have a hop on hop off tour at each port and this is included in the price. You are able to pay extra and book for premium tours as a choice and there again value for your money. Having the unique adventure of cruising down the Mississippi River in an actual paddle wheeler was a peaceful experience.
Recommended
Exceeded expectations!`
By: Mary B
Reviewed on: 04 Nov 2019
We absolutely LOVED our time on the American Queen. We booked an excursion each day and took the Hop On/Off busses. We learned a lot about the antebellum south and got a balanced perspective on the history of the region as well. The tour bus was brand new which was nice. We enjoyed the entertainment on the boat and danced every night. They had 15+ live entertainers / musicians on board. We enjoyed all of their music and shows. We especially loved Ryan F, our cruise director, and Michaelyn, one of the talented singers. But we actually enjoyed all of them and the talent that they shared with us. There was so much music offered that we had to choose when not to hear music. The accommodations were clean and comfortable and our staff person, Denise, was attentive and pleasant. There was a big variety in the food and wine offered and several choices of where to eat. All of the staff worked together well, were super personable and positive and added to our fun stay on the boat. Bravo!
Recommended
Civil War Trip
By: djk
Reviewed on: 21 Nov 2019
Fabulous guest speakers of Genera Grant and Abraham Lincoln and their wives. Spoke on matters of the war and influence of their spouses. Gave a very personal view of a difficult time in our history. Highly recommend American Queen. Our third time on this line and second time on this boat.
Not Recommended
Not up to Expectations
By: Stu
Reviewed on: 25 Nov 2019
The overall experience was fair at best. - My wife and I both got violently sick and were quarantined for 1.5 days in our quarters. We found out that quite a few of the passengers also got sick with a intestinal virus. - The late dinners with seating starting at 8:00 PM was too late for most of the elderly passengers. Meals weren't delivered until close to 9:00 PM and it was close to 10:00 PM before people were finished with their dinner. - The food aboard the ship was not very good. The meat was typically tough and often it seemed that the servings were warmed over. For example, the sauce on the veal medallions was congealed and the veal was presented like medium sized pancakes (which had no distinctive taste). Fish servings were typically very dry. - The waitress responsible for our table was not very attentive and on one occasion was rude and somewhat aggressive in responding to one of the female diners who received something different than what was ordered.