Viking Sun
Viking Cruises
Viking Ocean Cruises boasts a fleet of new, all-veranda, state-of-the-art ocean ships. Each identical sister ship carries only 930 guests and is engineered at a scale that allows direct access into most ports. Classified by Cruise Critic as "small ships," the fleet features understated elegance and modern Scandinavian design.
AT A GLANCE
24-hour Room Service
Complimentary Wi-Fi Access
Cooking Classes
Elevators
Fitness Center
Laundry/Dry Cleaning
Library
Movie Theatre
Self Service Laundromat
Spa
Specialty Restaurants
Swimming Pool
Wheelchair Accessible Cabins
Ship Info
What's Included
Included
VIKING INCLUSIVE VALUE

A cruise fare that includes everything you need

One included shore excursion in every port of call

Shipwide Wi-Fi so you can remain connected

Access to top-rated spa

Beer, wine and soft drinks with onboard dinner and lunch

Other included beverages, such as specialty coffees, teas and bottled water

Port taxes and fees

Alternative restaurant dining

Airport transfers with purchase of Viking Air
Reviews and Recommendations for Viking Sun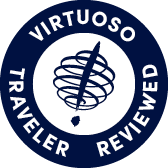 Virtuoso Verified Traveler
All reviews are from confirmed guests sharing exclusive insights
Sort reviews by
Recommended
Food was great, but help lacking
By: marty
Reviewed on: 25 Nov 2017
Let's start by saying I seriously injured my lower left leg when I fell from the last step of the bus transferring us from the airport to the ship The disability seriously affected my mobility throughout the cruise. I attribute a great deal of the blame for the fall to no one helping me get off the bus, as other passengers also complained. The Viking staff, while verbally sympathetic, refused to acknowledge their, at least partial, responsibility for this accident, although the transfer was booked by Viking! Some comments; 1) The food was outstanding both in the regular dining room or the free specialty restaurants. 2) The ship was gorgeous throughout, at least equivalent to a 5-star hotel. 3) We were in a lower category stateroom, whose design, given its decent size, was horrible. For example, in order to get to a set of draws, one had to slide both heavy doors of a closet, almost impossible for my wife. 4) We skipped Marseilles due to terrible currents. No accommodation was made.
Recommended
Visit to Cuba
By: Sue
Reviewed on: 10 Dec 2017
Great time aboard ship; however be advised if you go on the Havana for a day and a half, you need an adapter for charging your devices. No one told us that so we were stuck. Also be prepared for a long bus ride to and from. Hotel and transportation in Havana was incredible. Great food, ride to dinner in old convertibles and then the show at the Tropicana is not to be missed.
Recommended
Viking Mediterranean Cruise
By: Kristel Novotny
Reviewed on: 08 Apr 2018
Ship was a great experience. The ships are lovely, clean and the food was great. We like a smaller cruise ship, 900 passengers.
Not Recommended
Don't go
By: Traveler
Reviewed on: 12 Jul 2018
The Viking Sun is a beautiful ship and very well appointed. The cabin was nice and spacious and didn't feel cramped like most ship cabins. The food was great and the service in the restaurants was very good. Having said that I will not recommend it. The included shore excursions were totally disorganized. The atmosphere on the ship was sterile. There was no welcome reception, nor an orientation to the ship. There was no feeling of comradery as there was nothing organized even on afternoons of cold rainy day when no one wanted to get off. The paid excursions were a rip off. My husband and I travel a great deal and were very disappointed.
Not Recommended
Cruise ship
By: Spilky
Reviewed on: 14 Jul 2018
I enjoyed the service from crew. Did not think good compared to my other cruises. Regent ,Oceania and seaborne. Closet space very small.
Recommended
Outstanding, amazing cruise line
By: ALM
Reviewed on: 29 Jul 2018
My husband and I traveled on the Viking Sun from Amsterdam to Bergen leaving July 7, 2018. It is an outstanding ship, roomy, sparkling clean, lovely cabins, impressive public areas, and overall, beautifully designed. The crowning glory, however, was the amazing crew. We were always welcomed and accommodated, always accompanied with a smile. We were totally spoiled and loved every minute of it. We never felt crowded, although there were 900 passengers onboard.
Not Recommended
Nice ship. Numerous problems. Viking staff not very helpful.
By: .
Reviewed on: 04 Aug 2018
The Sun is quite well appointed. We were in suite 3000. Not the best choice. The Star live theater was below us and noisy bands practiced there daily. Maid service was excellent. At one point our toilet & sinks overflowed with hideous backed-up excrement from below deck. Dreadful. Manfredos was a fine restaurant with great service. The Chef's table was poor. Limited choices & poor/indifferent service. Others were ok. Silver Spirits beverage package isn't worth the upgrade. Viking also made all of our flight arrangements and, when we went to come home, we found ourselves unexpectedly in different rows on the airplane. Three months before our trip we had been sitting side by side as one would expect. Viking's onboard staff tried to pawn the change off on SAS as their problem. I had to spend hours and really get in the Viking staff's faces to even get this semi-corrected, together but in the last row behind the bathrooms on the return flight (thanks a lot).
Recommended
Viking Ocean
By: MIKE
Reviewed on: 01 Sep 2018
Excellent ship-new, clean, lots of public space, great veranda stateroom, nice bathroom, great entertainment. what different from Viking River in that the ship anchors or moors in a port, not downtown like a riverboat. Shuttles or motor coaches are always required. Included excursions are generally good, but it does depend on the tour guide. Very active program to rate/review each excursion & guide.
Recommended
British Isles Viking Cruise
By: FBA
Reviewed on: 17 Sep 2018
Fantastic crew. Wonderful food. Excellent spa and workout area. Entertainment changed each evening and the musical venues were plentiful.
Recommended
Balkans Cruise
By: Melanie
Reviewed on: 23 Nov 2018
Nice ship and nice ports of call.
Recommended
Viking Sun, excellent ship and well run
By: Tiki
Reviewed on: 25 May 2019
The Sun is superbly appointed, clean, and well managed. The staff is simply the best. Food and entertainment very well done. We are planning another World Cruise on this ship... that about says it all.
Recommended
Fantastic
By: Louise
Reviewed on: 31 May 2019
Our British Isles Explorer was perfect, our weather was good and we went all of the places I wanted to. The boat is amazing, the port excursions were excellent, and the ship's crew was perfect. I've been on both river and ocean cruises with Viking and have always been please with the accommodations and planning.
Recommended
Cruise Ship
By: Mark
Reviewed on: 17 Jun 2019
The cruise ship, staff, food and entertainment was excellent.
Recommended
High Praise for Viking Ocean!
By: Bill W
Reviewed on: 15 Jun 2019
Viking not only does a great job but does it in a very comfortable, inviting way—particularly for the over-55 crowd, which is now their sole target. The staff is superb—and the culture is of excellence is throughout! Very importantly, everybody seemed to agree that we got very good value for the price. The included excursions, free wifi, free beer and wine with meals, and no extra charge for specialty restaurants really makes a difference in terms of the total cost. The ship was elegant, the staterooms were roomy and nicely appointed, and the food was very good and varied. And being new, the ship uses technology very well. The Viking Homeland Cruise on the Viking Sun offered up a perfect Scandinavian/Baltic experience and even after two weeks ended much too soon!
Recommended
Great cruise on Viking sun - Homelands
By: happycruiser55
Reviewed on: 28 Jun 2019
This ship is beautiful and always kept spotless. The staff seem to be a happy bunch and go out of their way to be helpful. There are only 930 passengers which allow for many quiet public spaces. The included tours involve a lot of walking and overall we had a great time. Unfortunately, flying to Europe with a U.S.A passport is not a pleasant experience to put in mildly. We had a 2 hour layover in Frankfurt and barely made our connection after going thru immigration twice. We came home flying out of Bergen Norway which is total chaos. Even going business class makes no difference, everyone was on the same line, lots of confusion. Delta uses old planes which make a 10 hour flight very uncomfortable(great service though). The Viking staff at the airport were trying to help and overall I was very impressed with Viking. This was our first Viking cruise and would love to sail with them again. I hope in the near future they have a cruise going R. T out of Florida.
Recommended
Ship is amazing
By: Mimi
Reviewed on: 07 Sep 2019
First time on Viking Ocean Ship. The ship is beyond words. Lovely and so well thought out.
Recommended
Great cruise on the right-sized ship
By: Nickname
Reviewed on: 12 Sep 2019
The ship's crew that provided service to us personally were all wonderful. The shore excursions desk was not helpful in resolving excursion sign-up issues.