Backroads
The World's #1 Active Travel Company
Backroads offers deluxe biking, walking & hiking, multi-adventure and family vacations around the globe PLUS active river & ocean cruising, culinary tours, and snow adventures. All Backroads trips are fully escorted by 3 - 4 trip leaders and 2 support vans while guests travel at their own pace, enjoying exhilarating activities, cultural encounters, scenery, camaraderie and fun.
Insider Tip
At any pace, in any style, traveling with Backroads is not just about the bike or the boots. It's a rich experience as we peel back the layers that make each destination unique.

Virtuoso Preferred Supplier Since 01 Jan 1991
Reviews and Recommendations for Backroads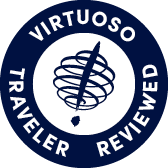 Virtuoso Verified Traveler
All reviews are from confirmed guests sharing exclusive insights
Sort reviews by
Recommended
Tuscany Backroads family adventure
By: mfaunt@msn.com
Reviewed on: 30 Jun 2014
Best family vacation ever!  Backroads is our now "go to" vacation guide for family fun. http://makeitbetter.net/entertainment/outings-a-travel/6178-don-t-spin-your-wheels-the-best-bike-vacations
Recommended
A great Piedmonte trip
By: Dick
Reviewed on: 21 Sep 2013
I recently returned from a 6 day bicycle trip to the Piedmont region of Italy arranged and led through Backroads. This is my 10th Backroads trip,and one of my best. It has been my experience, with over 20 active vacations in the last 10 years, that the leaders and the fellow travelers make 70% of the trip. I have become confident that Backroads offers a consistently well thought out trip (with only 1-2 exceptions). This one, however, was a major winner. Go on it!!
Recommended
Great trip
By: Missy
Reviewed on: 07 Nov 2013
This was out second Backroads trip and it was great. We spent time in the Andes of Ecuador and then on the Galapagos. There were 8 guests and one guide. Loved the contract between the mountains and the tropical climate of the islands. The Andes were a pleasant surprise for us--beautiful, great food and great accommodations.
Recommended
An Incredible Trip with Backroads - Again
By: Rich8
Reviewed on: 25 Jun 2014
This is our 5th trip with Backroads and 2nd family trip. They provided the usual very reliable and outstanding experience. Our biking guide Nick was attentive, knowledgeable, fun and kept us all safe and happy. Our local guide Wayan made the trip special by immersing us in his culture. If you are looking for white sandy tropical beach island, there are lots of other places you can go besides Bali. What made the trip special was the people and the culture. Probably the friendliest people anywhere, always ready with a 'hello' in every village. Mindful and happy, the people and our local guides were a joy to be around. There was always a van nearby looking out for us. Meals and hotels were all good, especially the last stay and the first. Super family time that is priceless.
Recommended
LOVE Backroads!
By: Happy Camper
Reviewed on: 13 Aug 2014
Just returned from a solo/singles multi-sport (deluxe camping) trip in the Tetons and Yellowstone. The trip was amazing. I had been to this part of the country before but biking, hiking and kayaking through it and camping in the national parks gave me a completely different perspective. And Backroads is awesome. Every detail covered, every meal delicious. This is the way to camp.
Recommended
Great Biking Trip
By: Ed
Reviewed on: 28 Aug 2014
We loved our biking trips with Backroads. The leaders were as friendly and helpful as possible. The biking was as expected and the route provided a good mix of small towns and the cultural sites so abundant in the area
Recommended
Well organized, fun and challenging
By: EBD
Reviewed on: 18 Sep 2014
Loved this hiking trip to the Canadian Rockies. Backroads does an outstanding job of organizing the week---great hotels, staff. All you have to do is show up with the gear they suggest, be in shape for hiking and they take care of the rest. Our group of 15 was delightful.
Recommended
Backroads Vietnam/Cambodia Trip
By: KevinPh
Reviewed on: 13 Feb 2015
Backroads is my favorite bike touring company. I have tried several over the years. Superb guides who work with local experts to bring you an in depth visit to an area that can only be done with the immersive element of biking or walking. Most impressed by the Vietnam crew.
Recommended
Just right
By: Philippe
Reviewed on: 13 Feb 2015
Perfect trip. It was like a Swiss Version of Asia. Great work.
Recommended
The best active travel company
By: Travel4evr
Reviewed on: 19 Jun 2015
Our family has traveled many times with Backroads. All the trips have been fantastic. They are very accommodating to varying levels of activity as well as interests. Details are handled, very relaxing and fun trips.
Recommended
family fun
By: joan&family
Reviewed on: 24 Jun 2015
We loved our Backroads Family cycling tour in Tuscany. We will travel with Backroads again and look forward to our next trip.
Recommended
Wonderful experience!
By: neg
Reviewed on: 05 Jul 2015
Our guides were excellent and all the sites and experiences were wonderful. Great people of the trip too!
Recommended
Ride #10
By: Teacher
Reviewed on: 12 Jul 2015
Backroads first time pairing with a river cruise ship was a huge success. We loved it. Learned so much about the Danube valley and all the countries along the way. Top notch job by the company and our leaders Cat and Martina.
Recommended
Never disappoints
By: Lois
Reviewed on: 14 Oct 2015
We have been on several Backroads trips and have never been disappointed. Cannot wait to do another!
Recommended
well planned trip
By: mw1234
Reviewed on: 02 Jan 2016
good family fun
Recommended
Great value/ terrific bundling of travel optios and requirements
By: Turk
Reviewed on: 25 Jul 2016
Avanti provides first class travel at reasonable prices.
Recommended
Backroads Tour
By: Sue
Reviewed on: 02 Aug 2016
What an amazing company. The trip leaders and support person were so warm, knowledgeable, and upbeat. The bike routes, hotels, and meals were superior. I am planning to use them again for a future trip.
Recommended
Awesome Guided Hiking Tour
By: Jim
Reviewed on: 10 Sep 2016
Backroads did an awesome job on organizing and leading a six day hiking tour in and around Yosemite National Park. All aspects of the trip were taken care of by the Backroads guides and their organization. The hikes they arranged were outstanding. Incredible scenery on every hike, plenty of options, and plenty of variety. The selection of three locations in/around Yosemite for the hikes was excellent. Each area is unique and each provides a different experience and scenery. All of the hotels on the trip were great (Tenaya Lodge, the Majestic, and Rush Creek). The food was excellent and plentiful. And the people in the tour group were very nice and friendly. I highly recommend Backroads. Many in the hiking group had previously traveled on Backroads, tours, so clearly they do a good job. I will definitely be using Backroads guided hiking services again.
Recommended
awesome bike trip
By: JB100
Reviewed on: 09 Sep 2016
Backroads was amazing! Michelin starred dinners, great guides, a private dinner at Moet and Chandon! Perfect!
Recommended
Travel made easy
By: Jenn78
Reviewed on: 26 Sep 2016
My Backroads trip was so well organized and the tour guides were friendly and helpful along the way. It was a great way to have a fun filled trip with none of the logistical hassle!
Recommended
Backroads
By: RolandExcellent trip
Reviewed on: 03 Oct 2016
The tour guide/driver was very knowledgeable and helpful. The trip agenda was excellent. We visited towns and villages that would not have been possible with a larger group or bus. Best tour we have been on
Recommended
Backroads Hiking
By: Happy Campers
Reviewed on: 06 Oct 2016
Great trip in every way!
Recommended
our families most favorite vacations
By: sue65
Reviewed on: 29 Dec 2016
We just wrapped our 3rd Backroads trip, certainly not our last!! I just can't say enough about the logistical experts these folks are, how knowledgable, kind, and capable all the trip leaders have been. Oh, and the places you go don't stink either!!
Recommended
Great service!
By: Dhoef
Reviewed on: 04 Jan 2017
Terri took care of all the details in booking our Backroads trip. She also kept records of all the information and had it available for us when we needed it.
Recommended
Great Experience
By: Geoff
Reviewed on: 10 Jan 2017
the tour guides were so knowlegable, personable and user friendly. the company has advance teams and lots of resources so you are well taken care of from the time you arrive to the very end. the bikes they provided, hotels we stayed in, road trips, meals were all top notch and very comfortable and even better than I had expected. Would definitely be a repeat user.
Recommended
Backroads Patagonia
By: Dick
Reviewed on: 28 Jan 2017
Excellent hiking. Good options.
Recommended
New Zealand
By: Val
Reviewed on: 01 Mar 2017
fantastic. they did a great job - they were very organized. the guides were awesome and I would go on a backroads trip again!
Recommended
Napa Valley Bike Tour
By: Amy
Reviewed on: 07 Jun 2017
I have done other Backroads tour and was disappointed in this tour. The guides are fantastic and of no issue. The tour was in Sonoma and we were biking on very busy roads. It was not what I expected and very stressful.
Recommended
Iceland Backroads Multisport
By: KJS
Reviewed on: 28 Jun 2017
Aaaaaamazing trip! Thank you Sam and Backroads! Couldn't have asked for a better trip! Leaders were wonderful!
Recommended
Outstanding trip
By: Edwin
Reviewed on: 09 Jul 2017
Yet another outstanding trip with Backroads. There is a reason this was trip #26 for us.
Recommended
Backroads
By: Barbara
Reviewed on: 17 Jul 2017
The Backroads trip to South Africa and Botswana was magical. Cycling to view the game was incredible; we've never experienced anything like it and recommend the trip to anyone
Recommended
Bike trip Berlin yo Dresden
By: lynn
Reviewed on: 17 Jul 2017
We had a fantastic experience! It was our first Backroads trip and it couldnt have been better! Our guides (Ingo, Abdul and Anja) were amazing. All extremely knowledgeable, highly skilled and personable. They really added to making the trip perfect! All accommodations- from the bikes to the meals, hotels, speakers, routes and transportation were first rate!
Recommended
Backroads
By: Anonymous
Reviewed on: 18 Jul 2017
This was my 11th trip with Backroads. They get better with every trip.
Recommended
I highly recommend Backroads
By: Rachel
Reviewed on: 03 Aug 2017
We had a great experience biking and hiking in Glacier and Waterton National Parks with Backroads. The guides were outstanding, and they delivered top notch service. This was our second Backroads trip, and we are looking forward to a third.
Recommended
Top notch company
By: Pete
Reviewed on: 05 Aug 2017
This was our first Backroads experience and I couldn't have been happier. The guides we had were wonderful, every detail was planned and I didn't have to worry about a single thing.
Recommended
Backroads Croatia
By: hj
Reviewed on: 21 Sep 2017
Backroads was an incredible operator to work with. The guides made the entire trip seamless. Every detail was thought out, from transporting our luggage to making sure the kids had plenty of fun & adults had their time as well. There were different levels of activity and they made sure we were aware of the differences each day, made suggestions based on our abilities or our mood and were so thoughtful to our every need. My son was sick one day on the trip and they even called to hotel to check in on us to see how he was doing. I would highly recommend Backroads to other travelers and we can't wait to do another trip with them.
Recommended
Active travel at its finest
By: Nburd
Reviewed on: 31 Aug 2017
This was our first Backroads trip, and we loved it! Our tour guides, Paul and Francis, encouraged us, provided wonderful gourmet roadside picnics and rest stops. This type of trip is not for the faint of heart! We had to get up to an alarm every morning, and we fell into bed exhausted every night. However, the hotels were upscale and comfortable, the meals were fantastic, and the people we met and traveled with were some of the nicest we have ever met. We will certainly do this type of trip again!
Recommended
Backroads
By: Jon
Reviewed on: 07 Sep 2017
A phenomenal family adventure!
Recommended
Backroads is excellent
By: Bob
Reviewed on: 16 Sep 2017
Top notch active vacation.
Recommended
Croatia Backroads Hiking trip
By: Rebecca
Reviewed on: 25 Sep 2017
Amazing, as usual! This was my sixth hiking trip with Backroads and I already have my seventh and eighth trips with them planned. Too many adventures to choose from and too little time!
Recommended
Slim
By: Slim
Reviewed on: 21 Sep 2017
Second Backroads Trip and looking forward to going on another trip.
Recommended
Backroads Nantucket and Martha's Vineyard bike tour
By: Maisie
Reviewed on: 21 Sep 2017
Backroads is a company my husband and I have been on many trips with. We had not been on a trip with them for quite a few years due to a lot of things going on in our lives. When we finally could do a trip, we found the level of their guides to be the same outstanding level. They work tirelessly from very early in the morning to late at night to insure that everyone's needs are met with a very happy attitude. I was also impressed with the hotel and restaurant selections. The bikes had improved by leaps and bounds since our last trip. No one ever lost a chain or had a flat. That's the first time that ever happened. They now have a GPS on the bikes as well. I would definitely recommend them to anyone wanting a bike, walking, hiking or multi sports tour. I understand they now do cruises as well.
Recommended
I d
By: Nicki
Reviewed on: 02 Oct 2017
I didn't take the tour
Recommended
Backroads
By: Ferg
Reviewed on: 04 Oct 2017
Awesome experience!!!!!!
Recommended
Highlights of Britain
By: Banjo
Reviewed on: 05 Oct 2017
Excellent tour with comfortable accommodation and good meals. The exposure to the British countryside was great and what we were looking for. Would have liked more provided meals to obviate the need to hunt out somewhere to eat in a town that we were not familiar with. One highlight among many, was the Scottish piper and dinner at the castle on our last night. Our tour leader and driver provided good service.
Recommended
Incredible Guides, Great trip!
By: Mary Bell
Reviewed on: 24 Oct 2017
This was my first Backroads experience and I could not have been more impressed with our guides. We had so much fun! Our guides planned everything carefully, anticipating our every need and making sure we were enjoying ourselves. There were different hiking goals and abilities within our group and they accommodated each of us with alternative hikes and itineraries each day. They were knowledgeable about the history and the geology of the area we hiked in Utah and they answered every one of our questions. They were interesting and clever, but what was the most amazing was their patience and thoughtfulness.
Recommended
Croatia
By: nrb
Reviewed on: 08 Oct 2017
Backroads provides a wonderful combination of activity and culture in gorgeous settings and ( mostly) luxurious accommodations.
Recommended
Duoro River
By: Andi
Reviewed on: 16 Oct 2017
Backroads did an incredible job!! Every detail was attended to by our guides. We loved the Duoro River and all its beauty. The biking, the accommodations, the food and all the support was perfect!! It was an 11 out of 10!!
Recommended
Sedona hiking trip
By: Rachelle
Reviewed on: 12 Nov 2017
Outstanding! Every detail from our hiking route, snacks, meals, resorts, ...was taken care of. All I had to do was show up in my hiking gear and have a fabulous day. Our leaders were amazing....fantastic personalities! Went out of their way to ensure everyone was happy and well taken care of. Met so many wonderful people. Was an experience of a lifetime. Can't wait until my next backroads trip:)
Recommended
Bicycle trip to Israel
By: Grandmabike
Reviewed on: 29 Oct 2017
Fabulous! They were very attentive! Great input and guiding!!
Recommended
Israel
By: Rebecca Hernreich
Reviewed on: 29 Oct 2017
I havd done many trips with Backroads and love them.
Recommended
Backroads is the best!
By: Sharon
Reviewed on: 30 Oct 2017
Backroads makes your trip unforgettable, They provide an unparalleled level of service; are meticulous with the details, and manage everything seamlessly. Highly recommend Backroads.
Recommended
California Wine Country
By: Zac
Reviewed on: 02 Dec 2017
Once again a consistently high quality, well planned and executed tour from Backroads.
Recommended
Yet another magical BR trip
By: Nancy
Reviewed on: 26 Nov 2017
I think this was my right trip with Backroads. I can't rave enough about traveling with them. The hotels in the premier trips are Magical. The guides are all bright, energetic and enthusiastic individuals. The local guides are wonderful extensions to the regular guides. What I love most is all of The cultural stops and historical sites that they expose us to. I am learning and riding all day every day. I am an avid rider and they accommodate my riding as well as novice Riders
Recommended
Terrific
By: Toni
Reviewed on: 30 Nov 2017
Backroads is the best. Great planning, great execution. Hiking was terrific, and allowed as to acclimate to the high altitude before the most strenuous hikes. In depth information re history and culture of Peru and Macchu Picchu area. Great Backroads guides and fabulous local guide. Lovely group of traveling partners as well.
Recommended
Thailand
By: HQ
Reviewed on: 15 Jan 2018
They were incredible! They thought of everything and made sure we were taken care of at every turn. My daughter a health concern & they were amazing.
Recommended
Fantastic trip...again!
By: Kristy
Reviewed on: 10 Jan 2018
We loved this trip and would recommend it to anyone looking to explore Thailand!
Recommended
Unbelievably Fantastic!!
By: JeannieM
Reviewed on: 08 Feb 2018
The Backroads team are AMAZING. From the moment we met the guides every whim addressed, every detail anticipated, every accommodation excellent, the activities were so fun, and the guides were the most congenial, funny, caring, knowledgable and fun group of people. Every day was different and fun. Every choice was met with support and encouragement. Every adventure was unique. Every guest was happy and received personal attention with a smile regardless of how big or small the need or request. I've completed 3 Backroads trips - each has been unique and exceptional... each has been extraordinary.