Paul Gauguin Cruises
Owned by Pacific Beachcomber S.C., French Polynesia's leading luxury hotel and cruise operator, Paul Gauguin Cruises operates the 5+-star cruise ship, the 332-guest m/s Paul Gauguin, providing a deluxe cruise experience tailored to the unparalleled wonders of Tahiti, French Polynesia, Fiji, and the South Pacific. Paul Gauguin Cruises accolades include being voted #2 in the category of "Top Small Cruise Lines" in the Condé Nast Traveler 2016 Readers' Choice Awards and recognition on the publication's 2016 "Gold List."
Insider Tip
The Gauguin's SCUBA diving excursions are designed for all levels of experience, and we are the only luxury ship in the French Polynesian islands to offer PADI certification onboard for novice divers.

Virtuoso Preferred Supplier Since 18 Sep 2009
Reviews and Recommendations
Ship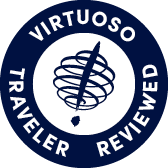 Virtuoso Verified Traveler
All reviews are from confirmed guests sharing exclusive insights
Sort reviews by
Recommended
Wondeful ship and crew
By: Mal28
Reviewed on: 18 Oct 2013
This was a wonderful ship, the food was great the islands visited on the 10 night society island trip were beautiful and the ship's crew were great very friendly and could not do enough for you, your wish was their command. I would highly recommend this cruise. One thing to mention try to get on the left side of the ship as there are a better views of the passing islands and the right side of the ship is a little noisy with the anchor and tenders
Recommended
A King's Treatment
By: Jim
Reviewed on: 23 Nov 2013
The Paul Gauguin small cruise ship voyages in the South Pacific offer an unparalleled experience of beauty and excellent service provided by the ship's staff. I cannot imagine how they could possibly do a better job of catering to us as passengers. I would highly recommend their cruises to anyone, especially to romantically motivated couples. Also, the ship's complement of eight superb Tahitian dancers is a definite plus!
Recommended
Must Go
By: ronbo 75
Reviewed on: 30 Dec 2013
Five star luxury cruise line Well trained, experienced, friendly crew
Recommended
Paul Gauguin is Still The Best!
By: Seahorse
Reviewed on: 13 Jul 2014
This was our 4th sailing on Paul Gauguin, this time for our 45th anniversary.  It was our 60th cruise!  We were pleasantly surprised to see so many crew that we remember from our last visit in 2011.  We were treated like royal family.  Food is incredible (Tahitian Hinano Beer is included like all bar), wonderful diving with Marina Manager Clement doing a super job, Captain Tony as charming as always and Hotel Manager Jacques runs the best hotel operation land or sea and is very approachable and friendly.  Cruise Director, Michael Shapiro, is a true pro and a great entertainer in his own right.  BONUS:  Guest Lecturer was Jean-Michel Cousteau!  He is amazing with great photos, videos and stories.  With only a max of 335 guests (and about 250 crew!), it just doesn't get any better than this.  Can't wait to return.
Recommended
Such a friendly and personal staff
By: LKT
Reviewed on: 02 Jul 2015
We had never been on a ship as small as the Paul Gauguin and were a little concerned about whether it would be rougher than we are used to on the larger ships. I am pleased to say that there was little need for my concern. The first night was a little rough, but I have been on larger ships that were as bad, so I discounted that from being a negative. I cannot, however, say enough about the friendly personality of the ship's crew. From the housekeepers to the department directors; each person we came in contact with was easy to talk with and remembered something about us the next time we saw them. I have not received service like this before and I am certainly spoiled for future cruises! Although the website says that tips are included, we were so happy with the service that we tipped several people because of the extraordinary service they provided. A highlight of the cruise was the day at T'ah'a island where the ship's staff went on shore and cooked for everyone! It was awesome.
Recommended
travel dot com
By: dot com
Reviewed on: 20 Sep 2015
Great ship and wonderful service
Recommended
A Great Ship for a Great Trip
By: Dennis46
Reviewed on: 09 Dec 2015
We had a very enjoyable cruise aboard the Paul Gauguin this past year. The staff were excellent and made us feel at home. It didn't matter whether it was the dining room, bar or room service, everyone was very friendly and helpful. The ship was great and the itinerary was wonderful. We highly recommend taking this cruise for anyone who is in love with Polynesia as we were.
Recommended
Paul Guaguin
By: Rush
Reviewed on: 21 Jan 2016
Great trip! All went well. Good itinerary.
Recommended
Take a Paul Gauguin Cruise!
By: South Pacific Traveler
Reviewed on: 26 Sep 2016
I've only been on one cruise before cruising with Paul Gauguin. I suspect I will forever compare everything to Paul Gauguin, and I suspect others will come up short. The ship is extremely well-maintained. It has every amenity we wanted. The service is top-notch. You can tell they spend a lot of time training their crew. The attention is personalized. They know what you want before you do, and they have it waiting. No kidding. The food is delicious! Absolutely delicious!!! I've never had such fresh fish and fruit. Everything is exceptionally well-prepared. One of the deserts were so incredible people were still talking about it the next day. I wish Paul Gauguin cruised the entire world. I'd never leave the ship.
Recommended
Honeymooners
By: TahitiTara916
Reviewed on: 17 Oct 2016
Paul Gauguin was a cruise to remember! We felt like we were high class all the way. The staff on the ship was tremendous!! They were so friendly, and accommodating. It is the staff that really makes the guests feel like VIP. They deserve such credit for going above and beyond all the time! The cruise really allows you to do what you want, and that was great for us. We liked the make your own structure and schedule atmosphere. Room service was wonderful, and the restaurants were great!!
Recommended
Great Trip!
By: Nan
Reviewed on: 20 Nov 2016
This trip was outstanding! This won't be our first and last. Paul Gauguin cruise is top rated. We have highly recommended this trip/cruise to our friends.
Recommended
Wonderful Service!
By: Patty81
Reviewed on: 02 Jan 2017
We went on a 10 day cruise to the Society Islands in Tahiti. It was a perfect! We loved our room and balcany. Sleeping with the sounds of the ocean was wonderful! The islands and clarity of the water were amazing! The staff on the ship was great. Everyone was very personal and friendly. Great trip!
Recommended
Tahiti Cruise
By: Phil
Reviewed on: 29 Jan 2017
The ship was great. Unfortunately, the weather wasn't!
Recommended
Great adventure
By: Dr. J
Reviewed on: 30 Jan 2017
I enjoyed my cruise, but have mixed feelings about my overall experience because of the weather. I am not sure I would have booked this time of year if I had known it was the rainy season. The service and amenities of the ship were great. I did not like it was a older ship, but it was clean and neat. I did enjoy that fact it was a smaller ship which gave it an intimate experience. The only true negative of the cruise was the internet service, but overall it was a great experience.
Recommended
Tahiti
By: Pam
Reviewed on: 03 Feb 2017
The trip was a once in a lifetime! The staff aboard the ship were truly amazing! They were so very attentive to each travelers wants/needs. By the 2nd day, they knew what kind of omelet I liked, how I liked my bloody marys, etc. The stewardess and butlers knew our routine and were in and out of our stateroom quickly. Awesome staff!
Recommended
Lots of sail days
By: jeff
Reviewed on: 26 Mar 2017
other than being motion sick, the service was excellent and doctors support good
Recommended
Amazing Ship!
By: LindaLu
Reviewed on: 29 Mar 2017
The PG was absolutely amazing. The size of the ship made it feel like we were cruising with friends! So intimate and personal. The crew were top notch, along with the food and the accommodations were superb!
Recommended
Paul Gauguin's review
By: Jerry B
Reviewed on: 07 Apr 2017
Good. It was small so that was good but there was very little to do on board. Food was okay. The crew was very friendly and helpful.
Recommended
cruise
By: Sasha
Reviewed on: 07 Apr 2017
Great. Small ship experience was very different. Service was excellent.
Recommended
South Pacific 2017
By: Michelle49
Reviewed on: 07 May 2017
Fabulous! First class all the way. The staff, bar none, were exceptional. Extremely helpful, always pleasant, anticipating needs and proactive. Food was all first class. As was the selection of liquor and wines. We participated in many excursions... staff were most helpful in getting us on the ones we wanted. Dive staff were very helpful. I just do not have anything bad to say about the ship and the staff! I'd do this same cruise in a heartbeat!
Recommended
French Polynesian Delight
By: Buschman
Reviewed on: 20 Jul 2017
We had a wonderful time on the Paul Gauguin. This was our second trip and it exceeded all of our expectations.
Recommended
Specializes in the South Pacific
By: Judy
Reviewed on: 02 Aug 2017
If you want to visit the islands of Polynesia, this is the ship. It is small, only 300+ passengers (less than 400) and all facilities are easy to walk to and enjoy. No crowding. An older group, for the most part, with many countries represented. Our cabin was well appointed, clean, and relaxing. The crew is the best selling point for this ship. Highly trained, versatile, friendly yet professional. While the dining experience was lovely, the food doesn't live up to expectations. It's not bad by any means, but not exceptional, with a few standouts. Again, it's the crew that really defines the ship. Excellent on that score.
Recommended
Our choice
By: Judy
Reviewed on: 02 Aug 2017
There were lots of choices for shore excursions, which we took advantage of. During our trip there were only two sea days. I spent one of them getting spa treatments and the other was spent, by most of us, feeling sick in our cabins from rough seas. Nothing to be done about the weather. Pleasant to spend the morning on an excursion, return to the ship for lunch in La Veranda, and then to read by the pool until the spectacular sunset. We only went to the crew and the passenger talent shows. Magicians do nothing for me, and that was the show most nights. Limited nightly entertainment.
Recommended
Superior Cruise
By: KBR
Reviewed on: 14 Aug 2017
If you are looking for upscale cruising this is the one to go on. With only one ship their attention to detail and customer service are extraordinary. They cruise around French Polynesia and this trip also included the Cook Islands for 10 days. No matter what you want they can arrange it. Breakfast and lunch(with a different culinary theme daily) are buffet style and dinner gives you the choice of 3 restaurants, two of which you need to make reservations for, one French and one Asian. They make sure that each cabin has the opportunity to have 2 nights in the two reservation restaurants during the cruising time. You can choose to sit with others or alone. There are plenty of activities through out the day as well as off shore activities for an extra fee. There were guest speakers each day and or night. Entertainment is provided each night. Both bands who played during the cruise were excellent. There is a small pool, large sun deck and a small casino. Great experience and crew.
Recommended
Paul Gauguin Cruises
By: Kupper Vass
Reviewed on: 27 Oct 2017
Samuel is very easy to work with. He returns phone calls an answers emails promptly. I would definitely book again with Samuel for my next trip.
Recommended
Ship Review
By: Brenda
Reviewed on: 06 Nov 2017
Beautiful ship... Great crew...very hardworking and always trying to make the experience lovely. Very dedicated to making the cruise a memorable event for all.
Recommended
Anticipation was better than delivery
By: Passepartout
Reviewed on: 29 Oct 2017
Our 11-day Society and Cook Islands itinerary was unfortunately somewhat sabotaged by an unfortunate spate of bad weather and rough seas. Soon after boarding in Papeete we were informed of a change of itinerary, and that we would be visiting Bora Bora towards the beginning of the trip, and Cook Islands a few days later - due to weather conditions. In and of itself this did not appear to be a problem for us, but after a so-so weather day in Huahini, and a stellar day at a beach BBQ & snorkel in Taha'a, we landed in Bora Bora after a night of choppy seas, for a two day visit (with much rainy weather) on top of the Celebrity Solstice, whose passengers had booked up most of the available excursions on the island. We stayed on board Day 1, and the second day went on shore where we took a local guide w/taxi around the island. Next stop was Rarotonga after a very rough day at sea. Next, Aitutaki which was cancelled. Too rough seas for tender ops. Then 2 days of 11.5' seas back to Moorea
Recommended
A fabulous trip
By: Chris
Reviewed on: 11 Nov 2017
Our time aboard the ship was wonderful. All the staff went out of their way to make our experience amazing. Thank you
Recommended
Cruise on the Paul Gauguin
By: Tahitianescape
Reviewed on: 19 Nov 2017
We had a fantastic time honeymooning on the Paul Gauguin. We did a cruise of the Society Islands. The experience on board was great. Being an all inclusive ship allowed us to enjoy our time without the concern of food and drinks. The food was fenomenal. We highly recommend eating at Le Grille on the overnight of Bora Bora or Moorea. Each of the islands were beautiful and unique. Service was great and the Polynesian shows were so fun. Overall a great experience.
Recommended
Tahiti
By: Sandra
Reviewed on: 25 Nov 2017
Staff was wonderful and catered to our every need
Recommended
Cruise
By: NLR
Reviewed on: 26 Nov 2017
Great time! Staff was wonderful. Love the small ship.
Recommended
Luxury above and beyond
By: Lar
Reviewed on: 19 Dec 2017
We cruised with Paul Gauguin this pastt December. It was absolutely fantastic and we hope to return again someday.
Recommended
Top notch service and staff
By: Susan L
Reviewed on: 27 Dec 2017
We had a great time onboard the ship. We were on Deck 7 which was perfect. One deck below the pool and one deck above our favorite restaurant during the trip. The staff, especially in La Veranda were amazing and very accommodating to special requests.
Recommended
Paul Gauguin cruise
By: cb
Reviewed on: 18 Jan 2018
The food was excellent and the staff was friendly and always there to serve. The day at the private island was the best. The excursions were pretty similar and would be nice if at least three excursions were included in the price of the cruise rather than having to pay extra. The places were beautiful and the trip was very relaxing.
Recommended
Tahiti
By: Don
Reviewed on: 02 Mar 2018
The service and food was very good. The dining areas could have been open more hours. Everything was very regimented as to operational hours which made you use room service rather than just enjoying a cocktail at the piano bar.
Recommended
Tahiti Cruise
By: J man
Reviewed on: 07 Mar 2018
The trip was fantastic. The food and service was excellent. They were especially attentive to some dietary requests and went above and beyond to fill them The waiters were fun and engaging.
Recommended
Polynesian Cruise
By: Frequent Traveler
Reviewed on: 15 Mar 2018
The best cruise I have ever taken. The staff was superb and the itinerary and location were sublime!
Recommended
Tahiti and the Cook & Society Islands
By: Trish
Reviewed on: 05 Apr 2018
This trip was one of the best that we have taken and we have been on several cruise ships including Regent Seven Seas, Siversea, and Viking, The service and staff were both outstanding. Excursions were outstanding although additional cost. They were worth it. The ship itself was maintained in pristine condition. The food was good and the specialty restaurants easily accessible and great food. The itinerary was spectacular and well suited for our favorite things including snorkeling, adventure tours, shopping, and the majestic topography of the islands we visited. An additional plus was perfect weather. Overall, the major takeaway was the superb service by all staff aboard the ship.
Recommended
Top Ten
By: Paul & Sandy
Reviewed on: 26 Mar 2018
The MS Paul Gauguin was one of the best ships we have ever been on. The crew was very considerate and attentive but not bothersome. The dining selections were varied and well done. The Chef creativity superseded all ships dining options we have had in the past including Viking Star, Regent Explorer. Beverage options were unlimited and almost all top shelf. Polynesian representatives aboard had every passenger engaged and entertained. Cultural and educational forums were done well and very interesting. Other entertainers were not very good except cruise director's show. At embarkation a seasonal South Pacific rain soaking all incoming passengers. Boarding process is limited to 3 pm. Not a minute before. The passengers standing in the rain had very little cover and no place to put luggage prior to official boarding. Allow the ship steward assigned to you to fully show you to your room along with all the lights and environmental controls. I wandered aimlessly until we found our suite.
Recommended
South pacific Cruise
By: Theresa
Reviewed on: 26 Mar 2018
The best ever. Love the small ship, food was fantastic, ports were outstanding.
Recommended
Paul Gauguin Cruise
By: Greg
Reviewed on: 24 Mar 2018
It was awesome! I highly recommend this ship. The staff was great - very well trained and incredibly customer focused.
Recommended
Sailing in Paradise - Tahiti & The Society Islands
By: Alan & Jackie
Reviewed on: 24 Mar 2018
Our time aboard the ship was great. The crew is awesome! We learned that we really really like traveling on a smaller ship (approx. 330 people) vs. a large ship. The wait staff was excellent. They remembered our names and frequently remembered what we like to eat and where we preferred sitting. The food selection was also excellent and very tasty. Our stewardess, Anna, that cleaned up our stateroom was very friendly and paid attention to detail. Also the entertainment was 1st rate. Each night there was some form of entertainment with a South Pacific Island flavor. The only problem we had with the ship was the additional cost for using their wifi system. Also the system didn't work very well. The wifi should be included in the price of the cruise.
Recommended
8 out of 10
By: Cindy
Reviewed on: 28 Mar 2018
The ship needs some refurbishment but is immaculately clean. The food and especially the service is among the best we've experienced. Only one complaint: no umbrellas on the sun deck or pool deck and only limited areas of shade (which were staked and claimed immediately for the entire 10 day cruise by the same people!) I counted approximately 8 such lounges for a 300+ passenger ship in the tropics.
Recommended
Great ;tour
By: ME Paulson
Reviewed on: 15 Apr 2018
We enjoyed the Paul Guaguin ship for our 7 day cruise. The water and scenery was beautiful. We took the ship to enjoy snorkeling and we were pleased that they had lots of opportunities to snorkel. We liked the size of the small ship.
Recommended
French Polynesia
By: Wa'ahila
Reviewed on: 14 May 2018
Relaxing cruise, roomy cabin, exceptional service from ALL of the cruise staff, educational and culturally enlightening, awesome scenery and fun filled port excursions, great food and drink on board. Because of its size you are pampered throughout the ship. If you want to travel to French Polynesia you will truly enjoy the 14 day cruise to the Marquesas, Tuamotus and Society Islands. We saw 10 different islands in just 2 weeks. Everyone of them was unique and the islanders so willing to share. We look forward to a future cruise on Paul Gauguin.
Recommended
The Amazing Paul Gauguin
By: J&P
Reviewed on: 06 May 2018
Paul Gauguin surpassed all other cruises lines when it comes to service. The staff on board exceeded expectations on all levels. From state rooms to dining to ports of call, we could not have been more impressed. We would highly recommend Paul Gauguin.