Royal Caribbean International
Come Seek The Royal Caribbean
Even before you reach your destination, you're going to be amazed at what you see - your cruise ship. Royal Caribbean's cruise ships are the most innovative and exciting in the travel industry. From rock-climbing walls on every ship, to elegant dining rooms and relaxing spas, your experience onboard is nothing short of incredible. And the service you get will be just as amazing, with our signature Gold Anchor Service on every ship. We visit over a hundred ports of call, in some of the world's most breathtaking locations. From the rugged beauty of Alaska and Canada/New England to the charm of Europe and the lush landscapes of Mexico, Hawaii, the Caribbean, the Panama Canal, Bermuda, and the Bahamas. And for the best of both worlds, there are our amazing cruisetours.
Insider Tip
Guests staying in select suites may enjoy priority check-in, complimentary Concierge Club, reserved prime theater seating, VIP pool deck seating, priority departure and more!

Virtuoso Preferred Supplier Since 02 Dec 2005
Reviews and Recommendations
Ship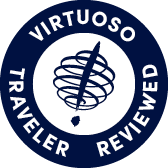 Virtuoso Verified Traveler
All reviews are from confirmed guests sharing exclusive insights
Sort reviews by
Recommended
By: Not provided
Reviewed on: 29 Jun 2013
We are frequent RC cruisers. We very much enjoyed the Baltic Cruise. My only criticism would be the Dining Room food has dropped in it's quality. The Specialty Restaurants are delightful! Service and food exceptional. Unfortunately, most people do not feel the need to pay for better food. Overall service on the ship is wonderful. I highly recommend Royal Caribbean.
Not Recommended
fine as a second choice
By: bobby
Reviewed on: 06 Jul 2013
RC could do better. To charge a fee in not so special restaurants aboard is nickel and diming. The overall maintenance was minimal as the balcony woodwork needed attention. Staterooms a bit scimpy as well as balcony space. The card room needs attention and someone to manage the care of the board games as well as the card packs. Excursion costs much higher than if purchased off ship. A good second choice, but look at competitors first.
Recommended
Great experience
By: JHKK
Reviewed on: 06 Oct 2013
We had a wonderful time. We were very lucky to have beautiful weather. The staff were all very attentive and helpful. Dinners in the dining room were very good otherwise typical cruise fare. Would definitely recommend the helicopter trip to the glacier. Had lived in Alaska years ago but it was worth a trip back to see the amazing scenery again.
Recommended
Highly recomamnded
By: Jack
Reviewed on: 07 Nov 2013
This is my very Best Choice Number 1. I always travel Royal Caribbean international. I am never disappointed when I sail any of their ships.
Recommended
Brigitte is an outstanding travel agent
By: Not provided
Reviewed on: 22 Nov 2013
A pleasure to work with - answers all questions professionally and follows up on all requests. I would recommend her to my friends and family.
Recommended
Definitely Recommend
By: JO
Reviewed on: 24 Nov 2013
Lynn has booked several cruises for our family. She has done an amazing job. I love working with her to see what fun trips we can come up with.
Not Recommended
RCI needs to look into how this ship is being run
By: marilyn
Reviewed on: 19 Nov 2013
dining experience awful chops food was bad and certainly not worth $30 extra we had a theft on board which was mishandled so badly not enough agents on board to help with open booking a new cruise however Giovanni's was terrific the chef made dishes that were better than many NYC restaurants and our italian waiter just made our dining experience more special this trip did not live up to the norm for RCI I brought a guest who had never been on a cruise Wrong one to bring them on
Recommended
Highly Recommend
By: Family of 8
Reviewed on: 11 Jan 2014
Celebrating New Years on the Allure of the Seas was a perfect way to start off 2014! Our family of 8 had an incredible time. Lots of great memories from ziplining over the Haiti beach, bobsledding down Jamaica's Mystic Mountain, and scuba diving the beautiful ocean off of Cozumel. And when we were not off exploring the port of calls, we were entertained every minute of the day and night with wonderful shows, parties, great food, and parades. It was a trip of a lifetime!
Recommended
Great ports
By: Sky3226
Reviewed on: 21 Feb 2014
This ship is a great size.  Not so large that it feels over crowded, yet so much to do onboard. 
Recommended
Highly Recommended
By: Jimmythesinger
Reviewed on: 21 Mar 2014
As an emerald member in their "frequent sailor" club, I'm pleased to say that this cruise line continues to provide the best value, accommodation, service, and entertainment, in spite of introducing the largest mega ships in the world. I didn't think it could be done and have had to eat my words. I have sailed on both the Oasis and Allure in the past 12 months and could not have been more satisfied.
Not Recommended
Do Not Reccomend
By: StacysReviews
Reviewed on: 30 Mar 2014
The staff aboard the Navigator of the seas was rude upon arrival at the Port of Galveston. We had not recieved any communication that our boat had reached port late, and when we arrived at the port, the first woman we came into contact with wearing Royal Caribbean attire argued and yelled at my group. That should have told us something about what we were to expect aboard the Navigator of the Seas. Although, we had 5 employees that treated us with the most respect, and made our journey a fun one, the vast majority of the crew aboard this ship didnt care that we were aboard at all. I understand that it was a very busy week, but that shouldnt have changed how we were treated aboard the ship. Norweigan has proved to us to be a much better cruise line, and I will go with them from now on, rather than giving Royal Caribbean another chance.
Not Recommended
slightly dissapointed
By: nana6
Reviewed on: 20 Jun 2014
First, the  port of Bayone was a nightmare.  We were in a traffic jam for over 45 minutes  once we reached the port.  Check in went fairly well.  The cruise went well  . I found Royal Carribean to be bare bones compaired to other lines I have been on.  No amenities at all, not a pen hand cream or even a 10 cent shower cap to be found. I asked for a small pillow :"we have none" I was told.  The room was clean,  Windjammer Cafe crowded and we found part of a katsup packet and a bristle in our food . Also returned food that was not fit to eat. no one ever contacted us to apoligize. ,  Leaving the ship was another horror. 45 minutes on the staircase on the ship and another hour for  our driver to reach us.  The only reason I would travel this line again is if it the only ship going somewhere I really wanted  to go.
Not Recommended
disappointment
By: bob
Reviewed on: 14 Jul 2014
Not Recommended
disappointed cruise
By: Babe
Reviewed on: 19 Dec 2014
Food wasn't good. Poorly supervised children. Entertainment was poor. The cruise wasn't up to RCCL standards. We did like our specialty dinner. We are going on another cruise with RCCL in January and hopefully that one will be better. This is the first time we experienced a bad cruise with RCCL and we have been on lots of them with RCCL.
Not Recommended
Cruise
By: Maybe15
Reviewed on: 15 Dec 2014
I will not be taking another cruise.
Recommended
Large ship -- no problems
By: Greg
Reviewed on: 27 Feb 2015
Having been a fan of smaller ships, I was a little concerned when I decided to book this trip on a larger ship. There was really no cause for concern. There were no long lines--there are plenty of venues to handle all the people. The shows were spectacular. The drink packages made it easy to have the refreshments I wanted when I wanted. The cabin was spacious and had lots of storage (not always the case on many ships). Overall, I was very pleased with the experience.
Recommended
Beautiful ship
By: Ginger
Reviewed on: 09 Mar 2015
Royal Caribbean's Adventure of the Seas was a lovely ship with many activities offered. The shows were excellent and the food was good. Little things have changes as the company seems to be cutting some corners. They, for example, stop leaving chocolate candies on the pillows. This is a small thing, but one we missed. There seemed to be a bigger push by employees to up sale items. The staff were pleasant, but seemed a bit stretched. I would travel with Royal again, but hope more and more of the "cruse experience" extras are not lost as they try to make more money.
Recommended
Wonderful Adventure!
By: Sherri47
Reviewed on: 25 Sep 2015
My cruise on Adventure of the seas was a very busy week. Up early and out on excursions everyday. The main reason for my great experience was the service received from the staff. Cabin steward, waiter. Assistant waiter, Head waiter, bar servers, dealers and any other staff we were involved with. The photographer we used during the whole cruise was awesome and we got a great package with all our photos. I'm already to go again. Thank Royal Caribbean and Trish Mercer.
Recommended
Wonderful Crew
By: OLA
Reviewed on: 03 Oct 2015
The crew on the ship was friendly and entertaining.
Recommended
Island hoping
By: MF
Reviewed on: 15 Oct 2015
Ports were great but ship could use some refurbishing. Service on the ship was also good.
Recommended
Cruise
By: Betty
Reviewed on: 18 Feb 2016
Ship is a perfect size! Large screen has been added to the deck, but would suggest having the covers over the hot tubs removable for major viewings. So much space was limited & unable to be used during the super bowl, as it blocked the view, which made it very crowded and people had to stand. Audio was difficult to hear on the upper decks.
Recommended
Blindsided on the gratuities
By: sdiver43
Reviewed on: 25 May 2016
When I checked in online, the gratuity was 12.95/person/day. no problem, I expect that and I've paid it before. However, when we boarded the ship, the gratuity had increased to $13.50/day. I don't object to them raising the rate, and I don't object to the extra 55 cents. My objection is that they said one thing and then changed it without notification. That's just petty. I visited the Guest Services desk and had the gratuity removed from my bill. Then I gave cash to my cabin attendant and dining table staff in the equivalent amount I would have paid at 12.95/day. This is the third year I've cruised with RCCL and the menu in the dining room, while delicious, hasn't changed. Also, the singing waiters on the last evening are just downright annoying. Other than that, the cruise was great. The RCCL staff is unfailingly friendly and polite. We really enjoyed the cruise!
Recommended
RCI does a great job once again
By: Big family traveler
Reviewed on: 01 Jul 2016
Second time on this boat, third RCI cruise. Staff and service were outstanding. The boat is going into dry dock for 24 days of refurbishment in October so I will skip details on the boat as they are likely to change.
Recommended
Wonderful
By: Oliv
Reviewed on: 25 Aug 2016
We have a marvelous time . Carlos it the best
Recommended
Good
By: Dean C.
Reviewed on: 20 Dec 2016
They have to do something with the Beds !! Mattress are VERY Hard and worn out, other then that the Cruz was great Friendly & helpful all workers on the Boat, Food was Great on the ship as well
Not Recommended
Horrible Experience
By: Tinkerbell
Reviewed on: 09 Mar 2017
This ship does not meet Royal Caribbean standards. Honestly I felt like I was on a cruise where the staff was being trained on the job. Apparently the ship was suppose to go to dry dock which I believe it did but apparently due to Hurricane Matthew supplies needed for repairs didn't arrive, so not all repairs were done. Now they are doing repairs while the ship is cruising. Our group had toilet issues in our staterooms and we were told 50 staterooms were affected by this. We were given various excuses of why the problems were happening. We met some people getting off the ship that had plumbing problems last year on this ship and they were given a 50% off another cruise so they decided to give this one a try again since it was going to dry docked to be repaired. They were quite disappointed when they had plumbing problems again. This apparently has been going on for some time now, and the company needs to stop lying to customers and get it fixed correctly.
Not Recommended
Mixed reviews
By: Travel95
Reviewed on: 28 Apr 2017
The ship itself was good. The cruise director, Elvis- excellent. But the customer service that we received on board was not the best. ONE EXAMPLE: After waiting 40 min for a beverage, I simply left the table and procured drinks for everyone at a nearby bar. SECOND: dirty towels piled up in our cabin. We got new ones due to the fact that our steward did not take or replenish. It was small things that made this trip untoloerable for the customer.
Recommended
San Juan Cruse Port!
By: Chico
Reviewed on: 01 Apr 2017
No bumps smooth ride!
Recommended
Eastern Caribean Cruise
By: Smittyken
Reviewed on: 04 Apr 2017
Great trip, the sip is the right size not too big and plenty of things to do on board. Food was great and the entertainment was good. The parties on Main Street were fun. We are planning to book another trip on the Adventure to New England to see the Fall colors in October.
Recommended
Cruise Ship
By: Bernie
Reviewed on: 17 Apr 2017
Extremely relaxing.
Recommended
cruise
By: George
Reviewed on: 27 May 2017
It was fun and filled with activities. It was smooth sailing and very pleasant staff. Good food, great entertainment and quick attentive service.
Recommended
Good, but not great
By: NDDoc
Reviewed on: 21 Jun 2017
Nice ship with plenty to do, but after being on oasis class ships, it was a bit of a let down. Almost felt cramped in comparison.
Recommended
cruise ship injury
By: JAD
Reviewed on: 21 Jun 2017
Less than 24 hours into our cruise my wife suffered a severe cut to her knee. The injury was due to equipment issues with the ship. The medical staff took care of the injury that required stitches and a shot. The staff after the injury kept their distance from us fearing a lawsuit I guess. The ship itself was in good shape and the food on board was good. Dealing with RCCL after the cruise is becomming somewhat of an issue.
Recommended
my cruise with royal Caribbean cruise 🚢
By: whw207@yahoo.com
Reviewed on: 08 Jul 2017
This is my third cruise with royal and I enjoy every one every one was very nice our attendants were very attentive
Recommended
Awesome
By: Lucas
Reviewed on: 28 Jul 2017
The Adventure of the Seas was AWESOME.
Recommended
Amazing Family Vacation
By: Fresh
Reviewed on: 05 Aug 2017
Fantastic! It was one of the most pleasurable and relaxing vacations I have ever taken!!! The staff and crew were amazing and made our stay most enjoyable.
Recommended
ship review
By: susie
Reviewed on: 04 Sep 2017
The boat was a bit of a disappointment as the food was not up to par, but the activities and casino were enjoyable
Recommended
Royal Caribbean Adventure of the Seas
By: Jim
Reviewed on: 17 Sep 2017
This ship is one of the older ships that I guess has been upgraded, and we were not disappointed as a whole. We did not use all the activities on the ship, but there seemed a lot for people to do, especially the children. The entertainment was average. With only one exception the food in the dining rooms was good and presented well. Our junior suite was just what we needed and the cabin steward provided excellent service. We would rate the service by most employees as above average, and most employees were helpful when you needed answers to questions or directions. The pre-cruise check-in process was easy, and the embark and debark and airport transfer process went smoothly. Prior to the cruise, I had contact via email with customer service and was pleased with the responses to my questions. We would use Royal Caribbean again.
Recommended
carribean life
By: carribean queen
Reviewed on: 25 Oct 2017
wonderful trip, enjoyed to the fullest.
Recommended
Royal Caribbean
By: Alice
Reviewed on: 20 Oct 2017
Had a great time aboard ship
Recommended
Caribbean Cruise
By: Girl
Reviewed on: 20 Oct 2017
Excellent service and easy to get around on the ship.
Not Recommended
SHIP
By: gina
Reviewed on: 26 Dec 2017
LUNCH TIME VERY CROWDED, DIFFICULTY FINDING A TABLE AND FOOD NOT GOOD! THE ONLY GOOD FOOD WE HAD WAS IN THE SPECIALTY RESTAURANTS! AND ON MY LAST CRUISE (OASIS OF THE SEAS) I WAS A DIAMOND PLUS MEMBER! HOWEVER I WAS ONLY A DIAMOND ON THE ADVENTURE OF THE SEAS! WHEN I QUESTIONED IT (CROWN AND ANCHOR) I WAS TOLD THAT IT WAS A COMPUTER GLITCH THAT THEY ONLY HAVE ME AS A DIAMOND MEMBER BECAUSE I HAVE NO PROOF THAT I HAD BEEN SAILING WITH ROYAL CARIBBEAN SINCE 1953! NEVER SAILING WITH ROYAL CARIBBEAN AGAIN!!!
Recommended
Adventure
By: Truly an Adventure of the Seas
Reviewed on: 23 Dec 2017
It was such a great cruise! Our stateroom 9322 was a perfect location! The islands we stopped at were the main reason for selecting this cruise and they didn't disappoint! It was very easy getting to the port, getting checked in and on the the ship! It was also very easy to disembark, get a taxi and back to the airport. The ship to me was in great shape and loved all there was to do!
Recommended
Adventure
By: CeeJay
Reviewed on: 18 Jan 2018
Adventure was a great ship. We were used to bigger ships but the staff was amazing. We loved the ports. The entertainment was very good also.
Recommended
Adventure of The Seas Ship & Sevice
By: Tamman
Reviewed on: 12 Jan 2018
We had a great time on this cruise. Food and meal service seemed like 5 star. Waitstaff provided excellant help in advise and timely service. We had family that included children and grandchildren, each member looking forward to dinner every night. Ship was clean and rooms serviced with professional staff. With children ages 9 & 13 onboard activities were many and varied. I would highly recommend this cruise.
Recommended
Smooth sailing with Royal Caribbean cruise lines
By: Steve
Reviewed on: 12 Mar 2018
We had a wonderful time on a back to back cruise with Royal Caribbean. The staff aboard the adventure of the sea made for a very good trip. They simply treat you like royalty! Anything and everything that you request seems to always happen. The smiles from all of the crew, and the extra attention that they give their passengers is extraordinary. We had a great time on the adventure of the seas, and we are looking forward to our next cruise with Royal Caribbean.
Recommended
Cruise ship review
By: Amy and Heather
Reviewed on: 16 May 2018
We found the ship to be lovely, the skating rink was a wonderful, unique experience. Buffet food was average, but better than Carnival. Room was small for balcony room. Bed was hard. Room attendant was friendly.