Abercrombie & Kent USA, LLC
Abercrombie & Kent
Reviews and Recommendations for Abercrombie & Kent USA, LLC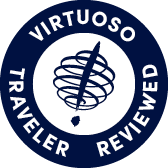 Virtuoso Verified Traveler
All reviews are from confirmed guests sharing exclusive insights
Sort reviews by
Recommended
Fabulous Trip
By: Ellen
Reviewed on: 07 Aug 2013
A & K was a wonderful tour company. All our needs were met.
Recommended
Highly recommend
By: Bobby4675
Reviewed on: 15 Sep 2013
A & K arranged for great guides on our recent trip to Morocco. They were knowledgable on the country it's history and culture and liked to share their knowledge in excellent English.
Recommended
Quality - Class
By: coj1
Reviewed on: 15 Oct 2013
Abercrombie & Kent is at the pennacle of companies serving the traveling elite. No complaints whatsoever. Would recommend them every chance I get.
Recommended
The best tour ever
By: Don
Reviewed on: 15 Oct 2013
First, Ross Voss is the best guide anywhere. We learned so much in a casual, conversational way. His background and knowledge enables him to cover all aspects of Israel: the ruins, the history, the geology, the flora and fauna, the people, the political/governance situation. Ross took us to some of his favorite restaurants which we loved. Also, Simon was extremely helpful and engaging. He was able to extend our stay at the King David because of our late flight home.
Recommended
Highly recommended
By: Grammy
Reviewed on: 13 Oct 2013
We were pleased with the choices of hotels and tours we had with A&K. Our tour guides were very well informed and interesting and competent. Our only problem arose with the descriptions on our itinerary. They differed a bit from what we were expecting. I feel that the itinerary they sent us was a standardized description for everyone, but not us explicitly. Other than that, our trip was full of fun moments, great hotels and great restaurant recommendations and I would use A&K again.
Recommended
HIGHLY RECOMMEND
By: MASEY
Reviewed on: 30 Nov 2013
USED A AND K FOR THE FIRST TIME FOR OUR TRIP TO CHINA AND NOW WOULD USED NO OTHER…EVERYTHING ABOUT THE TRIP WAS FIRST CLASS AND OUR GUIDE NANCY WAS OUTSTANDING
Recommended
Great service
By: Lloyd
Reviewed on: 03 Dec 2013
We spent a couple of great weeks in Africa. The service was great as we were escorted from the time we left until we boarded the plane for home. We experienced many different accommodations in our travels and none were unsatisfactory. Our traveling companions needed electric power all night for a breathing machine, and were supplied with electricity everywhere. One camp could not supply electricity all night, and we were moved to a site that could. Very good service.
Recommended
Needed Better Advanced Planning
By: Repeat Travelers
Reviewed on: 29 Nov 2013
We used A&K for a tour of South America. The accommodations and tour guides were excellent. However, our tour ended in Brazil on a national holiday weekend. The crowds at Iguazu Falls and Rio were substantial causing long delays. For example, our viewing of the "Christ the Redeemer" statue was re-scheduled from Saturday to Sunday and it rained constantly that day (our last) causing poor visibility, so we were unable to see this most important site.
Not Recommended
Mediocre Morocco
By: M in London
Reviewed on: 10 Mar 2014
We just returned from a weeks vacation in Morocco with A and K.  The itinerary was fine and the country is extremely beautiful.  However, we did not not have a great guide.  The first two days he took us to lunch at these places where there were only tourists and the server REFUSED to give us a menu.  We were inclined to trust that the guide took us to a decent place so we went with the 'set' menu only to find that we were horribly ripped off.  A similar scenario happened the next day until we complained to A and K.  The restaurant problem improved but after that there were a few other situations where we felt ripped off.  Additionally, the guide's knowledge and general interest in our having a good time seemed low.  Bottom line: Others had told us that when in Morocco it seems like you have to constantly be on guard and we were hoping that going with a company like A and K would have better shielded us from this.
Recommended
Recent trip to Egypt
By: dcn3
Reviewed on: 24 Mar 2014
My wife and I just returned from an extraordinary trip to Egypt.  My advice: take this trip at the next available opportunity.  A&K lived up to their gold standard reputation.  Their ogranization, support, professionalism, lodging, food--all excellent.  What attracted us most were the sites chosen to visit, and they were, of course, spectacular.  Our Egyptologist/guide, Wael, was superb:  enormously knowledgeable, passionate, funny, great rapport--in other words, the best kind of teacher.  What we had not anticipated was the collegiality and energy of our group.  We woke up each morning looking forward to spending time with these people.  This was a wonderful trip.
Recommended
What a top rate Company
By: Love to Travel
Reviewed on: 11 Apr 2014
A&K is marketed as a high end operation and had a lot to live up to, and surely, they did not disappoint.  First rate all the way. The Egyptian ground personnel were so welcoming, knowledgeable, efficient and professional.  I would highly recommend A&K when travelling to Egypt.
Not Recommended
Disappointing
By: Rich segall
Reviewed on: 12 Apr 2014
limited cultural activities and seeming cheapness with meals. One tour director and no local guides. Switched from tauck because of group size, but clearly not worth it. Would not recommend this company.
Recommended
highly recommend
By: Dean
Reviewed on: 10 May 2014
I was very pleased with the trip organization.  A and K reps met us in the hotel and were "at our service".  The quality of our guide and driver was first rate.  There were no glitches in our whole week with A and K.
Recommended
Lechner/Baker Botswana, Zimbabwe, Zamia
By: Deborah
Reviewed on: 18 May 2014
Amazing trip!!!!!!!!!! Our guide, Peniso was outstanding!  Very knowledgeable and patient with all our questions.  We both learned a tremendous amount and saw some amazing things.  Accommodations and staff were also fantastic.  I certainly hope to travel with A & K again!!  And would highly recommend your company to anyone traveling to Africa.  
Recommended
Highly Recommend
By: L
Reviewed on: 06 Jun 2014
I have traveled with A & K off and on over 20 years.  They always provide an outstanding itinerary, tour leaders, guardian angels, local guides of high order.
Recommended
Excellent service, we highly recommend Albercommbie &Kent
By: Bobbye & Robert
Reviewed on: 02 Jul 2014
Albercombie & Kent provided a great trip, the personal services provided and details were excellent. The team in Johannesburg were extremely polite, attentive and helpful. We especially want to commend our guide we had in Botswana, Poniso Shamukuni. Poniso absolutely made the trip for us and our group. Always helpful, always there, always attentive, great attitude, funny, informative, thorough, and a delight to be with.
Recommended
The best for private tours.
By: Richard66
Reviewed on: 18 Nov 2014
Fantastic private tours. Have used them all over the world and they are always great. Worth the money.
Recommended
The best
By: Carol
Reviewed on: 19 Nov 2014
Monica is wonderful. She is easy to work with, responsive and responsible. I will work with her again for sure
Recommended
India!!!!!
By: CAB
Reviewed on: 23 Oct 2015
Memories of a lifetime! A&K are the BEST!!!
Recommended
2 days with A&K in Russia
By: GG & JJ
Reviewed on: 14 Sep 2015
A & K are extremely professional. Nothing but 1st rate service each time we are in their care. They are very good at changes on the fly if necessary. Their staff are knowledgeable, very polite, and come as advertised. They DO know the secrets of the cities we have shared with them, and St. Petersburg is no exception. Once again, true to the adage, you get what you pay for. They do come at premium rates, that are justified by the premium service. On a trip such as we took it is easy to compare prices and services with other guests that took "similar" ground tours. While we did pay considerably more, we also got considerably more. One other great thing was the fact that they handled all Russian visa requirements, removing that burden from us. Thanks A & K for making a great trip even greater.
Recommended
Phenomenal guides and service
By: DD
Reviewed on: 25 Sep 2015
This was our first trip with A&K and we would definitely recommend to anyone. They guided us through every step of this journey - and when visiting a country like Egypt and I think it is also the only way to travel and feel entirely safe. Laila our Egyptologist was very knowledgeable and incredibly helpful throughout. We had upgraded our room on the Sunboat to the Presidential Suite. When we checked in they upgraded us again to the Royal Suite given it had not been booked! Hugely appreciated. It will be hard not to want to book this on another trip! Many thanks to all.
Recommended
Tour Expert
By: DDFJR
Reviewed on: 09 Oct 2015
A & K did a good job and we will use them again
Recommended
a well designed trip
By: Cristina
Reviewed on: 23 Oct 2015
Three things I should point out: - Sudden changes on the itinerary on the go - The bus seats were far from confortable for the long trips we had every now and again. - My health issue of Hipertention , had been ignored and that ment a big problem for me.In spite of having sent you the form with my medical issues. Sincerely Cristina s Yarnoz
Recommended
Kenya and Tanzania
By: Shaddix-Powell
Reviewed on: 31 Oct 2015
OMG - a trip of a LIFETIME! All of the representatives we met were friendly, helpful, and informed. All transfers and accommodations were there when they needed to be and we never were left not knowing what was going on or what to expect. The reserves were beautiful and each one was unique to the other. If I was going to give any suggestions, it would be to provide air conditioning in the vehicles when traveling from one destination to another. Not being used to the climate, we were pretty uncomfortable a lot of the time. And at Governors Camp, if they could provide a little fan to be used when needed. There too, we had times that was uncomfortable. It was a delightful trip, one that we will recommend to everyone and already have. We also have recommended your tour company over and over again. And would definitely travel with A&K to other destinations as well due to the high quality of service. WONDERFUL TRIP! Thanks again to all.
Recommended
India
By: CAB
Reviewed on: 26 Oct 2015
Fabulous!! A&K are the best and took care of our every need and desire. The India staff were so warm and welcoming. It was a trip of a lifetime.
Recommended
Personal and expert service
By: CJ
Reviewed on: 03 Jan 2016
All drivers, guides and the A & K angel were very friendly, knowledgeable and [professional.
Recommended
very good
By: Nance
Reviewed on: 02 Feb 2016
enjoyable and very knowledgeable..our guide was Ridlon to Cuba
Recommended
Excellent experience
By: ML from Ormond
Reviewed on: 18 Apr 2016
We were so impressed with the Guides who facilitated our trip. They were efficient, knowledgeable, energetic, fun and flexible. We were so overwhelmed with the richness of Peru and it's history, but they were able to explain so much to us. It really added to the quality of the trip. Every guide was different.....but all were excellent! They were patient with us, and guided us in many ways that were very helpful....shopping advise, rest, food, climbing and hiking at Machu Pichu. Our guide for 3 days in Cusco and at Machu Pichu was so wonderful!! He was able to assess our group and customize our time there so that we learned and experienced so much. We felt like he was a very good friend by the end of our trip!! That's probably the best compliment I could give. I would highly recommend the services of Abercrombie & Kent.
Recommended
expertly planned adventure
By: johnr
Reviewed on: 15 Apr 2016
Wow, what a trip. From the very start to the end our accommodations and guides were of the highest quality and took great care in providing us the best adventure ever.
Recommended
Wonderful
By: RLB
Reviewed on: 27 Sep 2016
This trip was an amazing experience!!! The services, attention to details, accommodations, sights, food and hotel accommodations were outstanding! I wish our tour director's English was a bit better.
Recommended
Great Personal Service
By: Sean & Egen
Reviewed on: 09 Dec 2016
A&K helped us have a once-in-a-lifetime experience on our trip. Our guardian angel helped recommend some restaurants, attractions, and lesser-known things to do that were all outstanding, and we definitely would not have been able to find them without her help! The tour guides we took were exceptional in their service, we loved every minute. Thanks!
Recommended
Good job
By: Noname
Reviewed on: 11 Oct 2016
This tour was just what we wanted to do in Casablanca. Our guide was very good. He made us feel very welcome in his city. Abercrombie and Kent is a very good company.
Recommended
Wonderful A&K
By: Philmom3
Reviewed on: 25 Oct 2016
We traveled with A & K to China and the Yang Tse. We had a great tour guide,Jason Lee who took great care of our group! He is friendly, caring and knowledgeable. The local tour guides were also great and added more information and color to the places we visited. The hotels were all 5 star as far as we are concerned. The meals were always a feast! Mira took us to the airport when it was time to leave and she stayed with us until we have checked in our luggage and were on our way to immigration. All in all an excellent trip!
Recommended
Good cultural tour
By: Wominos
Reviewed on: 28 Oct 2016
Grenada accommodations -poor check in considering advance notice Marabella- dirty, small, dated not even 3 star quality of room Seville- good quality but way too small for two Local tour guides - outstanding, knowledgable, passionate, great ambassadors Food- very good except for crazy crab in Barcelona which was poor Transportation - air and train excellent. Bus transport could be improved - offer something more than just water, washrooms or pace the tour so that this does not become a wait for your guests. Disembarment help was sadly lacking and compared to other tours we have been on a huge disappointment. Also incident of observing the bus driver arguing with the tour director when he should be meeting her needs. Tour director- very good. It is asking a lot for one person to meet the needs of 22 people. We had an incident of the bus driving off without a passenger early in the tour and I don't think this would happen with a smaller group Overall very enjoyable
Recommended
Organized a great trip
By: Robin
Reviewed on: 15 Dec 2016
Our travel agent worked with A&K USA to arrange a great trip.
Recommended
Reliable People
By: Robert72
Reviewed on: 30 Dec 2016
If they say they will meet you at your plane, they will meet you and they will be on time. There's enough stress in travel without having to worry about your support company. A & K did a very good job for us.
Not Recommended
India
By: Ricknha
Reviewed on: 28 Jan 2017
Their onsite support left a lot to be desired. This was most evident at the airport and with hotel check in
Recommended
recent trip to UK
By: doc
Reviewed on: 27 Jan 2017
I would give A and K a full recommendation. A grade A. We had an excellent driver in England named Bob who was fantastic. A and K service and support was really good.
Recommended
Vietnam travel
By: Midtown
Reviewed on: 08 Mar 2017
Our tour guide Dan and the entire A + K team had everything covered. Nothing was too much trouble and couldn't have been nicer to us.
Recommended
Morocco trip
By: John
Reviewed on: 24 Feb 2017
Great trip with professional guidance and a sense of service and seamlessly coordinating and managing a multi segment trip to Morocco.
Recommended
Well designed and organized itinerary
By: Mother/daughter Thailand trip
Reviewed on: 06 Mar 2017
The Abercrombie guides, drivers and service was top notch and we felt well taken care of with NO stress about logistics. Everything was well designed and ran smoothly amongst four different cities.
Recommended
Wonderful company for travel in Morocco
By: Morocco 2017
Reviewed on: 03 Mar 2017
My driver and guide were delightful, and the itinerary was perfect. The entire time I was in Morocco, I felt safe and cared for. All hotels selected by A&K were spectacular!
Recommended
A & K
By: Carol L
Reviewed on: 19 Apr 2017
A& K planned an excellent trip. Had us busy every minute of the day. Great lecturerers, fun excursions, nice hotels, unique activities. But best of all were the tour director and the local guides. They were wonderful! Smart, well informed, funny, helpful--they really made the trip.
Recommended
2017 Grand World Cruise ms Amsterdam
By: Erik
Reviewed on: 05 May 2017
Very professional guides, excellent transportation choices and good hotels.
Recommended
Tours
By: Sponje
Reviewed on: 05 May 2017
Loved our tours with cruise specialist. We were well cared for. Size of groups were smaller, loved the whisper boxes and usually water available. Ship hosts were wonderful.
Recommended
World traveler
By: World traveler
Reviewed on: 14 May 2017
Our travel agent partnered with A&K in organizing our 6 off-ship excursions. They have the best guides, were always on time, provided little extras, and recommended only the best. Each trip was flawless in planning and execution. Experts accompanied us which made the experiences more potent and memorable. Don't hesitate to use them.
Recommended
Travel experience
By: Big guy
Reviewed on: 15 Jun 2017
Everything went as planned with no problems
Recommended
Africa
By: Shamrock
Reviewed on: 06 Jul 2017
The trip was very well planned and great attention to detail.
Recommended
Terrific vacations!
By: Deborah
Reviewed on: 07 Jul 2017
A and K makes traveling so easy and such fun. From providing fabulous accommodations, to flawless transfers, to knowledgeable guides, they are the best. I often travel on my own and so it is so nice to have a company have my back, if you will. Every A and K representative I've met, from the Far East to Europe, has been professional, punctual, responsive, and perfect. If you want a truly memorable trip, I recommend using A and K!
Recommended
A&K
By: DDf
Reviewed on: 21 Jul 2017
Abercrombie and Kent is world wide and excellent
Recommended
A&K
By: Leigh
Reviewed on: 26 Jul 2017
All well organised
Recommended
Galapagos
By: Dan
Reviewed on: 20 Aug 2017
We have booked many trips with A&K. This trip was pretty easy as the Natuarlists and the ship crew did most of the work.
Not Recommended
A&K
By: Johnna
Reviewed on: 29 Aug 2017
Peru was great. Ecuador had too many issues to even start to discuss them here.
Not Recommended
Mostly overpriced bus trips
By: Jtsalley
Reviewed on: 17 Sep 2017
most of the tours offered were look out the window bus rides. The tour descriptions oversold what was actually presented. For instance on a tour to what was advertized as a "bird Island," we found no birds. They had left two to three weeks earlier as they always do. But this was not noted in the brochure Most adventurous Travelers would do better personally and save money designing their own tours from the internet.
Recommended
Barge trip - Renaissance Loire/Burgundy
By: Mike and Susan
Reviewed on: 18 Sep 2017
This was a lovely trip. Not having done a barge trip we did not have specific expectations but did want to see the more rural and traditional side of France. The trip accomplished that. The barge was comfortable, the crew very responsive and helpful and the food and wine very good. We would do it again. One small suggestion - perhaps the barge could offer some sort of picnic lunch that the guests could take with them on shore excursions as opposed to returning to the barge for lunch. We are walkers and bikers so the ability to take lunch and meet the barge at the evening mooring would be nice. In fairness, I am confident that the crew would have responded to such a request - we didn't think to ask until too late in the trip but might have had the option been offered earlier. That was our fault, not the barge's. We thoroughly enjoyed the trip and will probably do another one.