Reviews and Recommendations
Ship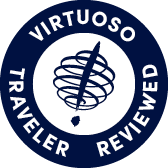 Virtuoso Verified Traveler
All reviews are from confirmed guests sharing exclusive insights
Sort reviews by
Recommended
Great hostess
By: Betbet10
Reviewed on: 29 Nov 2016
All aspects of trip went smoothly. Dee was always on top of details😘
Recommended
Best of the Best
By: Bill
Reviewed on: 26 Oct 2016
Our trip was the best of the best top of the line all the way. The airline flights, transfers from the airports to the hotels, excellent hotel accommodations, transfers from hotels to and from the ship where top of the line. Ship accommodations excellent as well. One of our City Attorney's who we work with wants Julie's contact information after we discussed out trip with him. He is Lonnie Groot City Attorney for the City of Daytona Beach Shores, Florida.
Recommended
Nothing Like What We Expected
By: Jazbo
Reviewed on: 12 Feb 2017
We've sailed on all the Seabourn ships, from Pride to (now) Encore, with the Odyssey class Sisters in between. We expected to not like the larger Encore, but, honestly, it felt less crowded than the Odyssey-class ships. Very deluxe, much more sophisticated in every regard, with vastly improved food and restaurant venues. The new Thomas Keller Grill is world class, as is the new Sushi Restaurant. Colonnade and Patio Grill offerings are even better. The Retreat with its private cabana set up is very very nice, with even more attentive service - a hard thing to imagine-- than you get by the pool. Shore Excursions continue to slightly disappoint. Really don't like the lack of discipline re. tour departures. If people can manage to show up 15 minutes past the scheduled departure time, they should be left behind. Many of the excursions still aren't Seabourn-class...in terms of content/execution, they could be Carnival excursions. The spa has been reborn: now first rate.
Recommended
Seabourn
By: marzipan
Reviewed on: 24 Feb 2017
Very good, as usual.
Recommended
good cruise
By: vos
Reviewed on: 01 Mar 2017
very comfortable. the rooms were a little smaller. the food was very good, especially breakfast and lunch. It was easy getting on and off the ship. All the crew and officers were very personable. smaller- to narrow
Recommended
NZ/Australia
By: Betbet
Reviewed on: 20 Mar 2017
Maiden Voyage Fantastic ship Excellent food @ all venues Great gym/spa Handicap stateroom worked wonderfully well
Recommended
Australian Cruise Review
By: Ellie
Reviewed on: 02 Apr 2017
Ship was fabulous. Stateroom was outstanding and were general areas. The entertainment was outstanding too--night after night. Very friendly and helpful staff. Food was good but not really outstanding.
Recommended
Seabourne encore
By: Jorja
Reviewed on: 27 May 2017
The best ship-----service, food, beautiful decoration, they improved much more than the rest of the seabourne ships.
Recommended
Elegant ship
By: wandering willy
Reviewed on: 16 Jun 2017
It was fine, somewhat compromised by my health issues, which obliged me to leave the cruise two days early, but ship's personnel were extremely helpful.
Recommended
outstanding new ship
By: Bill & Janet
Reviewed on: 02 Jul 2017
The staff go out of their way to ensure you have a great time. I don't think "no" is in their vocabulary. The food is great at each of their restaurants, the accommodations are very nice, and the ship itself provides a smooth sail.
Recommended
Encore
By: Bill
Reviewed on: 05 Jul 2017
We have sailed many times but never with Seabourn but the Encore was the finest ship we have ever sailed on--the service with Silver Seas is always exceptional and Seabourn was on a par with Silver Seas in regard to service.
Recommended
ship report
By: Bill
Reviewed on: 07 Jul 2017
A wonderful ship and cruise line. The service and amenities are the best ever.
Recommended
encore
By: craig
Reviewed on: 14 Aug 2017
excellent! great food, service, and wonderful amenities-
Not Recommended
Cruising
By: CAB
Reviewed on: 17 Aug 2017
This was our 4th sailing with Seabourn, although the first in 10 years. We were excited to be travelling on the new Encore. It seems that the line hasn't made the transition to the larger ship as well as it might have. Fortunately the new self-service laundry was operational just before we boarded, it's always a necessity. The set up of staff at the "help desks" in the Square is unsatisfactory. The food was excellent and the staff were good. Our Penthouse cabin was generous in size but stupidly had 7 internal doors which was weird. The dressing room hanging was generous, but the drawer situation was all over the cabin.After spending 18 days in the western Mediterranean we decided that Seabourn won't be on our agenda again.
Recommended
Tale of two cities
By: Vegan
Reviewed on: 02 Sep 2017
Cruise was good, excursions were hit or miss. Seabourn was not very responsive to multiple problems with tours
Recommended
Summer Vacation
By: Dena Diorio
Reviewed on: 02 Sep 2017
It was outstanding
Recommended
It's all in the details...
By: MK
Reviewed on: 05 Sep 2017
and Seabourn know and appreciates this. It is evident in everything they do; the focus is on "yes" and the willingness to please their guests. Great experience from check-in to bag pickup on departure.
Recommended
Seabourn travel
By: cwhzog
Reviewed on: 21 Sep 2017
A luxurious ride with all amenities included. Stateroom was very roomy and bedding was fabulous. The crew were very friendly and knowledgeable and able to manage any request. Food and dining choices were outstanding. Passenger comfort and safety were obvious high points of our experience.
Recommended
We love Seabourn
By: Bill and Irene
Reviewed on: 27 Sep 2017
Fabulous service, great ship after 150 days aboard everything is still great
Recommended
encore
By: john macaniff
Reviewed on: 20 Sep 2017
very nice ship, great crew, food excellent, suites very small, casino a joke, overall a positive reaction
Recommended
Another Great Seabourn Cruise, But A Few Areas of Improvement Needed
By: DWAR8816
Reviewed on: 27 Sep 2017
We very much enjoyed our recent cruise on the Encore and as much as our former cruise on Seabourn's Quest. Encore is newer with an updated design and there have been some personal convenience changes (i.e. multiple dual US & European outlets, 40" TV with better in-suite entertainment selection, a larger modern passenger laundry, etc.) which are positive additions. However, we would rate there overall level of service we received on Encore to be not at the same superior level we previously experienced on Quest. For example, breakfast service in the Colonade Dining Room was regularly slow and follow-up inconsistent. Many staff members spent more attention chatting with peers rather than looking for opportunities to better serve passengers. Seabourn level service was always present in The Thomas Keller, Restaurant and Poolside dining areas. Aside from the Cruise Director, we also found the Officers, while polite, not particularly outgoing or welcoming.
Recommended
Always the best
By: Bob R
Reviewed on: 04 Nov 2017
Seabourn was at their best as always. The food and service were, if anything, better than ever. Itinerary was the very best.
Recommended
Seabourn Encore
By: mayy
Reviewed on: 04 Nov 2017
It was an amazing experience. This cruise was the first with Seabourn and will definitely will not be the last.
Recommended
Nice new ship
By: Travelgirl
Reviewed on: 17 Nov 2017
Overall the ship is fine with a few minor exceptions. The main problem is service in the dining room and Grill. Others who like spending 2 1/2-3 hours at dinner every night will have no problems. Being solo, sitting and staring at people for hours is not fun. Sorry, but it does not take 25 minutes to dish up a bowl of soup. So, I ate at the Patio and Sushi Restaurants where the service and food were excellent. Food items at the Grill are terrible and very limited. Finally found a steak that was repeatedly good. I do not like, do not want, and am unwilling to pay for verandah staterooms especially at 175%
Recommended
A bit bigger than I like but not really a problem
By: Lynnie
Reviewed on: 22 Nov 2017
I love sailing with Seabourn but prefer the smaller ships. The Encore has lots of facilities but so has the smaller ships but without quite so many people and with a bit more personal service. My room was beautiful though and I really enjoyed the new Thomas Keller restaurant for a bit of a change.
Recommended
cruise ship
By: Bunny
Reviewed on: 18 Nov 2017
lovely and relaxing
Recommended
John and Bunny
By: John
Reviewed on: 19 Nov 2017
It was outstanding. The ship and staff and food and drink were all top shelf!!
Recommended
Luxury cruising
By: Bob
Reviewed on: 11 Dec 2017
Pros: Very luxurious. Excellent service and food. Good wine and spirits selection. People so friendly. Very interesting speakers. Shore excursions mostly good. Cons: Subpar internet.
Recommended
Absolutely Fantastic Shipboard Experience
By: Australia / New Zealand
Reviewed on: 04 Jan 2018
What a great ship! The Encore is easy to navigate, with a wonderful and helpful crew, the best Cruise Director on the Planet (Handre), great food and drink, AND a lovely itinerary. I can't wait to return! Also, this ship navigates bumpy seas with ease! Lovely passage across the Tasman Sea in some rough weather.
Recommended
Seabourn
By: Jim
Reviewed on: 04 Jan 2018
Wonderful ship. Second trip, planning third.
Recommended
Cruise
By: Curtiss
Reviewed on: 04 Jan 2018
A greAT SHIP AND SUPERB SERVICE
Recommended
South Pacific Islands
By: Bobby
Reviewed on: 20 Jan 2018
We have done about 10 cruises with Seabourn and feel the standard in most areas has dropped over the last couple of years. Other passengers we spoke to feel the same. The cost structure has not dropped. We are unable to compare them with other lines. We may or may not recommend them to others, undecided.
Recommended
Seabourn Encore - New Zealand & Australia
By: Sue
Reviewed on: 31 Jan 2018
Excellent ship. Enjoyed the layout and amenities. Crew were outstanding. Especially enjoyed the cruise director, Handrei - very talented and caring man. The 16 day cruise - New Zealand & Australia was great. Seas were a little rough crossing from New Zealand to Australia but the captain did a great job! The Milford Sound was a highlight!
Not Recommended
A month in NZ/Australia
By: Talhoiston
Reviewed on: 31 Jan 2018
Booked the Wintergarten Suite and disppointed in room and service. Last trip on Seabourn.
Recommended
Encore review
By: Joe
Reviewed on: 07 Feb 2018
Very responsive crew. Cruise director was excellent. Food maintained it's excellent rating, although the wine continues to be less than exceptional - there was no New Zealand Pinot Noir even though we spent the majority of time cruising around New Zealand.
Recommended
On Board Encore
By: Joe
Reviewed on: 07 Feb 2018
We had very rough seas, but that didn't bother many people - they at and read or did jigsaw puzzles. No complaints.
Recommended
Seabourne Encore
By: Cos
Reviewed on: 14 Feb 2018
Wonderful, excellent accommodations, food, service, and entertainment.
Recommended
Australia and New Zealand trip
By: SC Traveler
Reviewed on: 15 Feb 2018
Excellent. Our 5th cruise on Seaborne. They take care of the details and crew is always very personal.