Venice and The Gems of Northern Italy (8 Days)
Cruise Line: Uniworld Boutique River Cruise Collection
Venice, Italy to Venice, Italy
DAY 1

Venice, Italy

—
—


Arrive at Venice Marco Polo International Airport, from where you will be transferred to the ship. Unpack, relax, and enjoy your first evening on the Venetian Lagoon.



DAY 2

Venice, Italy

—
—


Hoping to escape marauding Huns, Goths, and Vandals as the Roman Empire collapsed in the fifth century, refugees built a little settlement they called Venice on tiny islands in a lagoon in the Adriatic Sea. By the 12th century, Venice was the wealthiest and most powerful city-state in Europe, controlling the Mediterranean and all European trade with the East. Its merchant-aristocrats lavished their wealth on palaces and churches, art and music, creating a city that is truly like no other. Now, seawater laps at the foot of thousand-year-old houses—and sometimes rises above the doorsteps—but the glorious palaces and romantic canals enchant visitors just as they have for centuries. Today you will embark on your own personal voyage of discovery through this entrancing city. An expert guide will show you iconic sites as well as quiet lanes and secret spots known only to locals (shhhh...). Also on deck today: a scenic cruise around the Venetian Lagoon.



DAY 3

Venice, Italy

—
—
Chioggia, Italy

—
—


The S.S. La Venezia sails from Venice, cruising through the lagoon, past the Lido, the colorful fishermen's houses of Pellestrina and the huge ongoing flood-control project called MOSE (which is designed to protect Venice from rising seawater), before docking in Chioggia, sometimes called "Little Venice", at the southern end of the lagoon. Join a local expert for a stroll around this picturesque fishing village, a popular place for artists, or "Let's Go" with a bike ride along the beaches lining the lagoon, or, for something really unique, hop aboard a small boat to go mussel harvesting with local fishermen out in the lagoon. The seaside air and sweeping views are simply spectacular. Note: We are obliged to comply with Italian Maritime Authorities who require that the ship is only manned by crew during the Adriatic Sea passage. Therefore, guests must disembark the ship and partake in the featured excursions.



DAY 4

Polesella, Italy

—
—
Bologna, Italy

—
—
Polesella, Italy

—
—


Today you face a tough decision: do you spend a full day in Bologna, the culinary capital of Northern Italy, or visit UNESCO-designated Ferrara, a beautifully preserved Renaissance city? Let your passions be your guide today. If you have an appetite for pasta, head to Bologna—the heart of Italian culinary traditions—and learn how to make (and eat!) your own lunch. Or indulge your appetite for art with an excursion to Ferrara, an ancient center for the arts that once rivaled Medici Florence.



DAY 5

Porto Viro, Italy

—
—
Chioggia, Italy

—
—


Chioggia is such a delight that we'll return there today to experience something completely different. You can visit the village's bustling once-a-week market—a colorful and boisterous scene and quintessentially Italian. IMPORTANT: We are obliged to comply with Italian Maritime Authorities who require that the ship is only manned by the crew during the Adriatic Sea passage. Therefore, our guests must disembark the ship and partake in the featured excursions. We thank you for your cooperation.



DAY 6

Venice, Italy

—
—
Burano, Italy

—
—
Mazzorbo, Italy

—
—
Torcello, Italy

—
—
Venice, Italy

—
—


Venice is an island surrounded by hundreds of smaller islands, three of which you'll visit today—Burano, famous for its lace-makers and houses painted in eye-popping colors; Mazzorbo, where you'll taste a historic golden-hued wine; and Torcello, home to beautiful Byzantine mosaics.



DAY 7

Venice, Italy

—
—


Lovers of food and wine flock to Italy to immerse themselves in a true farm-to-table epicurean experience. If that sounds like you, you'll love today's walking tour to the famous fish and produce market next to the Rialto Bridge. Prefer a more visual feast? Join an art historian for a highlights tour of the Accademia gallery.



DAY 8

Venice, Italy

—
—


Disembark the ship. If your cruise/tour package includes a group departure transfer or if you purchased a private departure transfer, you will be transferred to Venice Marco Polo International Airport for your flight home.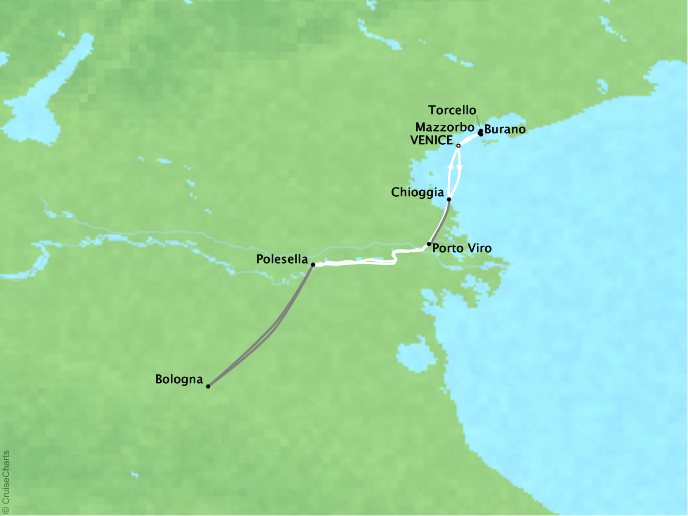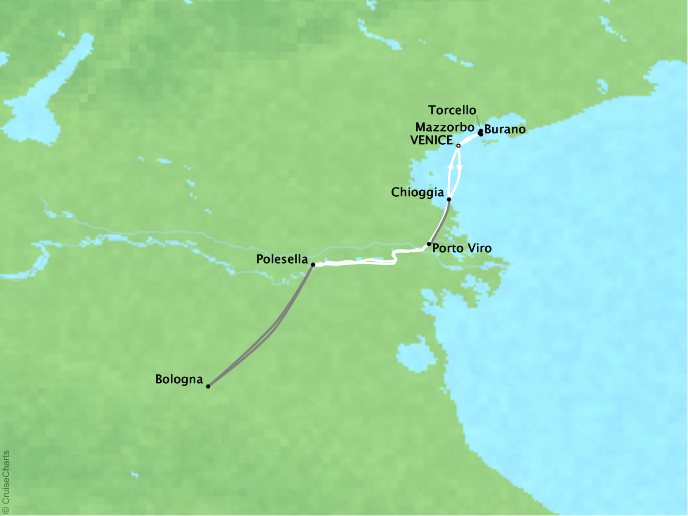 About the Ship
S.S. La Venezia
The River Countess will undergo a complete design renovation and debut as S.S. La Venezia on March 27, 2020 bringing guests complete luxury while exploring Northern Italy. The redesign of S.S. La Venezia will be inspired by Venetian culture and feature four elegantly appointed suites.
What's Included
Included
An array of pillow options, flat-screen TVs with infotainment centers, and bathrooms stocked with robes, slippers, and L'Occitane en Provence bath and body products

ALL GRATUITIES onboard and onshore

In-suite BUTLER SERVICE
Not Included
These include, but are not limited to, airfares to and from your destination except where specified;

Gratuities for programs in Russia, Egypt, India, China and Vietnam/Cambodia.

Airport/departure taxes; cost of passport and visas; taxes; excess baggage charges; laundry; phone calls;

All items of a personal nature; items not included on regular menus; expenses for additional sightseeing not specified in the itinerary;

premium spirits & premium wine (please refer to complimentary beverage program in Uniworld's Terms & Conditions), meals not detailed in the itinerary;
About Us
The moment you step onboard any of Uniworld's luxurious, one-of-a-kind floating boutique hotels, you'll experience the care that went into the beautiful design. With outstanding service that comes from the heart, a choice of personalized and exclusive excursions, delicious farm-to-table cuisine, and a choice of inspiring destinations throughout world—every element is included, and is as unique and special as each guest. U River Cruises is innovating the travel industry with a fresh approach to river cruising. Our sleek ships give you access to the heart of the city, local food, lively onboard atmosphere, and immersive activities.
Insider Tip
As the most all-inclusive cruise line on the rivers, Uniworld elevates all-inclusive luxury river cruising to an entirely new level.
Sustainability
Uniworld has been leading the way in sustainability for river cruising since 2013 with the launch of the Environmental Sustainability for River Cruising Guide. We are committed to enhancing and protecting communities we visit through initiatives including:
Preserving the world's rivers: We introduced a clean water program to preserve the world's rivers over a decade ago.
Eliminating single use plastics in by 2022.
Building sustainable ships: Our European fleet is built with special paint for the hull creating less drag, ship propellers that increase efficiency, energy-efficient LED light fixtures, automatic air conditioning controls to optimize cooling resources, water cooled air-conditioning systems and more.
Offering guests travel that makes an impact: We work in partnership with ME to WE to give travelers the opportunity to immerse themselves in local culture.
Reviews and Recommendations for Uniworld Boutique River Cruise Collection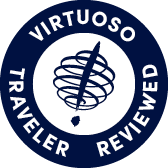 Virtuoso Verified Traveler
All reviews are from confirmed guests sharing exclusive insights
Sort reviews by