EXPEDITION CRUISE
Disko Bay – The Heart of Greenland (16 Days)
Cruise Line: Hurtigruten
Reykjavík, Iceland to Reykjavík, Iceland
DAY 1

Reykjavík, Iceland

—
—


Reykjavík is the world's northernmost capital city. Norse settlers named the place Reykjavík (meaning "Smoky Bay") after the columns of steam rising from hot springs in the area. The region offers fantastic natural beauty with geysers, mountains, glaciers, and geothermal baths, well worth exploring before embarking on MS Fridtjof Nansen.



DAY 2

Denmark Strait

—
—


We leave Iceland behind and sail across the Irminger Sea. This crossing was used by the Vikings to migrate from Iceland to Greenland some 1,000 years ago. Enjoy introductory lectures on local history and biology, and get to know your innovative expedition ship.



DAY 3

Denmark Strait

—
—
DAY 4

Julianehåb, Greenland

—
—


Many consider Qaqortoq one of the most beautiful towns in Greenland for its colorful houses and lovely setting. The biggest town in southern Greenland, with 3,000 inhabitants, Qaqortoq is easy to explore on foot, or you can join one of our excursions to get even more insight into local culture. Included activity: Great Lake Walk (2 hrs). Qaqortoq rises quite steeply over the surrounding fjord system and is best discovered on foot, which says something about its small size. Our hike leads you outside the town to see its water supply, the great lake known as Tasersuaq. Walking along its shoreline provides stunning views and creates awe for nature's majesty.



DAY 5

Kvanefjord, Greenland, Denmark, Greenland

—
—


We discover the beautiful region of Kvanefjord near Paamiut by sailing deep into the fjord. Our experienced captain will take advantage of the conditions to identify landing sites for onshore walks, places to launch our kayaks, ideal communities to visit, and the best spots to spot wildlife.



DAY 6

Maniitsoq, Greenland

—
—


Founded in 1755, Maniitsoq means "The uneven place", referring to the rocky hills and mountains shaping the town's layout. It is also known as the "Venice of Greenland" because it lies in an archipelago, intersected by natural canals. The local museum introduces you to the town's rich history and culture.



DAY 7

Sisimiut, Greenland

—
—


Sisimiut lies 25 miles north of the Arctic Circle. Its name means "the people living at the fox dens". Greenland's second-largest town is a modern, picturesque settlement that maintains ancient traditions. We offer you a variety of exciting excursions to discover Sisimiut's many attractions. Included activity: Kayak Demo and Museum visit (1 - 2 hrs). Enjoy a traditional kayaking demonstration and the Sisimiut Museum. The Inuit invented the "qajaq" in Greenland. Experience the Greenlander kayak roll firsthand. Sisimiut museum features local cultural history and exhibits different periods of the city's history and its surroundings.



DAY 8

Ilulissat, Greenland

—
—


Ilulissat is set in the stunning scenery of Ilulissat Icefjord. At the fjord's mouth, you can see enormous icebergs that have run aground. These masses of ice originate from Jakobshavn Glacier, one of the fastest moving glaciers in the world. Join one of our many excursions here. Included activity: Walk to the Icefjord (2 hours). Hear the ice cracking in the distance? Take a closer look at the beautiful icebergs of Ilulissat Icefjord. Getting a close-up view of these frozen giants will slow your world down and leave you humbled. Join us on a walk to enjoy this UNESCO World Heritage Site.



DAY 9

Camp Frieda, Denmark, Greenland

—
—


We visit a location near Saqqaq that was without an official name until 2013. The place is special to us, as it is named after a former expedition team member. We land on the beach to explore this northernmost destination of our cruise, amidst breathtaking scenery and Arctic flora.



DAY 10

Evighedsfjord, Greenland

—
—


Today's exploration will take us to meandering Evighedsfjord, surrounded by tall mountains (up to 6,600 feet high). The day's weather and ice conditions will determine the final program and the range of activities we offer.



DAY 11

Nuuk, Greenland

—
—


Nuuk lies at the mouth of one of the most spectacular fjord systems in the world. Greenland's capital city is where old and new meet, from historic buildings in "Kolonihavnen" to the modern "Center for Greenland Self Rule". There's also the National Museum — home to the famous Qilakitsoq mummies. Included activity: Shuttle & museum visit (1–2 hours). Visit the National Museum of Greenland. Discover exhibitions covering Greenland's history during the past 4,500 years — from the first Arctic Stone Age cultures to the Norse settlements, the arrival of the Thule culture, and the gradual transition to modern day Greenland.



DAY 12

Ivittuut, Greenland

—
—


The abandoned town of Ivittuut is a stronghold for musk oxen. More than 1,000 years ago, Vikings settled the area, but left no written records behind. Archaeologists believe this was the last Norse settlement in Greenland to be established, and the first to be abandoned.



DAY 13

Prins Christian Sund (Cruising), Denmark

—
—


Prince Christian Sound separates mainland Greenland from Sammisoq and the Cape Farewell Archipelago. If conditions allow, we will sail through this narrow channel and admire the spectacular scenery here. If the channel is blocked with ice, we will sail around Nunap Isua (Cape Farewell).



DAY 14

Day-at-Sea

—
—


After exploring exhilarating Greenland, we set the course back to Iceland. Spend the days at sea recapping your experiences, having fun in the Science Center or just relaxing on deck, watching sea birds follow the ship or maybe even spotting whales.



DAY 15

Day-at-Sea

—
—
DAY 16

Reykjavík, Iceland

—
—


You arrive in the Icelandic capital early in the morning. If you want to explore more of the city and country, add one of our exciting pre- or post-cruise Land Adventures to your trip.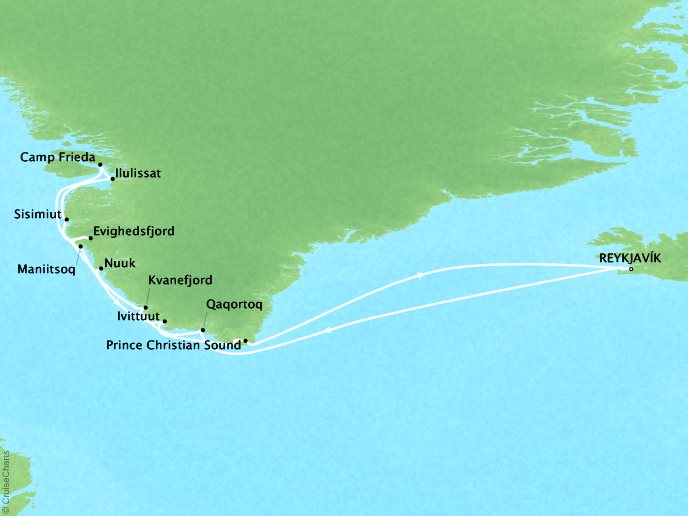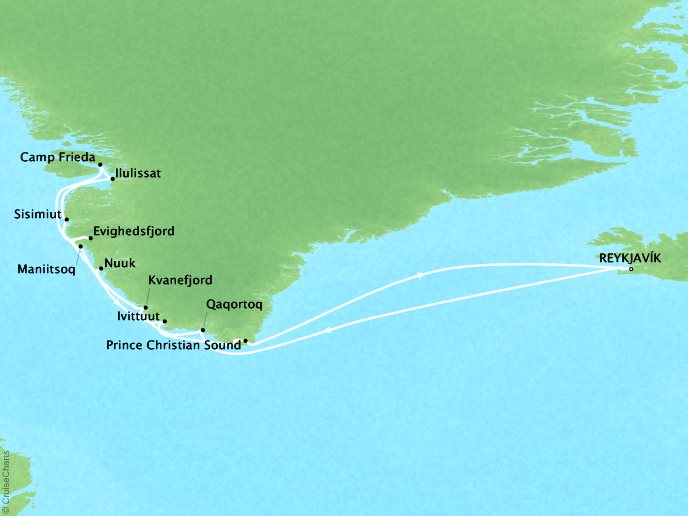 About the Ship
MS Fridtjof Nansen
Hurtigruten will add its second hybrid electric-powered ship to its fleet in 2020: the MS Fridtjof Nansen. This state-of-the-art vessel will feature new and environmentally sustainable hybrid technology that will reduce fuel consumption and show that hybrid propulsion on large ships is possible.
What's Included
Included
Expedition jacket

Landings and activities on board & ashore with Expedition team

Use of Muck Boots.

Meals, including draft beer, house wine, coffee, tea, & soda

Taxes, fees, & port expenses
Not Included
International flights & airport transfers

Travel Insurance

Luggage handling

Optional Excursions

Gratuities
About Us
Exploring since 1893, Hurtigruten operates premium exploration voyages to Norway, Antarctica, Iceland, Greenland, Spitsbergen, Europe, Africa, South/Central America and Arctic Canada. Our itineraries to these unique destinations focus on the stunning diversity of its wilderness, inhabitants, flora, and fauna. Hurtigruten's unique heritage, combined with highly skilled crews and a diverse fleet of nimble, intimately-scaled expedition ships, enable us to offer guests unforgettable experiences in some of the most exciting corners of the world.
Insider Tip
Choose from a variety of cabin options ranging from Interior, Ocean View and Suite categories on any one of our 15 ships offering modern facilities carefully blended with true character.
Sustainability
Sustainability is uniquely integrated into Hurtigruten's heritage as a Norway-based company. The U.N. Sustainable Development Goals provide the framework for all business decisions we make at Hurtigruten; and we have successfully achieved the following: Introduced of the world's first-ever hybrid vessel, the MS Roald Amundsen and in 2020 we welcome, the second hybrid vessel, the MS Fridtjof Nansen. In 2018, we removed all single-use plastics from our entire fleet. On our voyages we educate our guests on the culture, history, wildlife, and ecosystems, of each destination we visit. We are dedicated to enhancing the local communities we visit through cooperation and trade. On board, we source our food from certified, local suppliers that grow their products in a sustainable production platform. The Hurtigruten Foundation has been established to ensure that our guests of tomorrow can enjoy the same meaningful travel experiences as our guests do today.
Reviews and Recommendations for Hurtigruten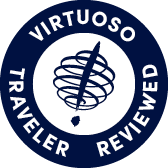 Virtuoso Verified Traveler
All reviews are from confirmed guests sharing exclusive insights
Sort reviews by