Darcy Flarity
CTC
St. Catharines, ON Canada
Travel Specialties
Interests
Adventure
Beach & Sun
Food & Wine
Culture, History & Arts
Independent Tours
Selling Travel Since
1973
My Background
It seems that the business of travel has been in my life since birth. My father started Flarity Travel in 1932 and I remember writing my first airline ticket at 10 years of age. I often spent time stamping brochures and filing them away for others to dream about special holidays. After my high school years at Beamsville and a geography degree at the University of Guelph, I left to discover the world I had studied. I spent 2 years travelling to Tahiti, the Fiji Islands and working my way through New Zealand and Australia. I returned to join my family at Flarity Travel and for the past 40 years I have had the good fortune to travel to many more exotic places such as The Orient, Europe, and South America, interspersed with many holidays to the Caribbean and sailing on a number of cruises. Now I am at a new phase of my life at Vision 2000 Travel as an independent contractor, and working to get you exceptional travel value! I look forward to the journey with you.

Places I Have Traveled
Reviews and Recommendations for Darcy Flarity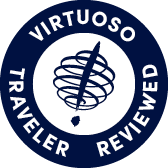 Virtuoso Verified Traveler
All reviews are from confirmed guests sharing exclusive insights
Sort reviews by
Recommended
highly reccommend
By: loveto travel
Reviewed on: 25 Aug 2013
Always on top of things, gets things done quickly, follows up when we are home
Recommended
Excellent service
By: sleepy
Reviewed on: 25 Sep 2013
We have always found Darcy to be helpful, quick to respond, and he offers good suggestions.
Recommended
Highly Recommended
By: Kenn
Reviewed on: 27 Sep 2013
Darcy was involved in the planning for a Holland America Collector's Voyage, two back-to-back 7 day cruises on the Ryndam from Athens to the Greek Islands, Turkey and then back to Athens. This was very good trip on a well respected cruise line. The port stops were terrific. All of the supporting plans, including, rail and bus, went well. Darcy was most helpful with transfers to and from the Athens Airport. I appreciated Darcy's work and support during the planning of this trip.
Recommended
By: ME
Reviewed on: 14 Oct 2013
Was very helpful in obtaining all the paper work for us and gave useful hints about Turkey. Couldn't ask for any more.
Recommended
2 great trips
By: spacetzar
Reviewed on: 20 Nov 2013
Darcy arranged two trips for us this fall. One to Newfoundland combined with an Adventure Canada Circumnavigation of Newfoundland combined with an "Art on the Rock" arts tour of St. John's and vicinity, and the other to ElPaso for several days for a family wedding. Flights and car rental were great as were our accommodations. This was our first visit to Newfoundland and we were very impressed with both the historic, sites along the coast and the thriving city of St. John's.
Recommended
I always call Darcy when I travel
By: Ginny
Reviewed on: 20 Nov 2013
I've known Darcy for many years, and have always found him to be reliable, and thoughtful. He has years of experience which he calls on when helping to plan a trip, and will caution the traveller if he thinks there may be a problem with passports, illness and travel insurance, and so on. He also always wants feedback when the traveller has returned.
Recommended
Highly Recommended
By: Babs
Reviewed on: 24 Nov 2013
Darcy is very professional and knowledgeable. He meets your needs and provides suggestions in a very timely fashion. If you need a travel advisor, you should definitely consider Darcy.
Recommended
Satisfied Customer Once Again
By: Patt
Reviewed on: 22 Nov 2013
Once again I was completely satisfied with the trip that Darcy helped us plan. All the bookings went as scheduled. The cruise ship was very acceptable, offering everything we needed for a relaxing vacation. I have come to trust Darcy's recommendations!
Recommended
Highly recommended
By: Johnkaren
Reviewed on: 21 Nov 2013
Darcy was efficient as always in arranging our European flights with KLM, our airport transfers to & from Toronto and our medical and cancellation insurances. He always delivers our documents to our home.
Recommended
Highly recommended
By: valia
Reviewed on: 26 Nov 2013
We are dealing with Mr. Flarity and before that with his compony for about 30 years. No problems ever, he is going always out of his way and we recommended him to all our friends. I wish him long years with you and hope he is not going to retire for a long time.
Recommended
The Best
By: Superannuated hippie
Reviewed on: 28 Nov 2013
After nearly 30 years of travelling with Darcy's assistance, I feel confident about this review. Last-minute trips or planned in advance, simple business trips and complicated excursions, Darcy's counsel and his services have been invaluable.... reliable and timely and personally tailored to my needs. And when, as sometimes happens, complications arose, he was right there by phone or e-mail to help sort them out. I couldn't ask for more.
Recommended
Excellent service
By: Traveller43
Reviewed on: 21 Nov 2013
Darcy has always been congenial and courteous while providing excellent service to ensure that all details of the vacation are looked after. We appreciate his vast knowledge of the travel industry and his interest in serving us well.
Recommended
On Top of the Situations
By: Kenn
Reviewed on: 12 Oct 2016
Working with Darcy during the planning part of a trip is always a pleasure. His wealth of experience means that he's seen most issues before and he has a way of either eliminating the issue in advance or providing good advice for what to expect and what to do when it arises. Many thanks for the expert assistance provided on this trip.
Recommended
Excellent all round
By: Marg
Reviewed on: 16 Oct 2016
First rate in all respects
Recommended
Fantastic Trip
By: JDL
Reviewed on: 24 Oct 2016
Darcy helped us plan another fantastic trip. He gives us options, taking into consideration our preferences. First time with WindStar and we will definitely go back again. Flight going over arrived early so we had a bit of wait for our shuttle. Would have preferred less drop offs for shuttle as we lost day when we arrived as didn't get to hotel until after 5:00. But that is how the company scheduled the drop offs. Shuttle to and from port were flawless. Can't wait for next vacation.
Recommended
Excellent service.
By: Len
Reviewed on: 02 Nov 2016
All aspects of our trip to Cuba were handled with great care given to our diversifed group.
Recommended
Perfection Still Reigns!
By: B&B
Reviewed on: 07 Nov 2016
Once again Darcy strikes an A+ for our latest trip. No hassles no mistakes and excellent advice!
Recommended
Bordeaux-excellent
By: Ginny
Reviewed on: 12 Nov 2016
I have already submitted a review 2 months ago! Darcy is excellent
Recommended
expert frienly service
By: val
Reviewed on: 13 Nov 2016
Job well done! We are together for so many years that I cannt find better advisor. Hope Darcy never retires!
Recommended
Excellent service
By: Chris
Reviewed on: 12 Nov 2016
The best travel agent we have ever dealt with - and we've been travelling a long time!
Recommended
Great
By: Buz
Reviewed on: 15 Dec 2016
Great, selection of hotel s was great, distance right n. Thanks Darcy. Lewis
Recommended
Pleased.
By: Dave & Rhonda
Reviewed on: 09 Feb 2017
He is very helpful.
Recommended
Feb 2017
By: Putney
Reviewed on: 21 Feb 2017
Trouble free. He is very knowledgeable about all destinations and will not hesitate to advise of pro's and con's. Makes our vacations stress free - ensures all the small details are covered. I recommend him to all friends.
Recommended
Outstanding
By: Bear
Reviewed on: 28 Feb 2017
Darcy is one of the easiest people to work with. His knowledge of get away places is excellent. His manner is pleasant. He is very efficient in what he does. The travel documents are sent immediately. I would not go to any other travel agent than Darcy. Thank you Darcy
Recommended
Eurodam cruise
By: Crispus
Reviewed on: 03 Mar 2017
Excellent. Great service as always.
Recommended
The only word is 'excellent'
By: Brenda
Reviewed on: 06 Mar 2017
Darcy is always so professional. He has extensive knowledge of the travel industry and shares this knowledge freely. He is patient and very thorough in his work. Our recent trip to New Zealand and Australia went without a hitch thanks to his arrangements and his ideas and suggestions. I would never go to anyone else!
Recommended
Costa Rica
By: Leslie
Reviewed on: 17 Mar 2017
Great as always. Everything was well organized and there were no hitches. The transportation was well organized and the guides were excellent. We loved the hotels except for the one, Tabacon. The food was wonderful and we would certainly recommend the trip.
Recommended
Thanks Darcy
By: Hola
Reviewed on: 18 Mar 2017
Darcy is always a great help as we plan our vacations. He takes care of all tickets and reservations, and has great suggestions as to which companies to use and which ones to avoid. We trust his advice and judgement.
Recommended
Working with Darcy
By: Jane
Reviewed on: 20 Apr 2017
excellent as always
Recommended
Probably the most experienced agent in Niagara.
By: Jimthehumanist
Reviewed on: 25 Apr 2017
Efficient, friendly, and professional as always.
Recommended
St Martin - Grand Case Beach Club
By: World Traveller
Reviewed on: 04 May 2017
All arrangements went smoothly other than for flight delays to and from Toronto. Runway construction is a problem there at the moment. Grand Case Beach Club is still a wonderful resort. Well managed and friendly. Grand Case town still offers the best variety of dining on the Island. We will be going back.
Recommended
Spring 2017 Trip
By: Slats
Reviewed on: 04 May 2017
Darcy was fabulous: polite up-beat, and super efficient. Highly recommended.
Recommended
Iceland
By: Linda
Reviewed on: 13 Jun 2017
An excellent experience.
Recommended
Reccomendation
By: Noname
Reviewed on: 02 Jul 2017
Excellent as usual
Recommended
Rail carrier
By: vmc
Reviewed on: 17 Aug 2017
Have dealt with Darcy for a number of years now. It's always great.
Recommended
Chicago
By: Cubs
Reviewed on: 13 Aug 2017
Terrific as always
Recommended
Darcy is the BEST!!
By: Phyll
Reviewed on: 24 Aug 2017
Darcy is an absolute gem! I never have to worry about any aspect of my traveling when he does the planning. He is thorough, caring, and dependable. I hope he doesn't decide to retire!
Recommended
Darcy Flarity
By: Alice
Reviewed on: 14 Sep 2017
Darcy is excellent. he is knowledgeable , patient and thorough.
Recommended
The best Advisor Ever!
By: Seonag
Reviewed on: 18 Sep 2017
Absolutely wonderful every time and he has assisted us on all our vacations and trips since 1987. He is knowledgeable, helpful and is there when something needs addressed. It doesn't get any better than him.
Recommended
A True Professional-Darcy Flarity, Advisor
By: The Man
Reviewed on: 24 Sep 2017
My family has been dealing with Darcy Flarity before I was born. If you want concise, professional and reliability while booking your next adventure, insist on working with Darcy Flarity. Thank you Darcy, The Man (Fedor)
Recommended
worker
By: ed
Reviewed on: 13 Oct 2017
pleasant. Facts were given in a pleasant manner and no pressure.
Recommended
Trip to London
By: CathyM
Reviewed on: 05 Nov 2017
Outstanding -- everything went smoothly (as always!)
Recommended
Happy retirement, Darcy
By: vv
Reviewed on: 02 Nov 2017
As always, it was great. I am sorry to see retirement time has come, but so happy that he'll get a chance to enjoy more time with family.
Recommended
Smooth and easy
By: Anne
Reviewed on: 01 Dec 2017
Excellent as always
Recommended
Excellent service!
By: Nickname
Reviewed on: 02 Dec 2017
There is no problem ever when working with Darcy. Over many years he has been completely capable, even at times inspired (!). Thank you Darcy for another great trip.
Recommended
Amazon Cruise
By: Jackie
Reviewed on: 18 Dec 2017
As always Darcy was great as a travel advisor. We looked at a couple of cruises and he obtained information about both of them so we could make an informed decision. He forwarded all information provided by the cruise line. He assisted us in getting our visa for Brazil. Darcy is interested in hearing about our experience.
Recommended
MY GUARDIAN TRAVELLING ANGEL
By: Saint Brian
Reviewed on: 11 Jan 2018
EXCELLENT! EXCELLENT! EXCELLENT!
Recommended
Highly recommended
By: robertus nullius
Reviewed on: 20 Nov 2013
Darcy, Thank you for making the arrangements for my travel to and within Japan last Spring. You got me the booking I wanted; the flight schedule worked perfectly; and you had my JapanRail pass ready for me in plenty of time. Domo arigatou gozaimasu
Recommended
Highly recommended--the Ultimate Professional
By: Sean / Margaret
Reviewed on: 21 Dec 2013
We have been traveling to Europe every year since 1995. We have been highly satisfied with any arrangements made through Darcy including any car rentals with AutoEurope. He has always been prompt, efficient, dependable and very helpful with all our travel arrangments.
Recommended
He is the best
By: Joan & Bill
Reviewed on: 24 Nov 2013
Darcy makes things run smoothly and very efficiently. His recommendations are always spot on.
Recommended
The best there is
By: Mada
Reviewed on: 22 Nov 2013
I have been a customer of Darcy's for 18 years. During this time travel has changed dramatically and oftentimes not for the best. It can be very stressful organizing a vacation that is suppose to eliminate your stress. Call Darcy and all that part of it Is totally eliminated so you can get on with the best part of your vacation, that is, the relaxing and fun parts. He is a professional who saves you time and money because of his experience.
Recommended
Numero Uno
By: Brian Pain in the A__s
Reviewed on: 22 Nov 2013
Over the years this gentleman has made my wife, friends and I so so comfortable in arranging exotic trips around the world. On numerous occasions-when all was not going well while abroad, Darcy was there to answer the phone and take care of everything. His expertise, his professionalism and his detailed preparation has been outstanding. I have recommended him constantly to our friends and all have been thankful for his knowledge, patience and sincerity.
Recommended
Highly recommended
By: Del
Reviewed on: 19 Nov 2013
I have been a client of Darcy for at least thirty years. He has always thorough , careful , and very helpful . His professional knowledge is very extensive and he always does research to find exactly what I want. As long as I continue to travel I will use him as my agent and adviser. He goes beyond the "call of duty" .
Recommended
Highly Recommended
By: Kenn
Reviewed on: 20 Nov 2013
We asked Darcy on short notice to contact Holland America to make arrangements for a short notice cruise trip. He responded quickly and effectively, finding a cabin on board that exactly met our needs and holding it to give us a chance to put in place our arrangements for the trip. Well done, Darcy.
Recommended
Very Highly Recommended
By: RJ
Reviewed on: 20 Nov 2013
We have had the pleasure of Darcy booking all our trips since a ski trip to Telluride in 1988. He is exceptional, very friendly and very knowledgeable. From train trips to plane trips, ski trips to scuba trips, sailing to mountain trips, he has taken the time to ensure our holidays are relaxing and as worry free as possible.
Recommended
highly recommended
By: swoozie
Reviewed on: 20 Nov 2013
As I have always found, D'Arcy looked after all my requirements and delivered the tickets to my door. D'Arcy takes time and effort to get things right and this is very important. I have been using Flarity travel for all my travel needs since 1979 and I have never been disappointed with the service.
Recommended
HIGHLY RECOMMENDED!
By: JP
Reviewed on: 26 Nov 2013
We would definitely recommend Darcy Flarity. He responds quickly on inquiries and gives relevant suggestions. He'll treat you like a friend and not some random customer. Excellent work!
Recommended
Always on top of things
By: Ginny
Reviewed on: 07 Oct 2016
As always, Darcy did an excellent job-always helpful, ready to check on concerns, problems, queries, etc.
Recommended
Highly Recommended
By: Hey You
Reviewed on: 26 Nov 2013
I have been to the Riu Bambu 5 times and I am going again. The food is a little bland but you are in there country. The staff are very friendly and do a great job at keeping the place very clean. I cannot say enough about the pool bar staff except outstanding. The night life is great. The shows are great, every night is different. Even the children have things to do. Three pools. One is a kiddies paddling pool. I have not done much travelling but when you find paradise why move on.
Recommended
Highly Recommended
By: Julie
Reviewed on: 24 Nov 2013
When Darcy plans your trip for you, you know it will be exactly the way you want it to be with no unexpected problems. He is the very best travel agent in the business.
Recommended
A Great Trip
By: Kenn
Reviewed on: 15 Dec 2013
This trip was a Holland-America cruise to the Southern Caribbean with a Panama Canal entry. We decided to do the trip on very short notice, so Darcy's help was crucial in getting the right accommodation and Peggy's special, renal diet. We found Darcy's advice about a paid upgrade offer from HAL to be very useful as well.
Recommended
Highly recommended!
By: Reilly
Reviewed on: 30 Dec 2013
Very professional and extremely friendly. Treated me like family. Would absolutely recommend to friends and family.
Recommended
By: pam
Reviewed on: 20 Jan 2014
Hi Darcy. Every thing went like clock work. All your paper work come through E Mail and I had no problems with it. Thanks for including the V.I.P package. I got a fridge always stocked a lobster dinner and much more. The road going in is in great shape having resurfaced it. The trip IS reduced from 4 hours to 45 minutes and they have new elevators and they have put sand on the beach. Just so you would know if any one else is booking. PAM
Recommended
got the job done right away
By: oscar
Reviewed on: 16 Jan 2014
Recommended
Book your trip with Darcy!
By: Mouseketeers
Reviewed on: 30 Jan 2014
We have had the privilege of working with Darcy for over 40 years! Regardless of our destination, timing, or purpose of travel, he has assisted us with knowledge, efficiency, and a sense of humour. I happily recommend him to future travellers. Thank-you Darcy!
Recommended
excellent service
By: Not provided
Reviewed on: 30 Jan 2014
The cruise line was excellent and service first rate but the pre-cruise Sheraton Hotel service was rather poor. The staff was disorganized and they lacked English speaking staff. The hotel staff could learn a lot from the Regent Cruise people.
Recommended
Highly recommended
By: Tennis lover
Reviewed on: 13 Feb 2014
Darcy booked a WestJet vacations package for us for Jan. 28 - Feb. 6. He re-booked it when the price went down. He also booked the airport transportation for us and the cancellation insurance.We are always satisfied with his service.
Recommended
Wow!
By: Bison
Reviewed on: 05 Mar 2014
Where do I begin?I couldn't ask for anyone anywhere as good as Darcy Flarity. His knowledge is encyclopaedic and his manner subtle and inclusive.
Recommended
Highly recommended
By: Sheryl & Little Johnny
Reviewed on: 08 Mar 2014
Recommended
Highly recomended.
By: Hey you
Reviewed on: 05 Mar 2014
This was the seventh time I have gone to the Riu Bambu. Ounce again it was outstanding. The staff where friendly and helpful. The beach was clean and peaceful if you wanted just to lay and soak up the sun. If you wanted a little fun and don't mind a little noise, the swim up bar is the place to be. The animation crew did a great job at keeping people busy with games and aerobics'. The food was plentiful and was good. It rained in the morning but cleared up by 10 a.m. Couple of cloudy days. Each day it reached 85-87 degrees. The only problem I had was the travelling part  of the vacation. It took along time to go through the customs going and coming at Punta Cana. With the amount of people coming and going they could not keep up. Apart from that, it was a great vacation. I will go back again. .
Recommended
Darcy Flarity
By: MarJon
Reviewed on: 08 Mar 2014
Darcy has been our travel consultant for almost 35 years and has arranged many wonderful land and sea vacations for us in that time. His latest project was to be our first cruise with Regent Seven Seas in October 2014. Unfortunately, we had to cancel for health reasons. Nonetheless, Darcy did his usual marvelous job with all the arrangements and we commend him for his efforts. We will continue to deal with Darcy in the future, as time and health permit. 
Recommended
Highly recommended
By: Chris
Reviewed on: 09 Mar 2014
Quite the best travel agent we have ever had. Conscientious, thorough, knowledgeable, creative, and always in touch with us. Personable and pleasant to deal with.
Recommended
Escape from winter
By: spacetzar
Reviewed on: 12 Mar 2014
After trying times this winter between the heavy snows, fridgid temperatures and health scares, we needed to get away. 10 days in Phoenix was what the doctor ordered. 24-28 degrees most days, sunny with fantastic sunsets from our 6th floor room in the Embassy Suites in Scottsdale. Desert Botanical Gardens with an amazing display of large glass blown objects in among the cactus clumps was superb, as was the annual Indian Market at the Heard museum. dOther historical sites and a drive through the desert up to Sedona and Flagstaff really showed of the amazing terrain. All in all the restful change that we needed.
Recommended
Highly recommend
By: Sue 10
Reviewed on: 21 Mar 2014
,Met all our expectations as we had hoped it to again
Recommended
Peaceful holiday
By: Beach lover
Reviewed on: 17 Mar 2014
The Royal Hideaway Playacar on the Mayan Riviera was the perfect place for us. We are in our 60's and were looking for a nice quiet  getaway,. The hotel was clean and the gardens well kept. The staff were very friendly and helpful. We especially enjoyed the restaurants , all a la carte. The beach was just right for long walks and you could walk to town too. The pools were nice too. There were activities if you wanted them, or not. . Thanks Darcy for a great recommendation.
Recommended
Top Class Service Every Trip
By: Jimmythesinger
Reviewed on: 21 Mar 2014
With over 30 years experience in the travel industry myself, I should know how to pick a travel agent. Darcy is without a doubt in the top 1% for knowledge, service, being proactive when problems arise or are anticipated, and going above and beyond the norm to work in the best interests of his clients. A true professional in an industry that has too many amateurs.
Recommended
Highly recommended
By: rusvalia
Reviewed on: 27 Mar 2014
Mr. Flarity is our travel agent for decades and we are going to keep him and recommend him to our friends!
Recommended
Highly Recommended
By: GiGi & Slats
Reviewed on: 26 Apr 2014
Had a wonderful trip to St. Marrten for our third time. Darcy did an excellent job helping us plan our vacation and we will continue to work with him in all our future trips.
Recommended
excellant as always
By: stan
Reviewed on: 18 May 2014
Recommended
Very professional. Everything done as requested in a timely manner. .
By: Not provided
Reviewed on: 26 May 2014
very knowledgable .  Have used Darcy for many years has never disappointed .  Would highly recommend his services  .--mark leonard
Recommended
Consistently efficient and knowledgeable. Highly recommended!
By: D & M H.
Reviewed on: 14 Jun 2014
Recommended
Great river cruise
By: Rhine and wine
Reviewed on: 27 Jun 2014
We have just returned from a wonderful Rhine river cruise on Avalon Waterways.  Darcy recommended the company and we were very pleased with the entire Avalon experience. The crew was  wonderful , took  care of us,  fed us wonderful food and provided many exciting touring opportunities.  We even got to tour a winery in Alsace. The cruise was a great way to visit cities and towns along the Rhine  from the comfort of the boat , and only unpack once!!   Thanks Darcy for suggesting the cruise and also for arranging our 3 extra days in Amsterdam. They were fun and the 2 tours you were arranged for us were perfect..  Thanks .
Recommended
Wonderful flights
By: Patt
Reviewed on: 25 Jun 2014
Once again Darcy's help was wonderful.  The flights went well.  Every thing went smoothly as usual when Darcy gives us a hand at our trip planning.
Recommended
Excellent service!
By: Roy
Reviewed on: 01 Jul 2014
Thxs to Darcy, everything went like clockwork.Consequently, a very relaxed, enjoyable vacation.
Recommended
The best
By: Jim & Lois
Reviewed on: 15 Jul 2014
Darcy recently arranged an Alaska cruise with Regent Seven Seas for us and we could not have been happier with the result.As we had never cruised before, we wanted to be sure we had a rewarding experience which was compatible with our interests and lifestyle.Regent was an excellent choice and Darcy was very effective in giving advice regarding travel arrangements, excursions and other peripheral details.As always, we have found Darcy to be very responsive to any questions or concerns that we might have as well as being very timely in getting back with us.  We never have the sense that Darcy is trying to "sell" us something, but rather he is trying to ensure that the best arrangements are being made for us.We have no hesitation in our unqualified endorsement of Darcy as "the best" when it comes to making travel arrangements.
Recommended
Fantastic with details
By: Julieorganizer
Reviewed on: 05 Aug 2014
Darcy gets every minor detail perfect so you never have any problems. I never worry about how our trip will go when Darcy has arranged the plan for us. The hotels he selects are always in the perfect location for great value. He learns what your preferences are and gives you what you want just the way you like it. He is the very best.
Recommended
Flarity Rocks!
By: zemesgals
Reviewed on: 24 Aug 2014
I was very pleased with Darcy Flarity services. He provided timely advice and very prompt ticketing. In the case of my spouse he engineered a near miraculous flight ticket cancellation with minimal losses. Having dealt with many agents in the past his services stand out for their high level of professionalism. I could mention that LOT air found and delivered my baggage three days late and that they seemed to have mountains of misplaced baggage at the Toronto terminal 1.Do their baggage handlers have alcohol problems so widespread in former Communist countries? However, the trip to Europe and back was pleasant with relatively good service and of course, a decided cost advantage.
Recommended
reat trip
By: JMM
Reviewed on: 25 Sep 2014
Great 3 days in London at ourusual spot, Flemings in Mayfair. Off to Lisbon for a day prior to our Windstar cruise to Barcelona.. Darcy's hotel selection was very interesting, given mywife's background of 40 years of teaching university level drama. 3 theaters and one under construction behind the hotel along with a restaurant specializing in Portugese specialties. Our 8 day cruise on the Windsurf from Lisbon to Barcelona was just great. The renos to the ship last year make it one of the quieest ships we have sailed on. (have had 2 precious cruises in the Caribean priot yotrnos. Food was superb. Tours great,and hotel in Barcelona was is a great people watching area.
Recommended
many sites
By: ed
Reviewed on: 30 Sep 2014
Explored many of the European cities with good organized tours. Side trips to salt mines and Auschwitz very interesting and informative. Only one negative comment: group of 40 is TOO LARGE.
Recommended
Personal friendly service
By: JK
Reviewed on: 06 Nov 2014
Always attends to requests. Personal delivery of documents. Checks out travel companies for value and stability.
Recommended
Thorough , frindly caring service
By: palda
Reviewed on: 15 Oct 2014
As always , Darcy takes the time to get the details right , and I cannot imagine working with anyone else. . He has been my agent for approximately thirty years and I have always been pleased with what he does. He has helped me in mid-trip if something has gone seriously wrong. (Think of the ash cloud crisis or a fall that left me unable to walk properly) . The crowning touch is the post-mortem conversation . This keeps him up to date with details of a trip for other customers , but it also makes a pleasant ending , and I do not feel as if he were only interested in the business of earning money . His customers are important to him as people.
Recommended
Excellent Service
By: Jackie49
Reviewed on: 02 Dec 2014
This is the first time Darcy has been our travel advisor and he came well recommended. He did not let us down. He took the time to get to know us and found out the cruises we have done in the past in order to make recommendations of cruise lines. We were asked to suggest cruises that interested us so that he could get to know us better. Having never heard of Azamara, we were very impressed with the size of ships and the itinerary and this won us over so very glad for the recommendation. Darcy ensured that we have everything booked and met with us to review the cruise and flights a few weeks before our departure. He was always willing to answer questions and do research for us. We missed a connecting flight on the way home and Darcy looked after the arrangements back in Toronto to ensure that we were not overcharged for the hotel and parking. It was very reassuring to know that things were looked after.
Recommended
The best!
By: JKM
Reviewed on: 23 Dec 2014
From start to finish, including the tracking of possible airline strikes, we were comfortable leaving it in Darcy's hands knowing that all would be taken of! Many thanks Darcy
Recommended
Friendly service
By: JK
Reviewed on: 18 Feb 2015
Booking of hotel-flight package with WestJet was done efficiently; also booking with Niagara Airbus. As always, easy to communicate with and gives useful advice.
Recommended
Nice Condo, Noisy Neighbourhood
By: Dave
Reviewed on: 22 Feb 2015
We stayed at the condo Playa Turquesa from Feb 8 to 15, 2015. We rented unit 103 which is a one bedroom suite on the ground floor in one of the multi-storey buildings close to the front entrance of the complex. The unit was very nice with a modern kitchen, 2 bathrooms, laundry facilities, dining room/ family room and outside covered patio. There is a BBQ. The unit faces one of the two swimming pools but there is enough vegetation around the patio to offer some privacy. The beach is short walk and the condo complex has beach frontage. The only major drawback was that our unit was in one of the buildings close to the front entrance and close to the public road. There is a bar called Danny's across from the front entrance which plays very loud music outside to 1:00 am and sometimes to 4:00 am. If you don't like loud music and would not recommend renting a unit in one of the buildings close to the front entrance. You would be better off with a unit closer to the ocean.
Recommended
Always so helpful
By: grateful
Reviewed on: 05 Mar 2015
We actually did not take the trip due to unforeseen health problems. Darcy was on it right away when we informed him and we already have had the insurance decision (positive). Great guy to have on our side.
Recommended
our "go to" guy
By: Urs
Reviewed on: 09 Mar 2015
As always we listened to Darcy's analysis of the pros and cons of the destinations we were considering. Arrangements were made quickly, thoroughly and professionally. We always book through Darcy rather than on line. We like him knowing what country we are in. Has paid off in past when airports were threatening to strike. Feels safer to get his input.
Recommended
Secrets Capri Mexico
By: Sunny
Reviewed on: 25 Mar 2015
Our week at the Secrets Capri on the Mayan Riviera was super. The resort was beautiful, the food was yummy and the people were friendly. Service was excellent and we had a very relaxing time both on the beach and at the pool. We enjoyed the Coffee shop and lobby bar and all of the restaurants.
Recommended
Our First Beach Vacation!
By: Tekoa85
Reviewed on: 14 Apr 2015
Great trip! 4 days wasn't long enough! Thanks for all your help Darcy :)
Recommended
The Best, I will not deal with anyone else!!
By: The Phantom
Reviewed on: 24 Apr 2015
Never have to worry about anything as my wife and myself know Darcy will be there!!
Not Recommended
Cruise OK
By: Cameron01
Reviewed on: 23 Apr 2015
Cruise was OK, not the best cruise line in the world, far from the top. Itinerary was so-so, been there done that for the most part, a couple of new places (experiences) neither of which was booked through the cruise line, the one that was booked on board was disappointing at best. Checkin at embarkation was poor or worse, could not find our "sea pass" cards, did not bother to tell us this until we had stood there for at least 10 minutes, then waited another 5 minutes before they decided to "print " new cards. This started the cruise off on a sour note which did not get any better when our "sea pass" cards would not unlock the door to our stateroom and we had to go down to guest services and have "new" "new" cards printed, form their attitude I think that we were more of an inconvenience than a welcome guest. The couple we where traveling with hade no problems. Food in general was OK for the most part although not spectacular, dining room was good for evening meals although
Recommended
The best service
By: Glen Carlsen
Reviewed on: 28 Apr 2015
D'Arcy goes above & beyond !
Recommended
Expert, friendly service tailored to you.
By: None
Reviewed on: 29 May 2015
Another great success working with Darcy. There's none better.
Recommended
Great trip to the West
By: CJBEJB
Reviewed on: 18 Jun 2015
We had a great trip on the Rocky Mountaineer. They certainly know how to run a railroad. Seattle is worth visiting with lots of things to do. Pike Market, Boeing Plant and Underground Tour are worth visiting.
Recommended
Excellent all the way
By: Joan
Reviewed on: 09 Jul 2015
Darcy has never failed to make the best arrangements possible. My husband has great difficulty getting around and Darcy has made it possible for us to travel with a minimum of discomfort. Everything seems to go like clockwork and Darcy seems to think of things we hadn't thought of.
Recommended
Knowledgeable, straight-forward advice. Knows his cruises in Alaskan waters.
By: Basil
Reviewed on: 17 Jul 2015
Good advice. Appreciated his sound knowledge of Alaskan cruises. Pleased that he urged us to have a balcony. Airline schedules quite good. Wish we'd considered train from Vancouver to Seattle. Think the scenery is likely beautiful. Would consult Darcy again - and recommend him to others.
Recommended
Darcy's good service
By: Tennis fan
Reviewed on: 26 Sep 2015
As usual, Darcy booked our flights to Europe and the Niagara airbus to and from Toronto airport. He also arranged travel insurance.
Recommended
Absolutely perfect!
By: Mark
Reviewed on: 13 Oct 2015
Darcy organized every last detail of our trip, from the rental car to the train tickets, which made travelling in Italy stress-free and very enjoyable. He anticipated our every need and arranged a custom experience we will always remember!
Recommended
Excellent service
By: ChrisandAnn
Reviewed on: 29 Oct 2015
We went to Italy for 19 days. Everything that Darcy did for us was right on the money. Hotels in the right place at the right price. Flights according to plan. Car rental as needed. A stress-free vacation.
Recommended
Friendly and efficient as always
By: Gill & George
Reviewed on: 30 Oct 2015
All the arrangements were perfect. the trip itself was not as good as the original Amsterdam to Budapest but largely because it did not have the variety of places and countries but as usual the crew were friendly and efficient. Unfortunately although they had hand sanitizers going into the dining room and lounge there was soon a cold/cough bug going around and as the weather was cold all the time we were always indoors either on the boat, bus, train or plane so nearly everyone got it including us though we got it right at the end. The weather gods were not favourable as we had the cold Mistral for all the 2nd week but some good winetasting and interesting scenery.
Recommended
great cruise
By: Crispus
Reviewed on: 06 Nov 2015
Thanks for helping to book an excellent Holland America cruise - good ship and interesting itinerary. All the arrangements worked well.
Recommended
Great help
By: Tim
Reviewed on: 06 Dec 2015
Great help as usual
Recommended
My Personal Travel Assistant
By: Jim the Humanist
Reviewed on: 31 Dec 2015
As one who has more than 30 years experience in the travel industry - airlines, tour operating, steamship companies and owning and operating an agency for ten years - I find it fun to research, plan, and book my own travel then pass everything over to Darcy in case I've screwed up. Just kidding!! I really do most of the work myself because I still enjoy it, however there is no better feeling than to have a professional like Darcy to dot my "i's" and cross my "t's" and be there at the end of the phone should I run in to trouble whilst out of the safety of Our Canadian borders. "Professional" travel agents are a dying breed. Thank goodness he's there for me.
Recommended
Great Travel Agent
By: Henry
Reviewed on: 11 Jan 2016
We had a great time on our trip to Cuba. I will definitely be using Darcy for my travel needs moving forward.
Recommended
Value for money
By: Andy 67
Reviewed on: 25 Jan 2016
I really enjoyed this trip. We didn't encounter any delays either way and the Boeing Jet was a major upgrade over last year. The resort food and service were great value for the money. I have enjoyed both trips to St. Martin but this one suited my needs perfectly.
Recommended
Very helpful
By: RG
Reviewed on: 15 Feb 2016
Darcy was very helpful when we had some last minute change of plans. We would highly recommend him.
Recommended
Great Tour
By: R & B
Reviewed on: 25 Mar 2016
We loved So. Africa! Everything was more wonderful than we expected. The native people and all local people were so friendly, inviting and warm. The tour went very well. Our guide, Desmond, was wonderful. The game drives and lodges were marvelous. The only thing I would change was the long, long air travel requirements. Why was it necessary to fly to Amsterdam in order to fly to So. Africa. On the return flight why was it necessary to have a lay-over of 6 hours in Johannesburg. People should be well aware before arrangements are finalized that the flights will take so, so, so, long. There should be a flight leaving LAX flying to Atlanta, and then on to So. Africa. Another thing was that we flew from Johannesburg to JFK, New York. The TSA agents at JFK were terrible, terrible, terrible!. They were shouting and criticizing the passengers. They were so pushy we could hardly believe their behavior, it was so awful. Huge difference between S. Africans and US Africans .
Recommended
Trip to UK
By: barbiedoll
Reviewed on: 11 Apr 2016
Hi there, The trip went very well and the flights were both on time and actually arrived at both ends early. However, the food was disgusting and we were jammed in like sardines. No longer do you get a blanket or pillow unless you pay for it even though it is an overnight flight to the UK. We would not travel with Air Transat to be honest by choice, but as it is the only airline that flies direct to Manchester, it leaves us with no option other than to add about 3 or 4 hours to the journey with a one stop flight. Overall, the trip worked out very well and the main thing is to get there and back safely which we did. Darcy did a great job as always making sure we had everything we needed ahead of time and we would not hesitate to use Vision travel again for booking flights and trips. Thank you very much.
Recommended
Amazing Ireland Tour with Trafalgar
By: Patt
Reviewed on: 20 May 2016
I had an amazing time in Ireland with Jill and John on the Trafalgar Amazing Ireland Bus Tour. We saw a lot of Ireland in our 14 days from Dublin to Belfast and along the Wild West Atlantic Coast down to the Ring of Kerry and swinging along the southern coast before heading back to Dublin. All the extended experiences were well worth it as they gave us a taste of Ireland - be it a taste of Guinness or Irish Whiskey or a song or a potato or a dance. It was wonderful! The Hidden Gems stole the show! I can't tell you the Gems as it would spoil your fun! I kissed that infamous "Blarney Stone"! Now I have a wonderful understanding of the history of Ireland. Thus, I can appreciate the Irish so much better! I would highly recommend this tour!!
Recommended
Another great trip
By: German girl
Reviewed on: 30 May 2016
Comfortable flight with user friendly car waiting at airport. Have used Darcy for years for cruises, sun vacations and European trips . He is there when all goes well and more important when things go wrong, i.e. pilots strike. Will continue to use Darcy.
Recommended
Professional, knowledgeable, thorough
By: nickname
Reviewed on: 03 Jun 2016
Darcy is well respected. I got his name from another satisfied customer and have been calling him for my travel needs for seven years. He listens and researches and finds good routes, flights and plans. Darcy helped me to re-route a travel plan when I was away and the Japan Tsunami was affecting flights - he was an ocean away but he got the job done. Highly recommended.
Recommended
wonderful trip
By: bobnjill
Reviewed on: 24 Jun 2016
Darcy immediately started looking into the details of the trip when we asked for his expertise and help. Planning had to happen quickly due to the fragility of my husband's health at this time. Darcy moved mountains so we could see mountains (Lake Louise and Banff). What a wonderful trip for us to remember, thanks to Darcy.
Recommended
Two wonderful holidays in one
By: Paris 65
Reviewed on: 15 Jul 2016
We spent 7 busy and eventful days on the Avalon Creativity . Normandy was beautiful and the Avalon crew very attentive. We especially enjoyed the days on the Normandy beaches and at Giverny. The days in Paris were warm and sunny. Our Tim hotel Palais Royale was in the perfect location for walking and visiting the museums and sights of Paris. We used the Paris pass and Hop on bus and they were very useful and saved us lots of time. We had a wonderful time. Thank you Darcy.
Recommended
Trouble Free Travel
By: GOR75
Reviewed on: 11 Sep 2016
Trip to Norwegian Fjords on the Celebrity Eclipse was wonderful. Darcy provided us with everything to make this an easy and exciting destination.
Recommended
My safety and satisfaction
By: Elda
Reviewed on: 05 Oct 2016
As always, Darcy is the soul of caring and accuracy. I think I would not like to travel without him to ensure that everything is in place and as it should be. He has been my agent for at least thirty years and his accuracy is perfect. If he were to retire I think that I would hang up my passport.
Working with Darcy Flarity, you will have access to:
- An experienced travel guide whom you can rely on before, during, and after the trip
- Exclusive luxury resorts and properties
- Once in a lifetime experiences
Explore with the Best
Virtuoso Advisors are constantly pushing the boundaries in unique travel experiences.
Alliance programs are unique tailored experiences exclusive to travelers working with Virtuoso Travel Advisors.
learn more