Travel Specialties
Interests
Culture, History & Arts
Escorted Tours
Independent Tours
River Cruising
Selling Travel Since
2006
My Background
I made a 31/2 month grand tour of Europe by myself when I was 19. I later realized this was the best learning experience of my life. After years of planning trips for myself and friends I realized I should be in the travel business. I joined an agency and was trained in house. Now I have Virtuoso status. My preferred is to plan itineraries and lead small group tours to interesting and off-beat locales.
Places I Have Traveled
Reviews and Recommendations for Gerry Pitts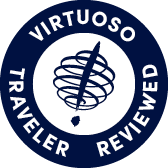 Virtuoso Verified Traveler
All reviews are from confirmed guests sharing exclusive insights
Sort reviews by
Recommended
Highly recommended
By: Skunkis
Reviewed on: 16 Oct 2013
Gerry ensured that everybody's needs were met. Always doing head count in crowds and asked questions about individual preferences when we had flexibility in our schedule. Willing to be flexible with the group and gave us time to be on our own to pursue some of our own personal interests. At check-in and check-out double checked that everybody was satisfied with the arrangements. If things were not satisfactory, Gerry would go the extra mile to ensure things were looked after.
Recommended
Highly recommend
By: Maisy
Reviewed on: 27 Nov 2013
Have been on two trips with Gerry Pitts; one to Southern Spain, the other to Columbia. Each one has been well paced, informative, and fun. The small group component makes it easy to move around the destination and get to know and appreciate our fellow travelers. The chosen hotels were comfortable, interesting, and convenient to desirable sites to visit. They were very positive experiences. Looking forward to more.
Recommended
Highly recommended
By: Peach
Reviewed on: 14 Feb 2014
The trip was great.  Very well organized and with a variety of activities.  Well thought out itinerary and excellent guide.  Gerry does his homework and always throws in little extras.
Recommended
highly recommend
By: conseula of the west
Reviewed on: 03 Apr 2014
The entire tour of Southern India was extremely well organised.From our airport pick up in Chennai to the airport drop off in Kochi..we never lacked for anything.The tour guides were informative and helpful.Our driver was extraordinary.I cannot say enough about how pampered we felt during this whole adventure.And it ws a great deal as well.Bravo!
Recommended
Completely recommended
By: SHRON
Reviewed on: 24 Apr 2014
any time , any place I'd go with and deal with Gerry. He is the consummate professional and knows how to make travel easy and fun!
Recommended
Highly Recommend Gerry
By: Doris1950
Reviewed on: 13 Jul 2014
Gerry is a great travel agent.  He is always willing to accommodate our family's plans and works with us until we are satisfied.  Thanks Gerry for everything!
Recommended
Expert friendly personalized service
By: AnniePC
Reviewed on: 14 Oct 2014
If you love being immersed in history recorded in the centuries of fabulous rich architecture of churches, monks' cloisters, and especially the Greek amphitheatre in Syracuse(my favourite!), Sicily is not to be missed. For such a small island there is a huge wealth of many cultures that have contributed to the culmination of what Sicily has to offer. Our tour conducted by Gerry Pitts was coordinated perfectly, making sure our small group did not miss any of the highlights, that our needs were attended to, and that none of us got lost in spite of our tendency to occasionally wander away from the group. I would definitely recommend Gerry's tour group for a fun and safe trip.
Recommended
Understands how we like to travel
By: Doris50
Reviewed on: 21 Dec 2014
Gerry really understood the type of experience we wanted to have when we traveled. He listened to what we wanted to do and made suggestions that allow us to really personalize our trip. Thanks Gerry!
Recommended
Very responsive and informative
By: walden
Reviewed on: 25 Feb 2015
Very informative, and knowledgeable it was a pleasure to deal with him. We where able to make adjustments and his suggestions only enhanced our trip and experience. We really felt we had a custom tour that was meaningful and fulfilling. I would give Gerry a five star rating.
Recommended
excellent advice and attention to detail
By: hairpin turn Bob
Reviewed on: 01 Apr 2015
Gerry met with us and provided excellent advice re; accommodation and things to see and do. He always returns calls and emails quickly.
Recommended
A restive break!
By: adonesc
Reviewed on: 22 Apr 2015
This review is in regards to a trip I took to Cuba in the period of March - April, 2015. It was for 7 days at the hotel Blau Marina Varadero. After several years of not going on vacation virtually anywhere, I was looking forward to this particular trip. The flight was good and there were no major delays or issues with my Air Transat flight. I would definitely recommend, if possible to fly either Club Class or Options Plus. The extra cost is worth it even on a short flight to Cuba. The hotel, Blau Marina Varadero, is a sprawling property, which has been recently renovated. I cannot speak for the rest of the rooms, but mine was. I was placed in the 1500 block, in a room overlooking the marina. For more details and information on this hotel, you can always go to tripadvisor.com. This trip proved to be what I needed. The beach, drinking, eating, relaxing and doing absolutely nothing. It was what I wanted and what I ended up getting! An albeit short but welcomed break from my daily routine!
Recommended
Great Trip Itinerary
By: Ytguy
Reviewed on: 13 Jun 2015
Gerry provided us with an excellent itinerary on our trip to Turkey, a great mix of cities, tours and free time. The pre-arranged tours were excellent with friendly informative guides, and very small groups. The free time was in wonderful locations that provided us with an opportunity to both explore and relax. The trip included Kusadasi, Pammukale, Fethiye, Kas, Antalya, Cappadocia and Istanbul, so gave us an opportunity to see different areas and experience much of what Turkey has to offer, and everything that we wanted to see.
Recommended
Flight master
By: AZee
Reviewed on: 24 Apr 2015
Transfer times in Frankfurt were probably too tight. It's a big airport and 1.5 hours between flights is great if everything is on time but even my flight attendant for Lufthansa looked at the connection from Palma and felt it was tight. I made the flight despite the plane being delayed by one hour out of Palma - the pilot gunned it and I had to run for it, not a pretty picture! Thanks for booking everything. AZ
Recommended
Sicily 2014
By: Alan D
Reviewed on: 28 Apr 2015
A well planned small group trip that covered so many wonderful sights. Gerry set up an excellent itinerary and conducted the group professionally, handling any problems efficiently as they arose. I would highly recommend this agent.
Recommended
Organized and friendly!
By: Annie15
Reviewed on: 24 May 2015
Thanks Gerry for a well organized and fun trip. We went on this trip to experience Greece with Greeks and it was awesome to go where we could not have gone on our own. Everything was well organized and looked after. I felt very safe with our driver on those winding steep hills. It was great having him with us on the trip as he made everything run smoothly. Fabulous trip! Thanks Gerry.
Recommended
Wonderful trip
By: Yankee doodle
Reviewed on: 25 May 2015
Our food oriented trip to Greece was wonderful.our group was handled well by our travel pro Gerry. Our pick up and meeting times were were always clear so things always moved along very smoothly. The hotel on our return was included in the price of the trip was very nice. Gerry made sure that everyone was a part of everything. I think a better sign at the airport pick up would have been a little more helpful as getting together was a challenge.a big "vision"sign in big letters would have been more helpful as one isn't functioning as alertly after a long plane ride. I would be interested in doing another vision trip again. Many thanks for a wonderful week
Recommended
expert service
By: judi
Reviewed on: 12 Oct 2015
We had to cancel our trip due to family illness. Gerry handled everything re the cancellation in an expedient way
Recommended
Expert friendly service
By: AZee
Reviewed on: 16 Oct 2015
Booked our flights and hotels. All went smoothly.
Recommended
this was a well planned trip
By: jack..
Reviewed on: 30 Oct 2015
I enjoyed the ports of call.Gerry was able to get all the sights and points of interest in each city we visited .He covered a lot of each city in his walking trips.The trip went very well due to his attention to details .Looking forward. to his next destination.
Recommended
Flexible, accomodating service
By: HappyTraveler
Reviewed on: 09 Dec 2015
I've used Gerry several times for both flights and tours. I have always found him to be very flexible in trying to get me both the best prices and required dates. He is knowledgeable, prompt, honest and friendly.
Recommended
Friendly courteous flexible service
By: Maisy
Reviewed on: 26 Jan 2016
Enjoy the informality of the small group vacations. It allows for more flexibility and adds to the sociability of the adventure. Gerry always finds unexpected places to visit and experience. Trips are always fun and educational.
Recommended
Havana 2016
By: Sevilla 11 member
Reviewed on: 25 Jan 2016
Wow! What a trip! In spite of the grey weather we had a wonderful time. Not only got to see and be part of Old Havana, also spent a day seeing some of the countryside! Turned out to be the best day to do so as well, as it poured rain in Havana most of the day! As usual, Gerry was the consummate director and all went well. It was a great group and a great trip!! Looking forward to the next one!
Recommended
The perfect guide
By: Lou
Reviewed on: 01 May 2016
Bouchta Elharchali is a guide "par excellence" who had us captured in the love for Morocco as much as he was. His knowledge was thorough and the plans were executed smoothly and thoughtfully. The itinerary was expertly planed to create a 'crescendo of beauty'; it just kept getting better and better. An absolutely marvellous trip. Thank you so much.
Recommended
Culinary Greece
By: Netter
Reviewed on: 04 Jun 2016
Our trip was fabulous, no glitches, just smooth travelling from one place to the next. Well organized, excellent places and wonderful food!
Recommended
Expert friendly service
By: Sharona
Reviewed on: 05 Aug 2016
Everything went well, as planned.
Not Recommended
Sensible suggestions for changes
By: Peter
Reviewed on: 05 Oct 2016
Gerry was prompt, suggested some money-saving changes, or giving up on side trips, thatwiuld have made for rush and stress. HIs hotel revommendations were a mixed success; the one in Bruges was fine, good value, but the one in Paris was expensive, claustrophobic, and the decor in poor taste ( the breakfast buffet was good, though....) OVerall: very good service.
Recommended
Exceptional Friendly Service
By: LouiseF
Reviewed on: 24 Oct 2016
We cruised "The Castles along the Rhine" with Uniworld on the the River Empress we had the most wonderful time with our travel agent, Gerry Pitts, from Vision Travel. Cruising along the Rhine with spectacular views of breathtaking mountain and village scenery and especially the beautiful castles that line the river Rhine. Toured quaint villages and medieval Gothic churches and cathedrals. Vineyards, wine tasting, vinegar tasting, cable car rides, and the quaint little villages with cobblestone lanes and cascading flowers from window boxes and ledge. All an awesome experience. Great crew and supberb service on the River Empress. We could not of asked for anything better. Thank you Gerry Truly enjoyed every moment.
Recommended
Spectacular ... everything!
By: Marianne78
Reviewed on: 27 Oct 2016
From the assembling in Basel to our (sad) debarking in Amsterdam, the trip organized by Gerry Pitts was outstanding. The Uniworld cruise was amazing -- from the excellence of the staff, the pace of the trip, the beautifully prepared/presented food, the incredibly well-informed guides en route and the attention to detail of all involved. All without putting a hand in a purse!
Recommended
good trip
By: ala
Reviewed on: 12 Nov 2016
I had a very excellent experience travelling with Gerry. He is well organized at all times .Gerry gave everyone personal attention .I recommend his trips to everyone, every age group and area of interest
Recommended
Helpful service and lots of questions answered quickly
By: Catherine
Reviewed on: 15 Nov 2016
Helpful information, everything ran smoothly
Recommended
India
By: Frankie
Reviewed on: 07 Feb 2017
Gerry was clear and concise. He knows what I want and was able to provide a wonderful trip that catered to my needs and abilities. I would use Gerry again in a heart beat a dedicated professional the knows his clientele and his product and services.
Recommended
Panama canal trip
By: Robinsky
Reviewed on: 16 Mar 2017
Easy to work with and knowledgeable.
Recommended
Morocco
By: DD
Reviewed on: 09 May 2017
He was good to work with. Had any questions answered quickly.
Not Recommended
disappointed
By: g
Reviewed on: 23 Jun 2017
Gerry seems nice and did his best to accommodate my needs. However, there was little knowledge about the place of destination and needed to rely on Sun Wing representatives and hotel staff once at my place of destination. Staff and representatives weren't very helpful. I haven't traveled in years and was really looking forward to a stress free holiday...may be next time
Recommended
London July 2017 Trip
By: Souli
Reviewed on: 24 Jul 2017
it was great!!!
Recommended
Madrid September 2017
By: Louise F
Reviewed on: 25 Sep 2017
We had a wonderful experience as always. Gerry is a wonderful and knowledgeable trip advisor. We are never disappointed and highly recommend him. Thanks again Gerry for a wonderful trip. Hope to have many more.
Recommended
West coast flights
By: Azee
Reviewed on: 03 Oct 2017
Gerry understood my request and put together the flights I wanted.
Recommended
Italy trip
By: J&J
Reviewed on: 15 Oct 2017
We are independent travellers and Gerry organized apts. car etc and answered ?? re resource sites and transportation. Northern Italy is a wonderful holiday area and a return visit on any bucket list.
Recommended
Morocco trip 2017
By: Rollie
Reviewed on: 01 Nov 2017
No real contact ot process other than billing
Recommended
Burgundy
By: why
Reviewed on: 05 Nov 2017
Good - very knowledgeable and well travelled.
Recommended
Barging through Burgundy
By: nan
Reviewed on: 05 Nov 2017
Easy, efficient, direct, helpful.
Recommended
Don't know.
By: Net
Reviewed on: 11 Nov 2017
Unfortunately, I have no idea what Gerry organized. We did our own air travel plans so only paid Gerry for our trip to Morocco. Doris seemed to be the one organizing everything else.
Recommended
Spain 2017
By: PP
Reviewed on: 23 Nov 2017
very professional and helpful + friendly
Recommended
Arranging trip
By: Stan
Reviewed on: 16 Nov 2017
He was great to work with. A good combination of our proposing ideas and Gerry i improving on them and then executing them
Recommended
Fez finder
By: Fez
Reviewed on: 16 Nov 2017
Gerry is always available, always gives good alternatives and is fun to work with.
Recommended
Terminal # please
By: DJ
Reviewed on: 27 Nov 2017
Our only problem was with the lack of accurate information with respect to our flights on the itineraries you provided. The itinerary failed to state what terminal we were going to arrive at when the plane landed at LHR and which we would depart from. We were going to be met in London and had to know which of five terminals we would be picked up at. If that information was not available at the time of booking, the itinerary should have stated that. Also, your itinerary said we would be flying on Finnair. But when I called Finnair to find out what terminal they would be using I was informed we would be flying both outgoing and return on British Airways because our flights were "codeshares." The flight numbers you provided were irrelevant. They should have stated that BA was operating our flights and that they were arriving and departing from LHR Terminal 3.
Recommended
A week in Guadalajara
By: Dvora
Reviewed on: 08 Mar 2018
Gerry is a thoughtful,gentle person with an interest in people, places, and art. He is a good listener and ready to meet one's needs. He chose a splendid hotel for us and found interesting places to visit. Thank you Gerry for a relaxing and fun week in the sun.
Recommended
Trip to Mexico
By: Zoe
Reviewed on: 14 Mar 2018
It was great, helped me find the right place to visit
Working with Gerry Pitts, you will have access to:
- An experienced travel guide whom you can rely on before, during, and after the trip
- Exclusive luxury resorts and properties
- Once in a lifetime experiences
Explore with the Best
Virtuoso Advisors are constantly pushing the boundaries in unique travel experiences.
Alliance programs are unique tailored experiences exclusive to travelers working with Virtuoso Travel Advisors.
learn more