Travel Specialties
Interests
Adventure
Food & Wine
Culture, History & Arts
Safari
Independent Tours
Selling Travel Since
1993
My Background
My love of travel began while watching black and white home movies of my father's trips to Africa and India as a young girl. Although the exotic has always had an allure for me, I am just as happy sipping wine at a favorite winery in California or wandering the back roads in Europe. I have been lucky to travel quite a bit in my life time and love to be able to share my enthusiasm while planning trips for others, whether it be gorilla tracking, seeing the sights in Paris or relaxing on the beach with family. Over the past 22 years as a travel consultant one of my greatest rewards is hearing my clients' stories when they return from their trips; I hope they enjoy travel as much as I do.
Places I Have Traveled
Reviews and Recommendations for Suzan Von Lengerke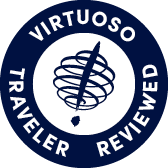 Virtuoso Verified Traveler
All reviews are from confirmed guests sharing exclusive insights
Sort reviews by
Recommended
Leisure Travel Diva
By: Newzhn
Reviewed on: 05 Oct 2013
Suzan has helped us plan several trips--all of them excellent-- the most recent to Turkey. We are always impressed by Suzan's ability to select locations based on our unique interests rather than merely suggesting what is popular. That said, she will discuss options that we might at first dismiss, but on further review may find of interest. The best summary of our experiences is this: we tell everyone that if they want an interesting vacation they should call Suzan at Lake Shore Travel.
Recommended
Highly Recommend
By: Bobby17
Reviewed on: 23 Oct 2013
I highly recommend Suzan as a travel agent and will definitely continue to use her when planning future trips. She is very knowledgable and takes care of important details that make a difference to persons traveling. It is helpful to have someone that listens to what I am interested in and willing to offer suggestions for additional ideas that are very helpful
Recommended
By: Roberts86
Reviewed on: 24 Nov 2013
We were referred to Suzan only a few weeks before our trip and she did an exceptional job with all the details for a 2 week trip through 4 different coutries. Her assistance was invaluable and we will definitely use her again for our travel plans as well as recommend her to friends and family!
Recommended
Highly recommended
By: Cath
Reviewed on: 24 Nov 2013
Suzan sees to the details that can make a trip memorable. She recommends experiences she knows to be exceptional because often she has been there firsthand. At the same time she listens to me and does a terrific job coming up with a trip that is all I wanted, only better than I imagined.
Recommended
By: Not provided
Reviewed on: 24 Nov 2013
As it happens, my trip to D.C. is scheduled in December -- Suzan is always accommodating, looking for the best way to travel to any destination and reliable in getting me there and home. I highly recommend Suzan Von Lengerke for travel arrangements -- Sincerely, Ruth Usem
Recommended
Susan is the best!
By: SeattleLite
Reviewed on: 27 Nov 2013
My girlfriend and I just returned from SE Asia. We had an amazing trip organized and inspired by Suzan Von Lengerke. She connected us to a professional tour company in Asia and gave us her personal recommendations for tours and restaurants. I cannot recommend her enough. I can hardly wait to plan our next trip! Thank you, Suzan.
Recommended
Highly recommend
By: Chris O
Reviewed on: 11 Jan 2014
Suzan did a fantastic job organizing our families trip to Vail, Co. Suzan took it upon herself after booking all of our round trip tickets to be sure our travel went smoothly. She was genuinely interested in knowing the quality of service of the airline and our experience.
Recommended
Highly recommend
By: Doc
Reviewed on: 29 Jan 2014
Our trip was completely perfect. Every detail was covered so that we had no problems getting there, while there and departing. Room upgrade and complimentary breakfast a nice bonus. Suzanne made everything so simple for us. She was attentive to our needs. Would use her again to plan our vacation!
Recommended
The best
By: Dave
Reviewed on: 23 Feb 2014
Having dealt with innumerable travel agents,  Suzan comes out as the best!
Recommended
Highly Recommended
By: nhp
Reviewed on: 11 Mar 2014
Suzan makes planning a vacation so easy.
Recommended
Tasmania highly recommended
By: Bob
Reviewed on: 05 Mar 2014
Suzan did an excellent job in making arrangements for our trip to Tasmania.  I would suggest you spend at least a week there to see all the sites.
Recommended
Highly recommend
By: Jane
Reviewed on: 08 Mar 2014
Suzan is a wonderful resource.   Whether I need help with an elaborate family vacation or a simple overnight, Suzan has great ideas and is very responsive to all my requests.
Recommended
Excellent
By: Leslie
Reviewed on: 16 Mar 2014
Very thorough and professional.  (And patient as we worked through many options for trips to Italy, Southeast Asia and the Caribbean.)  We are VERY satisfied with her excellent service.
Recommended
Recommended
By: Nancy O
Reviewed on: 19 Mar 2014
A terrific destination for tennis.  Rooms are a little bit tired, but the tennis is solid.  An easy destination to get to and friendly staff.  Pools are delightful and the restaurants were good.
Recommended
Highly recommend
By: Debby
Reviewed on: 03 Apr 2014
Virtuoso team,Suzan is very concerned about the clients experience.  She is involved enough in the details to ensure the structure of the trip covers all the critical items to ensure a hassle free trip.  Suzan has visited the areas we want to go. She offers  her first hand knowledge as a starting point for the customer to build on. She also  uses her friends feedback to continually improve what she does.  She has many international connections. She is the closest to perfect one can hope for when it comes to caring and helping her customers plan and execute fun trips. All the best, Tim Schmid
Recommended
Highly recommend
By: Carrie
Reviewed on: 13 Apr 2014
As always, Suzan did a wonderful job planning our trip to Scottsdale.  She is always timely with making our arrangements.  She also follows up with me to make sure that everything went as planned.  I would definitely recommend her to family and friends.
Recommended
Highly Recommend
By: Nancy O
Reviewed on: 28 Apr 2014
Terrific accommodations at Pinehurst, North Carolina.  Spacious adjoining rooms with a beautiful view of the pool and putting green.  Staff was super knowledgeable and the food was delicious, southern cuisine!  A beautiful spa and fitness center kept us all busy when the weather was not cooperating.  Golf courses were superb and the tennis was also very challenging.
Recommended
highly recommended
By: Coco
Reviewed on: 07 May 2014
Suzan has the ability to listen to her clients and recommend the perfect accomodations and location for their specific taste. I prefrer small luxery boutique hotels that are conveniently located but also offer some privacy.Suzan also has relationships with top guides for well planned informative tours that go beyond the most repeated sights.Suzan enjoys good food and actively looks for interesting retaurants that she can recommend. Because she delivers consistently in these areas that are important to me I highly recommend Suzan. 
Recommended
By: Not provided
Reviewed on: 08 Jul 2014
She was wonderful--easy to deal with, went out of her way to assist the travelers in her group. Would love to book a trip with her again.
Recommended
A wonderful experience
By: Tony
Reviewed on: 04 Sep 2014
Suzan did a great job of guiding me through this process. She suggested Backroads when I described the trip that I was interested in planning and then took care of all the flights, hotels, and trains that were needed to complete the vacation. The end result was a wonderful experience with all the connections working as she described they would. If I had to do this trip over again I would repeat the process to the letter. Suzan is a pro! This is not our first experience with her and she always delivers.
Recommended
Sevices
By: Linda806
Reviewed on: 01 Oct 2014
Suzan is the best. She planned our trip to he last detail and all arrangements were absolutely flawless. We highly recommend her.
Recommended
Perfect trip
By: Veronica94115
Reviewed on: 25 Oct 2014
Wonderful trip, enjoyed every minute of it. Suzan extremely helpful.
Recommended
Great Trip
By: Todd
Reviewed on: 03 Apr 2015
Suzan did a fantastic job in planning our family vacation across 4 different cities in Italy over 10 days. She made the trip very easy and all logistics were well planned. Her planning took all the stress off of me and made the trip really enjoyable. We stayed in some very nice and reasonable hotels that were right in the middle of the action. Thanks for a well planned trip.
Recommended
Wonderful service!
By: BVR
Reviewed on: 10 Apr 2015
Suzan Von Lengerke planned a wonderful trip for my family to Spain. She made sure we had expert guides and convenient transportation to make our trip as easy as possible. We stayed in three different hotels that were very different but excellent in their own way. We will definitely use her in the future!
Recommended
Expert friendly services
By: Doc
Reviewed on: 24 Apr 2015
Suzan is always a pleasure to work with and goes out of her way to help with any situation that arises. I was not able to go on this trip due to unexpected knee surgery. Suzan took all of the time I needed to help me complete insurance papers and that was greatly appreciated.
Recommended
Ireland trip
By: brock
Reviewed on: 19 Jun 2015
Suzan did an excellent job as usual for us. We were very happy with the accommodations and the time planned for us. Our bus driver was exceptional and a great tour guide as well. Had a great time.
Recommended
Excellent Service
By: SJN
Reviewed on: 21 Jun 2015
Suzan did an excellent job organizing and keeping us informed of our trip. I will continue to use her service for other travel plans.
Recommended
First class service and outstanding recommendations
By: Schneller edvard
Reviewed on: 19 Sep 2015
Thanks to susan, our trip to Scotland was first class all the way. Fantastic hotels, great itineraries were made possible by personal preview and rapid turn around service. Extremely helpful travel advisor-simply the best!!!
Recommended
friendly professional agent
By: callie
Reviewed on: 04 Jul 2015
Although we have never had the pleasure of meeting Suzan in person (we live in Scottsdale) speaking with her on the phone is like talking to a friend -and one so knowledgeable in travel !!! She has helped us plan many vacations over the years and our most recent trip to Ojai Valley Inn and Spa was wonderful. We were upgraded to a suite and as always a surprise treat was delivered to our room reminding us that she is a very attentive agent who cares about her clients. The fact that she also follows up to learn how we enjoy each trip and accommodations is very professional and very much appreciated. We look forward to future vacations and working with Suzan!!
Recommended
Wonderful Trip
By: Cruiser0
Reviewed on: 10 Jul 2015
First time cruiser, did Vancouver - Juneau. We wanted a small, relaxing boat with great opportunities to see wildlife. Susan recommended Ponant. What a winner ! She hit it right on the nose !!! Can't imagine a better cruise. Thank you Suzan !
Recommended
Very Happy Campers
By: Don
Reviewed on: 05 Oct 2015
Suzan was on top of her game for both the suggestions and arrangements she made for us in Scotland and London last month plus the QM2 on the return leg to New York. We have looked to her in the past and would certainly do so again for special trips in the future.
Recommended
Leisure travel your way
By: Axuary
Reviewed on: 01 Oct 2015
This is our fifth trip that Suzan has helped us plan and each time we say this was one of the best. We like working with Suzan because she puts together a draft itinerary based on our unique interests and requirements. Then working with local country experts she finetunes it with us to make sure it will be memorable. We love her attention to detail and enthusiasm. We are quite comfortable that should any speedbumps arise, they will be fixed as soon as possible. We recommend Suzan with utmost confidence.
Recommended
Knowledgeable advisor
By: Fortunate traveler
Reviewed on: 07 Oct 2016
Suzan's strengths are her personal knowledge of customers and her ability to design a trip that is most beneficial to each client. She understands the time necessary for the unique customer to adequately visit various cities and attractions. She was excellent at using the resources available to her for making our trip to Spain a memorable experience. Suzan, having been to many of the areas we visited, offered her insights, exposing us to many additional opportunities that added more value to our vacation.
Recommended
Great service!
By: Ruth
Reviewed on: 26 Oct 2015
Unfortunately and sadly, I was unable to make the trip to Wash. D.C. due to the death of a dear and long-time friend. Up to the last moment in planning this trip Suzan was "on top" of every part of the details - she always is! I only call Suzan Von Lengerke when I want to travel - whether it is India, which she "engineered" beautifully five years ago or NYC, I know she will always do her very best to make things easy and manageable for me. Ruth Usem Minneapolis, MN.
Recommended
Little Dix Bay
By: TC Sally
Reviewed on: 30 Dec 2015
Suzan did a great job as usual with our arrangements. We had some unusual needs and circumstances and everything worked out well. I have never met Suzan but she has been very helpful with our needs on many occasions. I have recommended Suzan to many friends.. and they have been equally pleased with her expertise.
Recommended
Highly Recommend!
By: RWL08540
Reviewed on: 16 Feb 2016
Suzan always does a fabulous job finding very interesting places to go. I highly recommend working with her. She's a true professional that will spend the time working with you to ensure that you have a wonderful experience. Incredibly responsive and fun. Can't say enough good things about Suzan.
Recommended
Australia Trip
By: Sarah
Reviewed on: 14 Feb 2016
I had a fabulous trip to Australia for about 15 days with stops in Sydney, Kangaroo Island, Melbourne, and Perth. We had wonderful tours and guides throughout the country. Suzan did a wonderful job organizing and executing the tour.
Recommended
Great Location
By: Barcelona Tom
Reviewed on: 29 Feb 2016
Suzan, chose a great hotel for us in Barcelona, Spain. On the water, very friendly staff and great views of the city and water. After a full day of sightseeing, great hotel to come back to. This was our third trip Suzan has assisted us on and we were again very pleased!!!!!
Recommended
San Miguel de Allende, Mexico
By: memo
Reviewed on: 23 Mar 2016
Great trip! Not only did we explore a part of Mexico new to us, but did so with an excellent local guide. His name was Alfredo and he provided us with a number of interesting places to explore in San Miguel de Allende and also Guanajuato City. I know this assignment was the luck of the draw, but he is a guide I would highly recommend. He had great knowledge of the area and an excellent command of English. Plus he was filled with enthusiasm for sharing his appreciation of his part of Mexico. We also had a top shelf experience at the Sazon cooking class at the Casa de Sierra Nevada. Our cooking instructor was Ruben who is also the chef at the restaurant at Casa de Sierra Nevada. Ruben took us to the local market as well as had us work with him to prepare a great meal from local ingredients. Topping off this effort was enjoying a lunch when done. We would do this class again and request Ruben. Thanks to Suzan in Chicago and Diane in San Miguel de Allende for their planning.
Recommended
Another winner
By: Art
Reviewed on: 29 Mar 2016
This trip exceeded my expectations in every respect. The itinerary was thoughtful and well planned; it provided real insight into the country. But for the President's visit, which forced some changes in our schedule, things went surprisingly well for such a long trip in a country that still lacks basic infrastructure. The people were great; the food was great; the things I expected to be great: cars, coffee, rum, were just that. But the close up look at the recent developments in Cuba was surprising. The country has a long way to go, but I recommend the trip to travelers as long as they don't just park themselves on the beaches, which I have to admit are outstanding. Now we just have to get some Republican senators, who seem to be living in the 1960's, to visit so we can get the embargo lifted and help the Cuban people out a bit. This is more a review of the trip, than of Suzan's help, but then she always does a great job for us and this was no exception.
Recommended
Amazing Vacation to Greece!
By: Northshoregirl
Reviewed on: 19 Jun 2016
Suzan worked to help us plan an amazing trip to Athens, Mykonos and Santorini. She was very responsive and was the liaison between us and Travelive, the travel service in Greece. Everything was wonderful, hotels, transfers and even our ferry. A once in a lifetime trip for our family!
Recommended
"spot on" service
By: Les
Reviewed on: 03 Oct 2016
Suzan always provide great service, great information and a can do attitude. Its a pleasure doing business with her. Have more trips coming!
Recommended
Personalized Travel Experience
By: Steve
Reviewed on: 07 Nov 2016
Suzan has been on target once again. This is not our first trip in which Suzan has been instrumental in making it wonderfully personal and stunning. The key is that she knows real people on the ground who come to us and then bring us to what is to be seen, heard, tasted, etc. The tours built into our vacation were personally-guided with no questions left unanswered, no chocolate, champagne or cerviche untasted and no piece of art or architecture unappreciated. Thanks much for taking us to the centers of culture and yet away from the typical tourist crowds.
Recommended
Great trip
By: Jane
Reviewed on: 05 Dec 2016
As always, Suzan planned a wonderful trip. All the hotels and tours worked out great.
Recommended
Miraval
By: Margie
Reviewed on: 24 Dec 2016
Susan, Miraval was wonderful....There were a few glitches that Elesa and I spoke to the new GM about....some very personal. Your gift was lovely and thoughtful..... And very much appreciated. I hope to return to Miraval in the not too distant future. It is a good place for me to heal. Wishing you a wonderful joyous and prosperous 2017. Warmly, Margie Schaye
Recommended
Thank you, Suzan
By: Elephant rider
Reviewed on: 25 Jan 2017
Suzan's gift as a travel agent is her ability to design unique travel experiences for her customers. Not only does she have a keen understanding of her clients' travel goals, but due to her vast knowledge of many parts of the world based on her own experiences and her key contacts in that region, she and her Virtuoso team create a variety of travel experiences that delight and educate the traveler. The days of travel are power packed with places to visit and experiences to be enjoyed in each travel region but the diversity of activities is balanced perfectly so that the traveler is never too tired but always engaged and delighted. Suzan always offers invaluable tips to her clients regarding hotels, restaurants, tipping, and shopping. Suzan takes ownership of her clients' trips and tracks how they progress from start to finish. If there are any issues during travels, she responds quickly to needs and makes the necessary adjustments. We look forward to working with Suzan.
Recommended
Brazil 2017
By: Nanner
Reviewed on: 06 Mar 2017
Suzan was marvelous! She kept on top of all the details so visa, shots, insurance were all done on time. She kept in touch even during the cruise. She arranged for a fantastic guide, Hotel and transport when on my own in Sao Paulo. She was the BEST!
Recommended
Thank you, Suzan
By: Jean
Reviewed on: 25 Apr 2017
Working with Suzan Von Lengerke made making arrangements quick, easy, and correct. Everything she did was done promptly and efficiently. Thank you so much, Suzan. Looking forward to working with you again soon.
Recommended
Portugal
By: Monkie
Reviewed on: 23 May 2017
She is very responsive No request is denied if it is possible
Recommended
Fun in NYC
By: Vermont Traveler
Reviewed on: 29 May 2017
Working with Suzan is always a pleasure. We absolutely love her recommendation for hotel rooms. We have been fully satisfied and beyond with the hotels we have booked through Suzan. She is very responsive to inquiries and tailors your trip with your needs in mind. We highly recommend Suzan to anyone traveling within the US and abroad.
Recommended
Agent credits
By: Callie
Reviewed on: 11 Jun 2017
We have worked with Suzan for many years and she is always most helpful and pleasant . She responds to questions and requests very quickly and makes sure each of our trips have gone well by following up upon our return We also appreciate the complimentary treats we receive during our hotel stays- another very professional touch ! The relationship with Virtuoso is of extremely high value to us with the associated upgrades.
Recommended
Advisor review
By: Cahie
Reviewed on: 23 Jun 2017
Fantastic. She answered all emails promptly. She followed up on all my questions. And stayed in touch with Tauck as well. I highly recommend her
Recommended
The Wonderful Rhine...
By: Fast Eddie
Reviewed on: 25 Jun 2017
Piece of cake ! She explained our options along the way. Made our decision very easy.
Recommended
Europe - June 2017
By: SusieB
Reviewed on: 03 Jul 2017
Suzan was a complete delight to work with! I had a lot of thoughts about where I wanted to be and stay, and where I was uncertain, she filled in completely, and with places that were completely in alignment with my original plans and budget!
Recommended
Scandanavia 2017 (plus Finland and Latvia)
By: Robert
Reviewed on: 05 Aug 2017
Suzan put together a great trip by partnering with Jan at Norwegian Adventures. It was comprehensive, completely seamless and the hotels, guided tours and transportation were all great. Suzan quickly answered all of our questions and was responsive to our requests.
Recommended
Agent
By: Coco
Reviewed on: 15 Aug 2017
It is wonderful to work with someone who knows exactly what your expectations are and works hard to deliver.
Recommended
New York experience
By: Callie
Reviewed on: 28 Aug 2017
We have worked with Suzan for years .She is efficient , professional and a pleasure to work with on all our trips .
Recommended
A real pro
By: Tom
Reviewed on: 21 Sep 2017
We have worked with Suzan on several trips over the years. She knows her business. Her recommendations are spot on, and her attention to details is excellent.
Recommended
Trip-- Barging in Scotland
By: barb
Reviewed on: 17 Sep 2017
Suzan was sharp and diligent in booking and finding the best for us.
Recommended
Latest Cruise
By: Cruisedout
Reviewed on: 27 Sep 2017
Susan and Olivia are excellent !
Recommended
Africa trip
By: CHO
Reviewed on: 10 Oct 2017
Excellent travel agent. Responded to all questions, no matter how trivial, in a timely manner. Our itinerary was superb, the order of "accomodations" that she chose was perfect. I would highly recommend Susan to others.
Recommended
Spain
By: Susan
Reviewed on: 11 Oct 2017
Helpful with great suggestions!
Recommended
Trip to Sedona
By: anonymous
Reviewed on: 15 Nov 2017
Fabulous. Her attention to detail and thoughtful care of every client is much appreciated.
Recommended
New Zealand Wonderland
By: Sam
Reviewed on: 13 Nov 2017
Suzan was wonderful to work with. She took our suggestions up to the last minute and was able to accommodate us beautifully. I have worked with her before and recommended her to others. I will continue to do so.
Recommended
Hong Kong
By: susan
Reviewed on: 28 Nov 2017
Suzan was wonderful to work with... First, she was the ultimate professional with bookings and flights. Second, she was a wealth of ideas and resources for Asia. Lastly, when we needed to alter our schedule, she handled it with precious and expertise. Highly recommend SUZAN!!
Recommended
Miraval
By: ML
Reviewed on: 31 Dec 2017
Suzan always provides excellent service. We had a wonderful time.
Recommended
Beverly Hills
By: Calgal
Reviewed on: 28 Dec 2017
She takes care of things immediately, keeps you up to date and takes the hassle out of planning a trip
Recommended
australia
By: connor
Reviewed on: 12 Jan 2018
incredible. easy. suzan made our trip spectacular and we would definitely hope to work with her again!
Recommended
Don't Leave Home Without Her (Advice)
By: Axuary
Reviewed on: 16 Feb 2018
We have planned many stellar trips with Suzan and the most recent to SE Asia proved her value once again. We were overwhelmed with the decisions about which countries to visit, where to stay, and what excursions to plan. Based on our unique preferences, Suzan planned an itinerary that exceeded our expectations and reduced our anxiety about getting from point A to point B, hotel accommodations, restaurants, country-specific activities, and arranging guides and drivers. We look forward to planning our next trip to New Zealand with her.
Recommended
Morocco
By: Art
Reviewed on: 28 Feb 2018
She was great. Responsive, professional, knowledgeable. Helped make our trip to Morocco easy peasy from start to finish. Looking forward to working with her again the next time around.
Working with Suzan Von Lengerke, you will have access to:
- An experienced travel guide whom you can rely on before, during, and after the trip
- Exclusive luxury resorts and properties
- Once in a lifetime experiences
Explore with the Best
Virtuoso Advisors are constantly pushing the boundaries in unique travel experiences.
Alliance programs are unique tailored experiences exclusive to travelers working with Virtuoso Travel Advisors.
learn more