Travel Specialties
Interests
Adventure
Safari
Ocean Cruising
River Cruising
Culture, History & Arts
Destinations
Peru
Ecuador
South Africa
Botswana
Australia
Selling Travel Since
2004
My Background
I am a customized journey specialist, working together with my clients to create unique once in-a-lifetime opportunities.
I strive to exceed your expectations before, during, and after your travels by providing highly professional service and collaborating with my partners around the globe. Ours is a people business and I'm proud of the network of worldwide contacts I've established with some of the globe's finest tour companies such as Big Five, Swain Destinations, Natural Habitat Adventures, Wilderness Safaris and Trails of Indochina - to name a few.
I'm a strong supporter of Virtuoso's memorable high-end hotels and have spent some of my own most unforgettable travels staying at them in destinations as diverse as South Africa, Vietnam, Botswana, Guatemala and Peru; and I have also joined Lindblad Expeditions in the Galapagos Islands on board the National Geographic Endeavor.
I love life at sea and have a strong partnership with our Virtuoso Voyages preferred partners and have personally sailed with Royal Caribbean, Holland America, Ponant, Regent Seven Seas and Silversea Cruises.
In 2010 I was honored by Travel Agent Magazine as one of the Top 30 Agents Under 30 in North America, and nominated as Travel Agent of the Year by Travel Agent West magazine in 2013.
You can put your trust in me to make your next trip an experience you will never forget!
Places I Have Traveled
Reviews and Recommendations for Jodi Fox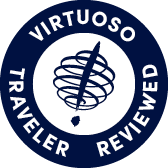 Virtuoso Verified Traveler
All reviews are from confirmed guests sharing exclusive insights
Sort reviews by
Recommended
Highly Recommended
By: Mike
Reviewed on: 12 Oct 2013
My wife and I just returned from a 45 day trip through 12 countries in Europe. The travel planning was a combination of our bookings and recommendations from Jodi. We started with a couple of days in Amsterdam, took the train to Brussels and spent three days there. After that, we flew to Berlin where we joined a Collette Vacations tour throughout Central and Eastern Europe. Then we flew back to Amsterdam and took the European Sojourn river cruise from Amsterdam to Bucharest. All went well.
Recommended
Highly recommend
By: Jsquared
Reviewed on: 15 Oct 2013
In addition to arranging our trip to China through Big Five, Jodi also arranged our stay in Hong Kong that included a tour of Hong Kong Island. Everything went off very smoothly and we had a super vacation.
Recommended
Highly recommended!
By: Bevie52
Reviewed on: 24 Nov 2013
Jodi was able to book us into the Royal Sonesta in New Orleans for two nights in Sept. it is a.charming old hotel on Boubon Street and one email to our dear friend, Jodi, and we were in. Websites like Expedia were showing no availability but she found us a room. Thanks Jodi for your help in making this happen!
Recommended
Highly recommend
By: Silverback
Reviewed on: 11 Dec 2013
Jodi handled all the arrangements for our cruise trip to the Baltic area. ". The quality of the locations that we stayed at pre and post cruise were "First Class". She also arranged for a private guide in St. Petersburg with a driver. This experience was beyond our expectations. We were introduced to the Virtuoso program a few years ago and have experienced nothing but great value and fantastic experiences.
Recommended
Personalized Professional Service
By: Janine
Reviewed on: 26 Nov 2013
Jodi is a wonderful agent. She understands our travel needs and always organizes trips that are seamless. Her skills allow us to relax and enjoy not only the trip but the planning as well. She anticipates issues and opportunities for creating a memorable vacation for us time and again.
Recommended
If you looking for help with your travels call Jodi
By: Daniel
Reviewed on: 31 Mar 2014
As always Jodi did a great job of organizing our Mississippi River trip.All the arrangements worked out, cars etc. on time, Boat and Hotels expecting us.
Recommended
Highly Recommended
By: Srbloom
Reviewed on: 02 May 2014
Mrs.Fox was a fantastic advisor who was extremely knowledgeable.  Our resort did not disappoint.  I would highly recommend Mrs.Fox.  She provided us with insights into excursions and our resort that we would have otherwise missed.  Thanks to Mrs.Fox we had a fantastic holiday!
Recommended
Trip of a Lifetime!
By: clarke
Reviewed on: 25 Jun 2014
Jodi organized the trip of a lifetime for us. We went from the Amazon to Cuzco to Macchu Pichu to Lake Titicaca to Galapagos to Quito to home, staying in first class accommodations and service, with first class guides. We learned more than we can remember, met wonderful local people and other travelers. As Jodi said, in advance, our pictures are our greatest souvenirs. Her excitement in seeing us off was more than realized every step of our trip. This is our second international trip organized by Jodi, (Kilimanjaro 2011), and we will continue to rely on and trust her with our future adventures.
Recommended
Wonderful customer service
By: Mikeshy
Reviewed on: 29 Jul 2014
Jodi Fox is a wonderful travel advisor. She is easy to work with and has a great personal understanding of our travel likes and dislikes. I do some of my own research on a possible trip and then either call or send Jodi an email with my ideas. Jodi transforms them into a complete, comprehensive travel plan that we can evaluate and execute. She handles all of the details quickly and effeciently. We enjoy working with her. She is willing to work well out into the future as we have our next four trips well into the planning stages. We have recommended Jodi to a number of our friends. They all have had great experiences with Jodi.
Recommended
Wonderful personal service
By: Mikeshy
Reviewed on: 27 Oct 2014
We just completed a cruise from Montreal to New York City on The Regent Seven Seas Voyager. We had a wonderful time. Jodi arranged for us to participate in a Virtuoso Shore experience in Halifax. We had a great time there also. It was first class and done very well. As usual, Jodi's arrangements worked out very well for us.
Recommended
All is well when you book with Jodi!
By: Bruce
Reviewed on: 13 Nov 2014
Jodi does a great job of providing options when you fist start discussing the trip, of listening to your feedback and then coming up with a plan that fits, making suggestions, getting the logistics done right and responding promptly to any queries or concerns.
Recommended
Outstanding Support
By: Mikeshy
Reviewed on: 25 Feb 2015
We are just entering our fourth leg, which is a cruise, of a four leg journey planned by Jodi. It has been absolutely outstanding. Jodi's strength is that she listens when we explain our desires for travel and then executes beautifully. Our trip started with a 19 day self drive trip throughout New Zealand. We asked Jodi to find us either B&B's or boutique hotels. Her choices we exactly in accordance with our desires. All of the rest of the details we very well planned. We had numerous small group tours which often ended up being private tours, with enough free time to give us breathing space. Our second leg was a cruise from Papeete to Sydney and everything was well planned. Leg three was a trip across the southern coast of Australia including a trip into the Outback. Again, our hotels, flights and tours were very well planned with minimal issues. Finally, today we are entering Leg four which is a cruise from Perth back to Sydney. We have had a wonderful trip. Thanks, Jodi
Recommended
Wonderful travel support
By: Mikeshy
Reviewed on: 24 Mar 2015
My wife and I just completed an 11 week trip that was comprised of 4 distinct legs: leg 1 was a nineteen day self drive trip throughout New Zealand. Leg 2 was a cruise on the Oceania Marina from Papeete, Tahiti to Sydney, Australia. Leg 3 was a fly/drive trip across the southern half of Australia from Sydney to Perth. Leg 4 was a cruise from Perth to Sydney across the top of the Australian continent on the Celebrity Solstice and then a 4 night stay in Sydney. This amazing trip was put together by a close collaboration between Jodi Fox and my wife and I. We had given Jodi a rough outline of where we wanted to go and the allowable time frame. Jodi gave us a very detailed day by day itinerary that completely incorporated all of our; need to do's, most want to do's and even some things that we did not know that we wanted to do. The organization was expertly done and the trip had very few "hiccups". We absolutely love the support that we get from Jodi and can't wait for our next trip.
Recommended
Professional Travel Consultant
By: Frankie
Reviewed on: 21 Jul 2015
As always, Jodi put together another first class package for our travel to Europe and the Mediterranean. She continues to "raise the bar" in the quality of her recommendations. The partnering with Virtuoso has brought many benefits to us in this and past travels. We could not be more pleased and satisfied. Jodi is a person that wehave referred to many of our friends and they too have had the same positive experience.
Recommended
Exemplary service once again
By: bluenose west
Reviewed on: 17 Sep 2015
Jodi is very diligent, responsive and on top of the issues and questions that surround travel planning. This leaves us free to focus on the what, where & why - researching what we want to see & learn on the trip rather than logistics.
Recommended
Wonderful, friendly, customer service
By: Mikeshy
Reviewed on: 20 Nov 2015
We just returned from a 28 day trip through Taiwan, Vietnam, Cambodia and South Korea. Jodi did a fantastic job of creating an interesting, educational and cultural experience for us. The itinerary took us outside the major cities and into the countryside where we were able to see local people in there environment. The hotels selected were excellent and conveniently located. The tour guides did a great job of adjusting the planned itinerary to our needs and wants. Every arrangement went off on time and without any difficulties. She does a great job of taking care of all of the details.
Recommended
Professional and reliable
By: Mjk99
Reviewed on: 31 Oct 2015
Jodi was incredibly professional. Any questions or concerns I had were answered in a prompt and efficient manor. We will definitely be using her services again.
Recommended
Another Great Trip!!!!
By: mikeshy
Reviewed on: 29 Dec 2015
I just completed a side trip to Iguazu Falls, Argentina and then to Antarctica via Quark Expeditions. As usual, Jodi had all of the arrangements made and they came off perfectly. The side trip to Iguazu Falls required flying into Buenos Aires International Airport and then a land transfer to the Domestic Airport. I was greeted just outside of the International Arrivals area and then transferred to the Domestic airport without any difficulties Our stay at the Sheraton at Iquazu Falls and our tour was excellent. I then flew back to Buenos Aires and then to Ushuaia, Argentina in order to catch the Ocean Diamond ship operated by Quark Expeditions for an 11 day expedition to Antarctica. The ship exceeded my expectations and the expedition was extraordinary. We managed to see wildlife that would not be expected in the area that we were traveling. The Drake Passage was gentle and we had a great trip. The trip home, while very long, was uneventful. Thanks Jodi for another great trip.
Recommended
Mexico trip
By: RJ
Reviewed on: 30 Dec 2015
We enjoyed our trip very much and the resort was excellent! We were warned that the beach was not great at our resort and this was true. However, the pool more than made up for it as well as the sister resort that we were told to go to in order to enjoy the beach. It was a bit confusing regarding the transfers to/from the airport...Jodi had explained prior to departure to find the Air Transat representatives after we cleared customs etc., however, we were told by other passengers to "go outside and find the buses and do not let anyone else take your bags or try to arrange transportation for you". We found the bus and made the trip to the hotel. However, we were then told to meet Air Transat in the lobby the next day at a certain time and were unable to do so, so had no information on return transportation. We ended up having to take a taxi back to the airport. Other than that, the trip was great, the food was excellent and we will definitely look at booking again in the future.
Recommended
Bruce
By: Bruce
Reviewed on: 31 Oct 2016
Jodi was very helpful as always, lining us up with the key sights and events. Lots to see and do in Nashville, especially if one is a country music fan. It is now one of my very favourite cities! Our rental car was more costly than expected and, with hotel parking being valet-only at $35/d also, the transportation expenses overall were much higher than planned. We did need it though, for one day out of town and to get to the Opryland location twice, but would consider avoiding auto rental next time there.
Recommended
Good service
By: GerryK
Reviewed on: 04 Nov 2016
Everything worked well except the Hotel reservation in Toronto on the outward leg. There was a mixup in dates on the documentation. We had no reservation. Luckily we were able to get in. Wouild have been a big problem with two kids in tow. Even had a lower room price. Something strange on that.
Recommended
Our trip to Barcelo Puerto Vallarta
By: Lorraine
Reviewed on: 16 Feb 2016
We stayed at the Barcelo PV from Jan 27-Feb3. We booked with Jodi Fox after outlining what we were looking for in a resort. As a family of 5 we sometimes find it difficult to have everyone in one room. Our room had a main area with King bed and a bedroom with 2 single beds and a comfortable cot was rolled in. We gave Jodi a long list of what we were looking for in a resort and it delivered almost all of it. We found the travel times good (on Air Canada vacations) leaving Calgary 1015 am, returning 9 pm at night. We went directly to our waiting bus for the hotel transfer and arrived at our resort 45 mins later with no stops. Our resort was easy to get around as it consists of 2 towers (9 floors each) with amenities in between or at base of towers. It had heated swimming pools, buffet and 4 restaurants. The restaurant/buffet were fine but not outstanding. The beach access is minimal and the waves were often rolling in all the way to the retaining wall of the hotel. Very happy with hotel.
Recommended
Professional,curtious,friendly service
By: Cool Charlie
Reviewed on: 02 Mar 2016
Our advisor was very professional,pleasant,informative and the bottle of wine was appreciated. Thanks for the advise and help for creating a great trip.
Recommended
Super fun!
By: Karen
Reviewed on: 31 Mar 2016
Great service by Jodi. Delivered what she promised. Excellent, thorough responses, done super fast. Highly recommend.
Recommended
Trip for a lifetime!!!
By: clarkeyj
Reviewed on: 16 Jun 2016
After being away from Grenada for 37 years this trip was extremely important to us. Jodi's advice of hotel, travel arrangements and communication were once again first class. She is the best in our minds. The resort we stayed at, Mt. Cinnamom, had been there in 1979 (as Cinnamon Hill), and with modernization and the continuity of the wonderful Grenadian culture we would recommend this resort to others. Grand Anse beach was a prerequisite for us and it did not disappoint. We made many new friends at the resort, and have tentative plans to return next spring. Grenada has more people and is busier than it was but it is still wonderfully Grenada! It still looks the same in many ways. The people are the friendliest you will find anywhere in the world. Once again, you nailed it Jodi. Thanks so much
Recommended
Taking care of the details
By: Val&Barry
Reviewed on: 30 Jul 2016
The trip was really wonderful. Jodi has been extremely helpful in making this trip amazing. Jodi's recommendation for the Hilton was a great place to leave from and to return to for the cruise. Jodi's continued support with rates was appreciated. Jodi's attempts with Norwegian, to get us a better rate when the rates were reduced on line, was helpful. The lesson we learned was not to book so early. Once they get your money they do not want to give any back. Norwegian Escape is wonderful. So new and clean. The staff was amazing, they went out of their way to be hospitable. The food was excellent.
Recommended
Very professional; fantastic to work with.
By: Doug & B
Reviewed on: 08 Oct 2016
Trip was fun and restful. The Halekulani was great. Super room, good food and friendly service. Certainly would stay there again. It was our choice to fly WestJet which was fine except for the overnight return flight. Should we go to Hawaii again we would book a flight that left Hawaii in the AM and flies through the day.
Recommended
Expert, efficient and reliable
By: Drum99
Reviewed on: 15 Oct 2016
New clients of Jodi, and we have been very impressed from the moment we contacted her. Excellent service, and able to accommodate changes quickly and efficiently. Highly recommended
Recommended
Excellent support
By: Karen
Reviewed on: 29 Dec 2016
Terrific support - Jodi offered first class service. Always responsive, great advice. We will use her again for planning all our family getaways.
Recommended
Disney Perfection
By: RR
Reviewed on: 15 Jan 2017
Jodi organized an excellent Disneyland vacation for us, and also kept herself available throughout the vacation for any last minute questions, additions or changes.
Recommended
Vacation
By: Gay
Reviewed on: 03 Mar 2017
Excellent, Jodi looked after us very well.
Recommended
British Isles Cruise
By: Franky
Reviewed on: 30 Aug 2017
Firstly all the planning and arrangements were done first class. She is dedicated to detail. Recommendations for pre cruise and post cruise accommodations were exactly what we wanted. Transportation to and from Southampton/ Heathrow were economical yet gave us great value with our own hired vehicle. Cannot give Jodi enough praise for all her efforts and results. She handled concerns we had with the Cruise line ( Oceania) with minimal effort by ourselves. Simply, Jodi exceeds all our expectations and is a trusted advisor for us on past and I know future trips. Highly recommended. She delivers on what she says.
Recommended
Trip to Cyprus.
By: Reunion
Reviewed on: 21 Sep 2017
She was cooperative as always.
Recommended
Duke's review
By: Duke
Reviewed on: 28 Sep 2017
Jodi is an excellent travel advisor; knowledgable, responsive, organized and a pleasure to work with.
Recommended
Another Flawless Itinerary!
By: Janine
Reviewed on: 09 Dec 2017
Jodi Fox has been our agent for a number of years and continues to provide us with amazing insight as we plan our holidays. Jodi's knowledge and contacts with travel products enables her to match our needs to the best provider and ensure that we have wonderful holidays that suit us. From the moment we contact Jodi our trips start to take shape and she's on top of each step that needs to take place so that the stress and worry of planning is eliminated. Our latest holiday in Europe was great with everything going as we had planned. We look forward to planning more vacations with Jodi in the future.
Recommended
Our last amazing continent!!
By: antarctica girl
Reviewed on: 29 Dec 2017
Absolutely flawless. Always a pleasure. First class. Wouldn't work with anyone else. She remembers all the details. Have recommended her to family and friends and they all have been pleased as well.
Recommended
Thanks Jodi
By: M
Reviewed on: 10 Jan 2018
Jodi has been very helpful
Recommended
Very pleased
By: Taryn
Reviewed on: 21 Jan 2018
We werr very pleased with Jodi's professionalism and so easy to deal with. She was very time effevtive and knowledgeable. Defiantly will use her for future travel. Thanks Taryn Thiessen
Recommended
San Diego
By: Doug
Reviewed on: 01 Feb 2018
Fantastic as always. Booked us a great hotel with generous Vision credits. We went to see Hamilton, it was excellent, and the travel arrangements and hotel greatly augmented the experience.
Recommended
Punta Cana
By: Carey
Reviewed on: 07 Feb 2018
Jodi was so easy to work with. She gave us several options that fit our budget and wish list. She was very quick to respond whenever I had questions. In the end our trip was fantastic and the resort was beautiful. Thanks Jodi!
Recommended
Vietnam & Cambodia
By: Rick Maron
Reviewed on: 21 Feb 2018
Excellent. Everything went great.
Working with Jodi Fox, you will have access to:
- An experienced travel guide whom you can rely on before, during, and after the trip
- Exclusive luxury resorts and properties
- Once in a lifetime experiences
Explore with the Best
Virtuoso Advisors are constantly pushing the boundaries in unique travel experiences.
Alliance programs are unique tailored experiences exclusive to travelers working with Virtuoso Travel Advisors.
learn more
Peru
Ecuador
South Africa
Botswana
Australia
Vietnam
Antarctica
New Zealand
Guatemala
Chile
Kenya
Cambodia
United Kingdom
China
Costa Rica