Travel Specialties
Interests
Adventure
Festivals & Events
Culture, History & Arts
Sports & Outdoors
Safari
Destinations
Australia
Thailand
Chile
New Zealand
Antarctica
Selling Travel Since
2003
My Background
As a travel advisor with more than 15 years of experience, I specialize in creating one-of-a-kind travel experiences for a discerning clientele of world travelers. Collaborating with clients to craft moments and memories that last a lifetime, exceeding expectations while inspiring curiosity, wonder, and finding that unique 'gem' while traveling.
Driven by a love of experiential travel, I've always taken the road less travelled, whether its visiting local tribes in a remote Indonesian village, safaris in Africa or India or kayaking with penguins in Antarctica and narwhals in the Arctic.
As an avid traveler who's spent years building relationships with a global network of preferred partners, I'm dedicated to discovering cultures and possibilities so you can explore each destination in the most authentic way possible.
Accolades:
Virtuoso Rising Star Nominee 2010, 2011, 2012
Virtuoso Most Innovative Advisor Adventure Winner 2017
Virtuoso Most Innovative Advisor Nominee 2018
Places I Have Traveled
Reviews and Recommendations for Natasha Rhodes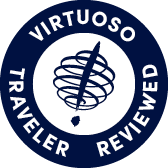 Virtuoso Verified Traveler
All reviews are from confirmed guests sharing exclusive insights
Sort reviews by
Recommended
HIghly recommedned
By: Chris
Reviewed on: 31 May 2013
A great itinerary, understood needs and requests, double checked all arrangements and made very good suggestions. Helpful and knowledgeable, attentive to details. A great first experience and hope to have the opportunity for more trips planned by Natasha. One already in the making!
Recommended
Great Job Natasha
By: Bob & Gloria
Reviewed on: 22 Jul 2013
Natasha is extremely helpful, comes up with great suggestions and choices and is extremely patient with all questions and changes even if they are silly or repetitious.
Recommended
Natasha is a winner!
By: Fin
Reviewed on: 20 Sep 2013
I would recommend Natasha to anyone in a minute. She takes care of every detail and makes you feel as though it's her pleasure to make sure you are happy and comfortable that everything will work out as planned. No surprises! It is reassuring to travel with Natasha at your back!
Recommended
Fantastic!!!
By: Audrey
Reviewed on: 16 Sep 2013
Natasha was wonderful to work with. Her communications, suggestions and arrangements could not have been better. I loved that she gave us well defined options with time lines and prices. Excellent service. The wine pairing dinner in Franshook was the best, incredible meal we have ever had. Thank you so much--I will plan to contact Natasha again.
Recommended
Highly Recommended
By: Gloria
Reviewed on: 06 Oct 2013
Very helpful and efficient as travel agents should be but the topper is that she puts up with a lot of silly questions, etc. and does her best to get you informed.
Recommended
Well Organized
By: Travel Family
Reviewed on: 06 Oct 2013
Thank you for a well organized adventure. It was a quick trip so we needed all elements of the trip to fall into place - well done!
Recommended
Highly recommended
By: caramel
Reviewed on: 12 Oct 2013
Natasha does a good job of getting into details and getting responses quickly. Easy to work with.
Recommended
Highly recommend
By: SL
Reviewed on: 29 Oct 2013
Natasha has made travel plans for me and my family for many holidays. She is efficient, accurate, well informed and professional.I trust her and have no hesitation in recommending her.
Recommended
Polar Bear Trip
By: Travel42
Reviewed on: 10 Nov 2013
Natasha listened carefully to what we wanted in a trip and then made recommendations. (Too often travel agents have their own agenda.) She responded quickly to any questions we had. Our trip was through Arctic Kingdom to a camp north of Churchill. The accommodations were basic but that was what we expected. Both the trip leader and the photographer guide were very knowledgeable. Meals were simple but tasty. We felt confident in the Inuit guides. Small group size was wonderful.
Recommended
Highly Recommend
By: kcutrell
Reviewed on: 21 Nov 2013
I have used Natasha as my agent for many years and have always found her to be most helpful. She will always go out of her way to assist you with any thing you need.
Recommended
Young, capable travel consultant
By: Michel
Reviewed on: 28 Nov 2013
Natasha is very professional and she has quite a bit of travel experience to draw on when we want to arrange our trips. She is prompt to respond and always has lots of suggestions. She pays attention to detail and supports us while we travel if the need arises. I enjoy dealing with her and have been doing so for a few years now. I trust her judgment and like how she handles things.
Recommended
Highly Recommended
By: Roger Dodger
Reviewed on: 21 Nov 2013
Our trip to SouthEast Asia was fabulous. Singapore, malaysia, Taiwan, Hong Kong and China, a complex trip went off without a hitch. It included my passions of family, business, food, wine, culture and history. My wife and I were very pleased.
Recommended
Tauck Classic Safari ---FABULOUS
By: Mary
Reviewed on: 24 Nov 2013
Thanks to Natasha we had a wonderful trip with absolutely no hitches. The flights were exactly when we needed them and she went the extra mile by keeping in contact with the hotel in Amsterdam to remind them that our "late" check-in was at 6:00 A.M. This is the fourth trip that Natasha has arranged for me and I can never thank her enough for all the work she did on each to make it stress free and the adventure wonderful
Recommended
Highly recommended
By: Lesya
Reviewed on: 21 Nov 2013
Our trip was to China through the tour group China Star. First time going on a group land tour. It was alright-prefer private tours as you get to see more and get into better places. This was suggested by Natasha, but we wanted to go on a smaller budget for this trip. Natasha still covered off all elements of our trip planning as she would have if it had been an expensive private tour.
Recommended
Highly recommended
By: jt123
Reviewed on: 11 Dec 2013
Natasha helped us plan a wonderful trip to the Amazon. Would definitely recommend her to my friends!
Recommended
Highly Reccommend
By: DT4
Reviewed on: 22 Jan 2014
Natasha always provides quick professional service and accommodates short notice requests / changes and searches for the best situation to make my travel an easy going and efficient event. I look forward to continued great engagement with Natasha and Vision Travel Solutions.
Recommended
By: cougar5
Reviewed on: 24 Apr 2014
everything went exactly as planned…..there were no mix-ups.Natasha took care of everything!Great trip.
Recommended
Highly Recommended
By: Gloria
Reviewed on: 26 Jul 2014
Natasha is always very helpful when planning a trip.  She looks after every detail and keeps records of what we like and want.  Always lets you know of things you don't think of and always gets an answer if she doesn't know an answer to a question
Recommended
Well done again!
By: Dida
Reviewed on: 26 Aug 2014
Natasha booked flights for us for a trip to Iceland. We planned the trip well ahead and when the flights were available, she made sure she booked the seats we wanted. We always feel comfortable asking Natasha to assist us with travel plans, as we know she does an excellent job.
Recommended
Perfectly organized & great service!
By: Travel Gal
Reviewed on: 18 Nov 2014
Our trip to peru that was organized by Natasha along with metropolitan touring was fabulous. Natasha really listened to what we liked & wished to explore. Along with her added suggestions our itinerary was perfect. Not too long in length of time and I felt I saw everything I wished to - the trip was not cut short. All hotels were great! Metropolitan touring was very professional and always reliable at each destination. The tour guides were not only extremely knowledgable but also really passionate about their country and what they do as a career. They were also very genuine and caring people. They gave us a lot of extra tips & tricks for ease of travel & if we were not with them great suggestions for local cuisine. It was nice to have all our tickets pre-purchased & no standing in lines. All in all my trip to peru is one I will remember with a lot if positive thoughts!
Recommended
Professional, knowledgeable, friendly
By: Ed
Reviewed on: 08 Mar 2015
Enjoyed working with Natasha, we are newly retired and will definitely be calling her for our future vacations.
Recommended
Awesome Travel Adviser and agent
By: grtcalgary
Reviewed on: 26 Mar 2015
Natasha is a highly competent and enthusiastic travel agent/adviser. We have used Natasha as our sole source for Travel over the last several years and she is a delight to work with. I would not hesitate to recommend Natasha's travel services or that of Vision 2000 to anyone. We have just only returned from a vacation in China, Thailand, Vietnam and Cambodia and Natasha was the sole travel agent who made all the arrangements and we could not be happier with he service.
Recommended
Arizona Family Adventure
By: DLTK
Reviewed on: 29 Mar 2015
Natasha did a great time helping us to plan a short spring-break adventure to Carefree, Arizona (near Phoenix). She gave great advice and helped us to book flights, car service, hotels and excursions. She met with us before planning the trip to discuss the likes/dislikes of each of our family members. Everything Natasha was involved in went without a hitch. We especially enjoyed the hot air ballooning and astronomy tours that she helped arrange. I'd definitely recommend her for families looking for someone to help plan a trip that will appeal to mom, dad and the teenagers!
Recommended
Perfect trip for three generations
By: DLTK-family
Reviewed on: 09 May 2015
Another great trip planned for us by Natasha. This time she took on the task of coordinating a mini-reunion for three generations of our family. Natasha arranged accommodation, vehicles, meals and activities so that we were able to simply enjoy the getaway without worrying about the details. We all had a terrific time!
Recommended
Perfect Holiday
By: Matthew B
Reviewed on: 01 Jun 2015
Natasha worked very hard to accommodate a number of complicated (and changing) requests while we planned our multi-destination holiday. She organized great tours, timely transfers and VIP service whenever possible. Working with Natasha to plan the holiday really made a lot of difference to the final experience, and I wouldn't hesitate to call her again for my next vacation.
Recommended
Good advice!
By: Garry
Reviewed on: 29 Jun 2015
Natasha recommended the Carlyle Hotel in New York and we really enjoyed our stay. We received the requested upgrade and enjoyed the virtuoso privileges at the hotel.
Recommended
Expert advise before and during our stay.
By: Canadian tourists
Reviewed on: 22 Jul 2015
Natasha arranged for us to have the best room at The Grand Amsterdam (Sofitel) the Canal House Suite - and along with the room we had the best adviser during our stay...our butler, Mauricio.
Recommended
Very helpful
By: Leanne
Reviewed on: 22 Jul 2015
Natasha was patient and helpful when planning our romantic getaway from the kids. She responded promptly when contacted. I'm looking forward to working with her again.
Recommended
we enjoyed everything about our trip
By: jefro
Reviewed on: 04 Oct 2015
We enjoyed our trip to Jamaica from beginning to end. Our flight there and back was great . The hotel she recommended was amazing. If you tell Natasha what you are looking for on your trip she will find it. we will definitely be using her to book our next vacation.
Recommended
Great Couples Trip to Scotland
By: LTC
Reviewed on: 09 Oct 2015
Natasha set us up with a wonderful guide (James) for our recent trip to Scotland. He was friendly, professional and accommodating to changes in our schedule. Everything we were looking for.
Recommended
Cinque Terre and Tuscany
By: Wes
Reviewed on: 05 Oct 2015
We were very satisfied with the entire trip. Everything went well, including the flight and Natasha's booking arrangements. The Backroads tour leaders did a fabulous job of making sure we all enjoyed the hikes even though our ability levels differed. We enjoyed the hotels and the many different locations where we had the four course evening meals. Julie, our leader, did an outstanding job of preparing and serving our picnic lunch on one of our hikes. In summary, it was a great trip and a wonderful opportunity to see this part of Italy.
Recommended
Loved Body Holiday!
By: ELA
Reviewed on: 18 Mar 2016
Natasha was referred to me my a good friend who has worked with her many times and it was a wonderful recommendation. She is an excellent professional with great insight and expertise. I will definitely work with her again - we are already planning another trip this Christmas. My note to her is below when I returned: Natasha, back from vacation and it was a tremendous holiday! Thank you so much for organizing it. I ended up moving a couple of days later into the best rooms available at only an extra $20 dollars a night and they did give me vip treatment and were very gentle and lovely with me. I will definitely be going back next year (if not sooner) and taking my Mom as I know she would love love it. Thank you for everything – the only hard thing was the long travel days – but next time perhaps I'll book for 10 days and give myself more time to recover before returning to work.
Not Recommended
Dropped the Ball
By: WJCalgary
Reviewed on: 30 May 2016
Met with Natasha 6 months before our departure for a 5 week trip to S America (Galapagos, hiking Colca Canyon & Machu Picchu, the cities of Quito, Arequipa, Cusco & Lima & visiting the Amazon). We are all still puzzled about what went wrong as the planning process was extremely painful. Natasha successfully booked a great boat in the Galapagos for a reasonable price, (approximately half the cost of her initial suggestion) and identified good international flights. The rest of the planning was a disaster of inattention to details, ignoring our requests and delayed deliverables. There seemed to be a lack of interest when it was clear we did not want a 5 star fully guided tour even though we initially discussed this. Took 2.5 months to get a tentative itinerary, with many inaccuracies. We finally had to abandon planning with her when she was not able to get hiking permits to Machu Picchu 2 mons before our departure. Thankfully, a Peruvian agent saved our trip & obtained the permits!
Recommended
Great Experience!
By: P10
Reviewed on: 21 Aug 2016
We all enjoyed the National Geographic Explorer cruise. Rooms, meals, and service were very good. The crew was knowledgeable and did their best to engage everyone. They had the right mix of activities and down time. Natasha kept in touch to make sure all was going as planned.
Recommended
Great river cruise
By: Snoopy
Reviewed on: 09 Sep 2016
Liz and I loved the cruise and side trip to Paris. Flights were lined up and worked great. We will be using Natasha on our next trip.
Not Recommended
disaster
By: Ted
Reviewed on: 08 Oct 2016
Our friends got a big credit from AMA we've heard nothing, did you receive anything?
Recommended
Excellent
By: Cole
Reviewed on: 18 Oct 2016
We really enjoyed our trip, and Natasha had everything well organized for us before we got there. We would book through her again, as we have in the past!
Recommended
She did a fantastic job!
By: Christmas
Reviewed on: 25 Nov 2016
Everything went perfectly. She went above and beyond to exceed my expectations.
Recommended
Expert prompt and friendly service
By: Kim447
Reviewed on: 04 Jan 2017
Very happy with my flight as well as my holiday in Calgary for Christmas😊
Recommended
Antarctica
By: Canada
Reviewed on: 14 Feb 2017
Great working with Natasha. Our trip went seamlessly, and Antarctica was a dream
Recommended
Antarctica
By: Kol
Reviewed on: 11 Feb 2017
The trip was flawless and perfectly matched to our requests and needs.
Recommended
Antarctica and South America
By: Liz
Reviewed on: 06 Mar 2017
Excellent. Have been with Natasha for 11 years. Works hard to get what we want and come up with new and exciting experiences.
Recommended
Excellent Travel Agent
By: Ingrid
Reviewed on: 03 Mar 2017
Natasha is highly competent, responsible and creative!
Recommended
Natasha Rhodes
By: Mary
Reviewed on: 30 Mar 2017
Natasha is my travel angel! She always goes out of her way to ensure that my trips are done the way I want them. I won't even think of going somewhere without her guidance as she has great contacts and knows what will make my journeys more enjoyable. Over the years she has come to know what I look for in a trip so her input is valuable. As a solo traveller that is very important as she advises me of the places that she feels I should, or should not, have on my bucket list.
Recommended
Hawaii bound
By: Happytraveler
Reviewed on: 02 May 2017
She was really helpful. Our accommodations, flights and rental car were promptly arranged once we let her know our needs and schedule.
Recommended
Ireland
By: Me
Reviewed on: 26 May 2017
Very good. She planned all the highlights of Ireland for us.
Recommended
Momgolia
By: SEIVE
Reviewed on: 09 Oct 2017
Excellent, well travelled, knowledge and trustworthy. Came well recommended. We would not travel with out her counsel.
Recommended
Asia
By: Liz
Reviewed on: 11 Nov 2017
Very easy to work with-she looks after details, has good ideas and sources.
Recommended
Natasha Rhodes
By: Louise
Reviewed on: 13 Nov 2017
Natasha is fabulous to work with as she goes the extra mile to make my trip suit me. Every detail is discussed then she does her magic to make it all come together. There are not enough good words to describe her knowledge of the travel industry nor her desire to ensure that all goes well on all trips and her ability to make it happen.
Recommended
Mexico trip
By: Mex
Reviewed on: 21 Jan 2018
Natasha enabled us to connect us with both the resort we wanted to stay at and also with the guide that we wanted to use on our recent trip to Mexico. It had been impossible to do this on our own. Thanks Natasha.
Recommended
Fantastic Travel Advisor
By: Arthur
Reviewed on: 26 Jan 2018
I would highly recommend Natasha to anyone planning to travel. She's there for you, even while you're on the road. I've booked several trips with her, and she's always very thorough.
Recommended
Natasha
By: R
Reviewed on: 14 Feb 2018
This is the second trip Natasha has booked for us. As usual it was seamless and wonderful.
Recommended
Above and Beyond!
By: Mary
Reviewed on: 26 Feb 2018
I call Natasha my "Travel Angel" as she is always on top of everything regarding any of my trips. This last Windstar cruise was a real hassle due to the need to change the itinerary, the ship and all my flights because of the hurricanes. She handled all issues as if it was nothing while I was really wondering if I should just cancel the trip but she got me through it all and the trip was fabulous. I just gave her another challenge this week as I am now booked for a trip to India and Nepal! That means that she has three trips to deal with for me in the next year!! My Angel!!!!!
Recommended
SE Asia
By: Liz
Reviewed on: 05 Mar 2018
We have used Natasha for planning our trips for over ten years. She is exceptional in giving choices and finding the best onsite operators to give the most authentic experience in the countries we travel. She is thorough, timely does lots of research. I would highly recommend her to anyone looking for an advisor to take them on seamless adventures.
Recommended
Peru 2018
By: grtcalgary
Reviewed on: 03 May 2018
Awesome. Natasha was able to assist greatly as she has traveled to Peru on multiple occasions in addition to having several brokers in Peru that were able to cost out our proposed itinerary. Natasha has always been extremely helpful in all our travel needs and wouldn't hesitate to recommend her to anyone wishing to book small and large vacations/travel
Recommended
My travel angel
By: Mary
Reviewed on: 24 Jun 2018
Natasha is my travel angel as she is so innovative and knowledgeable. She knows my favorite travel companies but offers me ideas as to what else is available for the area that I wish to travel to. Travelling is a breeze as I know that all the details have been taken care of with Natasha taking care of everything. I am so lucky to have her as my advisor.
Recommended
Perfect as always!
By: Lanne
Reviewed on: 18 Jul 2018
Natasha's planning was perfect as always!
Recommended
Natasha is excellent!!
By: Williamson family
Reviewed on: 16 Aug 2018
Working with Natasha was an excellent experience! She arranged the most incredible trip for our family of 4 to East Africa. Natasha organized absolutely everything for us & as a result our safaris & all travel were executed seamlessly. We look forward to booking our next adventure w Natasha sometime soon!
Recommended
Review
By: Bill J.
Reviewed on: 15 Aug 2018
Have worked with Natasha before. Service this time was as good as last time. Everything orked well and all correspondence between Natasha and the Lodge was timely and effective
Recommended
Great Customer Service
By: Miran
Reviewed on: 25 Oct 2018
Natasha helped us to plan a 4.5 week vacation to Europe. Natasha provided us with ideas and options for hotel stays, tours and transportation after listening to our desires and interests. She came up with some great ideas, and after our selections, made the appropriate bookings. Our trip went off flawlessly. Before we left, she provided us with a detailed summary of our itinerary, including all required receipts for our hotel bookings, tours and train/car rental details. Her suggestions for hotels to stay at were superb, our tours were fabulous and all went off without a hitch. Thanks Natasha for helping to make this an incredible trip for us!
Recommended
Safari
By: Liz
Reviewed on: 30 Oct 2018
Easy, listens to what we want. Works within budgets.
Recommended
My Travel Angel
By: Mary
Reviewed on: 12 Nov 2018
Natasha is fabulous! I recommend her to anyone I know who is in the need of advice about any style of trip. She is so well informed and is always learning about and exploring new venues and trip ideas. I tell her where I am looking at going on my next trip and soon we have a plan and everything is booked. Couldn't be easier and there has never been any problems as she has planned everything perfectly.
Recommended
Antarctic "chill out"
By: Marnie
Reviewed on: 02 Dec 2018
Natasha proved to be totally competent in all aspects for my travel arrangements. A good listener, knowledgable, friendly, patient, efficient and timely responses to all inquiries; a pleasure to deal with.
Recommended
Natasha Rhodes- Very Professional and a go- to Virtuoso Travel Advisor
By: Jason M
Reviewed on: 02 Dec 2018
I have booked with Natasha several times using Virtuoso Hotels. Natasha always tries to secure the extra Night free promos and you definitely see the value when booking with a Virtuoso agent. The extra amenities, upgrade, etc, are so worth it especially when you are usually paying the advertised hotel web rate. Looking forward to my next Virtuoso booking with Natasha, we all need a bit of luxury in our lives from time to time!
Recommended
Africa Safaris Fall 2018
By: Cosmo bucket list
Reviewed on: 26 Jan 2019
Excellent! Natasha is very knowledgable and delivers on developing an exciting itinerary for her clients. She is engaged and committed to ensuring that you have an incredible travel experience. She pays attention to the details, which is important to ensure that your travel adventure runs smoothly, especially with numerous stops and destinations. We have enjoyed working with Natasha and would not hesitate to recommend her services to others.
Recommended
Africa 2019
By: Glam
Reviewed on: 11 Mar 2019
Natasha is good. We had an amazing trip. When we needed her assistance she stepped up, responded quickly and provided an elegant solution to a tricky situation. If I had a suggestion for improvement it would be to provide quicker responses after the trip has been booked and paid for. There were a couple of occasions when we had questions prior to departure and the response was slow.
Recommended
Natasha rhodes Vision Travel
By: George
Reviewed on: 08 Apr 2019
She was very helpful, reliable, and conscientious. We lost an item on the return leg and Natasha took the issue right on and resolved to our extreme pleasure. We would work with her again for sue.
Recommended
Another great trip thanks to Natasha.
By: MLS
Reviewed on: 15 Apr 2019
It was another great trip that Natasha planned with me and it is always wonderful working with her as she is so professional yet we have so much fun in the planning. She is the only person I would plan a trip with as I know that there will not be any flaws or problems. My "Travel Angel" has come through again with fabulous trip planning and execution. Thanks, Natasha.
Recommended
Silverseas in Indonesia
By: Liz
Reviewed on: 30 Apr 2019
Working with Natasha is easy and pleasant. She has many suggestions on how to make a trip more interesting and stream-lined.
Recommended
San Francisco hotel
By: John and Mary
Reviewed on: 27 Jun 2019
We asked Natasha for some recommendations for hotels in San Francisco as she knows what our preferences are and she quickly recommended a couple, one of which was the Fairmont Nob Hill. We enjoyed it and while not cheap, the Virtuoso benefits helped bring the cost down.
Recommended
Last Minute Trip
By: MLS
Reviewed on: 20 Aug 2019
I decided to do a last minute trip and Natasha handled it with her usual expertise! She managed to get my flights and post-trip hotel in record time so all I had to do was relax until it was time to pack. I can never say enough good things about Natasha as she is my "Travel Angel". Nothing fazes her! If you are lucky enough to have her as your advisor then your world of travel is under control and looking exciting!
Recommended
Another successful trip
By: MLS
Reviewed on: 08 Nov 2019
I had another wonderful trip with no flaws due to Natasha's hard work. I highly recommend her to anyone looking for an advisor as she ensures that all of the details are taken care of and all I have to do is enjoy my trip. Thanks again to my "Travel Angel".
Recommended
Great Travel Advisor!
By: James
Reviewed on: 30 Oct 2019
Natasha has planned numerous trips for me to all parts of the world. Often, they combine a scheduled tour along with some independent travel I want to do in the area. Natasha has done a wonderful job scheduling transfers, hotels and tours for me for many years. I highly recommend her to others who love to travel.
Recommended
Egypt, Jordan and Italy
By: Liz
Reviewed on: 05 Nov 2019
Almost 15 years of working with Natasha. Still our go to trip advisor!
Recommended
Crystal cruise
By: Lonesome polecat
Reviewed on: 01 Dec 2019
Wonderful person to work with!
Recommended
Cuba by private tour
By: Liz
Reviewed on: 29 Feb 2020
We have been working with Natasha for about 15 years going all over the world. We've done private touring, group tours, air only bookings, hotel bookings, and much more. Any of your travel needs, Natasha can work it out to your satisfaction.
Working with Natasha Rhodes, you will have access to:
- An experienced travel guide whom you can rely on before, during, and after the trip
- Exclusive luxury resorts and properties
- Once in a lifetime experiences
Explore with the Best
Virtuoso Advisors are constantly pushing the boundaries in unique travel experiences.
Alliance programs are unique tailored experiences exclusive to travelers working with Virtuoso Travel Advisors.
learn more
Australia
Thailand
Chile
New Zealand
Antarctica
Botswana
India
Ecuador
Indonesia
Peru
Papua New Guinea
Rwanda
South Africa
Uganda
Vietnam