Travel Specialties
Interests
Beach & Sun
Honeymoons
Safari
Ocean Cruising
River Cruising
Selling Travel Since
1989
My Background
My introduction to the travel industry was in 1989 when I graduated from Southern Alberta Institute of Technology in Calgary. For me, a career in travel opens the door and gives me the opportunity to encounter the world, to share my experiences with friends and help them create memorable journeys and dreams of their own. I truly value all the relationships I have built over the years and believe that together we can create lifetime experiences that will be cherished forever.
My focus is working together to make my clients are comfortable and satisfied with the journeys on which they are about to travel. I am proud to be a Certified Travel Consultant for the past 24 years and am the recipient of the 2007 Travel Professional of the Year Award for Alberta and the Northwest Territories.
I personally have traveled extensively throughout the world and would love to share my experiences with you. A few of the places on my list are Tahiti, Fiji, Australia, New Zealand, South Africa, Kenya, Egypt, Morocco, Tunisia, India, Turkey, Armenia, Israel, all places in Europe as I had back packed and later when back on a Mediterranean Cruise, Northern Baltic Cruise, Iceland cruise, and two river cruises. Other areas are China, Thailand, Singapore, Malaysia, Hong Kong, South Korea, Vietnam, Taiwan, Japan. I have also been to Peru, Mexico and of course various cities all over North America and the Caribbean.
I have a passion to travel, learn the history of my destination, and see it all. I would love to share with you and have the opportunity to help you orchestrate your dreams and adventures.. Please do not hesitate to call me or email me with your future travel plans - let's start creating today!!

cheers Lesley
Places I Have Traveled
Reviews and Recommendations for Lesley Anne Harpe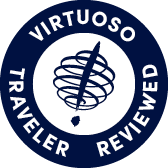 Virtuoso Verified Traveler
All reviews are from confirmed guests sharing exclusive insights
Sort reviews by
Recommended
Puts the excellent into excellence
By: tom7tucker
Reviewed on: 10 Sep 2013
Personable, knowledgeable, accessible, conscientious..I could go on and on. Lesley is far and away the best travel person I've dealt with. From the initial phone call to getting on the plane all of the details were taken care of--her approach lets one travel with confidence knowing that there is little chance that anything will go sideways and if for some reason it does, Lesley will be there to make it right. She is simply brilliant--the best!!
Recommended
Highly Recommended
By: ccthebrat
Reviewed on: 23 Sep 2013
Leslie is always friendly, eager to get the best deal and best flights that work with my schedule (no matter how crazy the request might be) whenever I book with her and she takes the time to explain things and ensure I understand all my options. She's quick to return messages and email, and she's so easy to work with. Would recommend her (and have) in a heartbeat :)
Recommended
By: dd
Reviewed on: 11 Oct 2013
Does it say anything to let you know I have been with her for so long I can't remember any other agent in my whole career. A friendly great pro with whom it's a pleasure to do business.
Recommended
Highly recommended. Excellent!
By: Hubby
Reviewed on: 24 Oct 2013
Lesley was a true professional,competent and knowledgeable. She provided us with excellent service which resulted in us having a wonderful holiday with no unforeseen hitches. She planned our flights, our cruise, our transfers and excursions explaining each to us in explicit detail before our departure. We found Lesley to be a warm and sincere person to work with and would definitely use her again in planning our next vacation.
Recommended
Highly Recommended
By: Not provided
Reviewed on: 21 Nov 2013
Lesley is the best, she books all my travel and does an excellent job, i would totally recommend her.
Recommended
Highly Recomended
By: Rusty
Reviewed on: 21 Nov 2013
Lesley is a great person who always goes the extra mile for us. We have known her for years and she has always been honest, trusting and more than helpful with our travel arrangements or our daughters travel plans. You are highly recommended by us to our family and friends. Thanks for all you do and all you will do in the future!!!
Recommended
Simply the best in the business.
By: Hammer
Reviewed on: 21 Nov 2013
Leslie is simply the best. She has bent over backwards for me to get me what I want. I also am aware of her kind and heartfelt assistance for a friend of mine whose father died in Turkey. Leslie moved heaven and earth to make that terribly painful time as simple as possible for the whole family, who happened to be on a cruise.
Recommended
Highly Recommended
By: Lori J
Reviewed on: 21 Nov 2013
We rely on Lesley for great suggestions and service and she always delivers! She's sent us to Antigua, New York and Vegas this year!
Recommended
Absolutely the best!!!
By: Tom Tucker
Reviewed on: 21 Nov 2013
Leslie is the best travel person anyone could wish for, Personable, knowledgeable, accommodating--you name it; she's it. Regardless of whether you're looking for a simple flight reservation or a complex, multi-country, pay as you go or all-inclusive holiday, Leslie will put together a package that enables you to travel absolutely worry free. Simply put, nobody does it better!
Recommended
Highly recommended
By: Not provided
Reviewed on: 25 Nov 2013
She is so accommodating and always gets us the best time , date and fare. Lesley Anne is excellent.
Recommended
Highly Recomended
By: sambo47
Reviewed on: 19 Dec 2013
Very friendly, and always dug up and got us the best deals for our holidays. Very helpful and looks after all our needs and details. My wife and I recommend Leslie any time. awesome job Leslie every time. Thank you for taking care of us every time
Recommended
Safety Net
By: Sun, Sand and Salsa
Reviewed on: 27 Nov 2013
I wouldn't book any other way. Lesley always comes through - it doesn't matter if its a simple Point A to Point B flight or a complex here, there and everywhere crazy booking. She is amazing!!! When I think about travelling - I think of Lesley first!!
Recommended
I highly recommend Lesley A. Harpe
By: Hugo
Reviewed on: 21 Nov 2013
I have only excellent words for Lesley and the high professional travel knowledge she has. Not once but every time I have traveled with my family or any family member we call Lesley and she has always helped us, providing us the top notch services, she is amazing and knows her business, besides she takes every customer from the beginning to the destination of the trip. With her, we never feel alone. A millions Thanks you Lesley.
Recommended
to all
By: parttime
Reviewed on: 22 Jan 2014
I have used Leslie many times for travel arrangements. From personal trips to group tours to Europe. I have never been disappointed or stressed with her service. I have recommended her to many of my friends and they also have continued to use her services. All in one word..... Excellent!!!!! Thanks Leslie
Recommended
Highly recommend
By: Mickey
Reviewed on: 20 Feb 2014
Had a great vacation -would definitely recommend if you want rest and relaxation.  AAAAAA+
Recommended
Highly Recommended
By: Brad
Reviewed on: 17 Feb 2014
Lesley has been our travel agent/advisor of choice for many years. In fact, we've never thought of seeking anyone else out because of the consistently good service she provides. We try to travel internationally at least a couple of times every year and complete a lot of research about where we're going to visit. Once we have an approximate plan in place we consult with Lesley who is always able to add value by bringing forward suggestions that make sense because they're aligned with what we're seeking. That's great service.  
Recommended
highly reccomend
By: Brady Bunch
Reviewed on: 13 Mar 2014
Lesley went above & beyond to help a group of ladies go on a vacation together.  She arranged purchases to be delivered on board ship, filled out all info required by the ship which I'm sure is not part of what she is supposed to do.  Hotel arrangements were made for us.  And followup done.  A definate asset to your team
Recommended
From a happy vacationer
By: Jack
Reviewed on: 17 Mar 2014
Highly recommend Leslie as tourist agent..    She is very eager to arrange the best for her client and very efficient in all she does in arranging the best available in a tour.  
Recommended
My Wife's surprise 60th/ February 2014
By: samy47
Reviewed on: 13 Apr 2014
I found Lesley to very professional, helpful and friendly. She did everything possible to get me the right resort in St Lucia with the right ocean view room. She even contacted the resort to make sure they had champagne, fruits and flowers in the room on our arrival, part of the deal. I recommend Lesley to all my friends and relatives. She was proficient and always contacted me for details and deals on the market until we found the right affordable trip. Thank you Lesley you are the best.
Recommended
A GREAT Recommendation
By: Camcam3@gmail.com
Reviewed on: 21 Mar 2014
LesleyAnne has organised our travels for the past 5 years.  We have had the greatest time following her advice.  Our travels will be continuing for the next few years and Lesley Anne will be the one we will count on.
Recommended
Highly Recommended
By: Racquetqueen
Reviewed on: 21 Apr 2014
Recommended
Righly Recommended
By: Camcam3
Reviewed on: 12 May 2014
I recently needed an emergency trip from Thailand to Romania.  Lesley Anne and her team organized the flight in short order and within two days managed to get my wife to her mothers hospital bed side for her last few hours.
Recommended
Vallarta Mexico
By: Zimmer
Reviewed on: 09 Jun 2014
Booking with Lesley was GREAT!!! Only thing is DON'T DO THE DOLPHIN SWIM with Vallarta Adventures. My son got bit by a dolphin! Other than that it was great. Lesley was on top on things, making sure we had all or documents! She even called after our trip to see how it went! Thank Lesley for helping us on a wonderful family vacation, minus the dolphin ATTACK!!!!
Recommended
Highly Recommended
By: Hugo A.
Reviewed on: 15 Jul 2014
No one but many times Lesley has organized our family vacations, and her recommendations as accurate bookings has helped us to have a very successful trips.Thank you Lesley.Hugo A.
Recommended
Lesley Anne Harpe......Top Notch Advisor.
By: Marlene in Calgary
Reviewed on: 11 Aug 2014
Lesley Anne Harpe is fantastic. She always does her best to make sure that everything is perfect for you. She is diligent, efficient and always on top of things. I highly recommend Lesley, she is amazing. Always happy to help you and nothing is too big or too small for her. Marlene in Calgary.
Recommended
Best TC Ever!!!!!
By: Milcin
Reviewed on: 28 Sep 2014
As always Lesley provides top notch, over and above service, filled with care and compassion for her clients! I always use Lesley for any travel plans and I recommend her to all my friends. Won't leave home without her!
Recommended
Amazing Panama Canal Cruise
By: Sandra60
Reviewed on: 16 Nov 2014
Lesley booked our 15 day Princess Panama Canal cruise for us. We had family coming from three different locations. Lesley managed to have us all meet up in Toronto within 1/2 hour of each other so we could head to Fort Lauderdale together. Everything we needed for documentation was provided, and Lesley answered all my pre-cruise questions (and I ask lots of questions). We have used Lesley for over eight years now and recommend her to everyone. Our friends in BC even use her. Best travel agent ever! and best cruise ever. I definitely recommend the Panama Canal as a destination.
Recommended
excellent service
By: BG
Reviewed on: 18 Nov 2014
excellent service
Recommended
Amazing Travel Agent ... Definitely Recommend to Anyone!
By: streamflow
Reviewed on: 09 Dec 2014
We were thoroughly happy with all of the service and support we got from Lesley!
Recommended
Got what was promised
By: howie
Reviewed on: 13 Dec 2014
The Palladium was fantastic and I would not hesitate to go back there some day. We were set up in a Mayan Suite and could not have asked for any better accomindations. Thanks Lesley Anne
Recommended
Excellent Service
By: Southpaw
Reviewed on: 11 Jan 2015
Using Lesley as a travel consultant is a no-brainer. She loves her job and it shows! We had some weather related cancellations, and Les was all over the problem, saving us many hours on the phone and trying to arrange getting home. I will not travel without using a travel agent, and she is the best!
Recommended
Expert above and beyond service
By: JHM
Reviewed on: 04 Feb 2015
Lesley is an expert travel advisor who always goes above and beyond when helping me plan trips. She is one of a kind and the ONLY travel agent I will ever use.
Recommended
Not friendly
By: Lapresident
Reviewed on: 07 Mar 2015
It was okay the weather was windy causing us to not be able to do alot
Recommended
Lesley is Great
By: Hammer
Reviewed on: 20 Mar 2015
I love Lesley and her buoyant approach to everything. I appreciate her expediency and her willingness to help.
Recommended
Exceptional Service
By: Cubano
Reviewed on: 24 May 2015
It was a great trip with Lesley's great help from the planning to confirming everything a day before the trip to an email the next day we arrived to welcoming us back and to ensure everything went well! The resort was great! Iberostar Ensenachos truly has one of the best beaches in Cuba and we experienced great service! Thanks again Lesley for all your help for another great holiday! Samir
Recommended
Another Successful Trip
By: milrtme
Reviewed on: 22 Aug 2015
As always Lesley's service exceeded all expectations! I would not travel without her!
Recommended
Excellent as per Usual
By: Hammertime
Reviewed on: 25 Nov 2015
Lesley came through again! We have been to the Iberostar Mojito several times now, and we are always happy there. Lesley did her best to make the booking process painless, and we were very happy. Thanks again! Now, get to work on the next one....
Recommended
KNOWLEDGABLE AND EXPERIENCED
By: DonnaInKensington
Reviewed on: 22 Mar 2016
I just returned from a visit to Israel and Jordan and it was absolutely amazing. Lesley, who had toured the area in recent months, had so many excellent suggestions for things to see and do. She connected with an Israeli tour company that arranged the group and private tours that I was interested in. I would recommend Israel and Jordan to anyone, especially now in Jordan where tourism has suffered as a result of perceptions about security. In particular, I found it reassuring to work with experienced guides who ensured that I felt safe during my three-week visit. This is the third trip I've planned with Lesley's guidance, and I certainly will be working with her with any future travel plans.
Recommended
Total Customer Service
By: SouthP
Reviewed on: 20 Nov 2016
Les is the consummate professional - she looks after her clients like she would herself. The trip is totally planned, and her experience with traveling the world is priceless. Thanks again Les for great service and looking after us like royalty.
Recommended
Fabulous friendly service
By: Mlee
Reviewed on: 12 Nov 2016
Lesley is always there to help you in every way possible. I would highly recommend having her as your travel agent. She always gets the job done precisely and efficiently. She helps you in every way possible.
Recommended
Great trip to Vegas
By: Darlene & Ernie
Reviewed on: 02 Feb 2017
wonderful as always - a chance to visit and get things all organized.
Recommended
Travel consultant that has helped me for more than 20 years.
By: Topo
Reviewed on: 23 Jul 2017
In a time where our electronic devices seem to be displacing many traditional tasks, having an accessible competent professional travel agent is a comfort and during the occasional crisis, a salvation.
Recommended
Another Great Trip
By: Southpaw
Reviewed on: 14 Aug 2017
Plain and simple, Lesley is great at her job. She cares about her clients and her advice is invaluable. She is the exact reason why advisors still exist. She knows the needs and desires of her customers and provides excellent suggestions. Thanks Les!!
Recommended
Outstanding!
By: Cochrane
Reviewed on: 24 Aug 2017
I have been booking trips thru Lesley for many years, her knowledge and professionalism makes every experience a positive one. I have referred many people to Lesley over the years and the feedback is always the same "outstanding service". I can trust her judgement and guidance always!!
Recommended
Recent trip
By: Trav4fun
Reviewed on: 19 Sep 2017
Excellent and she is very knowledgeable and goes the "extra mile" to be of help in planning exciting trips etc
Recommended
Celebrating 70 In Style
By: Robin & Larry
Reviewed on: 02 Oct 2017
Lesley was fantastic in helping us plan my husband's milestone birthday. Planning began in April 2016 - she kept us informed, provided options and was diligent about each detail. When we finally embarked on our Alaskan/California Adventure - it was spectacular. Her knowledge as a travel advisor and ability to help us on a couple of sticky situations was such a relief. Travel is bound to have the odd issue or challenge - that's just life - nothing is perfect. With her help we faced each issue and resolved them to everyone's satisfaction. It was so special - Thank you Lesley as usual you are a wonderful advisor and know us so well to understand our needs away from home.
Recommended
Trip
By: Trav4fun
Reviewed on: 29 Jan 2018
Excellent. Attentive to details. Persistent in planning our flights. Good follow up as well.
Recommended
Great reliable service - as always....!
By: Brad Fox
Reviewed on: 22 Feb 2018
In addition to Lesley being a pleasure to deal with, her attention to detail is something we count on to ensure our travel plans go seamlessly. We wouldn't hesitate to recommend Lesley to anyone seeking a highly professional travel advisor.
Recommended
Wonderfull as usual
By: Jan
Reviewed on: 08 Mar 2018
Lesley continues to be a pleasure to work with. She is readily available and with her wealth of knowledge in the travel business she can sort out all issues or make arrangements quickly.
Working with Lesley Anne Harpe, you will have access to:
- An experienced travel guide whom you can rely on before, during, and after the trip
- Exclusive luxury resorts and properties
- Once in a lifetime experiences
Explore with the Best
Virtuoso Advisors are constantly pushing the boundaries in unique travel experiences.
Alliance programs are unique tailored experiences exclusive to travelers working with Virtuoso Travel Advisors.
learn more