Travel Specialties
Interests
Adventure
Festivals & Events
Family Travel
Food & Wine
Ocean Cruising
Selling Travel Since
1999
My Background
While working in the hotel industry, I had a chance to see a lot of the world. And since becoming a cruise specialist 18 years ago, I've personally experienced a number of luxury cruise lines, including Silversea, Crystal, Seabourn, Paul Gauguin and Regent Seven Seas Cruises. I have also sailed Holland America and Norwegian Cruise line. My travels have taken me to Mexico, Canada, Japan, Singapore, India, England, Portugal, France, Ireland, Scotland, French Polynesia, Malaysia, Thailand, Hong Kong and the Maldives. It's rewarding to share my love of travel with others – while using my experience to solve problems. (Visas can be a challenge for my clients, so I help them navigate those confusing waters.) Away from the office, I'm a professional musician. (Interested in a music-themed cruise itinerary? Ask me!). I'm also father to five with three in college, so I know all the ins and outs of traveling with kids.
Places I Have Traveled
Reviews and Recommendations for Joe Lucero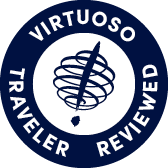 Virtuoso Verified Traveler
All reviews are from confirmed guests sharing exclusive insights
Sort reviews by
Recommended
Expert, professional, and friendly service...
By: trumpet man
Reviewed on: 04 Sep 2015
Treats customers like they were special friends....having been in the travel business at one time, it is easy for me to realize the value of a individual who knows the business inside and out and will always do his best to provide the most valuable travel experience for his clients. This is what brings customers back to an agency over and over...
Recommended
Top notch service
By: Kathy65
Reviewed on: 19 Nov 2015
Joe is very knowledgeable and helpful in planning cruises. He always responds quickly and gets the details right the first time. Strongly recommended Joe to anyone looking for an outstanding cruise consultant.
Recommended
Amazing trip....great Advisor
By: Rita
Reviewed on: 07 Dec 2015
Joe Lucero helped us have a bucket-list trip! We just completed a 72 day cruise around Africa that Joe helped us arrange. He double checked everything, made sure we were getting what we wanted and needed, and never failed to answer our questions promptly and thoroughly. Will definitely use Joe's expertise for our next trip.
Recommended
Prompt and Efficient
By: Steve
Reviewed on: 06 Dec 2015
Joe is prompt, efficient, and eager to be helpful whenever assistance is needed or questions arise.
Recommended
Joe does great work in helping plan our cruises
By: JohnM72
Reviewed on: 21 Dec 2015
Joe is always helpful in planning our cruises. He makes great suggestions, and is very helpful in interacting with the cruise line to our benefit. He responds to our inquires very quickly and with accurate information. We will work with Joe as long as we are cruising. John
Recommended
Great service, poor entertainment
By: Chuck48
Reviewed on: 22 Jan 2016
The Silversea cruise from Ft. Lauderdale through the western Caribbean was terrific. The service was great and the food incredible. We especially enjoyed the Virtuoso excursion in Cozumel. The tour guide was excellent, answering all questions completely and graciously.. Lunch was fantastic! The Silversea excursions which we chose were somewhat disappointing. Also, the entertainment on board the ship was lacking in variety.
Recommended
Expert service
By: Mama Ruth
Reviewed on: 19 Mar 2016
Great Trip which was planned expertly and with the greatest of ease. All went exactly as planned with no problems. Highly recommend!
Recommended
Perfect Trip Again and Again
By: DJS51
Reviewed on: 20 Apr 2016
As usual Joe planned the perfect trip - He ALWAYS goes above and beyond for his clients and that is the main reason my wife and I keep going back to Joe. He makes it so easy - we have been cruising with the same cruise line for about 18 years so Joe knows exactly what we expect and he always delivers beyond our expectations. I strongly recommend Joe and would never use anyone else.
Recommended
Cape Cod Guy
By: Walter
Reviewed on: 24 Apr 2016
Great Trip no surprises just like HAL should be.
Recommended
Trip of lifetime.
By: Champagne Richard
Reviewed on: 16 May 2016
The trip was wonderful. food, service and staff were extremely friendly. I received a survey from the head office. Very dissatisfied with the opening survey which said that they would like my comments on Holland America Queen Victoria world cruise. It was signed by the president of the company. Will forward you a company when I complete it.
Recommended
Fast and helpful
By: Refo
Reviewed on: 10 Nov 2016
Whenever I contact Joe he is quick to resolve an issue or answer a question. Joe has handled a number of our trips...he's great!
Recommended
Wonderful Travel Agent!!!!
By: Who knows?
Reviewed on: 27 Nov 2016
I'd never travel with anyone else helping me. Joe is absolutely the BEST!
Recommended
Wonderful Staff
By: Dominic Kruller
Reviewed on: 23 May 2016
My cabin was attractive and well designed. I was on the ship fifty days and never tired of the room and the professionalism of the room service staff. I was disappointed by the food. Menus were predictable. Less than halfway through my trip I canceled my reservations to the alternate dining venues. The cruise would be improved if there were less destinations and more days spent in the ports. When on an organized tour passengers were given a device referred to as a "Vox" that was uncomfortable to wear and often failed to work. The ship was attractive and easy to navigate. The purchased tours were only as good as the tour guides. But regardless of the negatives I would recommend Viking Ocean cruising to others. It was worth the money.
Recommended
Problem Solver
By: Nancy 1
Reviewed on: 18 Jun 2016
Joe has always helped us and even dealing with the Viking trip that we had to cancel because of a medical problem. He coached us on how to apply for the insurance so that we can go on another adventure and we actually found one which I thought would probably be sold out as it was very late into the time of departure. He always seem to know what kind of Cruises we prefer and doesn't try to push others, that he knows, wouldn't be of interested and couldn't financially handle. Knowing that he is there to answer all of our questions gives me peace of mind. Joe is a valuable asset to Cruise Specialists. I always ask for "Joe"
Recommended
Expert Guidance
By: neiljack
Reviewed on: 07 Jul 2016
We thoroughly enjoyed our land /cruise to Lima. Joe's expert guidance made all the difference for us in enjoying a memorable trip..but that's why we keep coming back !!
Recommended
great family trip
By: vince43
Reviewed on: 25 Jul 2016
the Alaskan land and cruise trip was enjoyed by whole family. joe did an excellent job of getting three staterooms configured to our desires. there were no unpleasant surprises and all went smoothly. enjoyed the significant ship board credits that provided great flexibility for us.
Recommended
Amazing Service with Patience and a Smile
By: LLL Family
Reviewed on: 17 Aug 2016
Joe is fabulous. We have been working with him for well over 15 years and he is the absolute professional. Knowledgeable. Friendly. Patient. Great follow-up and follow-thru. Thoughtful. Hard working. Very thorough. We would not work with anyone else!
Recommended
Northern Europe/Iceland cruise
By: ms
Reviewed on: 16 Sep 2016
Great job. Everything arranged perfectly. Extra gifts a nice surprise
Recommended
The best Travel Agent we have worked with.
By: JohnM
Reviewed on: 19 Sep 2016
Joe is always ready to assist in travel planning and running interference when issues arise. He knowledgeable of the cruise line's anomalies and works with us to receive the best service and value. He is always ready to assist even when we are half way around the world.
Recommended
Best cruise planner on the planet!
By: ND German
Reviewed on: 23 Sep 2016
We used The best cruise planner on the planet for all of our cruises in the last ten years and every cruise was amazing and so well documented and organized every question e had before the cruise got answered and explained and we could just lay back and enjoyed our vacation! We could enjoyed our vacations without a worry. Our family cruise with grown -ups and children involved were fantastic thanks to the best cruise planner on the planet!!!!
Recommended
Excellent Travel Agent
By: Buggs
Reviewed on: 26 Oct 2016
Joe does great work with ordinary travel plans, and this time I had an extraordinary situation thanks to Hurricane Matthew. Holland America arranged alternative flights and a hotel so I could join the ship the day after it sailed from Montreal. I'm not sure how many great folks helped with the positive outcome, but I know Joe was on my side and doing as much as he could. Thank you, Joe!
Recommended
Friendly and helpful
By: Kevin and Susan
Reviewed on: 15 Jan 2017
Joe had good suggestions as we planned this trip, our second with him. He also helped change our cabin to a better location and, most importantly, worked with our cruise line to change terrible flight arrangements to very good ones. We also appreciated that when he was not in the office, he handed off his calls seamlessly to co-worker Lynn Bowe who also helped us when decisions needed to be made on short notice.
Recommended
Island delight
By: Elf
Reviewed on: 22 Jan 2017
Joe was very helpful in planning our trip. He advised us on cabin choice and made sure we had everything we needed.
Recommended
Great trip
By: Linda
Reviewed on: 07 Feb 2017
Joe was great to work with on our recent Caribbean cruise.
Recommended
Good guy
By: Refo
Reviewed on: 28 Jan 2017
Always got back to me quickly and answered all my questions. We recommend him to all our friends.
Recommended
Joe Lucero
By: butzy3
Reviewed on: 02 Feb 2017
Always a pleasure
Recommended
FAR EAST ADVENTURE
By: PITMAN218
Reviewed on: 12 Mar 2017
I HAVE FOUND JOE TO BE VERY EASY TO WORK WITH; ALWAYS ACCESSIBLE BY WAY OF PHONE OR EMAIL. i AM VERY PLEASED TO BE WORKING WITH JOE FOR ALL OF THESE YEARS.
Recommended
Rotterdam
By: Joel
Reviewed on: 12 Mar 2017
Excellent, very helpful
Recommended
Go With Joe!!!
By: Flash
Reviewed on: 28 Mar 2017
Joe took care of any question or problem we had! He would always promptly return all of our phone calls.
Recommended
Not applicable
By: Jack
Reviewed on: 31 Mar 2017
When this cruise was originated, Joe Lucero was not my agent. He had nothing to do with the planning or making the reservations.
Recommended
Konigsdam Caribbean
By: Patty
Reviewed on: 08 Apr 2017
Joe was very helpful with planning our cruise. He was efficient and available for questions when booking and preparing documents. My mother and I were pleased with the extras that Joe and Cruise Specialists provided us to enhance the cruise experience. Thank you!!
Recommended
Super Joe
By: Buggs
Reviewed on: 05 May 2017
He's always helpful and fun to work with. Sometimes things get complicated and Joe is consistently accurate and he fixes potential problems.
Recommended
Princess
By: Raf
Reviewed on: 05 May 2017
Joe is very knowledgeable and offers very good advice.
Recommended
Joe Lucero
By: Mouse
Reviewed on: 06 May 2017
It was a pleasure having to work with Joe as my advisor.
Recommended
Bermuda trip
By: Linda and Lew
Reviewed on: 27 May 2017
Other than Holland America dropping the price significantly within two day after we booked and no compensation the trip was excellent. Our seventh cruise with HAL and Joe at Cruise Specialists. We are three star mariners and received our Copper Medallion in a nice ceremony with the Captain. We docked right along Front Street in Hamilton and shopping and excursions were great. We pre-booked a Hawaii trip on board for next winter and look forward to some decent perks for out eighth booking with Holland America and Cruise Specialists.
Recommended
Middle East
By: Irene
Reviewed on: 31 May 2017
Great. It was a wonderful trip
Recommended
travel agent
By: Marka
Reviewed on: 31 May 2017
Good as can be.
Recommended
Advisor Review
By: Tango
Reviewed on: 31 May 2017
He is thorough and knowledgeable... very pleasant and friendly, and willing to accommodate us. I would highly recommend him to friends. In fact, we are looking to book another cruise on Crystal Serenity.
Recommended
Knowledge and expertise
By: Suconn
Reviewed on: 01 Jun 2017
We've been traveling with Oceania for years but working with Joe made this 27 day trip the best by far. Communication and follow up details were seamless. A nice new experience!
Recommended
Lucero
By: mmamaster
Reviewed on: 04 Jun 2017
Excellant; took care of all issues and provided a nice bonus to the cruise.
Recommended
Great support and advice
By: Chuck
Reviewed on: 23 Jun 2017
I have been working with Joe Lucero for 11 years and over 25 cruises/tours. Joe has always provided excellent advice & planning integration for my many travels. He has provided many Virtuoso benefits to my travels, which were beyond what I expected. Most recently, he helped to arrange the retrieval of my lost luggage at LHR. I commend Joe for his extra efforts. I look forward to working with Joe in my future travels
Recommended
Alaskan Cruise
By: Jack
Reviewed on: 28 Jun 2017
He was able to order my distilled water.
Recommended
Great trip
By: Linda
Reviewed on: 09 Jul 2017
Joe helped us with a great Holland America family cruise to Alaska (thirteen people, four cabins.) Everything went really well and we all had a fantastic time.
Recommended
Seaborne
By: Steven
Reviewed on: 15 Jul 2017
Great he followed up everything
Recommended
Makes life easy!
By: Refo
Reviewed on: 22 Jul 2017
Joe takes care of the details and answers any question I have. I don't go anywhere without checking in with Joe....he's never failed me!
Recommended
Joe & HAL booking
By: Jarvis
Reviewed on: 09 Aug 2017
Quite pleasant working with Joe: knowledgeable, efficient, and seems to have his client's best interests at heart.
Recommended
Great Guy
By: butzy3
Reviewed on: 12 Aug 2017
As usual Joe provides exceptional service. I cannot say the same for the lady who covered for when we made this reservation. Not nearly as responsive and it really seemed as if her mind was elsewhere. Very disappointed that I had mentioned to her that we would be observing our 48th wedding anniversary on this cruise. She said she would make the cruise line aware of this. After the date had passed I questioned the front desk about it and they said that they were never made aware. They subsequently presented us with an anniversary cake at a latter date.
Recommended
Very Attentive
By: Linda
Reviewed on: 16 Aug 2017
Joe is on the ball and answers all of my questions or concerns about my trips. He is very attentive and very personable. I would not book with any other trsvel agent.
Recommended
Silver seas
By: Myrna
Reviewed on: 07 Sep 2017
Great! He was very helpful with all details.
Recommended
A Real Cruise Specialist!
By: Sandy
Reviewed on: 08 Sep 2017
Working with Joe always a pleasure! Just finished cruise #5 and working on #6. Joe has real follow-up giving us real confidence that everything will go well - and it does!!
Recommended
Great service
By: king of karaoke
Reviewed on: 06 Oct 2017
Joe gives great service, answers questions promptly, is very personable.
Recommended
Joe
By: suzy
Reviewed on: 15 Sep 2017
good, he is always available
Recommended
Review
By: Ann Marie
Reviewed on: 17 Sep 2017
It is very easy to work with Joe as he is very knowledgeable about the Cruise Industry. He has some very good suggestions and makes one feel very important,.
Recommended
Joe
By: Tred
Reviewed on: 27 Sep 2017
Joe was very helpful in arranging my air and advance hotel reservations.
Recommended
Viking Baltic Cruise
By: Sudoku
Reviewed on: 30 Sep 2017
Very good. He took over from Kelli Surdell. The reservation was already made with stateroom selection. He was very helpful with changing air previously selected.
Recommended
Efficiency of our Travel Agent.
By: Young Lady
Reviewed on: 13 Oct 2017
He is very helpful and gave us all we need. He was on the top of everything from the beginning to the end, and I will stay with him. In fact, I already booked another cruise with him. We were very happy with him.
Recommended
Danube
By: Ron Hearle
Reviewed on: 26 Oct 2017
Perfect he did everything perfectly
Recommended
my husbands 90th birthday bash
By: Carol
Reviewed on: 28 Oct 2017
Joe made it happen--he was great.
Recommended
Great experience
By: Fish1950
Reviewed on: 07 Nov 2017
When/where can we go next? Joe did such a great job working with us on our 1st river cruise we cannot wait to get started on our next one. From my 1st call Joe was patient, professional and willing to check out our questions. Did not try to "sell" me on anything, just gave us straight answers, which proved to be very good advice. It was a little unnerving to depend on someone I had never met for setting this up, but Joe proved to us it was really best to use a "pro" and get it done right. Then for him to call 2 weeks ahead of departure and ask if we wanted a complimentary upgrade was just great news. No question, I will not lose Joe's phone number and he can expect more calls from us in the future.
Recommended
truly knowledgeable
By: aureanna
Reviewed on: 12 Nov 2017
Joe is knowledgeable about the travel industry. He is forthcoming with information : explaining and makes recommendations to enhance the trip. Joe is a professional travel consultant. Enjoy planning trips and having his advice.
Recommended
Danbury Traveler
By: river cruiser
Reviewed on: 23 Nov 2017
Joe is very easy to work with on travel arrangements. He is always very responsive and understanding of our needs. Always anxious to make sure we are satisfied. I definitely would recommend him to others
Recommended
Great Guy
By: Buggs
Reviewed on: 25 Nov 2017
He's always efficient, kind, and helpful.
Recommended
Joe is an outstanding travel agent
By: Larry
Reviewed on: 10 Jan 2018
I have used Joe's services since 2007 and have been very happy with all the many cruises that he has booked for me. I have nearly 600 days cruising with Holland America and many days with other cruise companies. All these cruises since 2007 have been booked with Joe. Joe has provided me with excellent advice on my bookings, especially when things didn't go as expected. He is a good guy to have on your side.
Recommended
Great Trip
By: Happy Cruiser
Reviewed on: 20 Jan 2018
Joe was very helpful and saved us money on travel. I would recommend Joe and will use him in the future.
Recommended
Oz
By: Oz
Reviewed on: 01 Mar 2018
Perfect no problems
Recommended
Cruise to Cuba
By: Hugh
Reviewed on: 05 Mar 2018
We have worked with Joe for several years and would not use anyone else. We rely on his advice and on his taking care of anything that may come up with regard to a trip. We have learned time and time again, that extensive travel requires a true professional to get the most out of our travel plans. We rely on Joe!
Recommended
Happy
By: FanofJoe
Reviewed on: 06 Mar 2018
He's great, always.
Recommended
Joe Lucero
By: so/so
Reviewed on: 16 Mar 2018
Excellent;I have used Joe for many years for many cruises only on Holland America.
Recommended
Excellent Service
By: Chuck
Reviewed on: 19 Apr 2018
I have been working with Joe for over 12 years and 25 Cruises/excursions. Joe has helped to arrange some of my short trips and multi-month excursions. He is always available to advise and negotiate with tour providers, travel insurance issues, etc. Joe is always responsive and answer our questions rapidly and accurately. He has helped resolve lost luggage issues, contacted tour providers when we were left behind in West Virginia, and more. My wife and I give Joe a solid "10" as a full service travel agent and have recommended him to many of our friends.
Working with Joe Lucero, you will have access to:
- An experienced travel guide whom you can rely on before, during, and after the trip
- Exclusive luxury resorts and properties
- Once in a lifetime experiences
Explore with the Best
Virtuoso Advisors are constantly pushing the boundaries in unique travel experiences.
Alliance programs are unique tailored experiences exclusive to travelers working with Virtuoso Travel Advisors.
learn more