Travel Specialties
Interests
Food & Wine
Ocean Cruising
River Cruising
Destinations
Canada
Sweden
United Kingdom
Denmark
Finland
Selling Travel Since
1985
My Background
I thank my family for my passion for travel. We visited 21 countries together, before I turned 20. I guess it was only natural that I'd pursue a career in travel, and I can honestly say that I thoroughly enjoy what I do. I pride myself on my ability to problem-solve, and I'm a stickler for details. (I always double and triple-check the information I provide my clients.) Over the course of my three-decade career, I've traveled extensively and booked vacations spanning the globe – including my specialty: Grand and World Cruises. Coming from a family of golfers and foodies, I can orchestrate wonderful vacations incorporating those passions. I've also arranged safaris, fishing trips, private-island getaways and multi-family travel – in addition to cruise adventures.
Places I Have Traveled
Reviews and Recommendations for Diane Ritchey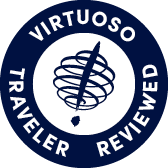 Virtuoso Verified Traveler
All reviews are from confirmed guests sharing exclusive insights
Sort reviews by
Recommended
Excellent professional and friendly service
By: Jim.Andrea
Reviewed on: 24 Sep 2015
We enjoyed working with Diane very much, she was very informative and provided excellent customer service. Diane made us feel confident in the travelling choices we made while she guided us along. We would definitely contact Diane again for our travel needs.
Recommended
Knowledgeable and very helpful Cruise Advisor
By: Mariner
Reviewed on: 21 Sep 2015
We had a wonderful cruise on Holland America's Zuiderdam from Venice to Rome via Greece, Turkey, the Greek islands and Naples from Sept 4 to 15. We were extremely happy with our stateroom and its location on the ship. Diane made sure that we received the Holland America one day special gift offer of free beverage packages which added so much to our enjoyment of our cruise. During the booking, she was able to quickly answer all of our questions and explained any new Holland America policies and special offers. She did a great job and saved us a lot of money too. Thanks Diane!!!!
Recommended
Outstanding personal service
By: Dennis 108
Reviewed on: 22 Sep 2015
As always, Diane gave outstanding personalized service. Dealing with her makes you feel as if you are her only client. She happily handled several calls for assistance that at times were rather lengthy. Her association with Holland America has always provided the special needs requested (IE a table for 2 at early seating). Diane is the only Cruise Consultant and Cruise Specialists the only company we would trust for our cruise planning and needs. We cannot thank Diane enough for her care and attention.
Recommended
No suprises
By: Desert John
Reviewed on: 02 Oct 2015
We recently booked a Northern Europe/Trans Atlantic cruise on the Regal Princess with Diane. We spent a lot of time working on details prior to our departure. Diane was extremely helpful and I may say very patient. The trip was as advertised and we had a great time. The cabin that Diane suggested was exactly what we wanted. The meal service was what we expected it to be. This is a new new very large vessel, but they handle the passanger load very well. We have used Diane on previous cruise vacations and probably will never use anyone else, she is great! Thanks Diane we will talk soon John
Recommended
Trip of a Lifetime!
By: Krisinseattle
Reviewed on: 29 Oct 2015
We recently took a fabulous cruise through the Mediterranean and the Aegean Seas. Enjoyed Regents Seven Seas, especially the all inclusive feature, not having to pay out of pocket for airfare,excursions, alcohol, tips/gratuities or airport transfers. Of course, the overall price reflects these inclusions. We took advantage of the air deviance feature ($175pp) and went a week early to Barcelona and enjoyed that city and the surrounding area immensely. Some of the selected ports were more exciting that others and some of the tours better than others, and yet on the whole, felt the trip was well organized and we saw 10 wonderful ports of call in 11 days. The Voyager had a lot of vibration and movement, but that could have been since we were on the top floor at the stern, would rethink that choice of stateroom for future cruises. Only bummer was that we thought we had the shipboard credit coming back in full and had to "waste" $400 on the last day. Other than that, all was a great success!
Recommended
21 Day Caribbean on HAL Oosterdam
By: grace
Reviewed on: 12 Apr 2017
Great. We have booked many cruises through her and she is very professional and helpful!
Recommended
Professional Advisor
By: ck in Miami
Reviewed on: 05 May 2017
Excellent. Very patient with all my repetitive questions. Grateful for her assistance as I worked to navigate my cruise planning.
Recommended
holland america world cruise
By: jack
Reviewed on: 13 May 2017
All communications were prompt and well thought out.
Recommended
Galapagos Islands - Magical
By: Debbie
Reviewed on: 10 Nov 2015
We just returned from a Celebrity Xpedition cruise through the Galapagos Islands (inner itinerary). This trip was fantastic. We stayed 2 nights in Quito, Ecuador prior to flying to Balta for our transfer to the Xpedition. This is not a regular cruise ship...less than 100 guests with no movies, major entertainment or casinos...didn't miss these amenities at all. The star of this cruise is the Galapagos wildlife. The animals, birds and sea life are amazing. The naturalist guides and zodiac drivers are fantastic and very safety conscious. We would love to go back and take the outer itinerary in the future. Diane has been great is assisting us to set up the cruise and insurance. She provided all the documentation in a timely manner and always immediately responded to my emails. Diane will always be our person to go to for all our future cruises.
Recommended
Excellent
By: MarcE
Reviewed on: 20 Nov 2015
It was a wonderful cruise. Unfortunately, I had a medical problem that hampered some of our shore excursions. We had an outstanding cabin steward.
Recommended
Terrific!
By: Blurp
Reviewed on: 16 Nov 2015
No hitches at all. Very interesting, exotic and informative. Luxury foods and rooms.
Recommended
Great service
By: Ron
Reviewed on: 18 Dec 2015
Diane was great....informative, responsive, had patience with us, and all around helpful. She has helped us with two cruises and will help with more.
Recommended
trip
By: konnie
Reviewed on: 11 Jan 2016
We had a great time, Really didn't like the ports, but what can you do. Everything else was great
Recommended
Flawless trip
By: Maryclem70
Reviewed on: 29 May 2016
We discussed this trip and then booked it with Shannon Nelson. We received our documents from Diane Ritchey. We had a lovely flower arrangement in our room which was without a card but I suspect Diane sent this. I would refer this cruise on Viking Skirnir to anyone. Beautiful new shop with contemporary appointments. We had superb food, wonderful, warm, personable and conscientious staff. The program director, David, was no short of amazing.
Recommended
Always great service by her
By: Jim
Reviewed on: 26 Jul 2016
All cruises she has discussed and booked for us have been great and seamless. However, the last cruise on Viking Sea was less than great. Air service on return was very difficult for a 70 y/o (however, that was Viking's doing) and I still have a pending hold on my credit card from July 14 even though the total amount was charged to the credit card on July 17 (and paid). Viking said the only way to expedite removing the hold was to fill out a form and send it to them. Never had this sort of problems with Regent Seven Seas. I have recommended Diane to many people my wife and I have met both on cruises and in the US.
Recommended
Outstanding Itinerary
By: MarJim
Reviewed on: 25 Jul 2016
The Rotterdam was an excellent vessel for sailing across North Atlantic. A truly once in lifetime experience seeing Greenland, Iceland, fjords, icebergs, and glaciers. All ports were outstanding, entertainment on ship was excellent as well. I would highly recommend.
Recommended
Very friendly and on top of things
By: Ches
Reviewed on: 30 Aug 2016
Diane has been very helpful and courteous whenever we have worked with her. She goes out of her way to explain things and she has a lot of patience. We have recommended her to some of our fellow cruisers on our last cruise.
Recommended
Friendly and Knowledgeable
By: curly
Reviewed on: 10 Sep 2016
Diane always responds quickly to my inquiries.
Recommended
35th Anniversary Trip
By: Dave&Cathy
Reviewed on: 28 Sep 2016
Diane was great to work with
Recommended
Terrific in everything she did for me
By: Cydzie
Reviewed on: 08 Oct 2016
She did everything I asked and she helped me with my travel problems because she knew I would have trouble making connections because of where I live. No challenge was to big. She always answered every email I sent. She advised the ship of my dietary needs so I didn't have to worry about it. I even got a reply from the ship. We celebrated our anniversary on the ship and what she did? was very nice. We ate at Prime Seven with another couple who were also celebrating and we got a signed card from the chef and staff congratulating us along with a copy of the menu. The other couple didn't. That was really nice. They also gave us a beautiful anniversary cake which we shared. I think she goes out of her way to make my cruise great.
Recommended
Regent Explorer
By: Bee
Reviewed on: 06 Oct 2016
The new Regent ship is gorgeous. Service was impeccable. Had a lovely time and would recommend this cruise line to all.
Recommended
Diane only Diane
By: lds8
Reviewed on: 16 Oct 2016
Diane is exceptional!! I use her for all our cruises. Hard worker attentive thinks ahead She's the best
Recommended
BEAUTIFUL FALL COLORS
By: RANDY AND JERRY
Reviewed on: 28 Oct 2016
DIANE RITCHY IS ALWAY THE BEST, USED HER SERVICE/CRUISE CONSULTANTS FOR YEARS. THE RSS MARINER IS A GREAT SHIP, OUR FAVORITE. THE FOOD QUALITY IS SLIPPING A BIT CREW, SERVICE IS SLIPPING A BIT. SHORE TOURS QUALITY SPOTTY. STILL A GREAT CRUISE LINE IS REGENT'S FOCUS ON THE EXPLORER???
Recommended
Always reliable and helpful
By: Gary36
Reviewed on: 15 Dec 2016
My wife and I recently completed a 21-day cruise aboard Regent's Seven Seas Voyager Cruise from Barcelona to Dubai. Everything went as promised by Regent and assisted by Cruise Specialists and Diane Ritchey. This is one of many cruises we have booked with this travel specialist and will continue to do do because of their efficiency and availability whenever we have questions or concerns. We highly recommend them and have referred friends to their agency in the past.
Recommended
very helpful
By: suexum
Reviewed on: 14 Dec 2016
Diane is always very attentive and helpful. She is quick to get back to you and if she is not available a coworker does. sea mless.
Recommended
Wonderful service!
By: Charlie29
Reviewed on: 22 Dec 2016
Diane Ritchey did a fantastic job on our Atlantic Adventurer Cruise. She went out of her way to make things easier for us and was always there when we needed her.
Recommended
Virtuoso
By: JRN
Reviewed on: 26 Dec 2016
We would liked to have taken advantage of Virtuoso's land tour of Tenerife, but it was scheduled to begin at 8 am or 8:30 am, which is too early for our liking, hence we let it go by. Nine o'clock is the earliest time we would start a tour. We did not attend Virtuoso's cocktail party because the ship was all-inclusive and a "free" drink was meaningless to us.
Recommended
Insightful Travel
By: Judy
Reviewed on: 11 Jan 2017
This is the fourth trip with Crystal Cruises that Diane has planned for my daughter and me. As usual, her efforts made our travels smooth and easy. She procured for us the first class seats we prefer on our airline as well as a lovely penthouse on Crystal Serenity. The Caribbean was our destination and we noticed some changes. Our previous three trips have been on Symphony, this was our first sailing on the slightly larger Serenity. Very few differences in the ships, but some differences in level of service and attitudes of other passengers. The most amazing service was given by our butler, DiDi. She is outstanding! In both specialty restaurants we were rushed through. The outstanding memory is of the rudeness, selfishness, and entitlement of some passengers. Neither Crystal nor Diane can change that, but it was part of the experience. A huge challenge, for me, was the very long walks from the ship to the awaiting excursion departure points. Entertainment was less than expected.
Not Recommended
Disappointing
By: Emerald
Reviewed on: 09 Jan 2017
Penthouse? Surely you jest. Dinky bath, no tub, large enough to accommodate one guest only. Not any special room furnishings. The TV was small, in cabinet on top shelf and while they carried all the cable news channels and the ship news (and ship ads), no contemporary movie channels. Extremely good food, presented well, with a good choice of venues. Also, well stocked library in a pleasant large room. Probably never use Oceania again, and 100% positive never will return to the Sirena.
Recommended
I have the best agent!
By: Myrt
Reviewed on: 12 Mar 2017
Diane and I have been together planning many, many cruises! I am happy to say that she goes the whole mile for everything she has done for us. She will bend over backwards to get us all the perks and privileges that are allowed. We have been very happy being introduced to the Virtuoso programs and now also associated with Cruise Specialists. It is nice to know that you can call with comments and questions and know you will get fast, prompt and accurate responses. Thanks Diane
Recommended
Diane Ritchey is top notch--the best!
By: Celtic Cowgirl
Reviewed on: 06 Mar 2017
Diane Ritchey is simply the best trip advisor I've ever worked with! She is professional, knowledgeable, willing to go the extra mile to give you good guidance and make sure no details are over looked, and completely willing to discuss any concerns you may have. She is easy to talk to and has a sense of humor. She has that special ability to makes you feel like you are her only client! For sure, she will be my "go to" person for any travel needs, and I have no hesitation to recommend her to friends. This was our first cruise booked with Diane, and I'm sure she will give us the same excellent service as we prepare for next year's world cruise. We were away from HAL cruises for awhile, but we even booked another Norwegian "future cruise" with friends while onboard. Thank you Diane!
Recommended
Best ship in the water
By: Super Ship
Reviewed on: 13 Mar 2017
Awesome experience start to finish
Recommended
South America trip by Tauck
By: Boris
Reviewed on: 26 Mar 2017
We are working with Diane Ritchey for 7-9 years She is an EXELENT adviser We would recommend the service of Diane to others
Recommended
What A Genuine Blessing
By: Bob
Reviewed on: 15 Apr 2017
Diana is not only a consummate professional in everything she does as it relates to our travels, I consider her a friend as well. Even though we've never met in person we've established a meaningful relationship over the years that has allowed us to share prayer concerns and to pray for one another and the needs of family members. Her servant's heart allows her to be more than someone who just books cruises and is focused on the bottom line. I look forward to our conversations by phone or email and would highly recommend Diane to anyone who is looking for someone who is so much more than just a business only travel professional. We always take her cards with us on our cruises to share with new folks we meet along the way. Diane is a genuine blessing and will walk that proverbial extra mile to make sure your travel needs and expectations are exceeded.
Recommended
regent Explorer
By: jim
Reviewed on: 03 Apr 2017
great, she is so helpful and honest. Her advise is alway s right on!!
Recommended
Regent Seven Seas Explorer
By: Keith Duncan
Reviewed on: 05 Apr 2017
From my first contact Diane was and continued to be, always pleasant, courteous and helpful in getting everything organized . She was very knowledgeable when discussing the new ship and when some question came up, she was quick to contact Regent to clarify the answer to my question. A delight to work with. Keith Duncan
Recommended
Fabulous Trip
By: VB
Reviewed on: 07 Apr 2017
She is dedicated and attentive to all details of the trip. I would never use another advisor. Diane never fails to respond to any request. She is wonderful.
Recommended
A Grand Voyage that certainly was grand
By: Debbie
Reviewed on: 11 May 2017
Diane was great- she answered all questions promptly. She and her team at CRUISE SPECIALISTS helped us customize the cruise as we wanted. The bonuses offered for this 58 day cruise were very good. This was a big investment and we were very pleased
Recommended
Westerdam 4/27 Adriatic Dream
By: JMc
Reviewed on: 19 May 2017
Excellent, easy to contact, willing to help.
Recommended
Our 4th Alaska Cruise
By: Randy
Reviewed on: 31 May 2017
GREAT, NOTHING BUT GREAT. She is the BEST.
Recommended
Crystal Cruise LA to Hawaii
By: drbob10533
Reviewed on: 19 Jun 2017
Diane was most helpful in planning this trip and answering all of our questions
Recommended
Excellent cruise advisor
By: MJG
Reviewed on: 24 Jul 2017
Diane was great to work with. When we discussed possible Alaska cruises, she talked and told us about the 14 day HAL Alaska cruise and 30 anniversary cruise of Cruise specialists. We are so glad we chose the 14 day cruise with Cruise Specialists. since we hadn't cruised in 10 years we had lots of questions. Diane was always quick to return our calls and answer our questions. I would highly recommended Diane Ritchey and plan to use her for future cruises.
Recommended
Best of the Best!
By: Judy
Reviewed on: 02 Aug 2017
I've been working with Diane for several years and four cruises. She is, no doubt, at the top of the game. I know she goes above and beyond for her clients with the result being a great trip. She's coordinated our trips to Alaska, the Black Sea, the Caribbean, and now the South Pacific. And she'll do our next trip, whatever it turns out to be! Diane is attentive to details, time lines, all the little things that make a trip easy for the traveler. I consider her my friend as well.
Recommended
Advisor
By: Lori
Reviewed on: 09 Aug 2017
Fantastic, advisor.
Recommended
Family cruise
By: Napoleon 1
Reviewed on: 19 Aug 2017
Efficient and helpful
Recommended
Cruise
By: COL Sarine
Reviewed on: 18 Aug 2017
She was more than helpful as I had changes and she took care of all of them
Recommended
Diane
By: Mimi
Reviewed on: 26 Aug 2017
Hard worker and a pleasure to deal with. Have used her for five years or more and have had good service on all bookings.
Recommended
Awesome advisor
By: Mary
Reviewed on: 01 Sep 2017
Great. She was awesome to work with
Recommended
Diane Ritchey - Best agent around
By: Myrt
Reviewed on: 01 Sep 2017
Diane has become a best friend only thru e-mail's and phone conversations. She, first of all works FOR YOU! She has helped me with air reservations, pre and post cruise options and any and all other problems that may arise! AND - I know she will get me the best prices available! What else could you ask for?
Recommended
crystal symphony
By: sharon
Reviewed on: 20 Sep 2017
She was excellent and was very helpful.
Recommended
Excellent travel agent
By: vsb
Reviewed on: 14 Sep 2017
We have been working with Diane for many years. She is caring and very efficient. We try to recommend her to all of our friends.
Recommended
Vikings
By: Darrell
Reviewed on: 16 Sep 2017
Diane is always helpful.
Recommended
DIANE RITCHEY---5***** review & experience
By: chrispy
Reviewed on: 23 Sep 2017
Great! It was our first cruise on a large ship at our expense & Diane's knowledge, experience & friendly service inspired confidence. We would definitely seek her out for future cruise planning & recommend her completely.
Recommended
very nice
By: RJ
Reviewed on: 06 Mar 2018
she was very helpful and professional. I have already recommended her to others in my circle.
Recommended
YOU ASKED
By: JOE
Reviewed on: 18 Mar 2018
excellent she always helped me
Recommended
Seabourn Cruise Booking
By: TT
Reviewed on: 20 Mar 2018
Excellent as usual. Did a great job helping us book the cruise! Thanks for the great work. Made everything super easy.
Recommended
My European Cruise
By: Cyd
Reviewed on: 14 Oct 2017
Great! She answered all my questions and my concerns about this cruise. She was great at getting my custom air arrangements done. She kept me in the loop every step of my cruise even when they changed aircraft on me and I got a better connection coming home. She even let me know of a change in itinerary before the cruise so I could get a different shore excursion booked. I love working with her because she knows how to handle my special dietary needs. I asked her for her opinion on another cruise and other cruise lines. she gave me an honest opinion and a website to look at so I could make up my mind. I did and booked another cruise with her.
Recommended
Works Until All is Perfect
By: Patricia and Cliff
Reviewed on: 02 Nov 2017
We have booked many cruises through Diane and she has always done stellar work for us. She will work diligently until all is done to our perfect satisfaction.
Recommended
great agent with awesome personality
By: RJ
Reviewed on: 06 Nov 2017
terrific very responsive A+ rating
Recommended
Great!
By: Jan
Reviewed on: 10 Nov 2017
Wonderful! She is very personable, easy to talk too, sensitive to your concerns and thorough. Her bookings are complete and without error.
Recommended
Emerald Princess South Pacific cruise
By: JP
Reviewed on: 12 Nov 2017
This was not our first time to work with Diane. The reason we keep coming back to her is that everything done properly and on time. Very professional, good advise, follows up all around the best travel advisor I've worked with ever.
Recommended
Oceania
By: Loren
Reviewed on: 12 Dec 2017
cordial competent caring my favorite
Recommended
Stuck with us
By: Tourist
Reviewed on: 12 Dec 2017
We usually have no changes or alterations to our initial cruise plans. This time was different. We had to cancel our cruise booking (many ports of call in Japan) given relatively short notice job responsibilities. Diane had diligently put together that trip with our choices on air travel, pre-cruise hotel booking, etc. We selected a substitute cruise (Fiji and South Pacific) departing about 6-months later. She was able to book the cruise, the air travel and the pre-cruise hotel stay that worked out perfectly. She stuck with us throughout the process.
Recommended
Azamara Cruise
By: DAE
Reviewed on: 27 Nov 2017
Diana is our go to person when it comes to arranging our cruises. She responds quickly to any questions or concerns we may have. She also provides insights to cabin location on the ship. She is very professional and spends a lot of time discussing our specific wants and needs. We highly recommend her to everyone.
Recommended
Cruise planning
By: Joannie
Reviewed on: 14 Dec 2017
She was delightful
Recommended
123
By: 123
Reviewed on: 15 Dec 2017
Diane was/is a knowledgeable, attentive, polite, detailed travel adviser. Everything she said she would do she did and she completed it in a timely manner. I would highly re comment Diane as a travel adviser.
Recommended
Our trip
By: Gale
Reviewed on: 18 Dec 2017
She was a delight and I'd work with her again. Very thorough and knowledgeable.
Recommended
Quick to Respond
By: Sienagirl
Reviewed on: 04 Jan 2018
This was the 5th cruise that we worked with Diane. Everything was done professionally and promptly, regardless of it was a quick 6 night cruise including Cuba or a 2 month Grand Viyage to SEAsia. We couldn't be more pleased. This particular quick cruise turned out to be more complicated with the new restrictions re: Cuba but we just filled in the paper work and the tour was quite good. We are using Cruise Specialists and Diane again for our crossing Nov 2018.
Recommended
She is perfect!
By: Myrt
Reviewed on: 10 Jan 2018
Absolutely THE best!
Recommended
Best we've ever had
By: Frequent Traveler
Reviewed on: 05 Mar 2018
Diane is always accessible and responds quickly to all inquiries and questions. She is completely knowledgeable about itineraries and interactions with cruise lines.
Recommended
We've worked with Diane on many cruises
By: grace
Reviewed on: 01 Apr 2018
We have worked with Diane on a lot of cruises - all on Holland America. She has always been so helpful and spot on with follow-ups. We've not had many problems while travelling but feel secure in knowing that she is there to help us if we do.
Recommended
Great Advisor
By: Cindy
Reviewed on: 01 Apr 2018
Perfect. I couldn't have bee happier with her advice and service/
Recommended
River Cruise
By: Jimmar
Reviewed on: 13 Apr 2018
Diane is a true professional, responsive, and looks out for your well being.
Recommended
Would Never Use Anyone Else!
By: Cliff&Pat
Reviewed on: 04 May 2018
Diane knows her stuff. She is on top of things. She is the cruise guru. Wonderful and easy to talk to and work with. We have used her services for several years and can't imagine ever swapping her for anybody else?
Recommended
Our advisor
By: Mrs. Wonderful
Reviewed on: 08 May 2018
Fantastic! Diane is and has to be a Miracle Worker so much of the time. I will ask her to put together things sometimes well in advance and other times at the last minute and she always comes through for me.
Recommended
Travel Whiz
By: blondedawg
Reviewed on: 06 May 2018
I love working with Diane. We've become friends and I look forward to working with her on my next adventure.
Recommended
Super travel agent!
By: Rosie
Reviewed on: 12 May 2018
Special, great travel agent. We have used Diane for our cruise bookings for years. Definately recommend Diane!
Recommended
Baltic
By: Baltic
Reviewed on: 31 May 2018
Awesome as always
Recommended
Helpful
By: Steve
Reviewed on: 04 Jun 2018
Diane was very helpful in planning, booking and handling many details. Always available to answer questions
Recommended
Mighty fine!
By: Tourista
Reviewed on: 17 Jun 2018
Diane was just wonderful in getting us to and from all of our places in our cruise and trip itinerary. We travel with assurance that all has been well thought out in advance. We like to travel stress free, so we tend to fret over flight layovers that we consider to be too tight or too short. She works with us to find flight connections that are work for our temperament and walking ability. We will be making our travel arrangements with her again!
Recommended
Ritchey Review
By: Taid
Reviewed on: 20 Jun 2018
We have been very satisfied with Diane's knowledgeable and prompt assistance and recommend her highly to others
Not Recommended
cunard
By: webbus
Reviewed on: 23 Jun 2018
She tries very hard to please amd often does, but she has shortcomings which are diffecult to express in a few words.
Recommended
Detailed Planning and Insights
By: K Williams
Reviewed on: 03 Jul 2018
I contacted Diane while trying to decided between several different trips. She helped me weigh my options from both the price-point perspective, and based upon additional insights into the different cruise lines and ships and their respective 'shipboard cultures'. Once we settled on a cruise, she helped to arrange all of the details for an amazing trip from start to finish. I look forward to working with Diane to plan future adventures.
Recommended
Great advisor!
By: Sailor1
Reviewed on: 07 Jul 2018
Diane is always available and will call back very quickly if she's busy. She usually has the answer or will find the answer quickly. She is very kind and cares about your trip.
Recommended
YOU ASKED
By: Col Sarine
Reviewed on: 16 Jul 2018
One of the most proffesional agents I have ever worked with
Not Recommended
Disappointment
By: Chas
Reviewed on: 31 Jul 2018
She is not the best communicator.
Recommended
A Week in Ireland and A Week in Scotland
By: ChiChi
Reviewed on: 05 Aug 2018
She's great. Always on top of things.
Recommended
Recent Cruise to Arctic Circle
By: Cruise Afficiondo
Reviewed on: 12 Aug 2018
As always, Diane is a caring, reliable, and responsive cruise consultant who is very knowledgeable about Holland America itineraries. We can and have recommended her highly for her professionalism and personal attention. We plan to continue to avail ourselves of her expertise and high quality service in the future.
Recommended
Always Dedicated
By: pookiejo
Reviewed on: 27 Aug 2018
EXCELLENT! Diane is always working for her client. She is friendly and fun to work with. She has been doing my cruise plans now for 5 or more years. I was not familiar with Virtuoso until she made us aware of this program. She is aware of things about cruising that I had never considered!
Recommended
Alaska
By: Lou
Reviewed on: 24 Aug 2018
She is an outstanding person to work with
Recommended
Voyage of the Vikings
By: Iowa Farmer
Reviewed on: 01 Sep 2018
Diane did a wonderful job for us. It was our first time with Cruise Specialist and the first time with a hosted voyage. Our hosts Henk and Lucia took care of everything on board the ship. We hope to travel again with Cruise Specialists and will highly recommend you to all our friends. Diane is very professional, knowledgeable, and attentive to details. Thanks for a great trip!!
Recommended
Rocky Mountaineer
By: Greg
Reviewed on: 13 Sep 2018
Very responsive and helpful
Recommended
YOU ASKED
By: Col Sarine
Reviewed on: 17 Sep 2018
If I can eventually get her on the phone she is always been very accomodating to everything I have asked her to do and goes the extra mile for me
Recommended
Cruises
By: Gigabyte
Reviewed on: 25 Sep 2018
Very pleasant. Courteous and professional
Recommended
Alaska
By: Watanabe
Reviewed on: 07 Oct 2018
Very pleasant and easy....
Recommended
My Viking Ocean Cruise
By: Cyd
Reviewed on: 05 Oct 2018
Wonderful. She is very personable, friendly and patient with all my questions. She will find the answer if she doesn't know it. I don't know how many times I've emailed or called about something and she will answer me or call me back every time. She even let's me know when she will be out of the office and who to contact if I need help. She even apologizes when she doesn't get back to me quickly when she got sick. I've been using her for years and will continue to do so.
Recommended
From booking to cruising!
By: Brammie
Reviewed on: 04 Oct 2018
It was a pleasure working with Diane. She was very helpful and our trip went off without any hitches. Our travel packet was efficient and the trip Was everything and much more than we expected!! I would highly recommend Diane.
Recommended
Advisor review
By: Taid
Reviewed on: 07 Oct 2018
excellent. Very responsive.
Recommended
Gem of a Travel Agent
By: Califaloha
Reviewed on: 20 Oct 2018
Always responsive, always kind and considerate and always a hard worker to assure our cruises are perfect. We have been planning trips with Diane for many years now and are never disappointed.
Recommended
Positive
By: Steve
Reviewed on: 26 Oct 2018
Excellent always prepared knowledgeable courteous and reliable
Recommended
advisor review
By: 2cruisers
Reviewed on: 25 Oct 2018
Great ! Prompt, well-informed, trust-worthy professional
Recommended
YOU ASKED
By: JOE
Reviewed on: 31 Oct 2018
Been working with her for ages and always accomodating to all my requests Sometimes when I call she has a phone in her ear already but returns calls asap
Recommended
Recommend this travel agent
By: Cathy
Reviewed on: 03 Nov 2018
Diane Ritchey is a delight to work with. She helps select a cruise that matches your style. Diane pays attention to detail and follows up to ensure a seamless vacation. She is pleasant and takes the time to get to know you as a person. I highly recommend working with Dianevon your next cruise vacation.
Recommended
32-day South Pacific Cruise to Australia/New Zealand
By: MauiRobyn
Reviewed on: 14 Nov 2018
Working with Diane was fine. She was responsive to our questions along the way.
Recommended
A professional and a pleasure
By: Donbroff
Reviewed on: 03 Dec 2018
Many thanks to Diane for planning our crossing on Oceania's Riviera from Barcelona to Miami. The transactions were a little tricky this time as we were traveling for 2 months before taking the crossing. Our documents had to reach us not at our home address but en route. It did. We have worked with Diane several times before. She has been very professional answering any question we had and giving a clear answer. She is also very personable. We look forward to working with her in the future.
Not Recommended
so-so
By: anonymous
Reviewed on: 13 Dec 2018
Felt a little disappointed.
Recommended
Diane Ritchey
By: Charlie
Reviewed on: 24 Dec 2018
Diane Ritchey Is easy to work with. She is very friendly, on top of things and goes out of her way to be helpful I have recommended her to many of our cruising friends and they think she is great too. .
Recommended
My travel agent
By: Cyd
Reviewed on: 30 Dec 2018
Terrific. Very easy to talk with about any concerns you have about your travel plans.
Recommended
Amazon Cruise
By: Jimmar
Reviewed on: 26 Dec 2018
Diane is a true professional. Easy to work with and very responsive to our needs.
Recommended
Held our hands!
By: Skipper
Reviewed on: 04 Jan 2019
We are more tourists than trek travelers. We need all the help we can get. Diane did an outstanding job as usual. She made sure that all the fine details were addressed so that we had to do was just travel.
Recommended
Caribean
By: Peanuts
Reviewed on: 18 Feb 2019
She was on the b all, very helpful and prompt, got our boarding passes to us without asking for them.
Recommended
Hawaii on Holland America
By: Jo
Reviewed on: 14 Mar 2019
Excellent, she is always willing to go the extra mile when necessary.
Recommended
Regent SE Asia
By: Ricky
Reviewed on: 11 Mar 2019
Great! Diane is very responsive and we feel she has our best interests in mind when she makes recommendations.
Recommended
Rewarding
By: Sue
Reviewed on: 20 Mar 2019
Excellent and very comfortable
Recommended
only one glitch
By: rj
Reviewed on: 20 Mar 2019
She has been wonderful to work with...very knowledgeable. Seems she is very busy and has had some computer and phone issues but she handled it well Our cruise had an itinerary change and she and I were never notified, luckily Viator was wonderful to switch and not charge us extra
Recommended
Our cruise to Cuba
By: Teriwieg
Reviewed on: 29 Mar 2019
Diane was absolutely excellent! She was responsive, made great suggestions and helped us think through all of the elements of the trip. She became a very valued asset to our process, and became a friend. I've worked with other travel agents before and Diane surpassed all of my expectations in terms of service and going over and beyond. We will definitely use her again and recommend her to friends and family members.
Recommended
Special adviser
By: Vicky
Reviewed on: 30 Mar 2019
Very easy. She is prompt and efficient.
Recommended
Expert, Efficient, and Personable
By: Susan
Reviewed on: 08 Apr 2019
I've been with Diane for several years and can honestly say that she's fantastic. Answering emails or phone calls, she's always on top of things. She makes herself available even when she's not 'on the clock'. LOVE HER!!!!!
Recommended
Diane Knows Cruises!
By: Pat & Cliff
Reviewed on: 06 Apr 2019
We have worked with Diane on many cruises and she always does a great job of handling all the details to make sure our cruise is successful. We are very happy to have her as our main travel agent.
Recommended
YOU ASKED
By: Col WARREN
Reviewed on: 16 May 2019
i hav used Diane for years and she has always been top notch agent I can always depend on her to keep me advised and take ccre ofall my requests
Working with Diane Ritchey, you will have access to:
- An experienced travel guide whom you can rely on before, during, and after the trip
- Exclusive luxury resorts and properties
- Once in a lifetime experiences
Explore with the Best
Virtuoso Advisors are constantly pushing the boundaries in unique travel experiences.
Alliance programs are unique tailored experiences exclusive to travelers working with Virtuoso Travel Advisors.
learn more
Canada
Sweden
United Kingdom
Denmark
Finland
France
Germany
Hungary
Italy
Japan
Norway
Spain
Switzerland
Austria
Mexico