Travel Specialties
Interests
River Cruising
Family Travel
Food & Wine
Culture, History & Arts
Safari
Destinations
Austria
South Africa
Botswana
France
Germany
Selling Travel Since
1978
My Background
My passion is travel. It's what I have loved to do since I was introduced to it in high school with a trip to Austria to live with a family through an exchange program. I attended Wells College in Aurora, NY and during my junior year, I spent a semester going to a college in Heidelberg, Germany. My career in travel began just after graduating from college with a position in Operations with a luxury tour company. From there I became a retail travel advisor and have been involved in that aspect of the industry for over 35 years.
My travels have taken me all over the world through Europe, the Middle East, Africa, South America, the Caribbean, the U.S. and Far East and even Antarctica. I enjoy cruising and have cruised on all of the well-known luxury lines such as Silversea, Seabourn, Crystal Cruises, Regent Seven Seas Cruises along with premium lines such as Holland America and Oceania. I have also experienced river cruising in Europe with both Tauck and Uniworld on the Rhine, Danube and Rhone Rivers. African safaris are another favorite journey. There is nothing in the world like sitting in solitude and seeing a pride of lions lazing in the sun just an arm's length away! Custom itineraries are also something I really enjoy creating. The research for the perfect bespoke trip with maps, insider access, hotel descriptions, etc. can keep me occupied for hours.
In addition to a college education, I have earned my CTC (Certified Travel Counselor) through the Travel Institute, the education arm of the travel industry. In addition I have several Destination Specialist certifications for Africa, Europe and the South Pacific. Since 2003 I have been named as one of Travel + Leisure's A-List of Top Travel Super Agents. I have been quoted in several magazines and newspapers over the years including Luxury Travel Advisor, Travel + Leisure, Wall Street Journal, Ft. Myers Newspress, E Bella Magazine and the Naples Daily News.
Places I Have Traveled
Reviews and Recommendations for Betsy Patton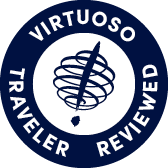 Virtuoso Verified Traveler
All reviews are from confirmed guests sharing exclusive insights
Sort reviews by
Recommended
A Valuable Travel Resource
By: Chuck & Lue
Reviewed on: 26 Mar 2014
Betsy and her association with Virtuoso has become our most valuable travel resource.  She has been exceptional in making arrangements for our trips, particularly our cruises.  Her knowledge and experience have resulted in a number of rewarding travel experiences.  She has been most helpful in answering a variety of questions and concerns we have had, in addition to providing thoughtful suggestions that we had not considered.  We would highly recommend her to all travelers.
Recommended
Supurb ! all hotels and agents were excellent, experienced and thoughtful
By: Bill and Bekki
Reviewed on: 02 Jun 2014
Recommended
By: Not provided
Reviewed on: 15 Jun 2014
Betsy's arranged some $100,000.00plus of travel for us over the last few years without a hitch; we're delighted with her work and recommend her without reservationPete  Ward
Recommended
Terrific! Extremely helpful highly recommend ,
By: Travelnut
Reviewed on: 27 Jun 2014
Betsy is thorough, dependable, takes initiative in solving problems, creative and friendly
Recommended
Great Job
By: Great Scot
Reviewed on: 20 Oct 2014
Betsy always makes sure that all details of our trips are taken care of so there are no difficulties or surprises. If there are any problems en-route she is always available to solve any problems.
Recommended
tauck french waterways
By: carmen
Reviewed on: 11 Oct 2014
great trip. organized very well by Betsy handle the Air France strike we got to Paris a day earlier thanks to betsy tauck is great! second trip recommended by betsy to go with tauck daughters and husbands thought the trip was excellent could not have been better
Recommended
So well done
By: TimJ
Reviewed on: 12 Nov 2014
Our short trip was expertly handled by Betsy and she followed up during and after the trip to check in on satisfaction. Importantly she ensured our arrival was pleasing and a great room location! Well Done!
Recommended
Another vacation to remember...
By: Mal&Jim
Reviewed on: 19 Nov 2014
Betsy has helped us plan and enjoy our vacations for years now. Her recommendations always coincide with the destinations and desired pampering and world class accommodations we request for our travel. She combines her industry and personal experience with research and networking to provide us with the best possible vacation. Because of Betsy's efforts, our Essence of South America Tauck Tour combined with an A&K side trip to Valparaiso and the Virtuoso perks was a real winner for us.
Recommended
Ambience-service-gourmet food
By: Fac
Reviewed on: 18 Dec 2014
This cruise was just right for us. Great service and outstanding restaurants. We loved Seeshin particularly. I was someway indifferent to the stops. This was fine since I didn't want to be too tempted. The ship itself was beautiful.
Recommended
Wonderful Trip
By: Great Scot
Reviewed on: 29 Dec 2014
We enjoyed our Cruise especially the Panama Canal portion. All details were taken care of by Betsy so we had no issues to deal with. The Langham Hotel in Pasadena is one of the best hotels we have stayed in Los Angeles, and we have stayed in all the top rated ones. Betsy arranged with them that we got the normal Virtuoso upgrades and other extras.
Recommended
Always expert and friendly
By: Edie
Reviewed on: 24 Apr 2015
Betsy helped me plan a very long 10 week trip that included changing itineraries last minute and finding land alternatives to a cruise. She found for us the right hotels. She took the time to spell out all alternatives in accommodations and flights and ship suites(complicated for 3 "legs"). Her package for us to take on our trip gave us the precise information we needed along the way and then she added the extra History and Facts for each destination. In addition,she promptly responded to our additional requests while we were overseas. Lastly,she has a winning personality.
Recommended
Loved the Scotish Isles
By: Chuck/Lue
Reviewed on: 01 May 2015
The flight to Scotland was long and tiresome, but no delays. Our travel was well planned. The cruise aboard the Hebridean Princess was exceptional. Small group of passengers; attentive crew; friendly, interactive captain; fun and informative shore visits; good food; and an overall fun and enjoyable experience. This was the beset cruise we have ever taken and we are already thinking about when and where to sail again on the "Princess". As always, our travel agent was the key to bring a complicated travel itinerary to a successful conclusion.
Recommended
Excellent Expedition
By: TimJ
Reviewed on: 07 Jul 2015
The NG/Linblad expedition to the Arctic was excellent, in many ways. The ship, the location, the ship's officers, the crew, the accommodations and the food! Wonderful package. Would do another Lindblad expedition on The Explorer. Perfect ship for 140 passengers. Betsy Patton at Hurley Travel made it all happen. Thanks!
Recommended
Perfect trip!
By: Hootie
Reviewed on: 02 Oct 2015
Betsy did a wonderful job in planning our vacation to Eastern Europe!!! Every detail was perfect and the entire trip worked seamlessly! I would highly recommend her services to anyone who wants the ease of travel where all of the little details are taken care of in advance, making the entire trip more enjoyable!!! Her selection of hotels was right on the mark!
Recommended
First Class Experience
By: john
Reviewed on: 26 Oct 2015
Our Tauck Taste of France trip was outstanding. The logistics were stress free from flight arrangements to arrival in Paris and on through to our departure in Lyon. Betsy was extremely helpful with lots of personal tips for a great trip. She went above and beyond to get us on this trip which was booked at the time we inquired about it. She worked closely with Tauck to monitor cancellations and secured our ideal accommodations when a spot opened up.
Recommended
Great recommendations and planning
By: SteveB66
Reviewed on: 02 Oct 2015
Betsy did a great job of taking our travel "vision" and creating a great itinerary - we were able to tweak it and develop a wonderful European vacation, with stops in Switzerland, Germany, Spain, and France.
Recommended
Outstanding
By: LisaC
Reviewed on: 27 Sep 2015
Betsy did an outstanding job planning our entire trip. Her attention to detail in meeting our needs exceeded our expectations. Everything was wonderful!
Recommended
CRUISE
By: RICHARD
Reviewed on: 02 Nov 2015
EVERYTHING WENT WELL AS USUAL. ENJOYED THE PLACES WE STAYED. I HAVE SO MANY FRIENDS THAT I WISH I COULD GET THEM TO HAVE BETSY HANDLE THE ARRANGEMENTS, BUT THEY SEEM TO THINK THEY CAN DO IT THEMSELVES. THEY WOULD BE PLEASENTLY SURPRISED IF THEY LET YOU DO IT. ANYWAY HOPE YOU ARE DOING WELL. SEE YOU THIS WINTER.......RICHARD GOMEZ
Recommended
Excellent Customer Service
By: Kara
Reviewed on: 01 Dec 2015
Betsy was extremely patient and helpful as we planned our honeymoon, with various changes in direction along the way. We ended up with a magical trip, including an incredible stop in Napa at the Calistoga Ranch followed by an extended stay Bora Bora at the beautiful St Regis, and the memories will last a lifetime. We will certainly use Betsy again.
Recommended
Seaborne Canada to Boston Cruise
By: Arvel
Reviewed on: 29 Sep 2016
Cruise was excellent from the service on the ship to the shore excursions and locations. We also had fine weather. Two Seabourne drawbacks 1. No Salad course. Salads were offered as an extremely small appetizer or an entry like Caesar Salad. 2. Covers on bed came up to half chest height for average person. Had to use bedspread for full coverage. If one pulled out the tucked sheet or comforter ones feet eventually hung out. I guess this is Seabourne's way of cutting back in small ways.
Recommended
Everything was excellent!
By: Chuck
Reviewed on: 07 Oct 2016
Betsy consistently does an outstanding job with all aspects of our trip! No problems.
Recommended
An Icelandic experience
By: Prince
Reviewed on: 07 Oct 2016
Everything went well, the quality of the food on the ship was very good. The accomodations were a bit tight but adeguate. The Tauck host was very competent and knowledgeable and the daily trips were well planned and informative. The weather cooperated except for one day when rain and low clouds made sightseeing impossible but that is Iceland. We would reccomend this trip to others.
Recommended
excellent service
By: nancy
Reviewed on: 28 Oct 2016
a great trip... Betsy was there for me the whole way..
Recommended
Excellent planning and attention to detail!
By: Eileen
Reviewed on: 02 Nov 2016
The trip to China was a lifetime experience. We had an excellent tour guide who provided great insight during every visit during our tour and handled all the logistics in a flawless manner. The hotels were top notch and the sites visited were very worthwhile. The only criticism was age and the condition of the ship which seemed dated with a musty smell throughout including our stateroom. The problem was mitigated by placing a dehumidifier in our room. On a positive note the service, food, and entertainment on board the ship was excellent.
Recommended
Excellent Recommedations!
By: Kara
Reviewed on: 02 Nov 2016
Our trip to Europe was incredible. The hotels that Betsy recommended were top notch, and we were so pleased. Villa D'Este in particular treated us so well, and made us want to return to spend more time there. Our room was upgraded, the minibar was included, the breakfast was exceptional, and the service overall was exceptional.
Recommended
Travel Support expert!
By: Tim j
Reviewed on: 07 Apr 2017
Betsy is very detail oriented and focused on a successful trip for her customer in every way
Recommended
last minute tickets to see Princess Diana's gowns
By: jan
Reviewed on: 08 May 2017
Betsy was terrific. She got us some tickets to Kensington Palace with less than a week to go and we were the first people into the exhibit! It was great. She also recommended an excellent hotel in London, One Aldwych, which had great service and a very convenient location. Walked everywhere! Thanks Betsy!
Recommended
domingo rep
By: carmen
Reviewed on: 17 May 2017
great. very professional knowledgable
Recommended
Great trip
By: Lynne
Reviewed on: 25 May 2017
Very easy to work with. Very knowledgeable.
Recommended
Cruise to Spain, Portugal and France
By: jlll17
Reviewed on: 01 Jun 2017
Betsy was outstanding in helping us plan this trip from start to finish, including cruise, hotel, and air bookings. In addition, she recommended some outstanding restaurants and helped secure tough reservations. This included the Gordon Ramsey restaurant in Bordeaux which resulting in an amazing experience!. Betsy is a real pro and goes above and beyond normal travel advise and bookings.
Recommended
Betsy
By: Leah
Reviewed on: 06 May 2018
Always answered any questions and helped us plan a very nice trip
Recommended
Awesome River Cruise!!
By: DR
Reviewed on: 29 May 2018
Betsy is a true Pro. Every aspect of my recent European River Cruise was handled flawlessly as she was sensitive to the individual needs of everyone in my Group. If you are considering a vacation, don't hesitate to contact Betsy, you'll be glad you did!! Thanks again for a great trip!!
Recommended
Advisor
By: Jpojr
Reviewed on: 22 Jul 2018
Very knowledgeable, easy to work with
Recommended
Expert advice
By: craballey
Reviewed on: 03 Aug 2018
We depended on Betsy to get us on the right ship, in the right cabin, and on the right itinerary. She did everything perfectly. We loved the ship, the cabin location and the stops that included two with Virtuoso. It was our first vacation with Betsy and will definitely use her again. It was the first time in a LONG time since we've used a travel agent and we're convinced this is the way to go in the future.
Recommended
Had a great trip
By: Sam
Reviewed on: 19 Aug 2018
Betsy is always professional and helpful. I usually ask her a ton of questions even up to the week prior and she gets the answers I need. We've done two trips with her in the last two years. I would recommend Betsy to our friends.
Recommended
Russia
By: jpojr
Reviewed on: 07 Sep 2018
Excellent.....very responsive and creative.
Recommended
Excellent trip advisor!
By: jm
Reviewed on: 22 Sep 2018
It was an extreme pleasure to work with Betsy. We have worked with her before and she is always knowledgeable and attentive to detail. Betsy will work diligently to get the travel plans that are right for you!
Recommended
Betsy Pattin
By: Maureen
Reviewed on: 12 Sep 2018
She's the best! So responsive and creative.
Recommended
Viking Trip
By: Dennis
Reviewed on: 09 Sep 2018
She was great. Very customer focused.
Recommended
The Best
By: Gerry
Reviewed on: 11 Oct 2018
Betsy is an outstanding Travel Advisor. She lead us to a tour that was exactly what we wanted and provided us with excellent and useful advice.
Recommended
Betsy Patton Review
By: Dr Tim
Reviewed on: 01 Oct 2018
Very good advice, very thorough and helpful. Gave us advice and allowed us to make our choices.
Recommended
American Cruise
By: Tom
Reviewed on: 20 Oct 2018
As always, she was responsive to our request, timely with response and complete with all follow up.
Recommended
Helpful but not overbearing
By: Happy Camper
Reviewed on: 29 Oct 2018
Betsy was generally responsive and shared relevant information in a timely way, with one exception. She did not alert our group to a deadline for choosing land excursions but one of us caught it so it was inconsequential. I also learned later that Tauck is very flexible about signups for excursions. Guests are welcome to change their minds up until the last moment.
Recommended
Travel adviser
By: Nan
Reviewed on: 30 Oct 2018
Wonderful..I have worked with Betsy before and plan to do so in the future. She is very knowledgeable and always available.
Not Recommended
Had no clue
By: Jane Doe
Reviewed on: 07 Nov 2018
Little unnerving
Recommended
Ireland and Scotland
By: Chuck and Lue
Reviewed on: 21 Nov 2018
Well planned airline connections, excellent Virtuoso hotel in Dublin and a fantastic cruise on a small ship in the Hebrides. Betsy is always accessible and has good ideas and insights.
Recommended
outstanding travel advisor
By: Helen
Reviewed on: 16 Jan 2019
Betsy is very accommodating and helpful with taking care of our travel plans. She goes above and beyond to make our trip memorable
Recommended
Silver sea cruise
By: TJ
Reviewed on: 08 Feb 2019
Betsy was fantastic in making this whole cruise work, just a couple of months before the cruise embarked
Recommended
Cultural Cuba
By: Lean
Reviewed on: 20 Feb 2019
Betsy is very good with communication and responding in a timely manner! She helped us get a voucher applied to our next trip.
Recommended
Betsy
By: Dennis
Reviewed on: 20 Feb 2019
It was Excellent working with Betsy. A great professional.
Working with Betsy Patton, you will have access to:
- An experienced travel guide whom you can rely on before, during, and after the trip
- Exclusive luxury resorts and properties
- Once in a lifetime experiences
Explore with the Best
Virtuoso Advisors are constantly pushing the boundaries in unique travel experiences.
Alliance programs are unique tailored experiences exclusive to travelers working with Virtuoso Travel Advisors.
learn more
Austria
South Africa
Botswana
France
Germany
Antarctica
Argentina
India
Italy
Kenya
Chile
United States - All
Ireland
Egypt
United Arab Emirates