Travel Specialties
Interests
Adventure
Beach & Sun
Family Travel
Honeymoons
Destination Weddings
Selling Travel Since
2006
My Background
Hello and welcome to my Virtuoso profile,
Here is a little something about me…
I went to college for Travel and Tourism, graduated in 2006 and I immediately started working at Vision Travel Solutions.
Since then, I have travelled over the years and gainedvaluable travel information, as well as made some priceless memories.
I have many specialist programs under my belt includingHawaii, Grand Cayman, Jamaica, St Kitts, Contiki Tours and Princess Cruisesjust to name a few.
One of the biggest advantages of booking with me, weather itis online, over the phone or in person, is that you receive personalizedservice and I am always happy to answer any questions you have regarding yourholiday.
Here is one of my favourite quotes that I would like toshare with you: "Travel is the only thing you buy that makes youricher"
I hope that in the near future, I can assist with making you"richer"
Places I Have Traveled
Reviews and Recommendations for Ruby Ruiz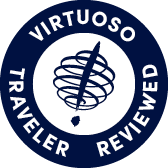 Virtuoso Verified Traveler
All reviews are from confirmed guests sharing exclusive insights
Sort reviews by
Recommended
Highly recommended
By: Rosita
Reviewed on: 26 Aug 2013
Ruby was the best, she organised our trip very efficiently and was very very organised, friendly, efficient and everything you would want a travel agent to be. She was always finding solutions to our questions as we were 16 of us in the group. I would have Ruby book my travel going forward because she is really good in her job and all the qualities you would look for in a travel agent.
Recommended
First Time Travellers
By: Rosanna
Reviewed on: 17 Sep 2013
Being a corporate travel agent I am unable to book packages so Ruby booked a trip for my family. This was their first trip and they were very nervous. She really took the time to explain everything so that they didn't have fear to travel. They picked a resort that she had suggested and they had an unbelievable time. Over all Ruby is a very passionate and knowledgeable agent who knows how to make anyone feel comfortable to travel. I know that in the future they will defiantly book with her again
Recommended
Highly recomended
By: gavrip
Reviewed on: 20 Sep 2013
Extremely helpful, researching and providing all details as requested, responding immediately to all questions, following up with the price fluctuations and sending updates that benefits the customer, sharing experience of the resorts she has visited,, very polite communication skills , friendly attitude, easy approachable, reliable and trustfull, great person to do business with.
Recommended
Highly recommend
By: John Mrzlak
Reviewed on: 11 Oct 2013
Ruby is klowledgeable and always a pleasure to deal with
Recommended
Pleased To Recommend Ruby Ruiz
By: Punta Cana Tourist
Reviewed on: 03 Dec 2013
Ruby was our travel representative for our vacation in Punta Cana and her overseeing our travel plans was greatly appreciated. She double checked and then followed up to make sure we felt comfortable with the arrangements we had made. Her response to our email inquiry were quickly replied to. When we returned home, Ruby emailed to see how are vacation had gone.....and to me that is really good customer service.
Recommended
Highly Recommanded
By: Michel57
Reviewed on: 24 Nov 2013
Our trip to Vegas was perfect from when we leave home until we come back home. WE received all the necessary documentation ahead of time before the day we were leaving, and Ms. Ruiz had answer all the question I had in a very polite and professionnal matter. I recommand her to anyone who wants to have a nice trip without trouble.
Recommended
Highly recommend
By: Sue S
Reviewed on: 24 Nov 2013
Ruby really helped me with my holiday flight. She was professional and thoughtful. I would recommend her to anyone going on a holiday. Her help made my holiday stress free as I knew I was in good hands. Give her an A plus....
Recommended
Book Your Next Trip with Ruby!
By: Sach
Reviewed on: 22 Nov 2013
Ruby was extremely helpful and patient. She listened to what I was looking (within my budget) and provided me with various options. I had never been to Europe before so I was a bit nervous, but our hotels, transportation (train) betweeen cities and flights were all great. I will be sure to consult Ruby for my next vacation
Recommended
Highly Recommended
By: Very Satisfied Client
Reviewed on: 28 Nov 2013
Without prior plans during a busy time of year, I contacted Ruby &, within a short period of time, she found a wonderful vacation within our timeframe & budget. She provided full-service & advice, effectively screened options according to our requested parameters, & set everything up. From the moment I contacted Ruby, she handled everything & the result was the best holiday that I have ever had with my family.
Recommended
Highly Recommended
By: Teresa
Reviewed on: 22 Nov 2013
Ruby is very knowledgeable and pleasant to work with. She provided information and paperwork in a very timely manner. Always there to answer a call or email. Will be using her again on my next vacation! Thanks Ruby, you're the best!
Recommended
GREAT SPOT
By: Lawrence
Reviewed on: 13 Dec 2013
Hotel Binniguenda Huatulco. Rooms, clean,well maintained, plenty of hot water, beds comfy. Pool outstanding refreshing all day. Food, excellent multi choices all good, soups great, breakfast to die for. Staff the best we have dealt with in many years of travel. La Crucecita $2.50 cab ride away. Lots of great restaurants and shops. Try veggie pizza at La Crema. Tip it opens at 7pm don't be late.
Recommended
Extremely Knowledgeable
By: Noname117
Reviewed on: 11 Jan 2014
Ruby's phenomenal Customer Service skills along with her passion in the business makes her unique and very valuable travel adviser. As soon as she gathered all the required information (i.e. budget, location, etc...), tons of options were presented to me all within reasonable prices. She went above and beyond in order to answer every single question I had. As a summary, Ruby is extremely knowledgeable, passionate, dynamite and remarkable. Highly recommended.
Recommended
Great service
By: netwark
Reviewed on: 15 Jan 2014
Ruby was able to find a great price for the trip in the range of dates I gave her. I know it has probably nothing to do with Ruby...but we got a first class upgrade going to Mexico...so that makes everything better.
Recommended
By: Anita21
Reviewed on: 17 Feb 2014
Ruby did an amazing job planning my trip to Ottawa and I will definitely use her to book to next trip.
Recommended
By: Not provided
Reviewed on: 18 Feb 2014
Recommended
Excellent
By: Angel
Reviewed on: 22 Feb 2014
We just spent one week at Sandals Montego Bay ! It was just amazeing !  People , Food , Drinks entertainment was incredible ! Valentines Day was  a day never to forget !  Weather was 30 everyday ! We would return to Montego Bay for sure !
Recommended
Outstanding
By: rosie91
Reviewed on: 05 Mar 2014
Recommended
Highly recommened
By: Not provided
Reviewed on: 15 Mar 2014
Recommended
Highly Recommend
By: Jax
Reviewed on: 28 Apr 2014
Recommended
Cheerful and Helpful
By: sunshynejo
Reviewed on: 08 Mar 2014
Ruby did her best to help us with our travel arrangements, in a friendly and cheerful manner.  Although we planned most of the trip, she booked most things for us, and tried to the best of her abilities to help us with any difficulties that arose.
Recommended
Ruby is amazing
By: Amy
Reviewed on: 14 Mar 2014
Ruby was a great agent and always responded quickly and professionally to my requests.  Here recommendations were great and we followed her advice in choosing our property.  The hotel was fantastic and we really enjoyed it...  all except for the food, which Cuba isn't known for and she advised us of that before we booked.  We will definitely book with her again!
Recommended
Memories Flamenco - Cayo Coco Cuba
By: Kelly
Reviewed on: 22 Apr 2014
Our vacation at Memories Flamenco was great, I went with my husband, 2 kids (age 2 & 5) and some extended family.  Everyone had a great time, there was lots to do for every different age group.  The kids club was nice and did lots to keep the kids entertained - even taking them out of our hands a couple nights so we could enjoy some "free time".  The pools were really nice, beach was beautiful and food was plenty with many different options.  The entertainment staff was also great and lots of fun.  Thanks to Ruby for recommending this resort, I would recommend it to anyone, especially those who are looking for a good time and some R&R!
Recommended
Highly Recommended
By: Dave
Reviewed on: 06 May 2014
Ruby has booked a couple of business trips for me and I would highly recommend her for all travel arrangements.
Recommended
Highly Reccommended.
By: Not provided
Reviewed on: 21 May 2014
Very helpful, thorough and creative.  Ruby went out of her way to make our planning process easy and efficient.
Recommended
Highly recommended
By: Wendy 1950
Reviewed on: 26 May 2014
Ruby was extremely helpful, polite and knowledgeable. She planned out trip and provided us with detailed documentation that ensured all went well.  Our trip was 18 perfect days in Europe and Ruby met and exceeded all of our expectations. I will use her services again.
Recommended
Cuba trip
By: Keith Race
Reviewed on: 04 Jun 2014
Ruby worked with me on all details but one, with my disability and hotel access to room, there were steps which were a challange.Other than that perfect.
Recommended
Highly recommend
By: Toni
Reviewed on: 25 Jun 2014
Ruby was great! She provided all the booking information necessary to book our friends' destination wedding.  We couldn't do the typical 4 or 7 day package and she quickly eased my anxiety by providing alternate options. She definitely accommodated our needs and was very very responsive.  We also appreciated the travel information sent to us prior to departure - very helpful! Overall, a great experience booking with Ruby! 
Recommended
Highly recommend Ruby for your travel plans.
By: Lor
Reviewed on: 25 Jul 2014
Everything went seamlessly. Beautiful accommadtions, information supplied in a timely fashion, all questions and concerns were answered quickly and professionally. Would recommend using Ruby for your travel experience and will definitely do business with her in the future.
Recommended
Highly Recommended
By: RNC0802
Reviewed on: 25 Jul 2014
Recommended
Excellent Service
By: shorts
Reviewed on: 01 Sep 2014
Airfare planning was perfect. We got in & out at the perfect date & time. Usual top notch service we have come to expect from Ruby.
Recommended
Ha Ha Happy Huatulco
By: Liesbythepool
Reviewed on: 07 Dec 2014
The bays of Huatulco, not a party destination. Just a place to relax and enjoy beautiful weather, small hotels, good food and friendly service and people. Lots of inexpensive restaurants, taxis and shops. Vendors very respectful. Didn't see one time share pest. All in all a wonderful place to relax.
Recommended
A fantastic experience
By: Real 100
Reviewed on: 16 Dec 2014
My wife and I enjoyed a wonderful vacation week in Las Vegas recently, and we are very grateful to Mrs. Ruiz for having planned for us a perfect trip in all aspects. Her patience was greatly appreciated, she diligently answered all our questions with very professional and friendly manner. It was our first experience with Vision Travel and it will certainly not be the last. Sincere thanks to Mrs. Ruiz for this great experience.
Recommended
Helpful & Friendly
By: V_Dub
Reviewed on: 27 Dec 2014
Thank you Ruby for your help in planning a great vacation. Ruby was kind and helpful, would recommend her for our next trip.
Recommended
Great service
By: John
Reviewed on: 29 Dec 2014
Used Vision travel to book a trip for 4 to Playa del Carmen. Ruby responded right away with a proposal to the hotel and airline we wanted. She kept us up to date with pricing right up until we booked. I would highly recommend using their service. Thanks Ruby, for the great service.
Recommended
Super Agent Ruby
By: TIGG
Reviewed on: 02 Jan 2015
Recently went to Jamaica left everything in Ruby's hands she took care of everything, all I had to provide is dates and names she did the rest, honestly I never have to worry about anything when she is on the task great job and very pleased with the service the resort, food ,beach all was perfect thank you super agent Ruby can't wait for my next trip.
Recommended
LF
By: LF
Reviewed on: 09 Feb 2018
Always very pleasant and helpful. As always my travel arrangements were perfect.
Recommended
Trip to Dominican Rep.
By: Jagu
Reviewed on: 16 Feb 2018
Ruby is a very pleasant person to deal with. She goes out of her way to fulfill our requests. We have booked with Ruby several times & we have had no problems. When booking with her she offers us health & travel insurance & makes sure we have all the documents. I enjoy dealing with her because I don't have to worry about anything. Keep up the good work Ruby!
Recommended
Tropical Christmas pleased the whole family
By: timeout58
Reviewed on: 01 Jan 2015
Galley Bay Resort in Antigua for Christmas 2014. Great staff, always looking to make sure that we were completely happy with everything. Excellent beach with lots of privacy. 4 young adult kids kept busy with watersports, yoga, pool table, ping pong, fitness center and all kinds of activities. They were especially happy with the well stocked open bar with pretty much any drink you can name. 4 very good restaurants to choose from on site. The Governor General of Antigua come to join us for the fashion show. Thanks for your help in organizing a great holiday, Ruby.
Recommended
Royal Decameron Complex
By: TeresaMc
Reviewed on: 20 Apr 2015
The entire vacation experience was wonderful. Right from the initial contact with Travel Agent Ruby Ruiz, to the resort and back home. Ruby was always available when I had questions. (Thank you) The resort was amazing. It wasn't a 5 star resort, however, the pride and hard work that the employees took in customer service from, grounds work, food & drink, activities and entertainment made for a wonderful experience. The area was clean and safe and great deals shopping in the village. Will go back, for sure!
Recommended
Excellent friendly service
By: Anita Wheeler
Reviewed on: 19 Jun 2015
I live in Nova Scotia which made it very difficult to book my trips and everything was done through email. Ruby's was amazing .... she was very patent with me while I was trying to use every last penny of the $5,000.00 travel voucher I won through work. I would recommend her to everyone. Thanks Anita
Recommended
Extremely beautiful place - good, friendly service
By: Nikki
Reviewed on: 03 Jul 2015
Ports of Call Resort was extremely nice - not too crowded - good friendly service from the staff - would go again - walking distance to the beach.
Recommended
SUPER AGENT RUBY
By: Sarah777
Reviewed on: 14 Aug 2015
Super agent RUBY does it again, my family and I recently took a vacation to the Dominican Republic Punta Cana sent over the dates and she took care of everything and I mean everything good job Ruby keep up the great work .
Recommended
Extremely helpful with planning this trip
By: Moe
Reviewed on: 17 Sep 2015
Overall the trip was great. A few comments. We booked a hotel in Rome for one night becasue we were going on an onvernight excusion. After the excusion we returned to Rome and stayed in a different hotel. Had we been booked to return to the same hotel, they would have held out luggage and we would have only had to take an overnight bag. We weren't awary of this. As it was, we had to lug our luggage with us and pay to put it on the ferry. Part of our trip was by train and there is no information booths at the stations to help you. We found this difficult. Thanks Ruby for all you help at oranizing, booking and planning. I will let you know when we are ready for our next trip. Iceland I think
Recommended
Very prompt responses, provides good options, very polite and professional
By: EdJ59
Reviewed on: 20 Sep 2015
Excellent working with Ruby- prompt responses, quick turnarounds, provides solid options to choose from, good recommendations, professional, delightful to work with by email and over the phone. Good tips.
Recommended
Great time with the kids
By: Amsamdan
Reviewed on: 12 Oct 2015
Memories Beach Resort was an enjoyable vacation spot. The excursion day trip to the old and new Havana was very good as was the Catamaran, Dolphin kissing and Scuba swim trip. Met some awesome new friends throughout the week and a couple of not so sociable drunks. But they were not going to ruin our vacation. Service was adequate, but slow to replenish the better fair at the buffets. Not really a problem though. Wasn't as super hot as last year's trip to Santa Maria (Iberostar Ensenachos) so we got to enjoy the beach much more this time. Kids had tons of fun which made it fun for me. A huge thank you to Ruby for the top notch service from Vision Travel.
Recommended
Fabulous Time in Grenada
By: Shorts
Reviewed on: 22 Nov 2015
From start to finish everything was perfect. The room location & style matched exactly what we had requested from Ruby. Recommendations of day trips were perfect & we passed them on to people we met at the resort. We have used Ruby now for about 7 trips & will continue to in the future
Recommended
Wonderful service. Great vacation
By: Shelley B
Reviewed on: 03 Dec 2015
This was a wonderful trip. Everything was planned perfectly, and we got to celebrate my husband's 50th birthday in the sun.
Recommended
friendly service
By: bapoji
Reviewed on: 06 Dec 2015
Hi Ruby, The trip was great, everything from the airport to and from journey was smooth, really enjoyed ourselves. The staff went beyond and far to satisfy our every needs. The food was excellent, could have had more fresh local fruits, the bonus was getting to try the Indian cuisine from one of the chef. The only down fall was the airport was and other excursion were a little too far from the hotel. Spend a lot of time traveling. Over all I would recommend this hotel to my friends.
Recommended
Fabulous Trip Advisor!
By: Happy Customer
Reviewed on: 09 Feb 2016
We had an amazing honeymoon at the Bahia Luxury Bahia Principe Sian Ka'an Don Pablo Collection. Ruby assisted with booking the room and was very patient with us. Everything that she advised about the Resort was true.
Recommended
Beyond Expections!
By: HabsMom3
Reviewed on: 19 Feb 2016
Ruby did a great job at finding a resort that met needs for our large family. She was very responsive to requests and got back to us in a very timely manner. She also gave us lots of options for comparison so we were able to make the right decision for our family. She as also proactive in letting us know when prices may be going up so help us make our decision without any surprises. We would recommend Ruby!
Recommended
Good and very friendly service
By: Autden
Reviewed on: 04 Feb 2016
During my last trip, I needed to book a few more hotels for my stay, Ruby found me the perfect place to stay, all the reservations were done and I had no problem at the check in. Very good service, Thank you Ruby
Recommended
Excellent Service
By: Jean
Reviewed on: 11 Mar 2016
Ruby did an excellent job from start to finish. I really like the way the invoice and information is now delivered
Recommended
Excellent service
By: Christiane
Reviewed on: 22 Mar 2016
Hi Ruby, I truly appreciate you finding a convenient flight for my last minute trip to Mexico. Everything went well.. Had a fabulous, memorable trip.! ;) Thanks again
Recommended
friendly staff
By: Tony
Reviewed on: 23 Mar 2016
Everything was great. The food selection in the main buffet could have been a little better with more variety.
Recommended
Very helpful and co-operative
By: Virg.com
Reviewed on: 02 Apr 2016
Ruby is very informed and was always willing to help our family group with all aspects of our trip. She made sure that all arrangements regarding various accommodations were in place and all air travel from different destinations was co-ordinated and went smoothly. I would highly recommend her for any future travel.
Recommended
Perfect
By: Happy Vacationers
Reviewed on: 18 Apr 2016
Everything was perfect, night life, pool, beach, food was great. Perfect for families of any ages. The only issue we had was that there were two single beds pushed together instead of a queen bed. This made for an uncomfortable sleep. We didn't complain to the hotel but I'm sure if we did they would have accommodated. Will visit again!
Recommended
Great Service
By: Maggie
Reviewed on: 24 Apr 2016
Ruby did a fantastic job in finding vacation options that met our requirements and booking us on a last minute vacation to the Caribbean.
Recommended
Excellence Anniversary
By: Clarissa
Reviewed on: 22 Feb 2018
Ruby was fantastic to work with. She was quick to respond to any questions we had.
Recommended
Great source of information
By: Moe
Reviewed on: 25 Apr 2016
We enjoyed the cruise very much. The fool was good. There was always something on the menu that you could choose from. The room we had was clean and the staff were very friendly and helpfull. The entertainment was wonderful. I found that, although the excersions we had in the ports were very good and gave a good insight into Cuba and the history, they were long. We had to be ready by 8am. By the time you got off the ship and on to a bus it was close to 9am and we didn't return until 1:30-2:00. During the excersions there was no time to stop and have something to eat or even get at drink. Overall, I think we got great value for the price we paid and I would recommend this cruise to others. However, I would caution them that it is not to be compared with Royal Caribbean or Holland America cruises
Recommended
Efficient, helpful and friendly
By: Bernie57
Reviewed on: 06 May 2016
Ruby was very helpful and managed to zone into what I was looking for without "selling/pushing" resorts that I wasn't interested in or did not meet my requirements. Once we had picked our flight and hotel she quickly had us booked and the paperwork was sent to us that day.
Recommended
Friendly, efficient, obliging what more could you ask for?
By: CT Liz
Reviewed on: 17 Jun 2016
Ruby provides very attentive service! Always friendly with good advice and tips. Thank you Ruby!
Recommended
Friendly Expert service
By: Peter
Reviewed on: 30 Sep 2016
Ruby was very Friendly and kept us up to date with trip information. Only thing we had a lot of problems at the resort with Magnetic Keys for the rooms---one of my relatives had the keys changed everyday plus lock replaced.
Recommended
Sand & sun
By: Steve
Reviewed on: 17 Dec 2016
Thought we'd try something a little bit different this year set up by Ruby. It was excellent from start to finish Would def go back. Another as usual excellent job
Recommended
Great Travel Advisor
By: KT
Reviewed on: 21 Jan 2017
Ruby was a pleasure to work with. She helped us with two family vacations and both were excellent! I also recommended my friends to go to Ruby for their vacation.
Recommended
Ruby Ruiz
By: Teresa
Reviewed on: 16 Mar 2017
This was my 3rd time booking a vacation with Ruby and once again the process was flawless and she was always available to answer questions. I have and will continue to recommend her.
Recommended
Very attentive
By: Mike
Reviewed on: 03 Apr 2017
Ruby was a pleasure to deal with. I was initially skeptical about what she could provide above and beyond purchasing travel directly online. Ruby took care of all the details and ended up saving me over $ 700
Recommended
Las Vegas 2017
By: nikki
Reviewed on: 26 Apr 2017
Fantastic - she was very accommodating and looked after everything.
Recommended
Bahamas with good friends
By: Christine
Reviewed on: 04 May 2017
All girls trip - location was great and Ruby ensured all travel arrangements were made! Thanks Ruby
Recommended
Vegas Trip
By: Rachael McManus
Reviewed on: 08 May 2017
Ruby was so great! She sent lots of options through while we were looking to book our vacation package. She was patient and attentive. She was helpful in every way.
Recommended
Jamaica
By: ckca98
Reviewed on: 18 May 2017
EXCELLENT! Helpful, gracious, super patient - good suggestions, followed up all requests timely. Very informative about options available. Once we made final decision, Ruby liased with the resort for me on specific issues which was great since I could not find direct contact info ANYWHERE. She also ensured we had food vouchers for the return plane trip - very helpful since the flight was over the dinner hour and who wants to have to deal with that??? Looking forward to our next trip!
Recommended
CH trip to British Isles
By: colinh
Reviewed on: 24 May 2017
Ruby was extremely helpful and prompt. I was demanding in the sense that my requests were very specific, but all my expectations were met with seemingly endless resources and patience. Last minute adjustments and changes of heart didnt seem to be a problem, and I was pleased that charges and costs were addressed from the beginning so there were no surprises. Very well done and I will use Ruby's expertise for future trips. The only drawback was that I was unaware Ruby was taking vacation the week prior to my own trip. By no means her fault & perhaps I did not read a note in her sign offs or something, but it caught me offguard because she had all the contacts and connections for my travels. Everything ended up as planned, but next time I would like a secondary contact in the event of emergencies.
Recommended
Vacation
By: Bo
Reviewed on: 23 May 2017
Ruby was great to work with. She was very responsive and understood our challenges.
Recommended
LA & SF trip
By: Pavlina
Reviewed on: 21 Jun 2017
It was a pleasure working with Ruby, she is an easy going person, very friendly, always provides useful info to meet my requirements, extremely quick responses, various options to choose from, efficient suggestions and we benefit from working with her on all trips we plan.
Recommended
Ruby Ruiz
By: lance
Reviewed on: 05 Jul 2017
Very precise, knowledgeable ,efficient and professional. We also found her to be caring and thoughtful of our needs and accordingly made suggestions, which worked out to be super great.
Recommended
Great
By: PJ
Reviewed on: 12 Aug 2017
Ruby was fantastic to work with once I was able to get a hold of her. The accommodations I secured thru her were top notch, and went thru without a hitch. I would most certainly recommend using her for your travel needs!
Recommended
New York 2017
By: Debbie_J
Reviewed on: 21 Aug 2017
Ruby was fantastic!! She came up with many options for our travel in regards to hotels and flights. Our trip was wonderful! I look forward to using Ruby again as our travel advisor!
Recommended
Jamaica Honeymoon
By: Cadman1990
Reviewed on: 27 Sep 2017
Thanks to Ruby for making this trip an unforgettable paradise.
Recommended
Depending on Ruby for years of travel.
By: 671
Reviewed on: 15 Oct 2017
Good attention to detail, memory for client needs and preferences and timely response to requests. Thanks again.
Recommended
Honeymoon in Aruba
By: Anjel
Reviewed on: 23 Oct 2017
Ruby did an excellent job planning our honeymoon. She was always very helpful when we had concerns or questions. We had 4 different destinations we were thinking about and ruby did an amazing job accommodating our needs and wants. She made our honeymoon an unforgettable trip and a trip of a life time. Thank you Ruby!
Recommended
:)
By: Chantal
Reviewed on: 30 Oct 2017
Great! She is knowledgeable, very helpful and organized. Thank you for all the support making our trip a success.
Recommended
Ruby Review
By: Nancy
Reviewed on: 19 Dec 2017
Excellent, she was attentive, timely and dealt with all our needs even during a hectic hurricane season.
Recommended
Huatulco
By: Barclay 1404
Reviewed on: 11 Dec 2017
Ruby is very efficient and pleasant to deal with. Questions or concerns are dealt with promptly. We would highly recommend Ruby to anyone.
Recommended
New York trip
By: Ayf
Reviewed on: 17 Dec 2017
Ruby was fantastic!! Ruby provided various flight and hotel options that fit my budget. I would ask for Ruby's help again.
Recommended
Awesome
By: Dave
Reviewed on: 03 Jan 2018
Ruby was very knowledgeable and helpful in helping me book our family trip over the x-mas holidays.
Recommended
Thanks Ruby!
By: Adélaïde
Reviewed on: 12 Jan 2018
Ruby was quick and efficient. Planning this trip was a pleasant experience. Thank you!
Recommended
Group trip
By: jay
Reviewed on: 12 Feb 2018
Great working with Ruby :)
Recommended
Jamaica Sandals
By: Lovers Dream
Reviewed on: 05 Mar 2018
Ruby was very helpful and was there to answer our questions she booked us awesome plane seats and our room at the resort was wonderful we had a Amazeing trip!
Working with Ruby Ruiz, you will have access to:
- An experienced travel guide whom you can rely on before, during, and after the trip
- Exclusive luxury resorts and properties
- Once in a lifetime experiences
Explore with the Best
Virtuoso Advisors are constantly pushing the boundaries in unique travel experiences.
Alliance programs are unique tailored experiences exclusive to travelers working with Virtuoso Travel Advisors.
learn more