Travel Specialties
Interests
Beach & Sun
Escorted Tours
Culture, History & Arts
Honeymoons
Safari
Destinations
United States - All
Italy
Isle Of Man
Cook Islands
India
Selling Travel Since
1992
My Background
My travel experiences started a few weeks after birth crossing on the Queen Mary. I followed my parents around the globe living abroad and again as an adult. I was able to work for Travel companies that had a worldwide presence, arranging incredible experiences with clients. In 2000 I joined Global Travel which has enhanced my abilities as a valued travel consultant. I have amazing clients and look forward to helping each and every one with their next adventure!
Places I Have Traveled
Reviews and Recommendations for Georgann Swearingen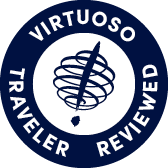 Virtuoso Verified Traveler
All reviews are from confirmed guests sharing exclusive insights
Sort reviews by
Recommended
First European experience
By: Spudmama
Reviewed on: 26 Sep 2014
Our first trip to Europe was fantastic, thanks to Georgann and her efficient planning and thorough attention to every detail. I am always amazed that out of all the possible hotels, she always chooses places that are affordable yet unique and special. Can't recommend her highly enough!
Recommended
Expert service
By: gene h
Reviewed on: 28 Mar 2015
We were celebrating our 40th anniversary. She had everything planned from the planes, hotel,transportation,and ticket vouchers for Disneyland and Disney California. She was professional and easy to work with because we do not do travel a lot and do not know about these type of things. She made real easy for us.
Recommended
Great service
By: Jazzman
Reviewed on: 24 Jun 2015
We went on our first Alaskan Cruise and we contacted Georgeann for information. She found us a great deal and provided valuable planning advice and booked our trip for us including all transportation, motels, air, etc. It was really great to work with someone who knows their stuff and takes care of the business end so you can concentrate on having a good time! All went extremely well.
Recommended
crusing
By: trade
Reviewed on: 17 Mar 2016
great trip; only downside was 10 days was not long enough. we would like to book another with princess with a group rate if possiable. thanks for all you have done for us . PS we got on the ship before 12:00 monday the 29th. looks like they were shooting a comercial for carnival ' the was in very good shape. very aware of being clean and tiday . captain was very down to earth .
Recommended
Exciting and fun trip.
By: Terry
Reviewed on: 11 May 2016
We felt our travel arrangements were excellent. Our rental car was wonderful. Our hotel was average because there was a Cinco de Mayo activity in the park across the street. It went from 10 in the morning till 11 at night. We feel our travel agent Georgeann understands our needs. She goes out of her way to find what she feels is our best interest. We could not ask for anyone more superd then her. We are very grateful for everything she does for us. Thank You!
Recommended
Excellent Service
By: Binney
Reviewed on: 10 Aug 2016
We had excellent service and would highly recommend Georganne at Globel Travel. She has been helpful,for us for many years.
Recommended
great trip
By: ginny
Reviewed on: 24 Aug 2016
all went very smooth an we had a great flight. georgann always does a great job ; hope the flights for our cruise go down in price. she allaways does her best.
Recommended
Great service!
By: Russ
Reviewed on: 25 Aug 2016
Getting to my destination took five flights and 2 boat rides. The trip Georgann planned for me was flawless. I will use and recommend Georgann and Global Travel for all my travel needs. Thank you Georgann, R
Recommended
Trips
By: fat Albert
Reviewed on: 13 Nov 2016
Georgan, Has done a great Job on all our trips. Albert Carols husband.
Recommended
Outstanding Trip
By: Vickie
Reviewed on: 16 Oct 2016
We had an outstanding trip to the Mediterranean. GeorgAnn made our reservations on the Carnival Cruise Ship, plus our airline reservations to Spain and back from Athens. We traveled with another couple and she made sure we had dining on the ship together and that all other reservations were coordinated, We wanted to spend 2 extra days in Barcelona and GeorgAnn made reservations in a great hotel for us that had nice rooms and was close to places of interest in Barcelona and to the dock where the cruise began. She mailed us all the paperwork we needed for each step of the journey. Everything went smoothly and was well planned out for us.
Recommended
grand princess hawaii
By: mr.b
Reviewed on: 31 Jan 2017
we are very pleased georganns consent effort to make our trip as perfect as she can. we had bad weather to get to san fran. an ended up going to san jose California an catch a shuttle to frisco .our cruise was very good; we will continue to use georgann and global travel in the future.
Recommended
Azamara Club Cruise
By: dog lover
Reviewed on: 04 Feb 2017
She is a delight to work with. Very knowledgeable and always looking out for our best interests. She has been our travel advisor for many years, and Georgann thinks of everything. We have always been completely satisfied with her service and her care and concern for us. She is the best!
Recommended
Mexican Rivera princess Cruise
By: Freckle
Reviewed on: 12 Feb 2017
I had no problems with GeorgAnn. She was helpful in advising the room on the cruise ship and got the documents to us in plenty of time. She also sent reminders which was good!
Recommended
mexico trip
By: kathy
Reviewed on: 17 Feb 2017
GeorgAnn is a pleasure to work with. She returns calls and is available and doesn't mind researching special requests. GeorgAnn is very knowledgable - everything I need in a travel advisor
Recommended
Georgann Swearingen
By: Princess
Reviewed on: 21 Feb 2017
I have worked with travel advisors for over 35 years and Georgann Swearingen is the most efficient and knowledgeable agent I have every worked with. She knows her clients likes and how they prefer to travel. She is very personable and listens when you talk to her about what you want to do on a trip. She is great at putting together a package that fits our wants and needs for wherever we are going and staying within our budget. She has traveled a lot herself so has firsthand knowledge of many of the places we have visited the last few years. This has helped us tremendously as we have planned vacations to the British Isles, Mexico, Hawaii, etc. She has never led us astray. With her vast knowledge and experience Georgann has help us make many happy memories of places we never thought we would be able to visit. She is the best!
Recommended
hawaiian vacation
By: cap
Reviewed on: 26 Feb 2017
Georgann was a great . Easy to work with. The pleasant Holliday people we worked with on the island were great too. All in all it was smooth sailing. We had an excellent vacation !
Recommended
Review of Advisor
By: Terry
Reviewed on: 07 Mar 2017
We have worked with Georgeann for several years with many different travel request. She has been excellent to work with and also give us several different options for our travel. This has been very helpful to us to make the best decision for our family. We would highly recomened her as a travel agent for anyone in the Treasure Valley area.
Recommended
Maui Vacation
By: Terry
Reviewed on: 01 Apr 2017
Georgann was great. I tried to plan a trip by myself (on internet) for 8 family members to Napili area of Maui Four family members from Santa Fe and four from Boise area. Didn't have confidence in myself and went to Georgann for her help. In 30 minutes we had airline tickets, reservations for 3 condos where I wanted to stay, and two rental cars that all came withing my budget. The trip was great and there were no hang ups or problems at all. Except perhaps with Hertz. We waited in line at least an hour to get our cars, took 15 minutes at the counter, wrong mileage was on the car I rented, and it only had 1/4 tank when I finally checked 5 miles down the road (rental ticket says it was full). Also tried to blame me for scratches. I thought Hertz was No. 1, not any more.
Recommended
alaska
By: lordot
Reviewed on: 30 May 2017
very enjoyable very informative
Recommended
Alaska Cruise
By: Butch
Reviewed on: 25 Jun 2017
Very informative and keep me posted on changing events.
Recommended
Bahamas 12/18
By: Wagnerkarla
Reviewed on: 28 Dec 2018
Great. Everything was taken care of very well
Recommended
Trip Planning
By: Elise
Reviewed on: 19 May 2018
Super! I always feel good when Georgann has planned something for us because I know it has been done right and that she has told my husband and I everything we need to know. Flying these days is never easy but it all went well in our last trip.
Recommended
persistent
By: PERSISTENT
Reviewed on: 12 Jun 2018
Georgann is a delight to work with. She knows her business, she is frank and helpful in her observations and suggestions, and she does not drop the ball. She goes well beyond expectations--she keeps at a task until it is completed, even if that means working into the late night to clinch a needed airline reservation for a family of six. She was recommended to me by a very particular friend who has no patience with error, so I knew Georgann had to be a stellar travel advisor for my friend to recommend her.
Recommended
BEST VACATION EVER
By: Melanie
Reviewed on: 04 Jun 2018
Working with Georgann was the best decision of my whole trip! Georgann was so easy to work with; she always made time to meet up for any questions and responded quickly to all my emails. She gave us plenty of choices and knew all the good spots for us to go to. The hotel she picked for us was perfect, it had everything we wanted and more! Georgann helped us to stay in our budget and give us our dream vacation. I will be using Georgann again in my future travels and would recommend her to anyone, her service was 5 star top notch! Thank you Georgann and Global travel for giving us an experience of a lifetime!
Recommended
Tennessee Trip
By: Mike & Penny
Reviewed on: 27 Jun 2018
Excellent!! She put the trip together rather quickly and managed all the details, flawlessly. Her knowledge & experience were invaluable to us in planning & prioritizing our activities.
Recommended
Excellent Service
By: Nickname
Reviewed on: 04 Jul 2018
Excellent Always!
Recommended
Our latest river cruise
By: Lisa
Reviewed on: 20 Jul 2018
Georganne is a joy to work with. She is always on top of all the details for our group (12-14 people) trips, as well as our personal trips. I know that when I contact her, our trip will be amazing. Not only do our family members contact Georganne for all of our travel needs, all of our extended friends do as well.
Recommended
Detailed and experienced
By: jasb23
Reviewed on: 27 Jul 2018
Georgann was very organized, detailed and highly experienced in ensuring that all arrangements were accurate and complete and to our satisfaction on our recent cruise. She was readily available by phone and very responsive in answering questions. We will use her again.
Recommended
Awesome
By: Louise
Reviewed on: 26 Jul 2018
Georganne is awesome! I have recommended her to all my friends, even though I do not live in Idaho. They use her too!
Recommended
European Tour 2018
By: Bobbie
Reviewed on: 18 Aug 2018
Georgann was awesome to work with. She was always available for the most simplest of questions to the most complex. She organized our trip with the destinations we envisioned and the time frame we gave her to perfection. I would highly recommend a professional travel agent when planning out a trip this complex which included Paris, Rome and a cruise. She thought of and included things we on our own would never have thought of. Not to mention, the cost was much less than if I had arranged the flights, hotels and cruise on my own. Thank you Georgann for putting together a memorable trip with my grandchildren.
Recommended
Great trip
By: Atl Grant
Reviewed on: 08 Aug 2018
GeorgAnn helped in organizing a great trip. No issues from. Start to finish.
Recommended
Trips from Boise
By: kennysuz
Reviewed on: 09 Aug 2018
She did all anyone could ever ask, PLUS
Recommended
Fun trip!
By: Susie
Reviewed on: 22 Aug 2018
Georgann has helped me schedule three Hawaiian vacations. She finds great deals and maximizes amenities.
Recommended
Flights
By: Gen
Reviewed on: 29 Sep 2018
Has always been GREAT.
Recommended
Outstanding
By: Roxanne
Reviewed on: 21 Sep 2018
Georganne has been my travel agent for a very long time so I so fun and nice and accommodating with all my family needs. She is the best in what she does. You should be very thankful you have her.
Recommended
Taste of Ireland
By: Gman
Reviewed on: 25 Sep 2018
George has experience traveling in Europe herself. Her inside knowledge helped us have an understanding of what to expect before we got there. Her attention to each detail of our trip helped us navigate and plan each days activities to the fullest! Should you experience a 'hiccup' with your itinerary while traveling she will (and did) fix things on the go. It's like we had a friend to phone and the issue was fixed before we arrived! I would (and have) recommend her for your next trip abroad!!
Recommended
WORKING WITH GEORGEANN IS A PURE PLEASURE
By: GEORGE
Reviewed on: 01 Oct 2018
WE RAN INTO SOME LAST MINUTE NEEDED CHANGES &, AS ALWAYS, GEORGE WAS THERE FOR US. WHEN IT CAME DOWN TO THE WIRE SHE SMOOTHLY & EFFICIENTLY TOOK THE TIME TO STRAIGHTEN IT ALL OUT ANSWERING OUR QUESTIONS & GETTING THE REQUESTED INFO TO US POST HASTE. OUR TRIP INVOLVED A NUMBER OF FLIGHTS, CAR RENTALS & A LAST MINUTE LODGING REQUEST ETC. ETC. ETC. DURING THE TRIP WE HAD OCCASION TO NEED FURTHER INFO & VICTORIA & RHONDA CAME TO OUR RESCUE AND FILLED IN FOR GEORGE WHILE SHE WAS ON A SABATICAL FOR THE COMPANY. BELIEVE ME, WE REALLY APPRECIATED ALL THE EXPERTISE AND KIND ATTENTIONS WE RECEIVED FROM ALL OF THEM. WE'LL BE BACK...FOR MORE OF THE SAME ... FOR TRIPS WE ARE PLANNING FOR THE FUTURE. ALL THREE MADE OUR TRIP A WHOLE LOT SMOOTHER AND PLEASANT.
Recommended
outstanding
By: Mick and Carol
Reviewed on: 03 Oct 2018
Outstanding and kept us well informed.
Recommended
Georgann's help
By: PapaJoe
Reviewed on: 17 Oct 2018
She was always one step ahead of us. Most of our needs had already been accomplished before we brought up the subject. Every recommendation turned out exactly as she said and by following her suggestions we saved money. As with the other trips she has done for us she did a great job.
Recommended
Portugal/Northern Spain Trip
By: Joe Numbers
Reviewed on: 27 Oct 2018
It was great working with GeorgAnn. Very professional.
Recommended
Rhine River
By: Terry
Reviewed on: 17 Nov 2018
The river trip and October fest was handled by. Georgann. We would recommend her highly. She knows her stuff. We had a great trip. Thanks Georgann !
Recommended
Another Great Trip!
By: Lisa
Reviewed on: 22 Oct 2018
Georgann did a great job planning our trip to Egypt. We would absolutely use her again. Her attention to detail makes our trips so successful!
Recommended
Rome
By: Mike
Reviewed on: 18 Nov 2018
Consument professional extremely knowledgeable in putting together complicated cruise/travel arrangements. Extremely helpful weighing options and putting together fantastic trip. Would heartily recommend!
Recommended
Thanks
By: Mary
Reviewed on: 14 Nov 2018
I always enjoy working with Georgann, she makes sure the flights get me where I want to be in the most convenient way for me, and sitting in the best seats for me👍😊
Recommended
Thailand dream
By: Gadd Family
Reviewed on: 02 Dec 2018
Fantastic! She's amazing. Georg created the perfect itinerary for us to enjoy a magical trip in Thailand. She took care of us from the moment we left to when we got home.
Recommended
Overall great person
By: Roxanne
Reviewed on: 23 Dec 2018
Shes the best. Very accommodating and reacts fast whenever I need help.
Recommended
kathy
By: kathy
Reviewed on: 17 Dec 2018
We have worked with Georgann many times and it is always a delight. Wouldn't want to use anyone else.
Recommended
Key West
By: cap
Reviewed on: 26 Dec 2018
Real easy to work with. she goes the extra mile to get you the best options. George is personable and friendly to chat with as well. I always request her to design my vacations. Simply put, "She's The Best" !
Recommended
OUTSTANDING REP
By: GEORGE ANN
Reviewed on: 04 Jan 2019
A TRUE DELIGHT! SHE IS VERY DECICATED TO HER JOB & DELIGHTS IN ACCOMPLISHING THE IMPOSSIBLE. WE ARE LOOKING FORWARD TO WORKING WITH HER AGAIN.
Working with Georgann Swearingen, you will have access to:
- An experienced travel guide whom you can rely on before, during, and after the trip
- Exclusive luxury resorts and properties
- Once in a lifetime experiences
Explore with the Best
Virtuoso Advisors are constantly pushing the boundaries in unique travel experiences.
Alliance programs are unique tailored experiences exclusive to travelers working with Virtuoso Travel Advisors.
learn more
United States - All
Italy
Isle Of Man
Cook Islands
India
Bahamas
Netherlands
Belize
Cayman Islands
Costa Rica
Germany
Maldives
Fiji
Seychelles
United Kingdom