Travel Specialties
Interests
Adventure
Family Travel
Culture, History & Arts
Safari
Independent Tours
Selling Travel Since
1986
My Background
Incorporating my 28 years of travel planning experience with a life-long appreciation of the adventure, education and cultural bridges that travel provides is my passion. Sea kayaking through Glacier Bay or the British Virgin Islands, X-Country Skiing through our National Parks, Heli-hiking in the Canadian Rockies, Hiking in Chile's Atacama Desert, Trekking in New Zealand's wilderness, Cycling the Back Roads of Europe, Enjoying a Wine Safari in South Africa, or Rappelling down a Costa Rican Waterfall have been some of the highlights of my travel adventures. Sharing these adventures in the "give and take" of designing unique, once-in-a-lifetime travel experiences with my clients creates wonderful memories for them and inspires me to keep learning and exploring our world.

Places I Have Traveled
Reviews and Recommendations for Roz Gibel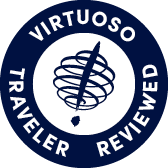 Virtuoso Verified Traveler
All reviews are from confirmed guests sharing exclusive insights
Sort reviews by
Recommended
Highly Recommended
By: Not provided
Reviewed on: 21 Sep 2013
The trip was thoroughly planned and explained before hand. As adjustments were needed , the information was relayed to us.
Recommended
Excellent service
By: Ron
Reviewed on: 11 Oct 2013
As usual Roz does all the leg work for us. Gets us great prices and convenient air reservations. Have booked 2 more additional trips already for 2014 through Roz.
Recommended
Highly recommend
By: Not provided
Reviewed on: 10 Nov 2013
We have had Roz as our travel agent for 15+ years. she is the best. Is very professional and easy to get in touch with. Returns phone calls and e-mails in a very, very timely manner. We like working with her since she has been to so many places and give us first hand information. that means a lot to us. We call her and say "where do you think we should go next". We always trust her judgment.
Recommended
Highly recommended
By: Ceci
Reviewed on: 09 Nov 2013
Roz has always provided me with outstanding assistance in the planning and organizing of trips for pleasure or emergencies. I will continue to request her assistance for future travel. Thank you, Roz, for all your help.
Recommended
Highly Recommend
By: SCHU
Reviewed on: 07 Nov 2013
OUR TRIP TO THE LAKE DISTRICT IN ENGLAND, EDINBURGH AND LONDON WAS FABULOUS. THE VIRTUOSO HOTELS WERE BEAUTIFUL AND THE SERVICE WAS EXCELLENT. EVERY FACET OF THE TRIP WAS COORDINATED TO PERFECTION BY ROZ. WE ARE LOOKING FORWARD TO THE NEXT TRIP TO SOUTHEAST ASIA THAT ROZ HAS PLANNED FOR US.
Recommended
Excellent Service
By: Flip
Reviewed on: 08 Nov 2013
Roz is both charming and efficient. She was quick to get us a better deal when it came up for our flights. We will use her again.
Recommended
The best
By: Ron
Reviewed on: 07 Nov 2013
Even though we are 2000 miles apart Roz always does the job for me. I give her a suggestion and she gives me feedback then does all the work making the plans. That saves me hours on each trip. Already have 2 more trips scheduled for next year and have more plans that I have not finalized yet. Roz always calls back in a timely manner and I trust her advice 100%
Recommended
No Travel Agent Could Be Better Than Roz Gibel
By: GMF
Reviewed on: 27 Nov 2013
The game reserve in South Africa was fantastic with incredible guides, game sightings, food and wonderful accommodations. Roz got us a terrific guide and very nice lodgings in the wine areas. Her suggestions on what to see and do were always right-on. Roz's attention to the details of travel is precise from the airline travel to the vouchers for the hotels/tours. Her knowledge of the areas of travel is vast, and her enthusiasm is infectious.
Recommended
Great Travel Planner!
By: LinC12
Reviewed on: 07 Nov 2013
My first trip planned by Roz was in 2003. I've turned to her about 5-6 times since then. She always listens carefully and comes up with options that fit my price and preferences. I don't even live in New Mexico anymore, but I wouldn't call anyone else!
Recommended
Wonder Trip
By: Sunshine
Reviewed on: 19 Nov 2013
Roz set up a personal trip for us to Morocco. Well planned and we really enjoyed staying in the Riads. The guide and driver were great and we had a wonderful time.
Recommended
Experienced, Professional
By: Nmfarmer
Reviewed on: 19 Nov 2013
Roz has helped us with many trips ranging from cruises to adventure tours. Good attention to detail and follows up with open items. Keeps us well informed on progress. We have never been disappointed with her recommendations. Many of our trips required coordinating complicated travel, hotel, and activities. We never experienced any problems.
Recommended
Travel to the Kingdom of Bahrain
By: Katherine Ott
Reviewed on: 03 Apr 2017
Roz is always available and ready to meet a customer's needs.
Recommended
Highly recommend
By: Emmy
Reviewed on: 20 Nov 2013
Roz is absolutely fabulous. She planned a wonderful trip for us to South Africa. It was great from beginning to end. She took care of every detail for us. We not only went on a safari but spent several days in the wine country near Capetown. The guides and hotels were wonderful. We definitely will ask Roz to plan any future trips.
Recommended
highly recommend
By: george and cheryl
Reviewed on: 23 Nov 2013
Ms.Gibel recently helped us plan our dream trip to Alaska. Despite presenting her with this request somewhat at last moment, she planned a trip that enabled us to stay in the heart of Denali park for several days, and to tour wonderful sites around Anchorage and Seward. The accomodations that she choose were first rate, we experienced no glitches and the cost of our trip was very reasonable.
Recommended
Highly Recommended
By: Not provided
Reviewed on: 04 Dec 2013
Roz was very skillful in arranging our family trip and insurance to Club Med, Cancun. She made sure that we were housed in the same building next to each other and that we were seated at 2 adjacent tables for dinner. We had no problems whatsoever with our reservations. We have used Roz' services many times in the past and plan to use her services again.
Recommended
Highly recommend PLUS
By: Martha
Reviewed on: 05 Jan 2014
Roz is TERRIFIC! She makes wonderful recommendations, attends to every detail, and delivers with a smile. She is the BEST!!!
Recommended
Highly recommend
By: ednamcnutty
Reviewed on: 12 Jan 2014
My husband and I love Roz. She is the best! We call her when we are thinking about going someplace and she knows what we like, how much we like to spend. She plans everything for us. All we have to do is pick up the phone and call her!!! Our wonderful traveling experiences are all because of her.
Recommended
very highly recommended
By: luigi
Reviewed on: 08 Feb 2014
Very pleased with the all booking of Hotels and air travel !
Recommended
Roz is the Best!
By: S&S
Reviewed on: 13 Feb 2014
Fabulous trip. Roz spent as much time and care on this short little get away as she does on ocean voyages. Great attention to detail!
Recommended
Fantastic Trip.
By: Schu
Reviewed on: 06 Mar 2014
Roz did a spectacular job arranging this trip to Southeast Asia to meet our specific needs. The guides we had at each of our destinations were excellent. They were very knowledgeable, easy to understand and most importantly they were flexible with our agenda. All of our hotels were beautiful but the one that really stood out was the Nam Hi in Hoi An. It was over the top.I would highly recommend this trip.
Recommended
Gfreat trip to Costa Rica
By: Ron
Reviewed on: 01 Jul 2015
Small group tour (22) to Costa Rica on Collette Explorations. Great time, great weather. Roz does all the work with flights and transfers and we never go wrong. Have already booked 3 more trips through Roz even though she is in New Mexico and we a re in Maryland.
Recommended
HIGHLY RECOMMENDED
By: JOYCIE 1972
Reviewed on: 21 Apr 2014
ROZ WAS VERY HELPFUL, CONSIDERATE, AND PROFESSIONAL WHEN HELPING US PLAN OUR TRIP. SHE KEPT IN CONTACT WITH US WITH HOTEL SPECIALS AND OVERALL INFORMATION. I WOULD HIGHLY RECOMMEND ROZ TO ANY OF MY FRIENDS AND FAMILY AND I LOOK FORWARD TO WORKING WITH HER IN THE FUTURE.
Recommended
Highly Recommend
By: Ellen
Reviewed on: 22 May 2014
We love working with Roz. She has helped us on at least 3 vacations - UK, Costa Rica and Italy. All were wonderful. We will certainly have her help us plan any future out-of-the-country trips.
Recommended
Highly Recommended
By: Elsie1214
Reviewed on: 22 Jul 2014
I've been using Roz for my travel reservations since 2003. I trust her completely! She knows the type of hotel and sightseeing I like to do and her recommendations are always spot on!
Recommended
met all of my expectations
By: Joanna
Reviewed on: 30 Aug 2014
The trip met all of my expectations. I really liked Delta Airlines. They were on time, had good food, and wonderful movies. The Golden Tulip Hotel in Brussels was very good, and I enjoyed meeting friends and family in England, The Netherlands and Belgium. Thanks so much for your help, Roz!
Recommended
Another great trip (Italy)
By: T & D
Reviewed on: 28 Oct 2014
A most enjoyable and fun trip to Italy: Tuscany was beautiful in October and the wine harvest was just coming in which made the wine tasting visits all the more interesting. The hotels were great as always. The refurbished castle/monastery in the Chianti countryside was marvelous and the location very convenient to day trips to wineries as well as to Sienna. Our Florence hotel was also very convenient with a great view of the Santa Croce church tower right outside our window, while being just off the heavy tourist street traffic. Having 5 nights in Florence gave us time to adjust to the time change, explore the city and many museums in a relaxed way, and to find a few beautiful leather goods.
Recommended
Excellent planning
By: Lynn
Reviewed on: 11 Jan 2015
The trip was great! Hotel was an excellent choice. The tour was great. The seats at the parade were perfect! Even our seats in the end-zone at the football game were good! Roz always does a great job! That's why we have had her plan our vacations for us for 10 plus years. Thank you Roz!
Recommended
Amazing Trip to Punta Cana!
By: Gabe and Julia
Reviewed on: 04 Feb 2015
Thank you Roz for planning an amazing getaway for us to the Barcelo Premium Resort in Punta Cana! Everything was perfect and we had an amazing time! You helped us get a flight from a nearby airport, secured the resort and transportation and took care of everything... all within our budget. We can't thank you enough!
Recommended
Fabulous Service
By: S&S
Reviewed on: 26 Feb 2015
Roz knows what we like and helps us plan accordingly. It might be something we have done before or something totally new - but she always leads us to GREAT trips. She knows what we like!
Recommended
great suggestions for Maldives
By: Christina
Reviewed on: 27 Feb 2015
Roz did a great job arranging our travel. She suggested two wonderful properties that we stayed at. Loved them both for very different reasons. Once again she planned a beautiful trip for us.
Recommended
Fabulous service and expert advice!
By: Peanut
Reviewed on: 30 Mar 2015
We will always use Roz for our travel services -- she is delightful to work with, knowledgeable about markets and responsive to our requests.
Recommended
Expert service.
By: Baby Bev
Reviewed on: 22 Apr 2015
Ms. Roz Gibel filled my vacation needs when agents in other companies declared them "impossible." She and her company have my undying gratitude and my business forever.
Recommended
Delightful time in Australia
By: Tom
Reviewed on: 12 Apr 2015
Marvelous accommodations in Adelaide, Melbourne, and Sydney--all very worth visiting. The tours arranged for Kangaroo Island and Phillips Island were highlights of the trip and enabled us to view up close Australia's unique wildlife. It was another great trip organized with a focus on our personal interests.
Recommended
A good trip
By: Philly
Reviewed on: 19 Jun 2015
Roz was teriffically helpful in arranging our flights to the starting point of our cruise and with hotel and other arrangements to get home. As always she is pleaant and has good ideas to save time and money. We had a good time on the ship and in Charleston.
Recommended
Always quality service!
By: Dennis 08
Reviewed on: 14 Sep 2015
Our trip on Regent to Canada and Alaska was wonderful. The Regent Navigator, our ship, had 489 passengers which allowed the staff to pretty much personalize service after the first couple days. We had the opportunity to meet people from all over the world and made some new friends. The Regent service was outstanding and top-notch. The food on the ship was outstanding and the wait staff was truly wonderful. Although it rained most of the time, we still had opportunities to visit sites in Alaska and had a good time at each. We would recommend this trip to anyone who wants to see Alaska at its best!
Recommended
Roz is Terrific!
By: Ardent Traveler
Reviewed on: 11 Oct 2015
This is the fifth trip Roz has planned for us. Each one has been outstanding. Roz always gets us well-located accommodations, the tours are great, and her suggestions for things to do are always spot-on. She listens to what we would like in our trip and plans accordingly. When we are thinking of going somewhere, we say, "Let's call Roz!" We appreciate her very much.
Recommended
Roz is the best.
By: Jill
Reviewed on: 11 Oct 2015
We were very, very pleased with all the arrangements Roz made around a last European cruise. She arranged for wonderful guides, efficient transports and beautiful hotels. She was very organized and took care of everything. She "saved" us by letting me know I needed a Visa to visit Turkey. I will always use Roz.
Recommended
Over and above amazing service
By: Ginaf
Reviewed on: 30 Dec 2015
Roz with All World Travel made our family vacation so easy and amazing from beginning to end!! We enjoyed a family Caribbean cruise on Holland America, the perfect holiday get away with the recommendation from Roz as well as other options that we'll no doubt try next time! The vacation and family time was wonderful but for me having/trusting Roz with her recommendations and organizing the trip go without one single problem and/or worry!!! I will always use Roz and would absolutely recommend her and All World Travel to any and all family/friends! Sincerely, One happy family
Recommended
great service
By: julie
Reviewed on: 27 Jan 2016
Very thorough planning. I loved receiving a paper copy of itinerary and details. Knowledgeable about the area. Kept me informed of upcoming charges to my credit card. Excellent service tailored to my requested needs.
Recommended
made it simple!
By: hrosen01
Reviewed on: 18 Aug 2016
Roz made planning simple, made many suggestions that all sounded reasonable and within our budget. Roz sent us many options, made choosing our honeymoon easy.
Recommended
Great Trip
By: mrmrsdiaz
Reviewed on: 06 Sep 2016
Thank you so much for planning out this trip for us, we had a great time! We were able to view the highlights of the city and location of the hotel was perfect.
Recommended
Makes it all so easy!
By: Jillwendy
Reviewed on: 05 Dec 2016
Roz is really wonderful. All of her suggestions have been very helpful. She has arranged great trips, hotels and tour guides. We hardly ever used a travel agent but a friend suggested I try Roz and I am so glad we did. She is a true professional--always responds to calls and e-mails in a very timely way and takes care of everything. She is experienced, caring and knows what we like. She has saved me from mistakes for which I am grateful.
Recommended
Great Cancun Trip
By: Alton&Carolyn
Reviewed on: 26 Jan 2017
Wonderful - found a great all-inclusive, culinary experience
Recommended
february Hawaii trip
By: Marty
Reviewed on: 27 Feb 2017
Roz understands what my wife and i want in a vacation. She is extremely patient with us, responds immediately and constantly on top of things. Sometimes it feels like we are her only clients. Thanks for asking me to respond to the survey because it reminds me that I have to call Roz to make an appointment to discuss our next vacation plans.
Recommended
Excellent travel agent
By: Gilush
Reviewed on: 22 May 2017
Roz was exceptional in working with me to book my flights to Vienna, Austria and later on to Israel, and back to Albuquerque. She worked hard to help me with special requests. I highly recommend Roz to anyone, and do recommend her to all my friends.
Recommended
Tries Harder
By: wildlight4944
Reviewed on: 08 Sep 2017
Roz and her counterpart at Rocky Mountaineer out did themselves to ensure that K and I had a superbly wonderful trip. Our 50th anniversary excursion was recognized by each of the hotels and resorts that we stayed at, including the train. It was top-shelf all the way from Vancouver to Calgary.
Recommended
Yet Another Trip of a Lifetime!
By: S&A
Reviewed on: 16 Sep 2017
Working with Roz is always a joy. We appreciate her prompt action and attention to both detail and price. She knows what we like and also suggests new ideas. Setting us up with her UK contact, Simon, was one of those new ideas that ended up being perfect for us. The Blue Badge guides he arranged were excellent. Roz's dedication to her job shows in the enjoyment she shares while planning our trips (who says there only has to be one) of a lifetime.
Recommended
Australia
By: PR
Reviewed on: 02 Oct 2017
Roz makes traveling easy. Our accommodations were excellent and the tour guides Roz arranged where knowledgeable and very friendly. The whole trip exceeded our expectations.
Recommended
ncl getaway cruise
By: birthdayboy
Reviewed on: 14 Dec 2017
Great, as always.
Recommended
Pelican Hill Resort
By: Roz
Reviewed on: 17 Dec 2017
We recently stayed at the Pelican Hill Resort in Newport Beach. In this case as always, Roz knew exactly what we needed and were looking for. The resort was truly one of the most amazing places we've stayed at, and what made it extra special was the upgrade Roz managed to arrange. The little Virtuoso Member touches are really first-class. Next trip up: Vancouver Island, and we know that Roz will make this another memorable and special trip for us--as always.
Recommended
Wonderful
By: Jill
Reviewed on: 24 Dec 2017
As always, Roz provided excellent advice and planning for our Christmas markets river cruise. Every step of the way Roz was right on. She provided extensive documentation and made our travel experience seamless. I totally recommend Roz as knowledgable, responsive, pleasant and professional.
Recommended
Australia/New Zealand
By: Alton
Reviewed on: 01 Mar 2018
Easy to work with despite a complicated set of travel schedules.
Recommended
Perfect hotel
By: Jill
Reviewed on: 31 Mar 2018
Once again Roz got it perfect. Her recommendation for a beach resort in Belize was perfect for everything i wanted..beautiful setting, comfortable rooms, great food...understated elegance with friendly and very helpful staff at Victoria House. I am afraid without her guidance I may have picked something that I would not have been happy with.
Recommended
Roz Gibel- Enchantment Resort, Sedona, Az
By: Marty
Reviewed on: 18 May 2018
Roz has a wealth of knowledge about every place on the planet. Just as importantly, she knows her clients even better than they know themselves. She never runs out of ideas or alternatives. She never fails to get us where we want to go--and in the style that we want. We are presently planning three additional trips through her for the rest of 2018 and into 2019. Her recommendation of the Enchantment Resort for golfers like my wife and myself who also like 5-star accommodations.
Recommended
Italy
By: Traveler
Reviewed on: 03 Jun 2018
Outstanding recommendations and arrangements. Trip had a lot of moving parts and all came together flawlessly
Recommended
orlando
By: jnabq
Reviewed on: 29 Sep 2018
Roz is always great to work with. Well informed and professional. She's planned numerous trips for us.
Recommended
Love working with Roz
By: Patti
Reviewed on: 14 Oct 2018
Good communication and follow through
Recommended
Terrific Three Week Trip
By: 2 Travellers
Reviewed on: 14 Oct 2018
Working with Roz is wonderful. She is easy to work with, accommodates all our needs and incorporates our wants, and Is very precise about details.
Recommended
Terrific
By: Aman328
Reviewed on: 16 Oct 2018
We have worked with Roz for a number of trips over many years. She is knowledgeable and professional.
Recommended
The Trip That Wasn't
By: Wildlight
Reviewed on: 06 Dec 2018
A consummate professional. Works to the benefit of her clients. An area for improvement is to go back to using Travelex for trip insurance. Alliance was impossible to work with.
Recommended
NYC Trip was great
By: MLP
Reviewed on: 08 Dec 2018
Roz has planned numerous trips for us over the course of many years. She is amazing and we trust her without reserve. She is very well travelled and has wonderful tips and insights on any destination you might be considering. I would highly recommend her.
Recommended
Recommendation of Roz Gibel
By: Carolyn
Reviewed on: 27 Jan 2019
Roz is one of the most thorough travel agents we have worked with. She goes the extra step to make sure things are right and she follows through from the beginning to the end. She explains things well to us before our travels and everything is always top notch. She knows our likes and dislikes and looks for other alternatives that we might not have thought of. She looks for the best locations, and tries her hardest to through other things in there to surprise us. I wouldn't work with anyone else when planning our future travels.
Working with Roz Gibel, you will have access to:
- An experienced travel guide whom you can rely on before, during, and after the trip
- Exclusive luxury resorts and properties
- Once in a lifetime experiences
Explore with the Best
Virtuoso Advisors are constantly pushing the boundaries in unique travel experiences.
Alliance programs are unique tailored experiences exclusive to travelers working with Virtuoso Travel Advisors.
learn more